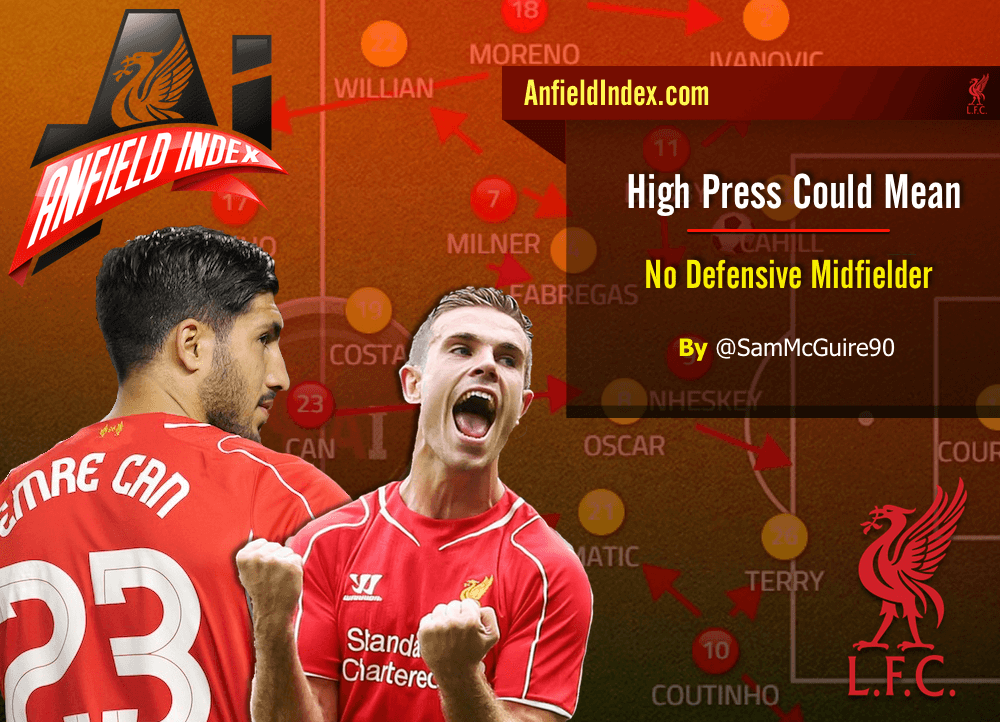 High Press Could Mean No Defensive Midfielder?

Sam McGuire wrote this article before jetting off to Egypt and it links in nicely with the Sean O'Driscoll rumours.
The season is still two months away from the opening game but people have already started asking others how they think the team will line up next season. One thing the majority have mentioned is how a lack of a proper defensive midfielder hinders their team selection. We've seen under Brendan Rodgers that the gaping hole in centre midfield is an issue. It not only allows the opposition to win the midfield battle but it also means the defence doesn't have a shield. We don't have a specialist player to screen the centre-backs. I've been pretty vocal in my adulation of Javier Mascherano and how I feel we've never replaced him but after seeing the signings so far I'm starting to wonder if Brendan Rodgers is determined to implement an extremely ferocious high press to negate the fact we don't have a defensive midfielder.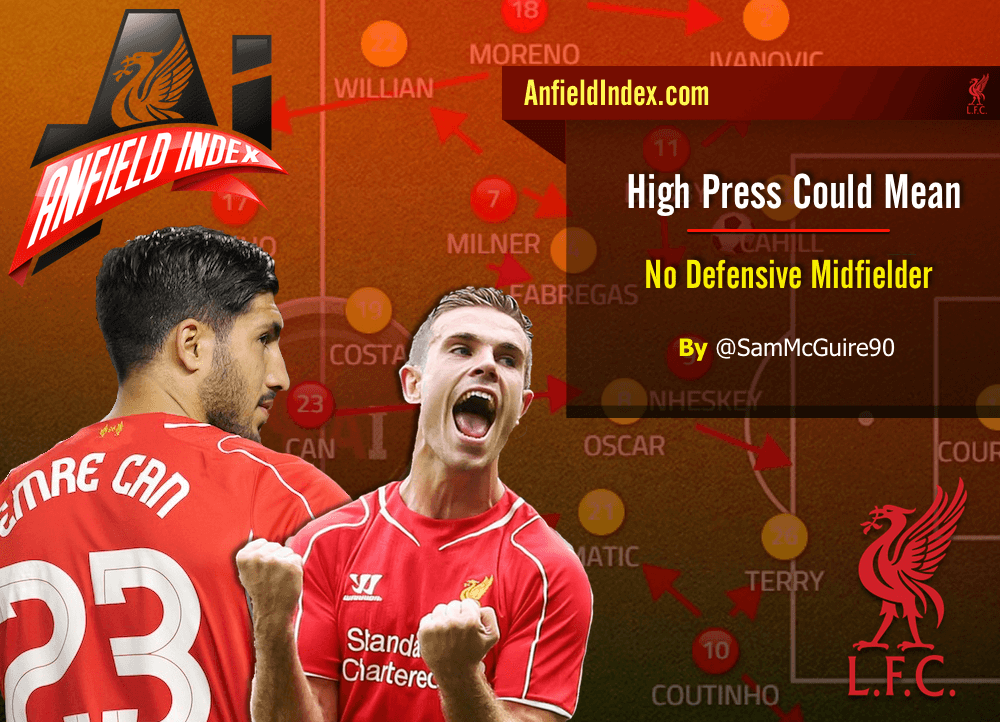 In theory the higher up the pitch you press the less defensive responsibility the team has. If you press as a team then it's almost certain you can play a defensive line that's near enough on the half way line, so you literally squeeze the opposition into mistakes and into playing in only one half of the pitch. More importantly it's the half the opposition don't want to be in. In England not many teams are comfortable playing in their own half and their instincts are to loft the ball forward which then gives the possession back to the opposition who carry on their attack. It's rare to see a team in England with ball playing defenders, there are some teams but the majority look uncomfortable with the ball and rush their passes.
Pressing traps
It's safe to say this changes for every team you're up against. The idea by many is to try to win the ball back 6 seconds after losing it at a high intensity press. Then after this 6 seconds is up and you've not won the ball back you've at least restricted the opposition from countering and you'd assume you'd have men back in the right positions by then.
An alternative pressing trap is when you identify the players on the opposition team who are their 'weakest' on the ball and you formulate a plans to get push the play of the opposition to that player more often. So you boss the space, cut off passing angles and just try to usher the ball to the area of the pitch that particular player is on. That way you've a greater chance of a turnover in possession due to you dispossessing the player or the player in question rushing and giving the ball away.
For example if Liverpool were playing against United I'd try to manipulate the play so Antonio Valencia had the ball at right-back. He's not too confident on the ball when he doesn't have space to run into, in my opinion anyway, so the best chance of a turnover in play in the final third for Liverpool would be to press him into a mistake. United are a team that likes to mix up possession play with long balls. The idea against them would be to only let them punt it long as a last resort instead of them using it as a weapon.
This kind of tactic would work against teams that like to sit back too. Take Chelsea, a side notorious for sitting deep and having teams attack them.
Obviously it wouldn't be as flawless as what's shown above but I've done this image to highlight how it could look for Liverpool with such a high press and why they'd implement it without a defensive midfielder on their books.
Keep the ball on the right hand side, preferably with Cahill.
Main aim of keeping the ball on the right is to keep it away from the main threat, Eden Hazard.
Don't allow Matic to carry the ball into space, try to show him into areas you want him to be in.
Don't allow Fabregas to pick the ball up and turn so he's facing your goal. As soon as he picks the ball up you press and cut off angles.
Pass backs to Courtois are allowed, his distribution with his feet isn't the best.
I've worked under the impression that Liverpool will line up in a 433 formation, positions will seem fairly obvious from the above image I'm sure. A trigger here would be if Gary Cahill got onto the ball. Not the greatest in possession in my opinion and he's beside another player that's questionable when pressed, Branislav Ivanovic. I can't really envisage Cahill bringing the ball out of defence as effectively as Terry can. The instructions here would be to either have Cahill go long or tempt him into passing to Ivanovic. Ivanovic tends to give away free kicks so if Liverpool do nick the ball in his area then he's partial to a yellow card or two.
As you can see we've got Emre Can as the free man in the middle who can either press Oscar if he does get the ball or alternatively fill in at centre-back if for whatever reason Chelsea do get Willian or Hazard on the ball and of the centre-backs goes wide to engage. Chelsea are one of the few teams in the Premier League with world class players but do they really have players capable of repelling a high intense press? I don't think so. The main objective for this press would be 2 things; make Chelsea play it long and secondly don't let Fabregas get onto the ball and be able to turn to face your goal.
Summer Signings
The addition of Firmino to this side gives you a Coutinho doppleganger in terms of work rate coupled with pure brilliance. He's just as likely to meg two men and lob the keeper as he is to follow a ball playing centre-back that wants to bring the ball out and win the ball off him in a tackle. He's not one of those lazy playmakers that isn't interested in the gritty work.
James Milner may not be the best but he has an engine on him which would work well with the whole triggered presses. You know he can keep it up for the majority of the game and alongside Henderson it's as though Liverpool have two duracell bunnies.
Danny Ings wasn't awe inspiring but as shown in the recent u21's European Championships he works very well off the ball. He's not going to be a bad player to have coming off the bench to press and harass players for 20 minutes or so if that's what we've got to do to defend a lead.
Nathaniel Clyne brings what Moreno brings on the left hand side to the right. If a team manages to counter a high press then you need players with pace and well timed recovery runs to get back. This isn't why he was bought but I'd imagine it's a trait that may well be used next season.
Bench players
If you're pressing opponents then it's inevitable you'll tire or make a mistake so it's key Liverpool have players off the bench capable of coming on and having the same mentality as those coming off. The likes of Danny Ings, Lazar Markovic, Jordon Ibe and Adam Lallana can all do this and would all be good options of the bench. They're also good squad players to have as I'd imagine we're more likely to see Rodgers rotating next season.
If this is the case and Rodgers does intend to use this higher line when the players do get used to it and the triggers associated with this style it'll mean less work in theory as you'd be playing a much higher line with less of the pitch to cover for periods of the game. At the beginning though when the players are getting used to using it every game you'd need to use the whole squad.
It does work…
This may all seem wonderful on paper but could have you doubting how feasible it is in reality. It does work. Teams used this kind of tactic last season when the unbeaten run came to an abrupt end. Liverpool saw it firsthand when teams pressed us high up like United at Anfield. United had such a high line it was like they were smothering Liverpool. Even with good ball playing centre-backs if you press effectively it nullifies them and their influence. Swansea, Arsenal, United and even Villa used this high press to just cut off the supply from the back and pushed us into mistakes and this inevitably leads to the whole team dropping deeper and your striker being left isolated. Remind you of anything?
I've no idea if this is the plan or not but Liverpool did try this in 2013/2014 and it lead to utter destruction of the majority of teams. You could argue this squad is better rounded to pull off this tactic and it'd make sense with Rodgers not looking interested in a stereotypical defensive midfielder and with the rumoured promotion of Pep Lijnders whom is famed for his innovative tactics and high pressing.