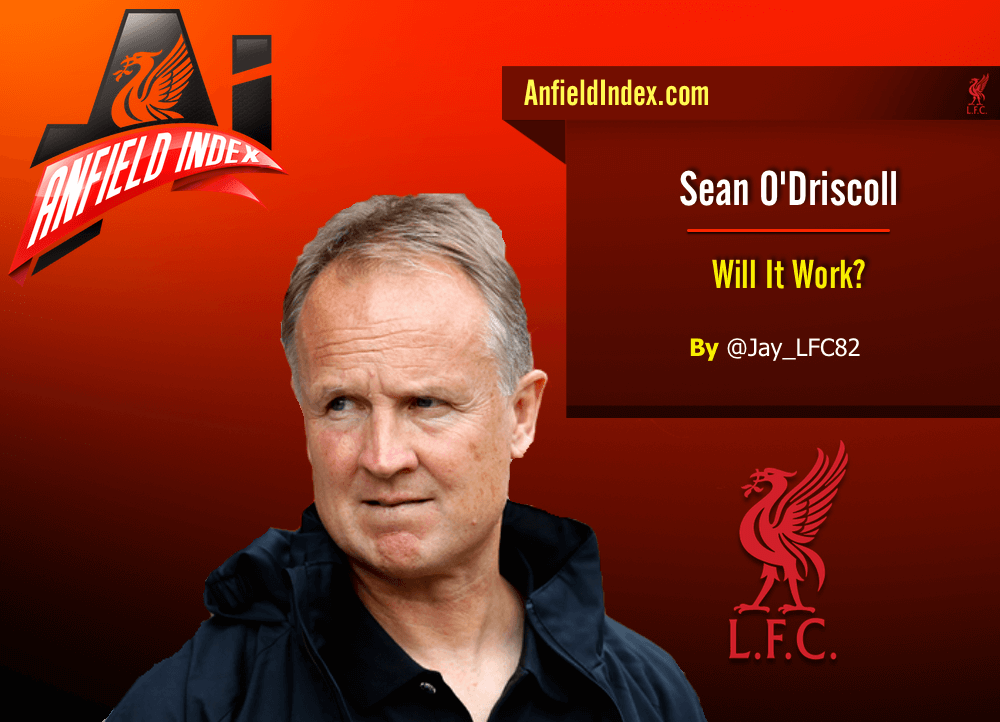 O'Driscoll - will it work?
Fume. There is lots of it going round at the moment. The capture of Roberto Firmino reunited the fanbase and gave us all something to shout about and look forward to. Since the announcement, the ongoing pursuit of Christian Benteke has re-opened the cracks amongst fans which then firmly split open when it was announced that Sean O'Driscoll is set to be appointed the new assistant manager at Liverpool Football Club.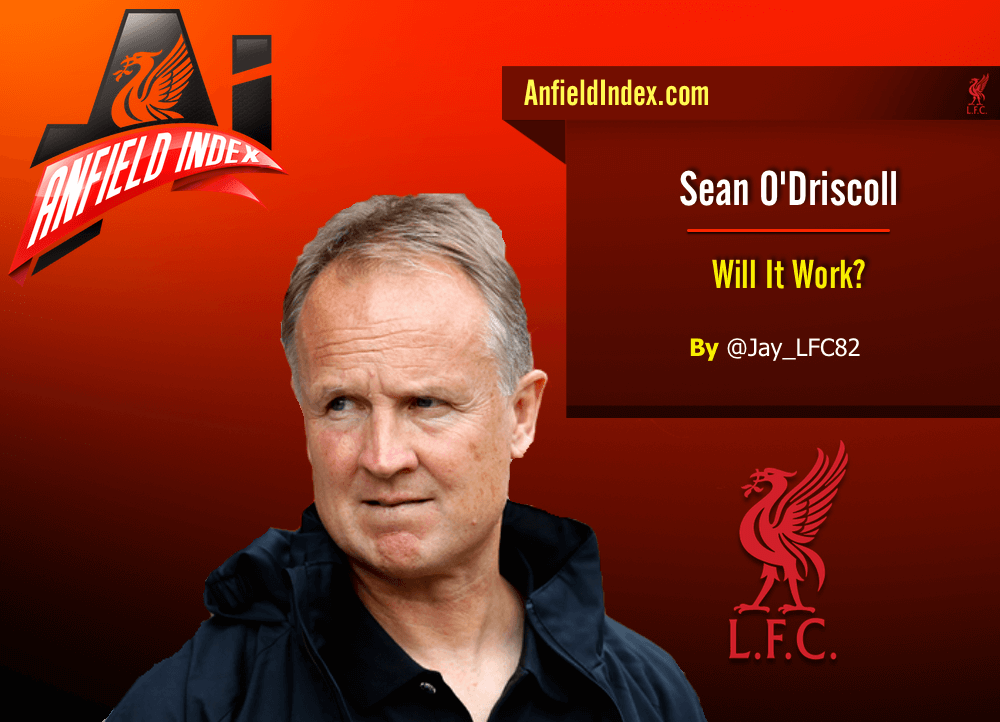 Since the news broke, we have seen articles, tweets and podcasts on the appointment with opinions yet again divided. So much for unifying the fans this summer hey?!

So what do we know about O'Driscoll? He is 57 years old and managed at Bournemouth, Doncaster, Bristol City, Nottingham Forest, Crawley and is currently the coach of the England U19s. It is hardly a glowing CV and doesn't offer much to be excited about. In terms of achievements he has won two play-off finals and the 2007 Johnstone's Paint Trophy. Again, some limited success but nothing to get fans jumping up and down about.
So why has he got such a big role at one of the world's top clubs? Well, he is rated highly by several managers and importantly our very own Brendan Rodgers who said in October 2013
He is one of the best coaches I have ever come across. He is working at Bristol City. He has never had a chance in the top flight. His teams were expressive, had movement, they were technical, but he will probably never get a chance at a higher level.
Gareth Southgate, current England U21 coach said:
He's got great experience in youth development and in the senior game. His teams have always reflected a style of play which is something we would like to implement and he's a developer of players
With fans divided over his appointment, I take a look at the positives and negatives of the latest move by FSG and Brendan Rodgers
Why this could work
Despite the rumours of Jurgen Klopp coming in this summer, FSG have shown that Brendan Rodgers is their man. They are supporting him in the transfer market by bringing in the likes of Clyne, Milner and Ings and now moving for Christian Benteke. They have now backed Rodgers further by allowing him to select his own right hand man.
It is of course important for the manager / first team coach to work well with his coaching team. Allowing Rodgers to bring in his own people will of course please Rodgers and also allow him to be comfortable when working with his team including O'Driscoll. Bringing in a man who Rodgers doesn't naturally fit with may have caused more issues for the team which would have done no favours at all.
Whilst I do not know much about O'Driscoll, reading his quotes and television interviews, he has a similar philosophy to Rodgers in terms of how the game should be played. O'Driscoll said:
The way Spain and Barcelona play requires bravery, the way Bayern Munich play requires bravery, the way Swansea and Bournemouth play requires bravery, it's just a different kind of bravery to what we typically view as bravery in this country"

Playing safe maybe the easy option as it stops the onus being on them if they make a mistake but how many 'safe' teams have won trophies over the years?
The quotes above could have easily come from Brendan Rodgers and allowing them to work together could potentially work out well for Liverpool. If Rodgers returns to his philosophies and the style of play that made him such a good coach then this partnership along with Pepijn Lijnders could work very well.
O'Driscoll's training sessions are reportedly focussed very much on making players think on their feet and improve as a player. Everything is done for a reason and each week is geared up to the opposition and identifying weaknesses in the opposition. Furthermore, he is constantly looking to tweak systems to get the most out of his players.
There are examples of individuals who haven't performed as well as a manager but have done extremely as an assistant manager. René Meulensteen, Steve McClaren and Brian Kidd come to mind. As a result, perhaps O'Driscoll's lack of experience at top clubs should not be used as a big stick to beat him with.
Why this is a poor appointment
Following the 6-1 loss to Stoke in May, there was a lot of doom and gloom around Anfield which mainly focussed on Brendan Rodgers. He looked lost last season and abandoned his principles and style of play.
Players playing in unfamiliar positions, constantly changing systems and publicly criticising players led to a poor season. Importantly, we had a torrid time in the Champions League with Rodgers again struggling to perform well in Europe.
Once it was decided that Colin Pascoe was to leave the club, it was felt by many that this was the chance to bring in an experienced assistant manager into the club who could work with Rodgers to address his failings from last season. Someone who had experience in Europe and someone who has had success as an assistant manager.
Paco Ayestarán and René Meulensteen were both available this summer and have both excelled as assistant managers – Pako deputy to Rafael Benitez and Meulensteen deputy to Fergie. Crucially both have worked under managers who have done well in Europe and won trophies. Those are traits that O'Driscoll does not have and importantly neither does Rodgers.
So we go into next season with a manager and assistant manager who seemingly share similar values on coaching but neither have any experience of winning top trophies nor succeeding in Europe. Given the availability of other high calibre individuals have we again missed a trick? Rather than bringing in someone similar, didn't we need someone to give Rodgers a shake and challenge him and to provide him with the necessary experience?
How will this work out?
Time will tell how O'Driscoll does. In fact, a lot will depend on Rodgers. If Rodgers learns from his mistakes and then works well with O'Driscoll then this may be a very good appointment to put us back on track. However, if he hasn't learnt from his mistakes he may continue to do so with O'Driscoll's seemingly lack of experience.
What do you make of the appointment? Let us know what you think.