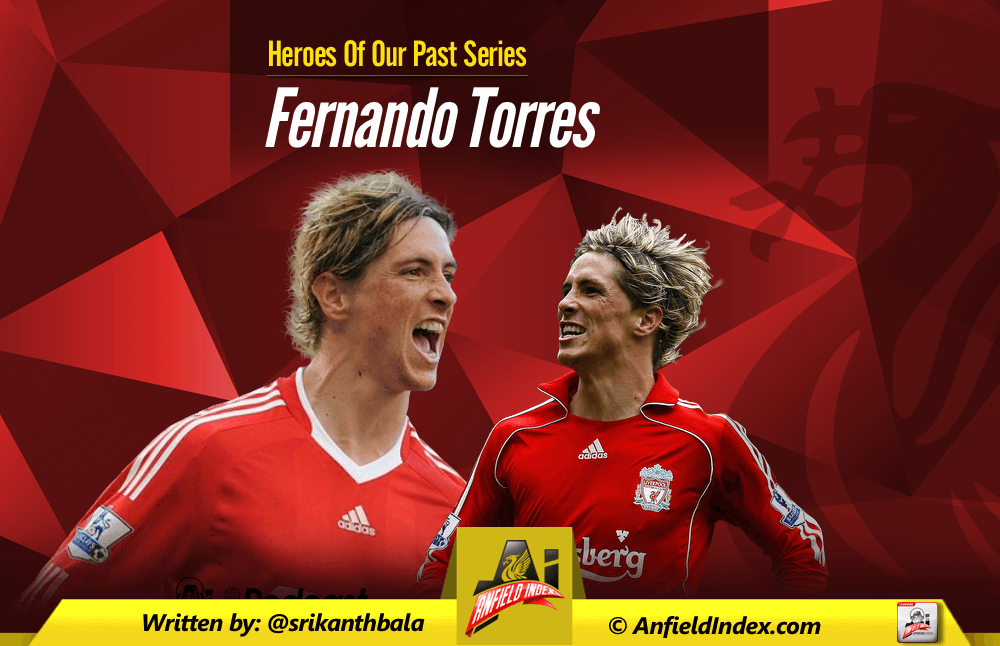 Heroes of the Past: Fernando Torres
This is not my first article on Fernando Torres on this site. I had written one when he played at Anfield during the Steven Gerrard testimonial some time back. You can read that piece here.
As you can see, I am a huge fan of Torres; a Torres fanatic would sound a bit more apt though. In fact I would put my head on the line and say Torres is my favorite Liverpool player I have ever seen playing live during my footballing journey. Yes; not Gerrard, not Suarez, not Alonso. (Tin Hat On!)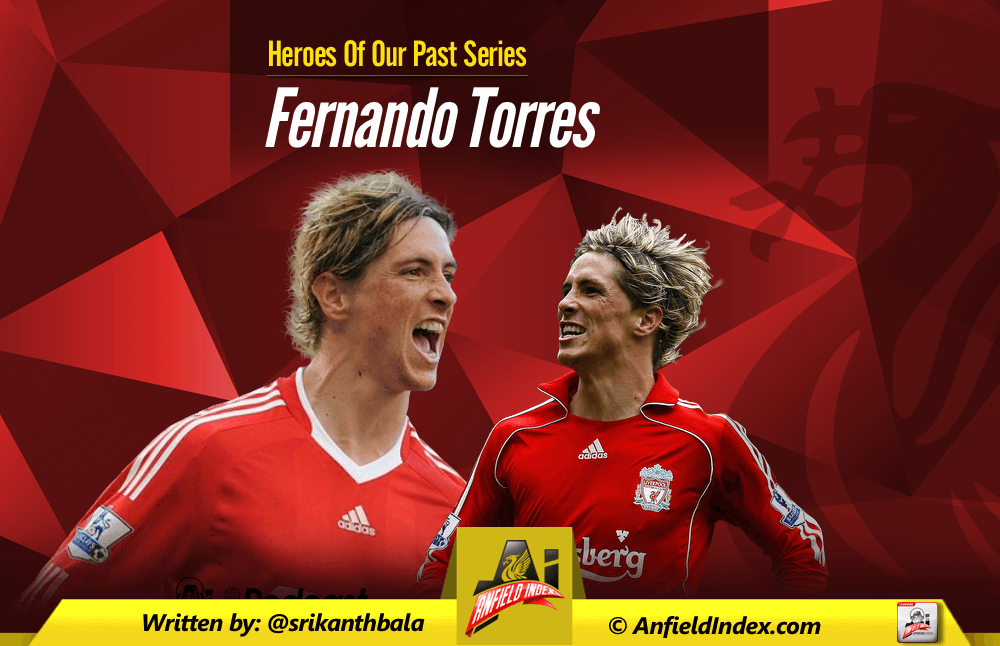 I usually write pieces which has a bit of tactics or a fair bit of Stats from Squawka or WhoScored or Opta. This piece will have none of those as personally, they do not do justice to the player he was. Torres at his prime was pure, raw emotion. Such emotions are difficult to capture in the form of words on a canvas, but I am going to have a proper go at it.
Torres at his prime was a relentless machine. He would dominate defenders, occupy spaces near the shoulder of the last defender and would outrun them with his pace and coolly slot the ball into the net.
Throughout his career at Liverpool, the common theme running was:
Torres takes it down beautifully, Torres with a chance…

Torres has beaten the offside trap, and is one on one with the keeper…

Great through-ball, Torres is onto it in a flash…

GOAL. EVERY SINGLE TIME.
 Torres signed for Liverpool on July 4, 2007, with another of the Kop's favorites Luis Garcia going the other way to Atletico Madrid. At that time, the signing of a player of Torres' calibre was seen as a coup for the club, as seen by the club record outlay spent by Liverpool. As always Benitez had a list of targets and alternatives for the striker's position, but it was quite clear that Torres was his preferred choice.
Interest in Torres was seen to be high with Chelsea enquiring about his services the previous season, and there were murmurs of United being interested. Liverpool went to great lengths to do the deal in a shroud of secrecy, including keeping the player holed up in a hotel room all over a weekend while the modalities of the deal were being worked out. It is said that Torres spent that weekend in that hotel room watching Liverpool videos and reading up on Liverpool. Instantly he got what Liverpool was. Not only the club, but the city too.
As a foreign player coming into the Premier league, one can only dream about having a debut season that Torres did. Goals galore, records shattered, too much adrenaline and fun. He finished his first season with 33 goals in 46 appearances across all competitions.
And there were no shortage of milestones in his debut season.
Premier League Player of the month in February 2008
First Liverpool player to score consecutive hat tricks in home matches since 1946.
First Liverpool player since Robbie Fowler in 1995-96 to score 20 league goals in a season
Eclipsed Michael Owen's 28 goals in a season landmark
Shortlisted for PFA Players' Player of the Year
Nominated for PFA Young Player of the Year
Named in PFA Team of the Year
Runners-up in FWA Footballer of the Year Award
Equaled Roger Hunt's record of scoring in 8 consecutive league games
Most goals scored by a foreigner in a debut season in Premier League
Joint 2nd in Premier League Golden Boot
FIFPro World XI for 2007-08
3rd in FIFA World Player of the Year
Torres started 2008-09 with a bang again, scoring a 25 yarder in the game's only goal vs Sunderland. He faced the first of his many injuries that season with a hamstring injury slowing down his goal scoring deluge. He returned from injury and the goals promptly resumed. Torres scored both of the goals in the win against Everton. The following weekend, he scored a brace again as Liverpool came from behind to snatch a thrilling win against City at the Etihad Stadium.
He was then affected by hamstring injuries again, which meant that he missed the game against Atletico Madrid in the Champions League amongst other games. He returned to action in January 2009 by scoring his first goal in the FA Cup followed by an expected brace against Chelsea. It seemed at that time that he had taken a special affinity towards Chelsea (which would turn out to be true indeed).
He again faced a bout on the sidelines, affected by an ankle injury, but undertook medication to ensure he took the field against his childhood arch rivals Real Madrid. He scored the opening goal in what turned out to be a romp at the end as Liverpool ran out 4-0 winners on the day.
Four days later, he scored the Liverpool equalizer as Liverpool came from behind to win 1-4 at Old Trafford. The memories of him tormenting Vidic are still etched in the minds of Scousers. No one had dominated Vidic in that manner until then in the manner that Torres had. Vidic was constantly troubled by his off the ball movement, his sudden acceleration and his ability to withstand challenges. It was worth paying for the ticket just to see Torres play. Torres reached the landmark of 50 goals in the last game of the season, as he was named in PFA Team of the Year for the second consecutive season. He finished the season with 17 goals in 38 appearances across all competitions.
Torres was blighted by injuries in the 2009-10 season, meaning he made only 22 appearances in the league. But he still managed to score 18 league goals that season, and 22 goals overall that season, which ended early as he opted to have a knee surgery in April 2010 to ensure he was ready for the 2010 World Cup.
Torres started the 2010-11 season under the stewardship of Roy Hodgson. There was widespread interest in Torres, but Hodgson, and then Torres, came out in public to affirm that he was going nowhere. Torres scored the winner in the game against West Bromwich and then suffered a drought in goals as the chatter about an impending transfer in January grew. Torres scored against Blackburn what eventually was the winning goal.
As King Kenny assumed control of Liverpool, there was a fresh renewed hope that the fate of Liverpool could only go up. Torres promptly demolished Chelsea and then scored a couple against Wolves on the 22nd of January 2011.
And then the bombshell dropped.
Chelsea bid for Torres, which was rejected by Liverpool out of hand. At that point of time, I was hoping against hope that we would not sell him at any price. Then he put in his transfer request. My resolve broke. That was only the second time ever a footballer had broken me (After the Baggio miss in USA 94). I still remember breaking down late at night that day. On the internet, there were scores of fans abusing him, some had even gone to extent of burning his jersey. For many fans, it was more about the fact that he was going to Chelsea than it was about him leaving in general.
"WHY CHELSEA OF ALL CLUBS?"

"LEAVE BY ALL MEANS, BUT AT-LEAST RESPECT US BY GOING SOMEWHERE ELSE"

"YOU, MONEY GRABBER!!"

"YOU WILL NEVER BE WELCOMED AGAIN"
Till this date, I am able to recall these comments posted on various forums on that fateful January evening.
My personal Torres Transfer Timeline in the last few days of January 2011 went something like this :
Not even a possibility
Try bidding, will be rejected
Do not go Torres!
Please do not go Torres!
Not to Chelsea please!
Despair & hopeless
Seething Anger
Hug his jersey and go to bed.
And this was a grown up man behaving in this fashion. Football indeed makes you do weird things!
There was an intense anger within me when he left. But I could never hate him or indulge in acts of abusing him or burning his jersey. My love for him overruled any negative thoughts. That was the day I realized that the realities of football were far bigger than the romance of the game.
Torres – The last footballer I ever loved. The last footballer I ever will.
His Armband proved he was a red,
Torres! Torres!
You'll Never Walk Alone it said,
Torres! Torres!
We bought the lad from sunny Spain,
He gets the ball he scores again,
Fernando Torres!
Liverpool's number 9
On a parting note, do enjoy the video embedded in this piece. I have watched it 10 times during the time I wrote this piece.