With Brendan Rodgers backed by FSG and secure as Liverpool Manager who is going to accompany him and who will wave goodbye. As we know there has already been two cut throat departures of backroom staff, Colin Pascoe and Mike Marsh fell victim to last season's shortcomings. Brendan's court is going to be a lot different come that exciting first BPL fixture, away at the Potteries. The appointment of unproven Sean O'Driscoll has caused some concern amongst fans but with bated breath we hope he'll assist Rodgers and emerge as a successful number two.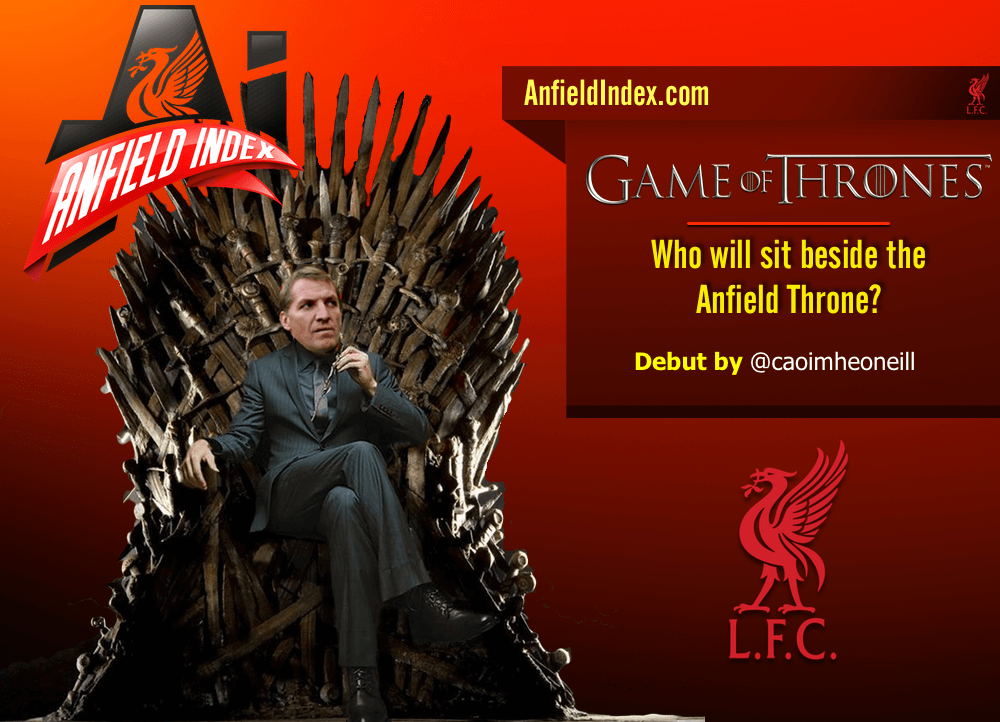 The fans dreamed of a royal addition to the Anfield Throne such as kop idols Sami Hyypia and Jamie Carragher or Rafa's assistant Pako Ayestaran. But O'Driscoll got the job. In which he will lead the lads in training sessions as well as place coloured cones on that hallowed turf at both Melwood and Anfield. We can only hope he does it with as much fashionable grace and style as Pascoe. Who in doing, earned himself a Kop song for his "Winter Is Coming and so what" short-wearing endeavour, cruel to say his only legacy?

TEAM SHEET
Business seems to have been undertaken as early as possible with six summer signings already propped, pressed and posed beside the Liver Birds. Beyond the wall, our beloved Stevie has sworn an oath to a club that isn't Liverpool. Many have followed under the exit lights and more are soon to follow. Rodgers and the committee need to get moving with these departures as the squad is crowded with some areas still left to bulk up, we need 25 men not 26, 27, 28 or 29.
THE ITALIAN JOB
Speaking of number 29, will it be another cliff hanger for Fabio Borini or will he finally pack his bags and say arrivederci. With West Ham and other clubs interested the Italian is surely set to depart. Having failed to make a bite mark in a season the hand was so kindly dealt to him, with Sturridge ruled out and the forward position up for grabs. Yet Borini failed to cement a starting place. His fellow Italian Mario Balotelli also looks certain to leave. Unlike Borini, Balotelli is a proven talent on the World stage but at the same time massively unproven. There is talk amongst the media of a shock Newcastle bid to take the striker on a season long loan to St James Park. It would be our luck that he'd become the player we hoped he'd be for us, for The Magpies. That £16 million fee we paid AC Milan (why always us?) will seemingly never be recovered due to Balotelli's lack of goals, he embodies the un-Istanbul of Athens '07.
SIESTA
Spanish flags used to fly proudly from the Kop but we've been limited in luck with our latest crop of Spaniards. Iago Aspas AKA master of corners has gone home to Celta Vigo to rebuild his career from which he was plucked. The Europa League winner proved himself at Sevilla on loan but not enough for him to return to Anfield nor the Champions League qualified Sevilla.
Another forgotten but hard to forget Spaniard Luis Alberto seems likely to return to Liverpool after Malaga cut him loose. A young midfielder with a future in football certain but future at Liverpool in question. He could become a handy squad player, although no Youtube compilation can save him from the substitutes bench, he must dig deep if he wants a place in the starting eleven. Jose Enrique, renowned for his FIFA skills and social media presence (sort of), but mostly for a lack of first team football, surely the end is nigh for this matador.
Javier Manquillo, if I look back I can remember the pre-season game against Borussia Dortmund when Klopp came around. Gerrard egged Manquillo to dive into a tackle and for which he succeeded. That was a moment of promise from the young Spanish player, this promise was unfulfilled as he had an injury hindered first season in English football. His innocent face looked a long way from the comfort of his Madrid villa. Better received was Alberto Moreno but his Vince McMahon gif-come solo goal at Tottenham was a moment of ecstasy that would not be repeated. Still a promising starlet with a lot to prove.
SAINTS
Rickie Lambert achieved his dream, a move back to his boyhood club. From factory worker to Melwood. You couldn't write it, well you could and we did. But he was never going to be our main striker, we all knew this. For some forsaken reason last year through injuries and a lack of try from stars like Mario this meant Lambert, the 33 year old scouser got the odd run out. Of course he was never going to be able to lace into the boots of Suarez, even if his story was very Cinderella there was no glass slipper moment.
Dejan Lovren most excited Liverpool fans when he posed with LFC target Kovacic on his Instagram earlier this summer. He fell out of favour after some poor results but made his way back into the side towards the end of last season. His price tag might have outweighed his class in the EPL week in week out, heavyweight bouts.
Adam Lallana, a very comfortable and gifted player. If Lallana can keep fit I have no doubt he'll be one of our most prominent and valuable players for the next few seasons.
Nathaniel Clyne, welcome to Liverpool! The fourth saint to join the ranks in two seasons, the England international will prove as an experienced RB and replacement for the contract expired Glen Johnson.
YOUNG GUNS
With a loss of experienced (polite way of saying old) players we need the younger players such as Markovic, Emre Can, Moreno and Ibe all to step up to the plate next season and make an impact. With Sterling's departure confusingly imminent, Ibe could fill the role as home grown and a fans own. Moreover, the German Can impressed alongside Portugal's Tiago Ilori in the U21 Euro's and hopefully Tiago will get a chance to show his speed this season. We wish a fast recovery to Flanno too, who with his local grit I am sure will one day fill the post Carra and Stevie era with that Scouse Nouse we know all about.
R.O.W
Sebastian Coates, another on and off player whose injury struggles hindered his Anfield career, the Uruguayan failed to find true form. With a deal confirmed he'll as most thought move North of the wall to Wearside after a seemingly positive loan spell with the Black Cats.
NEW CAPTAIN FANTASTIC AND BRAZILIAN MAGIC
Jordan Henderson as last season's Vice Captain stepped up and added goals to his game. He gave Coutinho's screamers a run for their Brazilian magic. Phillipe's pal Roberto Firmino becomes the third Brazilian in the squad after his move from Hoffenheim an exciting, attacking player we look forward to watching. That's if Lucas Leiva sticks around, an aging player but one with a hunger to fight for LFC. But with Inter Milan sniffing about you wouldn't blame Rodgers for cashing in on this old but not out Brazilian. Hendo looks to be gaining momentum in the race to join Messi as FIFA 16's new UK cover star. Having said this I think Martin Skrtel would be more suited to the role of captaincy. Behind Lucas he is the current longest serving player and held what looked like stability at some desperate times in defence last season. With the loss of Daniel Agger last summer Skrtel looked the most suitable player to wear the armband in Stevie's absence. Surely the Slovakian skipper who is close to agreeing a new (without an appearance clause) contract will become Vice Captain if Henderson is to become our new captain. A job for Jordan in which his goal against Man City needs to be repeated.
Looks to be a tricky first season without Gerrard but a promising one too, one in which we will push as hard as we can for fourth place. Which is why we need to wave goodbye to the departures sooner rather than later. Then we can look forward to getting our pre-season tour underway, down under and beyond.