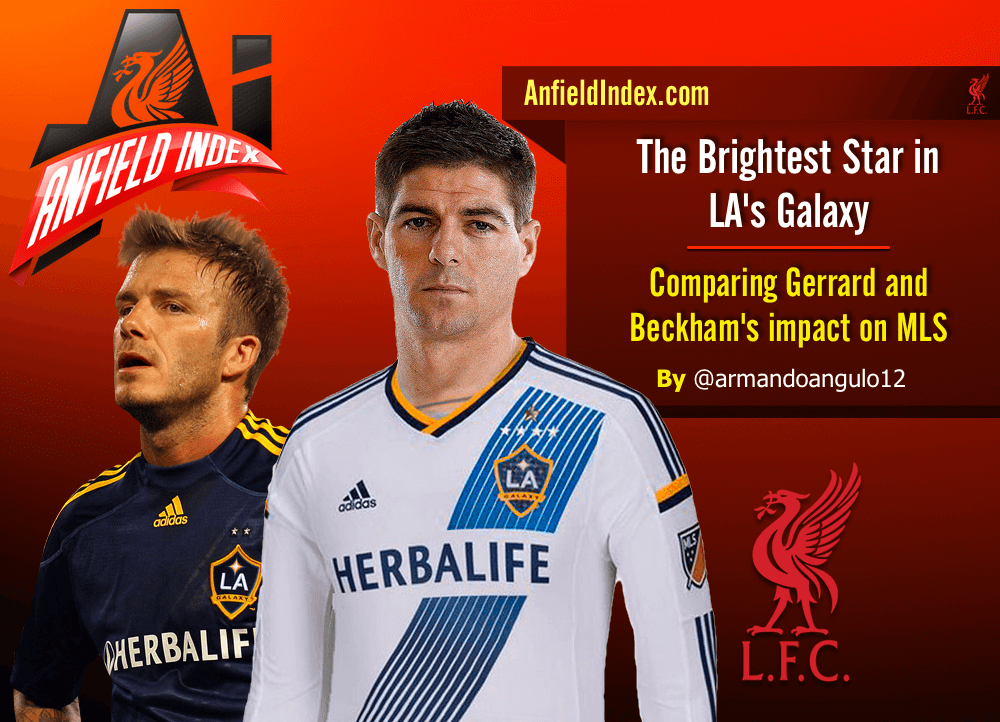 The Brightest Star in LA's Galaxy: Comparing Gerrard to Beckham

Comparing Gerrard and Beckham's MLS Impact:
Global icon David Beckham arrived in Los Angeles in 2007 and took his place amongst the myriad of stars in Hollywood.  The poster boy for both Armani and English football was set to begin playing soccer in a very young developing league. It was the perfect storm for marketing success, the most recognisable face in world football moving into America's second largest media market.  A buzz was undoubtedly beginning to build.  Suddenly all eyes were on Major League Soccer, a league that was in its infancy, yet already beginning to plateau.  Beckham's signing was the precise spark that MLS needed to begin their ascent towards becoming a recognisable global brand.
"When I decided to come here, I think I raised a little bit of interest and I hope that's what I've done, if that's the single thing that I've done then great." – David Beckham 2012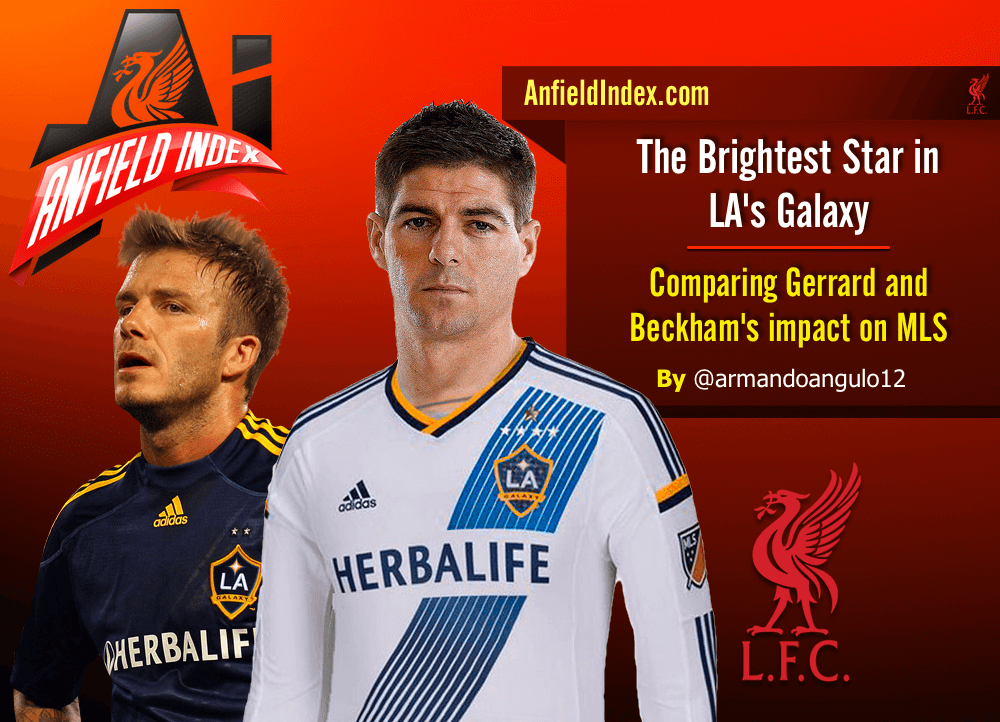 There will be many differences in how Beckham aided the leagues growth and how Steven Gerrard will help the league evolve.  For instance, after signing for the Los Angeles Galaxy in 2007, David Beckham's impact on the league was far more financial then anything he ever produced on the pitch. He helped propel an increase in attendance averages around the league and saw the MLS expand from thirteen to nineteen teams during his career in Hollywood — all of which was monumental for a league trying to establish itself.  Although his marketability was infinite, his performances on the pitch didn't quite match up with his impact off of it.  In fact, most of his statistics were underwhelming throughout his six year Galaxy career.  For instance, in six MLS seasons he only appeared in 98 of a possible 176 matches. That equates to a meagre 56 percent.  Another telling sign of his relative underperformance, is he only accrued two Player of the Week awards and only once voted to MLS' Team of the Season.  It could be argued that a bit more was expected from the former Galactico.  Below is a chart of detailed stats Beckham compiled during his time at the Galaxy.
Though we should expect Gerrard to be as important an emissary for the ever growing North American league as Beckham was, we could envisage his impression on Major League Soccer to come in very different way.  Major League Soccer is now in a much more established position and has begun to focus on improving the quality on the pitch as much as its marketability off of it.  Thanks to the preexisting foundation laid beforehand, Stevie will be able to come over and get straight down to what he does best and thats play football.  Similar to what LFC supporters witnessed for so long, the Liverpool legend will surely be a commanding presence on the field.  Whether in a leadership role in the locker room or dictating play during matches, Stevie will be instrumental in LA's quest for its sixth league title.  Although we know Gerrard has all the world class ability and massive experience in his locker, he will still need his new teammates to perform well with him.  He will need to acclimate himself to the team, while integrating on the fly with the season already over twenty games in.  His overall output will be greatly influenced by two key players that already call the StubHub Center home.
The first of the two is a recognisable face for Premier League fans, Robbie Keane.  The Irishman has really lit up the competition in the last few seasons, scoring goals with ease and creating loads of space for his teammates to exploit.  Keane has performed so well that he was recognised as the MVP of the league during the 2014/2015 season.  His ability to power through defences and his tactical awareness have allowed Robbie to consistently be one step ahead of his opposition.  Although he has struggled a bit this term, it can be attributed to a multitude of reasons. Keane's statistical output has really been effected by injury, frequent international call-ups, and the retirement of the Galaxy's long time creative force Landon Donovan.  Displayed in the chart below courtesy of Squawka.com  we can see just how well he has performed in recent seasons.
The second player who will be key to Gerrard's performance will be his central midfield partner, Juninho.  The twenty-six year old Brazilian has proven to be a quality player in Major League Soccer. Since joining the Galaxy in 2010, Juninho has become one of Bruce Arena's most trusted players.  While averaging over two interceptions a game and winning a similar amount of tackles, the former Sao Paolo man has proven himself to be an intelligent player with an incredibly keen sense of positioning.  His discipline to stay within the system will allow the former Liverpool captain to focus on the attacking third of the pitch, knowing the Brazilian midfielder will be there to cover the space left behind. This in turn will allow Juninho to curb his game to a more defensive style.  However, this does not mean the player wont be integral in attack as well.  He is an accomplished passer of the ball and can distribute the ball from deep.  The twenty-six year old is a player whom this season has averaged a goal every four games—Not a bad return for a deep lying midfielder.  We should expect him to be a great compliment to Gerrard, allowing the legend to focus on pushing the team forward in attack with minimal defensive commitments.  Below are compiled stats to compare some of Juninho's numbers in MLS, to some recognisable defensive midfielders in world football.
Although David Beckham paved the way for the influx of high profile talent in MLS, it will be up to Gerrard to make sure that trend continues to rise.  Arguably the greatest Red to ever don the shirt, he now has to carry the role of ambassador to a league thirsting for improvement in quality year after year. During seventeen years spent at Anfield, he accumulated over 500 appearances, 120 goals and countless memorable moments proving quality never lacked in this legend's game.  With help from his new teammates and by hitting the ground running, Gerrard will be looking to replicate his Liverpool success in Tinseltown.  Now across the pond, Stevie begins his North American adventure striving to dethrone David Beckham as the brightest star ever in LA's Galaxy.