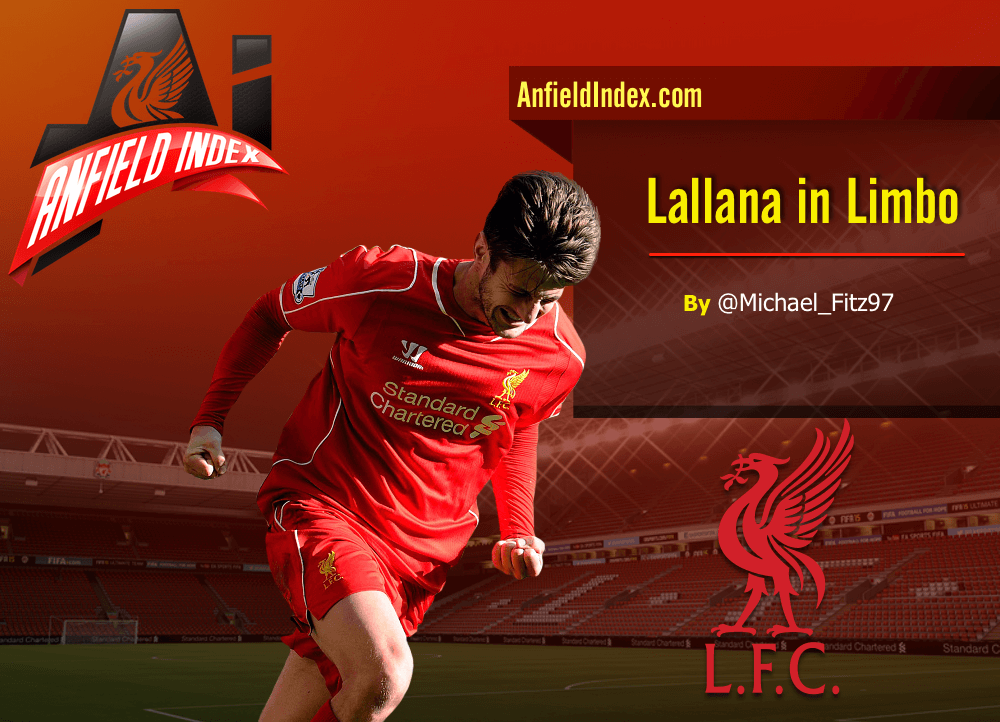 Lallana in Limbo
Call me miserable, and rest assured you won't be the first, but there's an underlying apathy towards Liverpool Football Club at the moment. I mean, even after the acquisition of Bobby Firmino, as pleased as I am, I couldn't help but revert back to my repetitive, crestfallen self. Be it the result of the end-of-season review; Jimmy Milner's proposed wage bracket or the perpetual links to Christian Benteke, there's something in the air.
After a brief scan of my Twitter, I couldn't help but notice the frequency of recent tweets dedicated to Adam Lallana – he's very much on my agenda at the moment. Now, I don't particularly dislike Lallana, he's certainly not as arrogant as the other big-money signing from the South coast, and he hasn't had the audacity to behold the iconic number '7' shirt. By the same token, I don't particularly rate Lallana, either. Yet, despite his substandard opening season, remains staunch Lallana defenders that, despite his fee – which I was recently told was "irrelevant" – believe he's good enough to start for Liverpool. Having recently acquired Bobby Firmino, complimenting an impressive array of existing attacking talent, that assertion is somewhat questionable.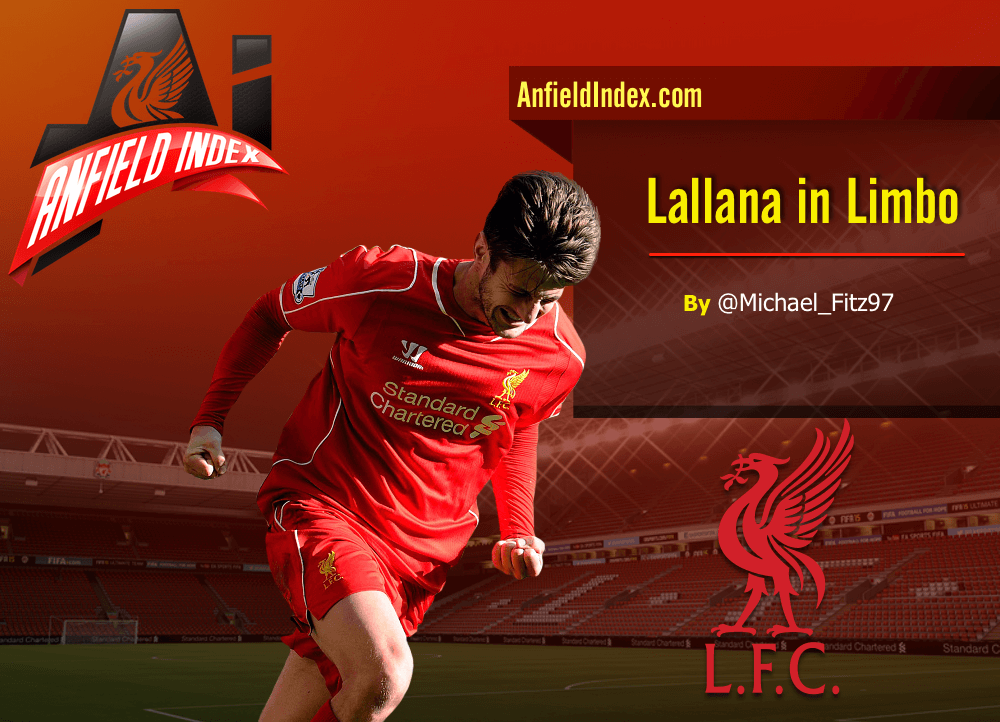 First and foremost, let's examine his transfer fee: £23m. Liverpool's interest in Lallana was supposedly firm during the season, ergo, it was inevitable a summer bid would present it. Coming off a season where Liverpool nearly clinched the title, more importantly boasting a Champions League place, it was pretty underwhelming to see the club willingly invest a premium fee in a player who, really, wouldn't look wholly unapposite in a mid-table side. Contrastingly, leaping back 12 months in the 2013 summer window, the club pursued more established, elite forward players in Henrikh Mkhitaryan, Diego Costa and Willian, who, as most would concede, are players of a higher calibre, commanding very similar transfer fees. Crucially, too, last summer's window saw the club lose one of the best to ever grace Liverpool Red in Luis Suarez, making an elite replacement absolutely necessary. The recently acquired Firmino was available, Bayern starlet Xherdan Shaqiri was too after an impressive World Cup display – both of whom more befitting. United's new signing Memphis Depay was also attainable. In essence, Lallana's fee did matter, as he virtually acted as the Suarez replacement; and I don't need to spell out to you the drop in quality, do I?
Generally speaking, the same arguments for Lallana crop up every time. He presses; he's technically sound; he scores goals; he creates goals. Apparently.
Let's address each defence for him individually. Firstly, Lallana doesn't press. Pressing constitutes intelligence and discipline; chasing raggedly towards opposition defenders doesn't constitute pressing. Lallana has a knack for the latter, dispelling any notion that he "suits the system". Pressing seemingly vanished from Liverpool last season, anyway, but the high intensity and blitzkrieg style of football proved so fruitful for us in 13/14, where pressing was a profound contributor in the success of that style. Brendan himself has championed the motion, yet remains a keen admirer of Lallana. Henderson presses; Coutinho presses; Allen presses; Suarez pressed. Lallana doesn't. Of the entire offensive Liverpool arsenal, it was only Lallana who was deployed in his favoured position last season. Despite this, he didn't perform, and the post-Christmas transformation saw him get an extended run in the side, even at the expense of superior personnel. Markovic featured regularly at right-wing back and left-wing back; Sterling was shunted out wide too, while Balotelli was unjustly expelled. Still, Lallana didn't deliver, with Coutinho having to do a lot of the former's work for him.
On the highlight reel, Lallana's brilliant; his cute turns, his pristine touch, his gliding demeanour are all glamorous, and there's no denying he looks the part. Unfortunately, for all of the flash, there's very little substance. In terms of input, he offers very little. His impact is minuscule, relative to the likes of Coutinho and Sterling, who are supremely more influential. The success of 13/14 was based on the foundation of pace and rapid transition; Lallana is simply incapable. For every touch Sterling takes, Lallana takes three more. In abundance with his acceleration struggle, where he takes longer to reach full pelt, his inclusion is to the detriment of the team. Sturridge, Sterling, Coutinho, Markovic and Ibe are all extremely quick and all thus possess the requisite attributes to execute their attacking roles effectively, exploiting said pace, where Lallana proves a hindrance.
Further, Lallana at his maximum level isn't physically capable of enduring 90 minutes or so; in fact, once the hour mark has passed, it's advisable to remove him. For example, at Liverpool, from his 27 league appearances, only 8 of those saw Lallana stay on the field, whereby he was substituted 15 times. Admittedly, Lallana has had a series of injuries to contend with, but a similar pattern is evident at Southampton; from 38 league appearances in 13/14, he was substituted 19 times, with 18 full games to his name. In 12/13, of 30 total appearances Lallana played just 14 full games – clearly, all three managers in this period accept his physical shortcomings.
A personal favourite is the supposed contribution to both goals and assists. To compare the observation, I bracket it with "We don't need a DM" – but we'll save that for another day. Alternatively, head over to Twitter. It's always a laugh, like.
Moving on, for a £23m attacker, I'd consider the two a given. However, his track record would suggest that, actually, his contributions to both are quite minuscule. For Liverpool, Lallana managed 5 goals last season – two of which coming in one game; all of which against considerably lesser opposition. On the assist count, he managed another 5 – a grand total of 10 goals. For Southampton, Lallana recorded 9 goals alongside 5 assists – a grand total of 14 goals in 13/14, and a total of 8 goals in 12/13.
Condensed: 32 Premier League goal contributions – be it through himself or an assist – in 95 league appearances. 17 league goals in 95 league appearances; 15 assists in 95 league appearances. £23 million.
As mentioned, Liverpool have recently acquired the services of Hoffenheim's Roberto Firmino for a rumoured £21 million – a considered alternative to Lallana last summer. To compare, Firmino scored 7 last season and assisted 10,  scoring 16 and assisting 11 a season earlier too. It's worth noting Firmino is considerably younger than the player in question, too. Lallana's record is mediocre at best, regrettably coming at a premium fee. Clearly, the wrong choice was made last summer, however costly.
Moreover, it's interesting that the Lallana bid was a drawn out affair with Southampton yet, despite the length, the bid remained unopposed. Mauricio Pochettino left Southampton for Spurs and wasn't interested; United weren't interested; Arsenal weren't interested. Nobody challenging for the top spots were interested, bar Livepool, which in itself is quite telling. Nobody other than Brendan Rodgers – which isn't Lallana's fault, I concede – deemed the player worthy of obtaining. Second only to his Southampton counterpart Dejan Lovren, Lallana's signing was the most frustrating as it illustrated Rodgers' reluctance to shop abroad for better, cheaper quality. Indeed, once Firmino and Depay are under-way, perhaps even Shaqiri too, the Lallana investment will be reviewed.
Lallana will undoubtedly feature this season. Rodgers will persist in trying to justify the enormous investment, as witnessed in chunks of last season, regardless of whether it's to the detriment of the side. Based on merit, however, it's impossible to place Lallana in the starting line-up. Sturridge, Coutinho, Firmino, Balotelli, Markovic, Ibe, Origi, Ings will all vie for a place, with Sterling not yet gone and a new forward still to arrive, ultimately leaving Lallana as squad filler. For £23m, that's a luxury we cannot afford.