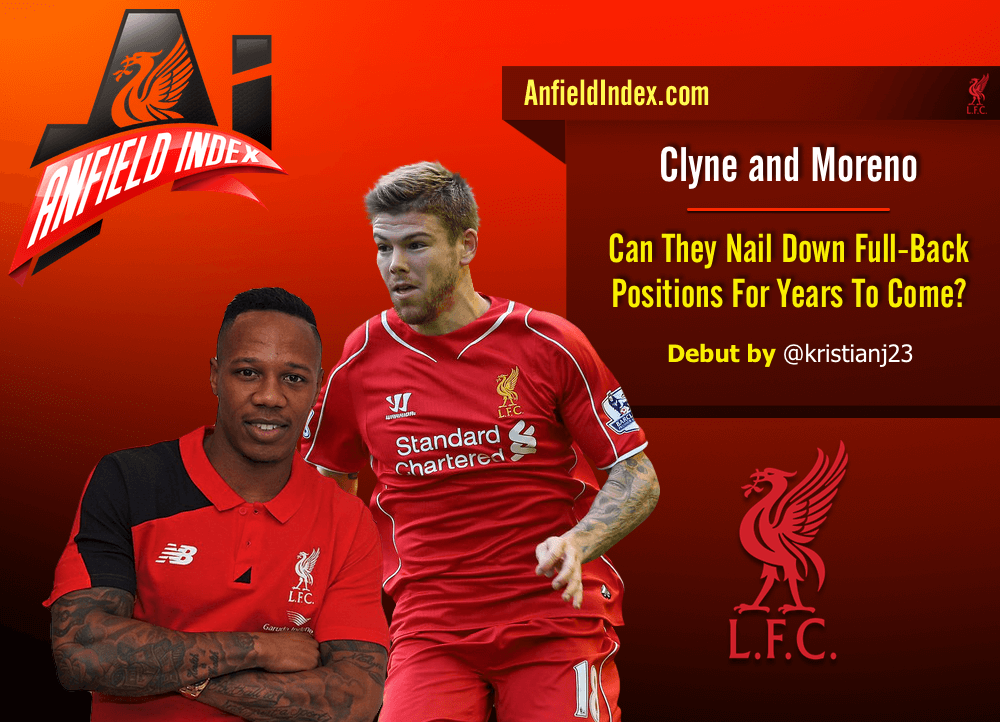 Can Clyne and Moreno nail down full-back positions for years to come?

Last season, full-back proved to be a problem position for Liverpool, but in Nathaniel Clyne and Alberto Moreno there is reason to be quietly optimistic about having two quality players in place for the foreseeable future.
The list of players to fill in on either side of the defence in 2014-15 was seemingly endless. Aside from Moreno, the following players had a stab at filling in there: Javier Manquillo, Glen Johnson, Jordon Ibe, Jose Enrique, Jordan Henderson and Emre Can. Lazar Markovic, Raheem Sterling and Adam Lallana were even slotted in, albeit in a slightly more advanced wing-back role in the 3-4-2-1 formation. The fact that Moreno lost his place to Markovic, a winger, speaks volumes for the trough into which his form dropped during the latter part of 2014.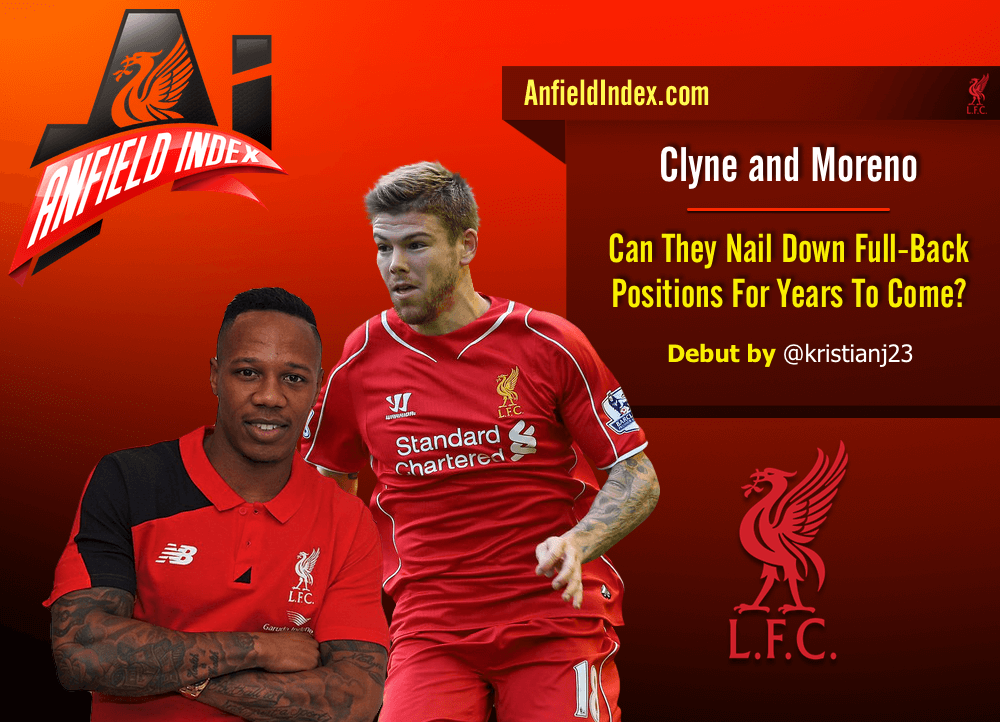 Nonetheless, his purchase last summer made sense. His high-intensity approach to the game seemed a perfect fit for a Brendan Rodgers side. He's quick, presses high and is aggressive in the tackle. In fact, his goal at Tottenham Hotspur proved exactly why we bought him, as he harried Andros Townsend to win the ball and set off down the pitch on a marauding 50-yard run before lashing the ball into the far corner. Although this proved to be the high point of Moreno's first season in the Premier League – his form tailed off at the back end of 2014 – it doesn't seem to have deterred the club and Rodgers clearly sees the 23-year-old as a full-back befitting his style of play.
Evidently keeping within the same remit, Liverpool have brought a similar style of full-back to Anfield in Clyne. The former Southampton man is very much a front-foot defender and looks to win the ball back high up the pitch, much like Moreno. He is also incredibly quick and many of his strengths lie in his attacking prowess – he can beat a man and deliver a menacing ball into the box.
The similarities don't end there though. At 23 and 24, the duo's best years should, in theory, still lie ahead of them. Even the fees paid for them are similar. Clyne's transfer starts at an initial £10.5m, rising to £12.5m, while Moreno joined the Reds for £12m.
With many believing that Liverpool will return to a four-man defence for the 2015-16 season, Clyne and Moreno seem perfectly suited to both 4-3-3 and a 4-4-2 diamond.
In the former system, the pair will be asked to provide support to the two wingers and overlap at every opportunity. If the two wide forwards move inside to get closer to the central striker, the full-backs will almost become auxiliary wingers themselves. A similar scenario should occur in the 4-4-2 diamond aswell.
The prototype Clyne and Moreno performances are outlined in the above heatmaps. The first shows Moreno's performance in the 4-1 win over Swansea City in December 2014 while the second highlights Clyne's attacking display at Leicester City during the latter stages of last season. It is clear that the duo spend large parts of these games in the opposition half and often occupy the positions traditionally fulfilled by wingers. With the likes of Lallana, Markovic and Roberto Firmino likely to cut inside from wide positions, there will be considerable onus on Liverpool's full-backs to put in similar performances next season, particularly against the bottom 10 sides.
Moreno's first season shows that nailing down the left-back berth is a tricky task and Clyne will have to adapt to Liverpool much better than fellow former Saints Rickie Lambert and Dejan Lovren, but for the first time in a while Liverpool's first choice full-backs are not a cause for concern.