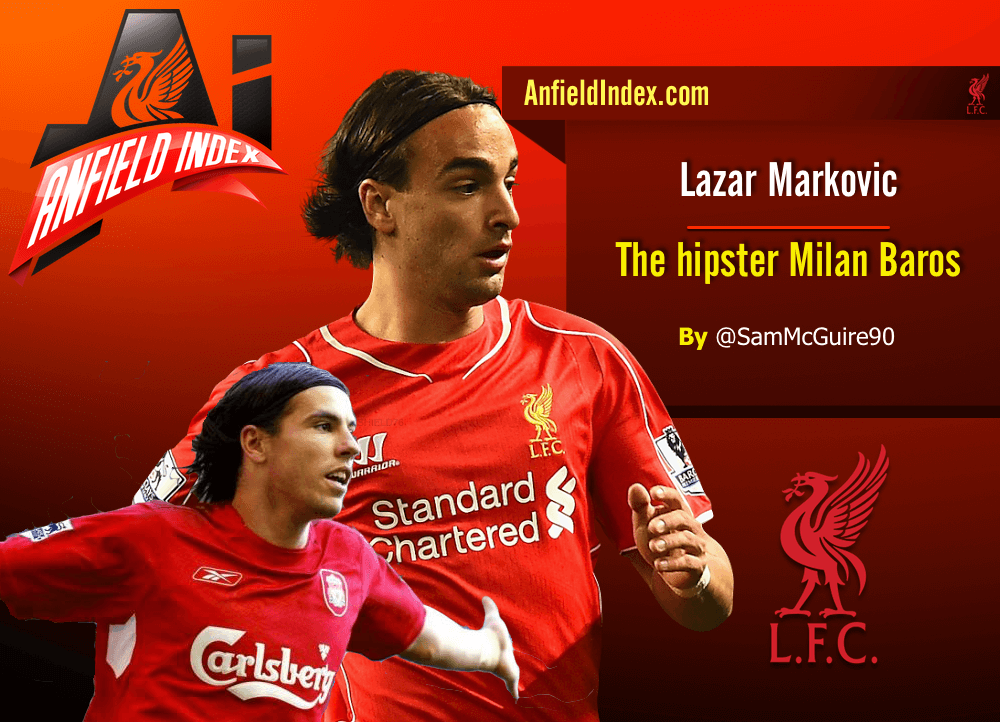 Lazar Markovic: The hipster Milan Baros
Have you all managed to stop laughing?
It took me a while too but I'm serious, that really is the opinion of a select few muppets on Twitter who are eager to write off the young Serbian.
I know what you're thinking. It's an easy comparison to make what with both being strikers, right? Oh, no, wait…

Well at least they're both from the Czech Republic, yeah? Erm, nope…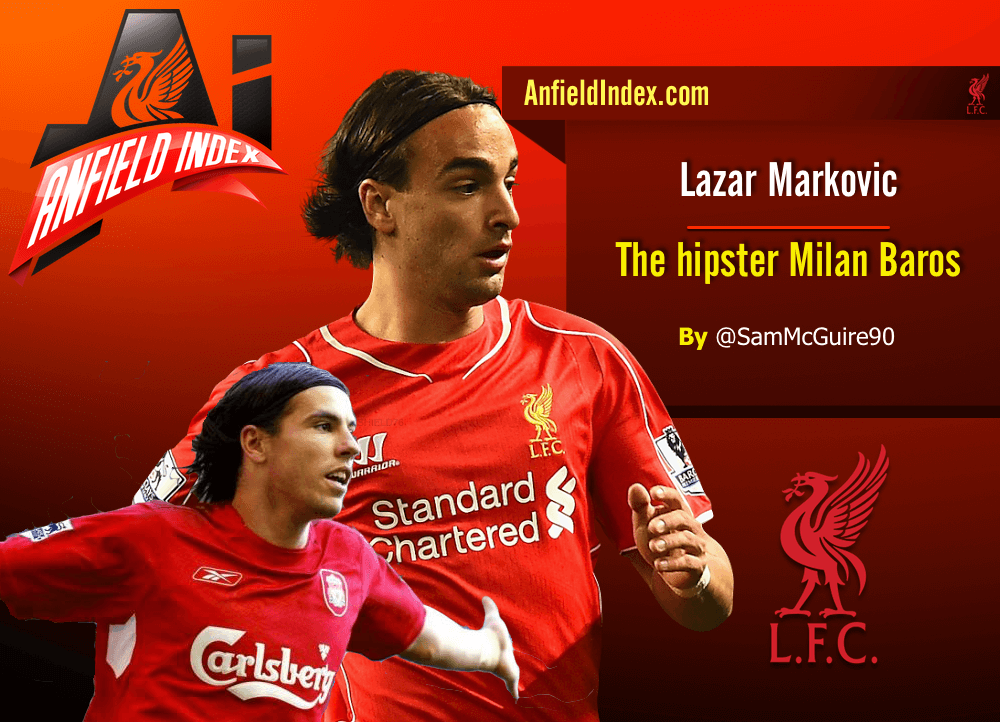 So it's a nickname purely based on them both having similar style hair? If Markovic cut his or you showed clips of Baros from 2002 and told people they're similar you'd be locked away and rightly so. Player comparisons are usually based on players having similar styles. What a creative bunch of fans we have in our midst eh?
On a recent pod Dave Hendrick called Danny Ings the Sussex (?) Carlos Tevez, which he is in terms of playing style but sadly not looks. So you're wrong, Dave.
Sqwuaka will be creating a similarity widget app whilst you read this for players with similar hair styles. You pick two players and they're given a rating out of 100 in how much they look alike.
I for one haven't ever let the looks of a player influence my opinion of them. I loved Javier Mascherano and many considered him rat looking. Clearly a did a disservice to Lucas Romero a few months back when I labelled him the new Mascherano! So I find it peculiar that these select fans find endless excuses for the apparently good looking Adam Lallana whilst simultaneously writing the obituary for the Milan Baros doppleganger. Are we seriously turning into a vain fanbase?
*Shudders*
Match of the day may start to have a 'Who wore it best' section of the show followed by 'What's hot and not' to appeal to these fans. After all, if you're beautiful on MOTD you're clearly Premier League proven so you're good enough for Liverpool..
Oh the 'hipster' part of the nickname for Markovic comes from these people ridiculing fans who watch other leagues.
"Look at them watching their Bundesliga on dodgy links online. Saddos."
Yeah or alternatively watch them on BT Sport for free…
They haven't got time to watch other leagues, they'd rather form their opinions watching re-runs of Match of the Day and adopting whatever the popular opinion is at the time though.
The Stats
If you question the people who aren't fans of Markovic then they have this stat memorised. "900 mins in the attacking third, 1 goal and 0 assists."
Shit. I missed the memo which said we judged 20 year olds who have just moved abroad after a cumulative total of 10 matches. Clearly a settling in period is overrated and we demand success. Instantly.
Obviously we expected him to take up the Suarez mantle (no not in terms of looks) in an underperforming Liverpool side that struggled to score. I said from the day we signed him anything this season from Markovic would be a bonus as I expected a bedding in season. I was pleased with how he perfomed in certain games, specifically the game against Spurs at home, and it left me positive for the future of Liverpool's attack with him somehow involved.
But hey it's easy to overlook the impact on his game it would've had when he was moved around the pitch to fill in at RWB and LWB. I'm all for him doing that but to judge him so critically because he didn't excel, not for me thanks.
Then carry on beating him with the Jordon Ibe shaped stick you have. Completely different players and physiques and the only thing similar is both being asked to play out of position as a wing back. Yet the success of Ibe at wing back only seems to fuel the anti Markovic garbage being tweeted.
Then what tops it all off is how now rating a player translates to you being pro or anti Rodgers. Yep you read that right. If you rate the David Bentley wannabe (Adam Lallana) then you're pro-Rodgers. If you rate Milan Baros' twin you're anti-Rodgers. Clearly it's exclusive and to suggest otherwise is futile.
I'm clearly a hispter, anti-Rodgers radical with a room full of Milan Baros posters…or maybe I just had the Portuguese league on BT Sport and I think Markovic has the potential to be good and it's nothing to do with Rodgers.