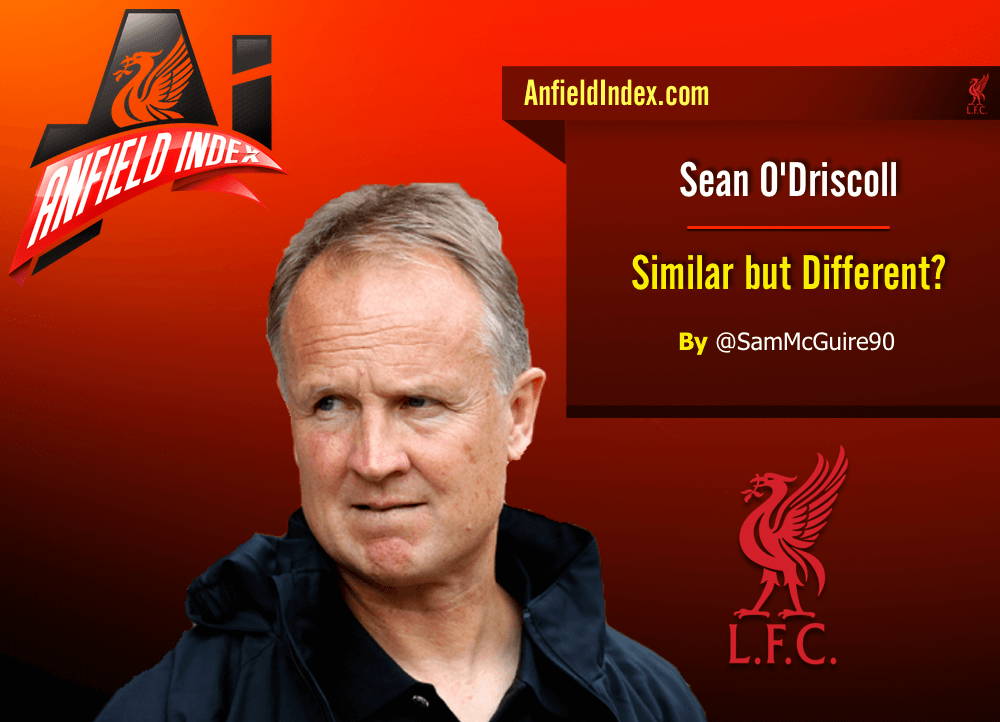 Sean O'Driscoll - Similar but Different
It's finally here. Pre-season officially began on July 6th. The 'big' news many ITK's predicted never actually arrived. Despite Callum 'credential' Wright saying a Dubai based company would buy the club they inevitably didn't. The manager wasn't replaced by a certain German. It was kind of nice how straightforward it was in the end after a summer of conspiracy theories.
The first team coaching staff got two new additions, the playing staff has been aided by the additions of James Milner, Danny Ings, Nathaniel Clyne, Adam Bogdan, Joe Gomez and Bobby Firmino and Brendan Rodgers' media sabbatical came to an end.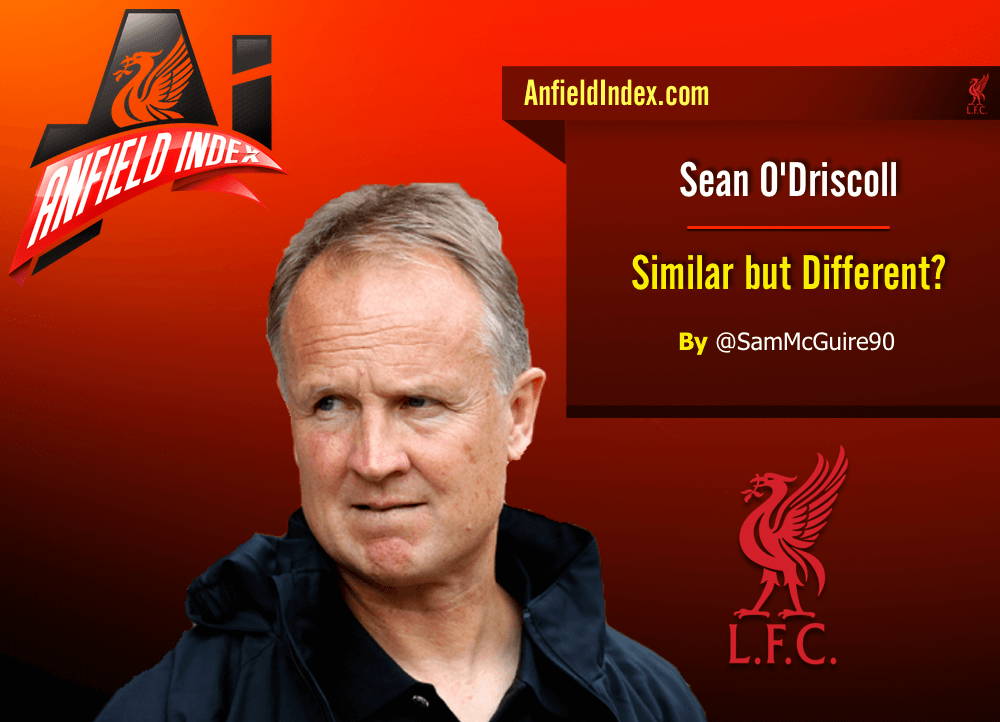 I want to look at one in particular. The one with unfortunate initials – SOD. I'm away so missed the full aftermath of the Sean O'Driscoll appointment on twitter but as Chris Bascombe stated in his piece earlier, an assistant manager isn't considered important to the majority of fans until they're no longer at the club and powers that be are looking for a new right hand man for the manager.
There are two sides to Sean O'Driscoll from what I can see. I won't claim to be a groupie of his but having spoken to a few friends of sides he's managed they all kind of say the same thing.
"Great ideas, wants to play proper football but he never has the right set up or players at his disposal and his teams concede far too many."
I've seen people saying that could be the write up for Rodgers in 20 years time. I don't agree but you can see comparison in terms of playing style and a poor defensive record.
You then look at his managerial stats and those too are slightly underwhelming for a man that's labelled as a 'skilled manager'. I suppose it's what you view as important though when coming to a conclusion of a manager; results or style. Results wise you wouldn't say he was skilled, his win ratio averages out in the mid 30's but stylistically he could be seen as skilled due the fact he went away from the trends in the lower leagues.
He may have 'failed' as a manager because he didn't have the right infrastructure in place. The players at his disposal could've been ill equipped for what he wanted them to do. With smarter players in a better system, like we've got at Liverpool, his ideas may actually work how he intended them to, what with him being part of the supporting cast and not the main man. I'm sure in all your lives you've all had an idea you've wanted to try or implement and you've not been able to because the people you're working with aren't receptive to it? Doesn't mean it's a bad idea, does it?
Ethos
Admittedly I would've liked a more defensively minded assistant manager but with the rumoured appointmemt of another coach it may not be that much of a problem as first thought. From what I've seen and read, usually if you're an attacking manager you have an assistant manager more skilled in the defensive side of the game.
As I mentioned earlier O'Driscoll likes to play possession football and his sides are questionable defensively. Ignore the latter part for now and concentrate on the fact his teams like to play possession football.
I'm not sure how many of you have seen Countdown but there is a numbers round in which contestants get a number to try to reach and then get 5 or 6 numbers to use to get the desired number. The contestants have the same goal but use different calculations to get there.
One outcome with different ideas of how to get there. This could be what happens with the appointment of O'Driscoll, we may see Brendan not shift formations so radically next season after one or two bad games but instead tweak things with the advice from his coaching staff.
On the surface the new appointments may look very 'samey' in regards to Brendan and this could give off this idea that O'Driscoll is a 'yes' man but this could well be the complete opposite.
Samey but in a different way..
One of my best friends coaches a local U16 side having worked his way up from the U10's. He was a midfielder himself during our school days and this plays a part in how he sets up his sides. He likes to play possession football at a slow tempo with emphasis on dominating the midfield. He's gaining a bit of a reputation locally because of this and partly because of how others coach their sides.
It shouldn't but it still surprises me that teams in England (youth levels) still use horrible Vinnie Jones type players in midfield. Their one aim is to break the most skilled player. Either that or they have a physical centre forward who they just hoof the ball forward to. In both scenarios the midfield isn't used to full effect.
Sometimes I'll go to his training sessions and certain matches to see how it's going or if he's asked me for my thoughts on something he's trying. We both like the play football properly, we both like to dominate midfield but whereas he likes to dominate with the ball I like to dominate without it. What I mean by that is I hate static midfields. Sterile possession isn't something to be admired. So sometimes I'll bring the two players with the best movement into midfield during training and have them do 30 second bursts of playing tag (the opposing midfielders almost chase the two who are moving. If they get the ball they aren't moving enough) Constant movement with ball retention yet it completly opens the midfield up for you to dictate the play. It may sound silly but it works in certain games for those age groupa and it sticks with his idea of dominating midfield. So not to come over reliant on these players he's started to include a game of tag in his training sessions.
Different instructions yet same outcome.
Could that be how O'Driscoll helps develop Rodgers as a manager? He had Pascoe around when he needed to consolidate his ideas to the players but as with everything you need to evolve. FSG may believe Rodgers has what it takes but just needs to hone his skills around coaches who are like-minded in order to evolve and unlock what he believes he can offer.
With the addition of our very own Pep the club now have three coaches involved with the first team that all have the same ideology but different ways of potentially arriving at the same ending. A successful Liverpool side that's easy on the eye.