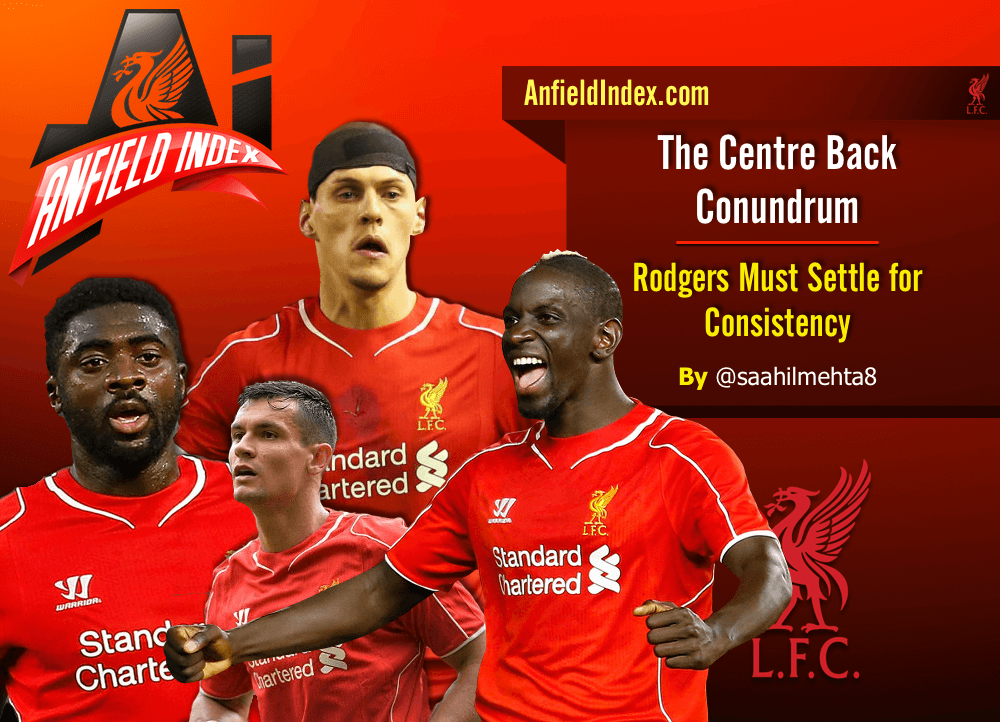 The Centre Back Conundrum - Rodgers Must Settle for Consistency
Even after spending over £110m on player recruitment last summer it looked as though Brendan Rodgers was never sure of what his best XI was. More often than not he seemed desperate to justify the validity of those acquisitions that was displayed by his decision to stick with Dejan Lovren even though it was apparent the Croat was severely lacking in confidence due to the pressure of his transfer fee — through no fault of his own. Other players were regularly played out of position to try and make up for issues throughout the squad and the shift to the 3-4-3 formation — even though successful for a period — had major positional issues due to the fact that Rodgers did not bring in the right quality of players to suit that system.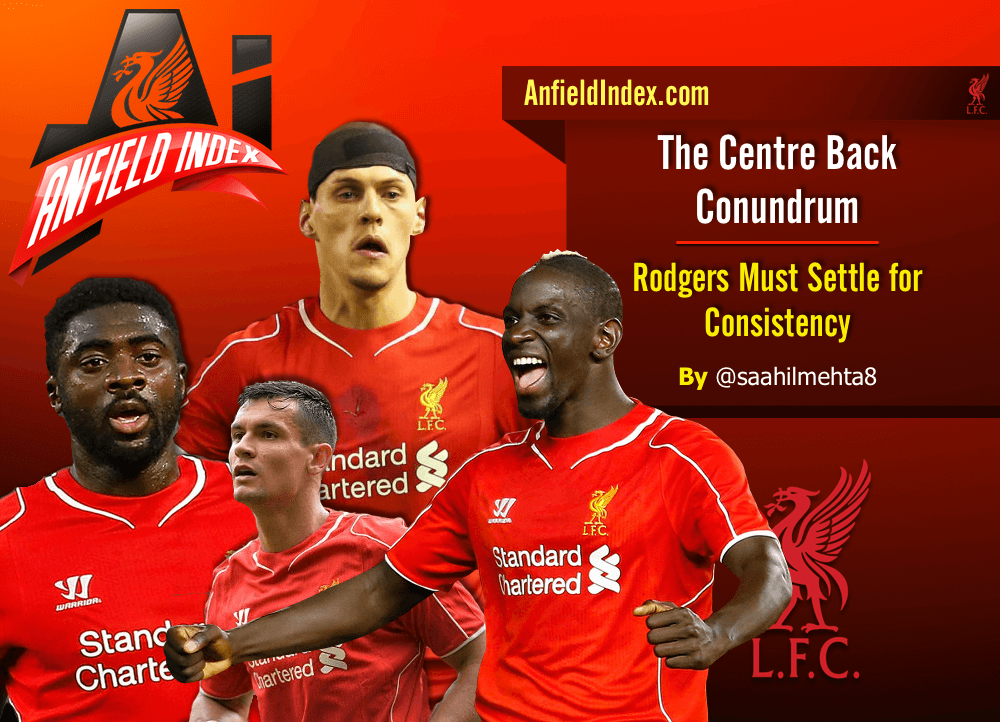 Emre Can was hardly every employed in his favoured position but was instead used as part of a back three for much of the season and was even pushed out to right back at times due to the inadequacies of Johnson and Manquillo. The wing back area was one that saw constant change as Rodgers used Lazar Markovic, Raheem Sterling, Jordan Henderson, Adam Lallana and Jordan Ibe to fulfil those positions even though neither were suited to the role. Jordan Ibe was the only player who performed the task admirably and it came as no surprise that Liverpool's form dipped after he suffered an injury.

With the season now behind us Rodgers must conjure a proper plan with a specific formation in mind for the forthcoming season. Given the onerous start for Liverpool, fans will find every opportunity to call for his head with his every move being circumspectly scrutinised. Therefore, it is imperative he constructs a clear identity for his team in pre-season if they are to have any chance of a successful season.
Firstly, Rodgers must shift to a back four as the players they have signed so far seem more suited to that formation. It looks as though Moreno and Clyne are nailed down to secure the full back positions; however, a big area of concern for the Northern Irishman are his first-choice centre-backs. Every successful team is built on a strong defensive partnership — think John Terry and Gary Cahill at Chelsea. And Liverpool are no exception to the rule as Rodgers has to sort out this issue before the start of the season.
THE OPTIONS
1) Martin Skrtel
Arguably our most reliable defender over the last couple of years. Even though the Slovakian is known for regular lapses in concentration, Skrtel is the kind of all-action aggressive defender every side needs and is up for the battle every time he puts on the jersey. He is the kind of defender who thrives on battles with those combative forwards as can be seen by his skirmishes with Diego Costa last season. The fact that he is strong in the air and always a threat from set pieces also works in his favour at both ends of the pitch. From a statistical perspective the Slovakian can sometimes be quite rash in the challenge and prone to making errors; however, he is usually in the right place at the right time as can be seen by the remarkable number of blocks (40) he managed throughout last season. Skrtel has a year left on his contract and it is vital that Rodgers secures him for the future as he should be nailed down as one-half of the first-choice pairing.
2) Dejan Lovren
The club's most expensive defender was drafted in for £20m after a fantastic debut season in English football at Southampton. Even though Liverpool may have overpaid to secure his services, Lovren looked a good fit for the Liverpool team. He was a commanding and vocal presence in Southampton's defence last season and it looked as though Rodgers was getting the kind of vocal presence the defence lacked since Jamie Carragher's departure. However, it turned out to be a nightmare season for Lovren who looked bereft of confidence throughout the campaign. Maybe it was the excessive price tag that was playing on his mind or maybe it was the fact that two defensive midfielders at Southampton shielded him, but Lovren looked far from the player Liverpool thought they were signing. At times it looked as though he was trying too hard to make an impression and that lead to him making numerous defensive errors. Rodgers consistently persisted with him even though it was clear he needed to be taken out of the firing line for some time. Lovren will hope to put last season behind to start afresh and muster some confidence he severely lacked last season to become an important part of the defensive unit.
3) Mamadou Sakho
Signed two seasons ago from PSG for £18, Sakho is Liverpool's second most expensive defender. Even though he is ungainly at times and has an uncanny resemblance to Djimi Traore on a football field, Sakho is the best defensive passer with a passing accuracy of 91% having misplaced the fewest number of passes of any of the defenders in the squad. Moreover, he is more defensively sound than people give him credit for as he averaged 0.5 tackles per game, the best of any of the defenders. Sakho is another strong and powerful defender who is well suited to the Rodgers' ethos of being able to 'play from the back'. Unfortunately due to Rodgers' constant efforts to justify the Dejan Lovren price tag and injuries throughout the season, Sakho did not play enough minutes last season but it was evident that whenever he did start Liverpool looked more defensively sound.
4) Kolo Toure
The Ivorian defender is better renowned for the Kolo/Yaya Toure chant nowadays rather than his defending and is often viewed as a comical figure by most fans; however, Toure has an important role to play after signing an extension on his contract at the end of the season. He has been primarily signed as a backup option in defence and given his prior experiences having won trophies playing for Arsenal and Manchester City and his winning mentality, the Ivorian will also be used as an important experienced senior member of the squad after the departures of Steven Gerrard and Glen Johnson in the summer.
5) Joe Gomez
Having signed from Charlton for a figure believed to be around £3.5m – Gomez is one for the future. The 18-year old will be assessed by the staff on the pre-season tour and it will then be decided whether it would be beneficial for him to serve as a backup option or be loaned out to gain some first team experience.
6) Tiago Illori
Signed by Rodgers two seasons ago from Sporting Lisbon, the English-born Portuguese defender has yet to establish himself in Rodgers' first team. Illori has spent the last two seasons away on loan and like Gomez will be assessed in pre-season before a decision is made on his future.
One of or both Gomez and Illori will most likely spend a season out on loan to gain some experience while another option available to Rodgers is Andre Wisdom who spent the last season on loan at West Brom. Wisdom, who can play at right-back or in the centre, was a regular fixture at right back under Alan Irvine at West Brom last season; however, he was not favoured once Tony Pulis took over which asks the question whether Wisdom is good enough for Liverpool. Given his versatility and the long-term injury to Flanagan, Rodgers may opt to keep Wisdom as another backup option in defence.
After reviewing the options at Rodgers' disposal, Skrtel and Sakho seem to be the best options to form a formidable central defensive pairing over the course of the upcoming season. They are currently the two best defenders at the club and should be given more opportunities to play together. Dejan Lovren will have to work extremely hard in pre-season and show some signs of confidence to be able to displace either Sakho or Skrtel. One thing for sure is that Rodgers needs to secure this position and cannot afford to keep chopping and changing like he did every so often last season. That being said, he is known to spring surprises on us all the time with his own unique methods and it remains to be seen who he will finally pick as his first-choice pairing.