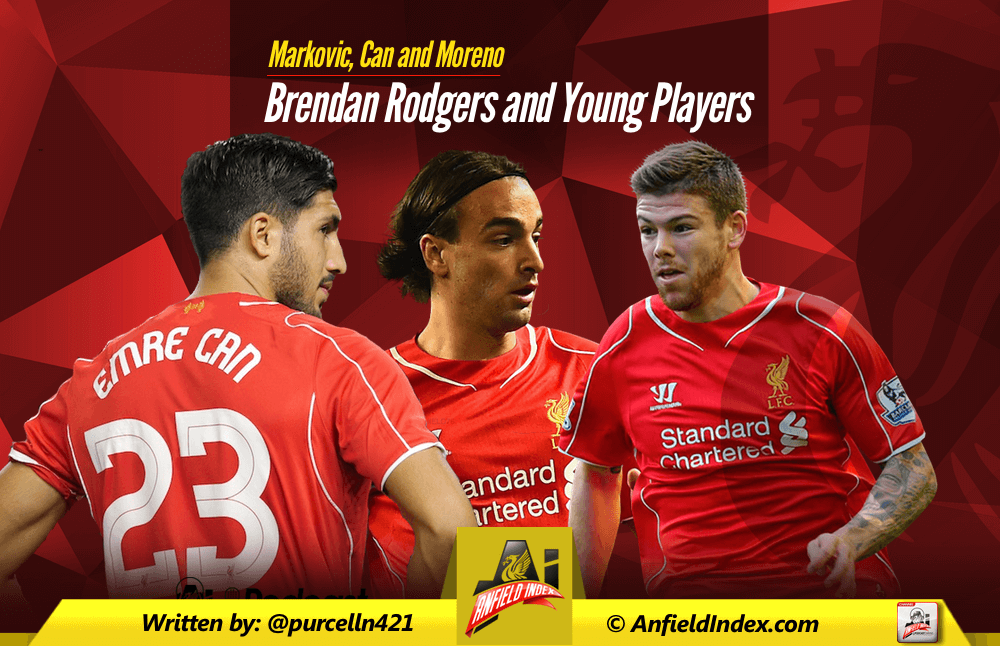 Brendan Rodgers and Young Players

I was listening to one of our new signings last week giving his views on the club and manager. I tend not to listen to these interviews conducted by the club press department as they can sometimes sound like incessant propaganda you might hear from North Korea, but one line made me think. "The manager has a reputation for developing young players". Brendan Rodgers is constantly praised in the media for being great at developing young players. Giving them a chance and improving them in all aspects of their careers. Well going on previous seasons as our manager, one would have to say this is total nonsense.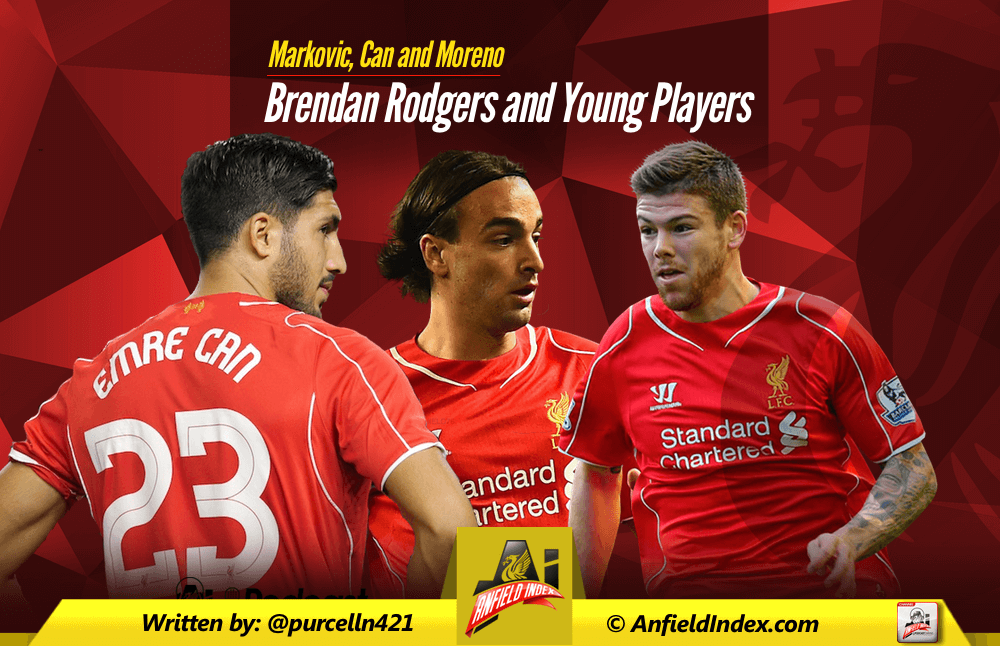 Famously, FSG's prime philosophy is all about buying cheaper and younger players and than developing from there. For obvious reasons we are unable to compete financially with Chelsea, Man City, Arsenal, Utd and the big European clubs for players. There are even doubts that FSG would spend that big anyways and we seem to be unwilling to pay over 200k per week to anyone. Which leaves us with what I call second tier players. Good quality with great potential that could turn into world-beaters or flop. The good ones (Suarez) can be sold or will want to leave at a certain point for huge money. The flops (Carroll who we hugely overpaid for) we end up taking a huge loss on to move onto other teams. We are never going to pay £60m for a Di Maria or £350K per week on a striker. The policy is fine and I have no issue with it because we have to work within a certain financial constraint but where I do have a major issue is with how these young players are used/misused by our manager when he is constantly lauded for being a good coach of young players.
If I just use last season as an example we purchased 3 young players for a combined £42m. Markovic, Can and Moreno were brought in to bolster the squad and are prime examples of what I see are ideal candidates for FSG's model. Yes Brendan threw another £50m at Southampton for 3 other experienced players that turned out to be crap but for this article I'm concentrating on the younger guys.
Lazar Markovic was bought from Benfica for £20m. An attacking winger/forward with huge potential that needed to be developed and given confidence. The rumour was that 2 members of our committee had followed his progress for a long time and had recommended him as having the right potential. So what does Brendan do when he gives him a chance? Plays him as a wing-back! In fairness in the early games he did well but in the times when we were desperate for goals and a cutting edge up front, either as a partner for Balotelli or Sterling, it seems that he wasn't trusted. He was either dropped or taken off. He tended to be scapegoated or used as an excuse for Brendan to play his favourite Lallana. On the few occasions he was played in position he did well. There was of course that famous incident at Arsenal when he over hit the pass to Sterling but in general his confidence was shattered and didn't develop at all last season. I know it does take time for players to settle in new countries but I feel this player was totally under used and being played out of position certainly didn't help him.
Emre Can also arrived for £10m from Bayer Leverkusen. A name very few LFC fans would have heard of before his arrival but again seemed to have great potential as a midfielder and fitted the model. His first big game (Chelsea at Anfield) gave us the first insight as to what kind of player this guy could be. He scored and played well but not for the first time our defence left us down. After this he disappeared either through injury or loss of confidence until he reappeared when Brendan suddenly decided to play a back 3 in late December, which started an unbeaten run where the defence improved but the team remained unconvincing. Can was never going to be a right sided centre-back in a 3 and why we persisted with this when he was constantly exposed from the Arsenal game right to the end of the season is another indication of Rodgers shocking decision making. If anything he should have played in the centre of the three and allowed move forward but the manner which he deteriorated and regressed towards the end of the season must have made him ask serious questions of himself and the coach.
Alberto Moreno arrived for £12m from Sevilla. A young exciting full-back in the mould of Jordi Alba and my word did he have a great start to his LFC career? Who will ever forget the magnificent goal he scored at White Hart Lane when he tore up the left hand side of the pitch at great pace and arrowed the ball into the net. How we screamed with joy that such a young player had scored such a great goal. And what happened next? NOTHING… He regressed hugely. We all know how poor our defence has been since Brendan arrived, so we probably shouldn't be surprised that our full-backs regress. Playing next to Lovren would make Paolo Maldini look average but in fairness to Moreno once he was next to Sakho he looked a little better. The constant changes from full back to wing back certainly didn't help. Of course there was the odd individual mistake but how can a player go from being so good in a Sevilla team to regressing in ours?
There are other examples of young players either regressing or not performing to standard and being thrown under the bus by Brendan. Javier Manquillo is another I could quote. Seemed to be a good solid young full-back albeit a bit limited going forward but certainly had potential. Brendan gave an interview before the end of the season saying he would be kept for a second year and given a chance but now he's gone back to Spain after being under utilised. Glen Johnson got plenty of appearances for no good reason when Manquillo would have been a far better option. The Raheem Sterling saga also has to rear is ugly head here too I feel. There are issues from all sides in this saga from the club to his agent to himself and Brendan but when he's called "the best young player in Europe" by our manager than it seems we have backed ourselves into a corner with only one possible outcome. Sterling will be rightly sold and the money re invested but I hope if we buy young again than Brendan or the next manager in, uses them properly and in a dynamic manner suited to our club. I understand that the team had a poor season with little confidence but the regression in our players was huge.
So the next time your reading an article in the paper or online about Brendan and how great he is at developing young talent. Think again people and analyse what he's actually doing. Huge sums of money have been invested in these players by our club. For me a young player coming into a team should be dynamic, fearless, confident, aggressive, pacey, have fight and be determined to succeed on the pitch. Willing to battle his way on to the first team and fight to stay there.
Can we honestly say our players did that recently? Who's fault is it and why?