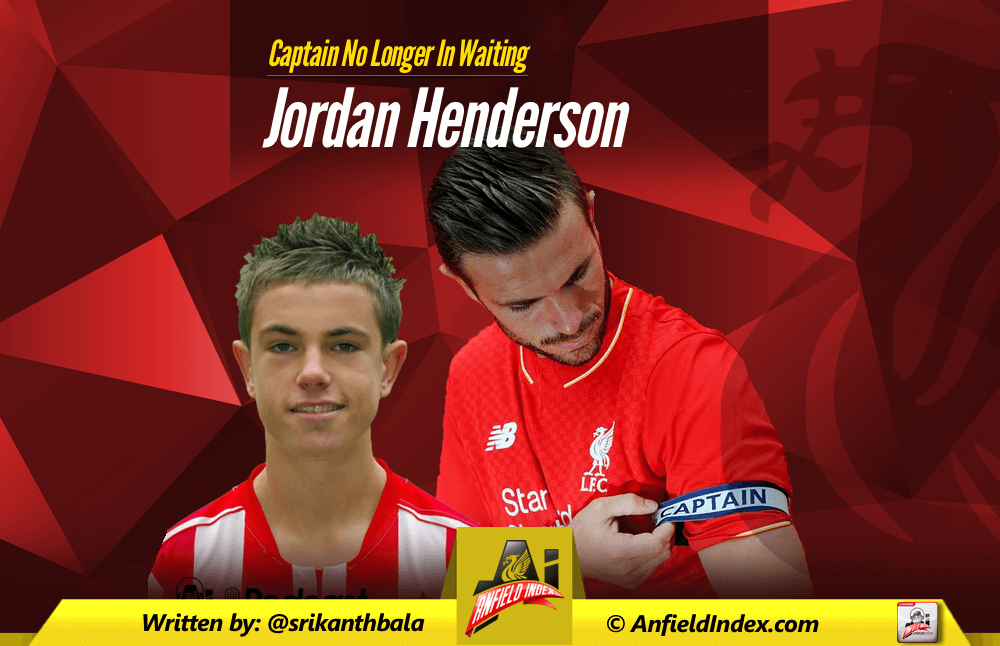 Jordan Henderson: Captain - No Longer In Waiting

News has just been released officially that Jordan Henderson has indeed been appointed as the captain of Liverpool Football Club, four years after his move to Liverpool, and more importantly three years after he was on the verge of being sold to Fulham as part exchange for Clint Dempsey. This, in summary defines Jordan Henderson; reward is for those who persist.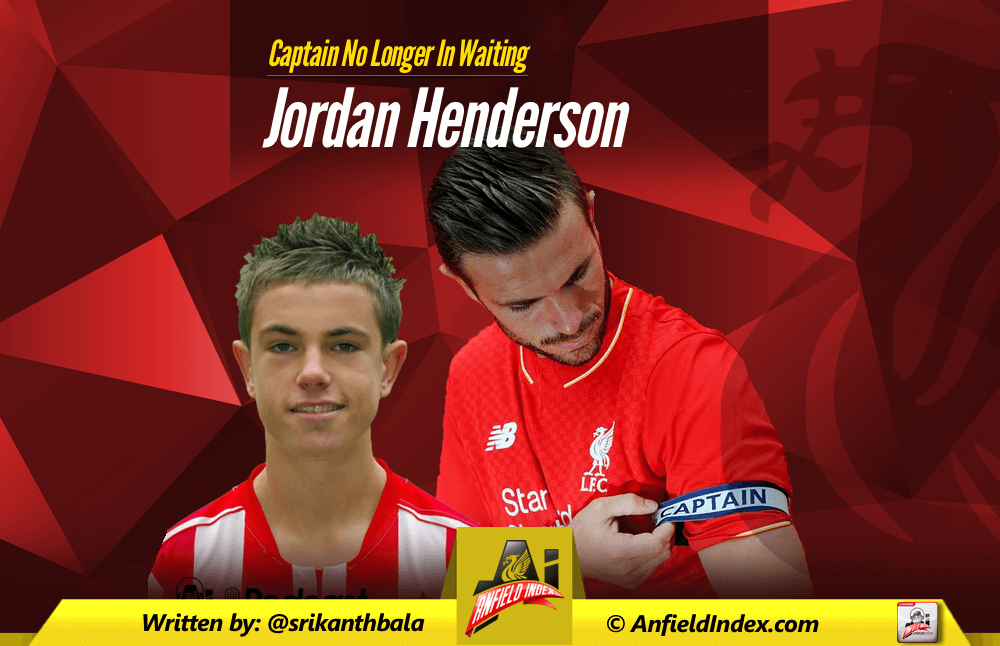 Jordan Henderson's footballing life has always been spent trying to win people over. At Liverpool he is known to be the player who never stops running, but at Sunderland he was the young boy who never stopped running away from a challenge. Jordan almost never made it at Sunderland; he was the last young lad to be chosen in a group of academy scholars by their Academy Manager Ged McNamee. Ultimately he was chosen for being a kid with the heart of an adult.
As a teenager, who grew up too fast for the body's liking, he was troubled by Osgood-Schlatter disease; a problem with the shin bone which is commonly acknowledged as a 'growing adult's problem'.
But he never stopped trying. Never gave up.
He had brief loan spells out and started sealing his first team place at Sunderland post those loan spells. However convincing the faithful Sunderland supporters wasn't a straight forward task.
There were those who admired his stamina, athleticism and passing range and could see that he had the potential to be a star, and others who just didn't see what he offered the team, who felt he was neither one thing nor the other or the sort of player who could run a match

Graeme Anderson , Sunderland Echo
Then the big move to Liverpool arrived, and with it a new environment, a new team, new team mates, and a clear step up in terms of star quality. What also did not help him were the team mates who were brought in alongside him in that same transfer window. Names like Stewart Downing, Charlie Adam, Jose Enrique. Very few of those players lasted a couple of seasons at the club. It was quite normal that he was branded as a failure at the end of his debut season. Lots of observers pointed out to the fact that he was not brave on the ball; he was playing for his place etc.
Jordan would be the first to admit that he found it difficult to adjust to the pressure and expectation of being a Liverpool player

James Pearce, Liverpool Echo
These observations did not go unnoticed by the player himself:
When you come to a club like Liverpool you need to perform straight away and consistently. Looking back, I don't think I did that. There were games when I thought I'd played well. It just wasn't every single week and that isn't enough for a club like Liverpool. I I needed to learn that.

– Jordan Henderson
Then came that offer from the manager Brendan Rodgers. Rodgers was keen to bolster his forward line, and to ensure that he was able to snare Dempsey from Fulham, Jordan Henderson was asked if he would like to trade Merseyside for London. His response to that was clear and precise.
It wasn't a nice thing to hear. I didn't want to go anywhere. I wasn't playing regularly and they gave me the option if I wanted to go. No, I don't want to, I want to keep fighting for my place. I came to Liverpool wanting to stay here for the rest of my career. I certainly didn't want to leave after a year.

– Jordan Henderson
And fight he did. Every day, every training session, he gave his best. He was still not getting picked for the Premier League games though. It changed in the game vs Wigan though. Rodgers felt like Liverpool FC were not taking control of the game and brought on Henderson as an early substitute in the first half. At this point the wheel had begun to spin in favor of Henderson, and it was up to him to make best use of it.
OK, it might not have gone to plan at the start, but I knew I could turn around and get it right. I knew I just had to take it on the chin. Even though I wasn't in the team, I felt that if I kept going, kept working hard, kept fighting, I would get my chance again, and that I would take it.

– Jordan Henderson
After becoming an integral cog in the 2013/14 team, a team that went the closest to winning the league title since last winning it, Jordan's hard work certainly did not go unnoticed. Throughout the last 18 months he has literally been undroppable from the team sheet. He was made vice captain in September 2014 after the departure of Daniel Agger to Brondby. Explaining the decision which underlined the importance of Henderson to the Liverpool team, Brendan Rodgers remarked:
He's someone who represents a lot of what we are about.I said to him he's the moral conscience of our team and that him and Stevie are the moral compass of our group, in how they conduct themselves on and off the field, how they train, how they work.
During that announcement, Brendan Rodgers also remarked the fact that Jordan was promised that he would improve as a player even though he would not be a sure fire starter. Henderson has been persistent in grabbing his chance and this has now led him to captaincy; what is now being seen as the natural process of succession.
This will not stop Henderson though. He will keep running; even if it is from his knees, as a certain Scottish manager once remarked.
Jordan Henderson, Liverpool FC Captain. Got a nice ring to it.