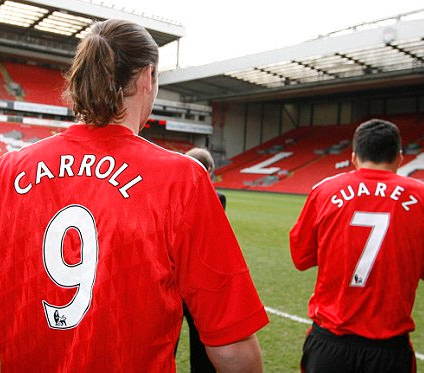 Suarez & Carroll - Liverpool Vs Sunderland: Eye into future?
Suarez and Carroll. Two signings, for the price of one (well, almost).
For weeks, we have waited to see them play together. They have been talked up as the latest little and large combo, many of which we have seen over the years. Due to injury, and ineligability, we have been unable to see this partnership in all it's glory. But against Sunderland, we finally got to see them both, from the start.

Was it worth the wait?
I think we saw some signs of what is to come, for sure. The difference, in our style of play, between Thursday night against Braga, and Sunday afternoon, was plain to see. And that difference was simply, Suarez.
Carroll was the focal point, he will always be the focal point, and when fit, the constant. He is a big, strong, number 9, who will lead our attack. He may have a partner up there, or he may have two or three playing off him, but his role will be the same. That is to hold up the ball, hold up the play, bring others into the game, and of course the obvious, score goals.
So how did they do?
Well firstly, we played in a 4-4-2. In a simplistic view though, we had 7 defensive minded players, and 4 attacking. The 4 attacking being Meireles, Kuyt, Suarez & Carroll. Meireles predominantly operated from the left, not his best position, but Johnson provided the width from that side for us. Or that was the idea, anyway. Kuyt played from the right in the main, but would roam, occasionally joining Suarez and Carroll as a 3, or switching with Suarez, who could roam also. Suarez was free to go where he wanted, and would drop deep to pick up the ball, and try to make things happen.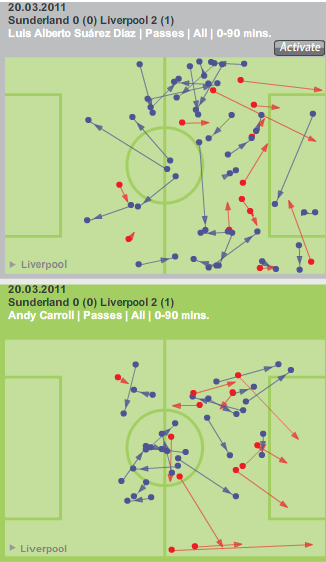 Chalkboard – Suarez & Carroll comparison.
The passing comparison/direction (above), and passing heatmap (below), shows the difference in the two players. Carroll, in the main, was the man who stayed up top. It was Suarez, who naturally, dropped deeper (in the main), to make things happen. Suarez also wasn't just sat up top with Carroll. He played from the left, right, or right down the middle. The passing of the players, also gives you an impression of their movement. A future nightmare, for defences.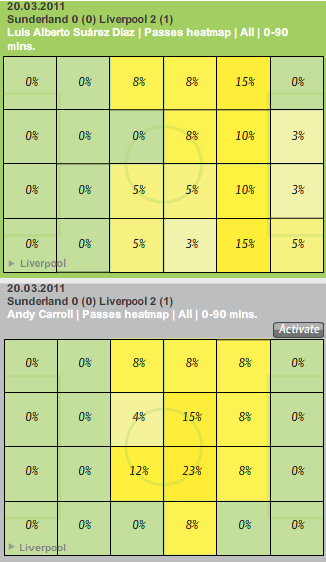 Individually?
As individuals, Suarez probably had the better performance. His goal, and his all around general play, was very good. He did at times get caught in possession (4 times), when he could have laid it off, but I wouldn't blame him for trying. We have seen what he can do in only the handful of games he has had, and make things happen, he does.
Carroll had played 90 minutes just a few days before. And that was a real tough battle for him. He had to feed off scraps, and long balls. Trying to win the headers and the knock downs, and hope others around him, could support. While this is a role he can play, this isn't how to get the best out of his many talents. Against Sunderland, you can see the effort he was putting in, and there was some nice interplay between him and Suarez at times, but unfortunately nothing quiet clicked. He also had only one real chance, a free header, which he would have been disappointed not to score. But the way Kevin Phillips banged on about it, like it was miss of the season, was a bit harsh. As the game wore on, he did tire, and was taken off.

Carroll Stats Comparison – V Braga and V Sunderland

A few things stand out here for me. Relative to number of touches, Carroll gave the ball away less against Sunderland. He also had a better success rate when laying the ball off, and with flick on's. Now, this isn't really to demonstrate Carroll's ability as such, but more, about how we played. More success in this area, suggests to me, that Carroll had more support up top. And less long ball's to deal with.

The Partnership?
As a partnership, as I touched on, the two did show a few moments, of what we all can't wait to see. There was one incident (where Suarez was fouled, can't remember if it was the sending off or not?) where Carroll won the ball and flicked it on (with his leg mind) for Suarez to use his pace to break free. In the first half, they were trying to interchange, play off each other, and work the ball into areas where they could threaten. A few times the ball was played too late, or the wrong ball played, but I am sure this sort of thing will come in time.
One thing that I can't comment on (and something you notice a bit better when your at the match) was their movement. Having seen both play, they know how to run into space, and cause problems for defences. Now with both of them doing that, defenders are like "Who do we track?", and coupled with that, "How will the ball be played?" Suarez small, and quick. Carroll big and strong. The ball could be over the top, into feet, to run onto, or in the air. Defenders will find playing against them both, an absolute nightmare. On the TV, it seemed we saw some of this, but I can't wait to see them in the flesh tearing defences apart.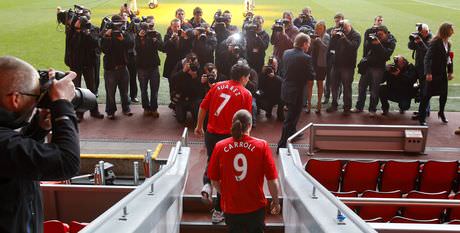 Overall
The partnership will be key, and I felt we saw some great signs, without it being perfect (yet). I'd say Carroll looked "rusty" and understandably so, with his lack of games in recent months. It is also worth noting, had Carroll got a goal (and his header really could have been), the media would have been talking them up as the next best thing. But because he didn't, Carroll's performance was kind of brushed up under the carpet, and Suarez took the headlines. This isn't such a bad thing, we don't need big pressure on them (as a partnership) right now, as they are both young, with big price tags. They have another 8 games of the season to learn each others game, work in training, and get ready for next season when we will truly see them blossom.