As it's the summer time the writers at Anfield Index are starting a new Summer Holiday series! Today we have a scouting report of players in Italy.
To make this article a bit more interesting, this piece will look at players who:
Play in Serie A
Are of Italian nationalities
Are aged 25 or under at the time of publishing
Point 2 is a personal challenge as Liverpool have never had good luck with Italian players. In fact the list reads a sorry tale: Daniele Padelli, Andrea Dossena, Alberto Aquilani, Fabio Borini & Mario Balotelli. Hopefully this article would buck the trend if Liverpool end up buying the players mentioned.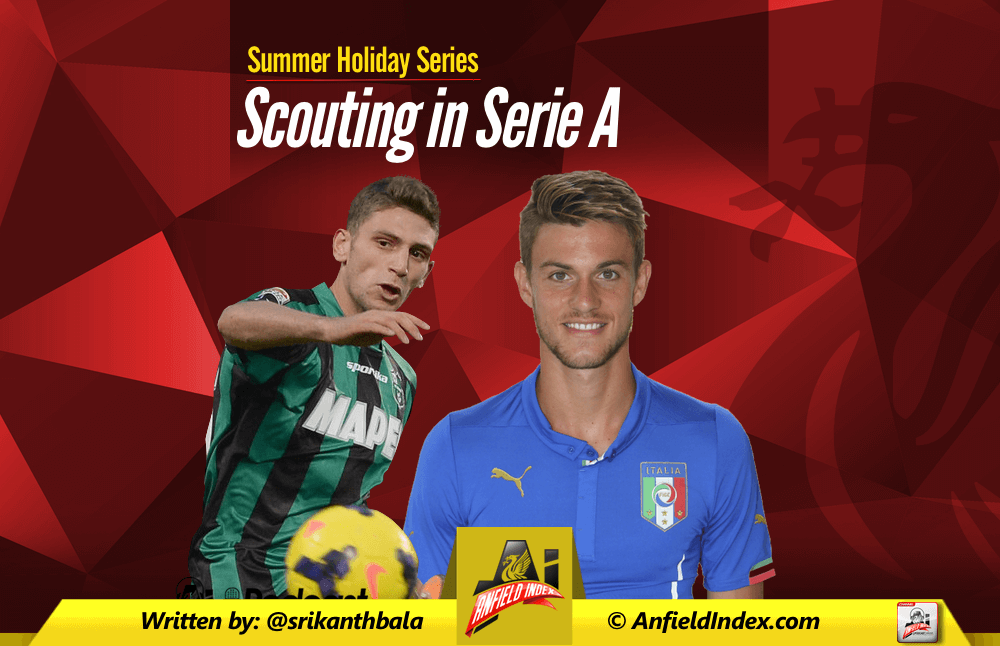 Simone Scuffet (Udinese/Goalkeeper)
Simone Scuffet is a 19 year old goalkeeper who plays for Udinese in the Serie A. Long touted as a prodigy and as the 'next Buffon', Scuffet made his Serie A debut in February 2014 when the first choice goalkeeper Zeljko Brkic tweaked a muscle during the warm up before the game against Bologna. It was a tough time to make one's debut considering Udinese were then 15th in the table and a loss would inevitably lead to a relegation battle. What followed was a confident debut, even nerveless for large periods of time. Scuffet helped Udinese keep a clean sheet enroute to a victory. He then proceeded to retain his place that season. In the last concluded season he reverted to being on the bench, with Orestis Karnezis .
Though 19 is not the correct age to predict talent and future potential ceiling, it is very apparent that Scuffet has bags of talent. Even at a young age, he has the maturity to keep a cool head  and does the most difficult simple thing in football; 'Doing the Simple things right'
For his age, his keeping has been largely consistent without the fluctuations in form one has come to expect in young keepers. He has a grounded upbringing and this is reflected in his onfield performances where he looks to cut out the risks as much as possible.
Udinese are against selling him, with Scuffet signing a new deal at Udinese in 2014. He was touted as a future Milan player in some circles, but Udinese would love to keep one of their own, after all Scuffet hails from Friuli. The last goalkeeper from Friuli to play for Udinese said this about Scuffet
"The boy's got the making of a [top keeper]," – Dino Zoff.
Simon Scuffet Compilation
Daniele Rugani (Juventus/Centre-Back)
Rugani is a 20 year old centre-back who is owned by the Italian powerhouse Juventus, having spent the last couple of seasons at Empoli. Prior to this season, Rugani was co-owned by Juventus and Empoli, but Juventus decided to spend the money and buy out Empoli's share of the player. This might be the season where Rugani might get his first team chance at Juventus.
Rugani has been touted to be the star for the future, alongside Romagnoli from Roma, to occupy the famed centre-back position in the Italian national team. He has already been called up by Conte for the National squad and his debut should be sooner, rather than later
 Rugani at 20 years of age has all the skills and mentality required to be a future global star in the sport. His ability to read the game and position himself accordingly on the field combined with his physicality means that he has the ability to adjust to various styles and tactics on the field. He is also one of the most hardworking players during training, often being one of the first to turn up on the field.
During his early years, he played for Lucca where they would play him alone in the defense, so that the rest of the team could be filled with attackers. Such an ability to shield a team as an one man defense at such an early age is very uncommon to put it lightly.
His hero & idol is Barazagli, a man he might end up replacing eventually at Juventus. Like his hero, he is technically proficient with a calm head, ensuring that he always is at the right position cutting out the need to make last ditch tackles (Hello Martin Skrtel!) . Rugani is very proficient with the ball at his feet and has the ability to play on both sides of the centre back pairing. Combine this with his brilliant temperament and the determination to work hard on his game, it is not long before he is a nailed on starter for Italy and Juventus.
Juventus definitely acknowledge the fact that they have a future star on their hand and thus would be against selling him, unless its a crazy offer. But hey, there is no harm in trying!
Daniele Rugani Compilation
Domenico Berardi (Right Wing/ Sassuolo)
Domenico Berardi, a right sided attacking player is a player most clubs would have sat up and taken note of by now. Berardi started playing football by accident, playing in a kickabout at the university where his brother was studying. Post a trial the next day, Sassuolo were mightily impressed and signed up the then 16 year old player. Yes, his footballing career is just four years old.
His best position is on the right side of the attack, which provides him the space to cut in onto his lethal left foot and curl the ball towards the goal. He also has the ability to tuck in more off the ball and exploit the space down the middle during counter attacks.
His biggest crowning glory till date is the spectacular performance he put up vs Milan where he scored all the four goals in a 4-3 upset win.
One of Serie A's all time best coaches had this to say about Berardi
Berardi is a player of great talent, a modern footballer who plays for the team all over the field. The liveliness, intuition, temperament, strength combine with a good technique. – Arrigo Sacchi

"He is an introverted youngster, but with his head on his shoulders, I don't think popularity will make him lose enthusiasm and desire to improve," he notes. "It will be difficult to distract his strong character and great personality."
His strongest skills lie in his excellent vision, a great first touch and ability to beat his man by pace or by a dribble. He is just 20 years old and most of his skills need a proper polish. He is also sometimes known to lose his head on the field, typified by his sending off vs Parma within a minute last season.
Sassuolo very recently bought out the co-ownership rights from Juventus and own him outright for a princely sum of 10m euros. But it is rumored that Juventus have a buy back clause for 18m euros, which would be one of the biggest bargains ever if Berardi indeed progresses at this rate.
Berardi Compilation vs Milan