Are some fans biased?
With the emerging news of Javier Manquillo's untimely departure, the question is, are some of us wrongfully in favour of non-foreign imports? In consideration of a recent article from the Liverpool ECHO in which they got fans to vote for players they would like to keep or sell, I will examine and compare one of Liverpool's most loved characters in Jon Flanagan and his run in 13/14 to Manquillo's 14/15 10 Premier League game season.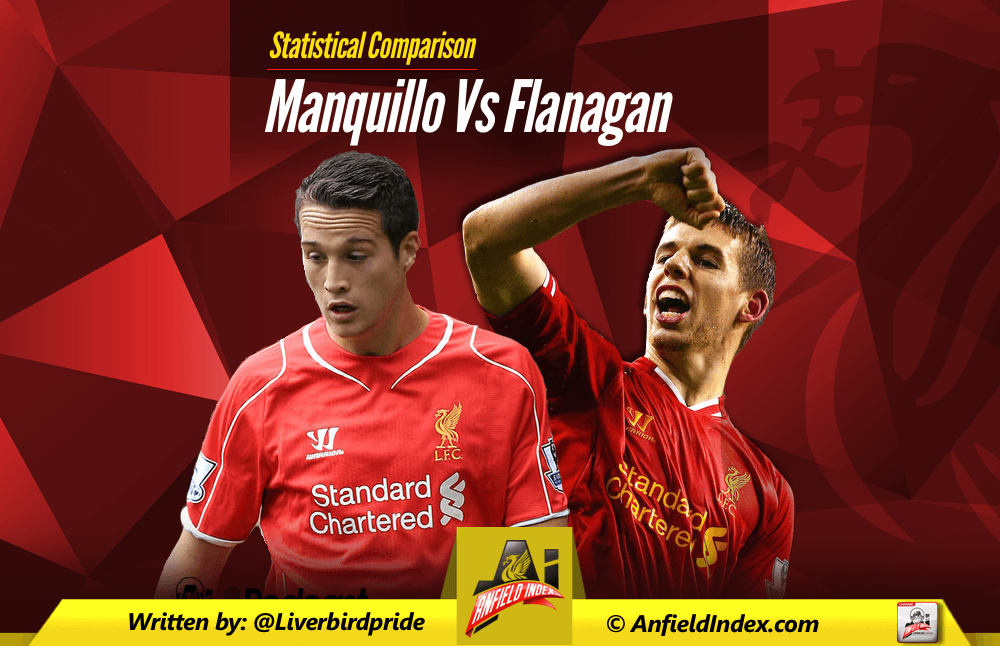 Personally, I feel Manquillo made an instant impact ever since his strong display vs Borussia Dortmund and also I have adored and admired Flanno's charisma and no nonsense style of defending, but it seems people are either in favour of one rather than the other, with Flanagan receiving "92.1% stay" and Manquillo receiving "47.6% sell". However, are they really 44.5% far apart in terms of talent?

The biased feeling can be seen also with the admiration of Adam Lallana from some and the resentment for Markovic from the same. Although a lot of people are willing to give Markovic a second season after being unfairly utilised, there are some out there that are currently writing him off.
But let's just focus on our full backs for now…
Making their name
When a 20 year old Javier Manquillo was loaned to Liverpool from Atletico Madrid, there was certainly a heightened sense of confusion around the fan base, wondering who we had just acquired. Quickly however, Manquillo became to be seen as a promising talent and blended well with our defence after looking solid in his debut vs Borussia Dortmund, keeping a clean sheet. In his first competitive debut vs Southampton he played surprisingly well for a youngster in a new league. Manquillo only went on to play 10 Premiership games for Liverpool with his last Premier League appearance for the club coming vs Swansea's trip to Anfield in the 4-1 win on the 29th of December., in which he was voted best defensive player by Squawka.
20 year old local Liverpudlian Jon Flanagan is a graduate of the Liverpool academy who received his debut under Kenny Dalglish against Manchester City at Anfield in 2011. Also surprising a lot of people, Flanagan went on to keep a clean sheet and was praised by King Kenny after the game;
"The young boy is not bad. For us that is really encouraging as well because it is a reflection of the work that is being done at the academy and if we have a strong academy it can only benefit us for years to come." 
Flanagan's most notable season came in our title run season of 2013/2014, after a surprise inclusion into the squad for our game against Arsenal at the Emirates on the 2nd of November 2013. After slightly under-performing against a strong performing Arsenal, He quickly became instrumental in our title running side, playing the majority of the season on the left hand side of the defence and missing 6 games after his first game vs Arsenal. Flanagan won the hearts of Kopites all over after smashing in a top quality goal against Tottenham in our 5-0 demolition, all the while producing some "explicit" scenes to say the least!
Stats – Defensive
From the comparison of the statistical facts of these two young potentially promising full-backs, it was clear that both players were quite raw. At a first glance, it seemed that Manquillo had the upper hand in the defending AND surprisingly, attacking stats.
Firstly, a full-back is a defender so it is almost imperative that they can defend to a certain level.
Manquillo over the short course of his season had made an average of 6 defensive actions p/g whereas Flanagan made one less in 5 p/g.
In Flanagan's 23 game season, he had made a total of 4 blocks, compared to Manquillo's 3 blocks.
A stat which I found intriguing was the interception stat where Manquillo made 22 interceptions where Jon Flanagan made 18 more with a total of 40 in 13 extra PL games.
However, Flanagan dominated the clearances stat in which he has 81 clearances to Manquillo's 35. – Manquillo was more inclined to pass out from the back of the defence though, which would make the clearances less likely to happen if he had control over the situation.
When looking at the average duals won between the pair, it was obvious that Manquillo comes out ahead with 54% average success compared to Flanagan's 47%.
                                     Manquillo
                                     Flanagan
Stats – Offensive
When we move up the field into the attacking stats and moments, one moment each quickly comes into the minds of all! Flanagan's goal vs Spurs was perhaps one of the highlights of the season, whereas Manquillo's last ditch run vs Ludogorets which earned our side a penalty was pivotal as it earned us our only win in last year's Champions League.
Both Flanagan and Manquillo are tied with the successful passing statistics with an average of 83%.
With total chance creation, Flanagan shows much more promise. In fact he shows up Manquillo completely with a total of 13 chances created compared to Manquillo's very poor 0.
It's also worth noting that both attacking outputs have been quite poor in terms of goals/goal attempts and assists with Manquillo only having two shots in his career here in the PL, neither on target or having no assists. Flanagan over 23 games had a total of 1 goal and one assist with a shot on target % of exactly 50%.
Final analysis
In the beginning of researching for this article, I was expecting a mass overhaul of points in favour of Jon Flanagan. The way some of our fan base praise him led me to believe that. Yet at the same time, the same people criticise Manquillo for not performing well enough and claimed he wasn't a big loss. We could see from the stats above that both players, even though they are raw, are on equal levels of talent.  Personally, I feel there is a bias towards HG players in some instances but maybe we don't even notice it? Maybe Manquillo in fact ISN'T that big of a loss? Only time will tell.