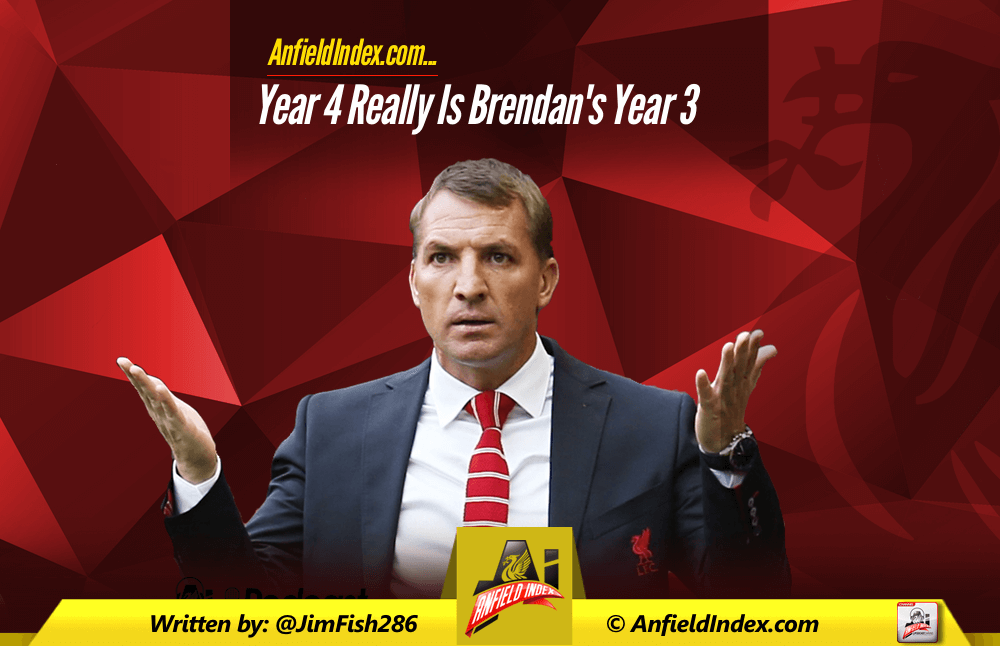 Year 4 Really is Brendan's Year 3
So much has been written and said since Liverpool's 2014/15 season petered out with the abysmal 6-1 away defeat to Stoke City that it's hard not to cover old ground.
Much of it was targeted at Brendan Rodgers and how he should pay for the disappointment by losing his job, after all Brendan had said "judge me after 3 years". That's what the man wanted and that's what has happened, in the fan base anyway.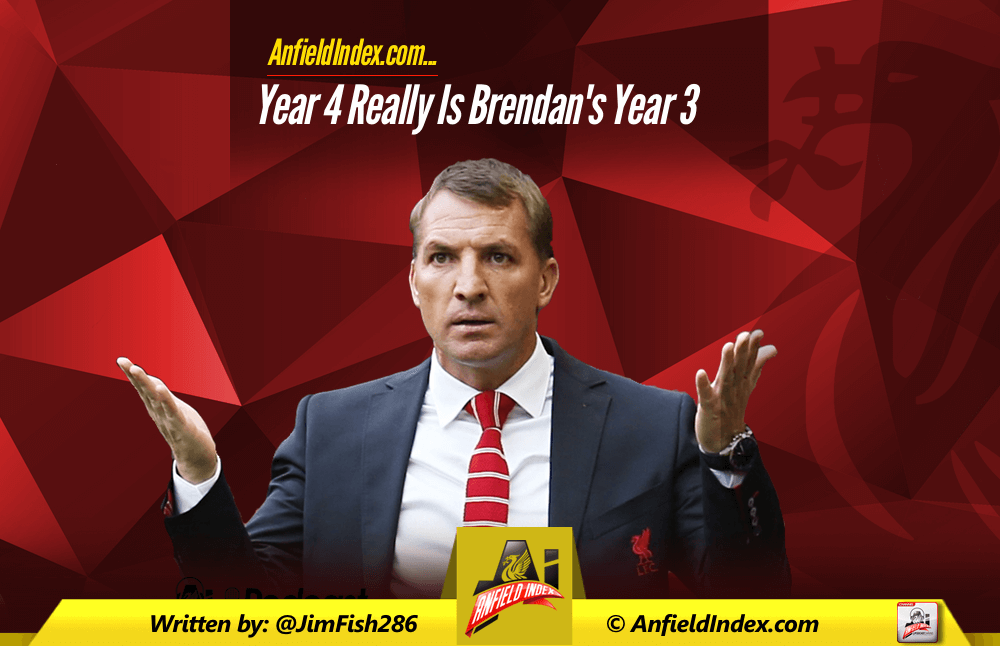 It's clear however, that Fenway Sports Group hold Brendan to a different level of accountability than a large percentage of supporters.
Rather than sack him, or possibly even worse, force him to cede control and have players and staff foisted upon him, FSG have empowered Rodgers.
To them it seems that Year 4 really is going to be Year 3 for Brendan.
It's easy to pick holes in this theory if you believe the conspiracists out there who are certain that Jurgen Klopp is just sitting back on a beach, casting one eye over Liverpool's results and devising a plan to rescue us from the relegation zone after the opening 10 games of the 2015-16 season. Those same conspiracists will tell you that it was Jurgen Klopp who has convinced Roberto Firmino to join Liverpool, after all Brendan Rodgers can't attract the top players, can he?
Of course, what they won't tell you is that James Milner, Nathaniel Clyne, Danny Ings and Joe Gomez are signings that have Brendan's finger prints all over them. British players, playing in the British game. Players who he believes have the necessary skill set to help return Liverpool to the Champions League and beyond.
Brendan Rodgers is Fenway Sports Group's man. He has been given the power to do as he see's fit and it's decision to be applauded.
They believe he is the right man for the job. Whether you or I do is largely irrelevant.
They will certainly expect to see changes this season and I believe we will see the Liverpool Brendan Rodgers dreamt about when he first got the job in June 2012. It wouldn't be the biggest stretch of imagination to picture Brendan dusting down the dossier and it being read and re-read over and over again during those weeks when we couldn't even get one soundbite from the boss.
I believe we'll see a return of the ferocious pressing from the front, the high intensity work rate from our dogged, yet technically gifted midfield and the perfection in anticipation from our precociously talented array of attackers.
That was the dream for Brendan, that's what he wanted to have in place within those 3 years. That was to be his legacy.
The way last season finished is not how he wants to be remembered, it's not what anybody wants to remember him. If he's going to leave, he's going to leave having done it his way.
For too long we've seen Brendan struggle with his belief's versus how to get the best out of our star men. First it was Luis Suarez and now with Steven Gerrard having left there is no longer that problem, that stone has been removed from Brendan's neck. He is free to give us the team he has always believed in, the team that got us all so excited when he first arrived. He is ready to give us our identity. In his very best Will Graham from Hannibal impression, expect Brendan to say "This is my design".
All the parts are in place, a new coaching staff to help push Brendan along, to offer an experienced ear, a fresh tactical approach, an arm around the shoulder or in Gary McAllister's case a dour Scottish look that say's, pull your finger out, this is Liverpool Football Club and that is not acceptable.
New arrivals on the pitch have also been plentiful and short of a striker, it's safe to say this is Brendan's most complete squad. That's Brendan's most compete squad, not yours or mine.
There's a mixture of youth and experience in almost every position. There's the tactical and technical flexibility that Brendan craves.
We will play different formations but our style will remain the same.
We will hunt in packs, we will protect and pass the ball like our lives depend on it, when the chances arise we will be clinical, we will make coming to Anfield the hardest 90 minutes of our opponents lives once more.
In all probability, we won't be defensively sound but we will be everything Brendan Rodgers expected us to be after 3 years.
It's Year 4, the excuses are gone. We know it and more importantly he knows it.