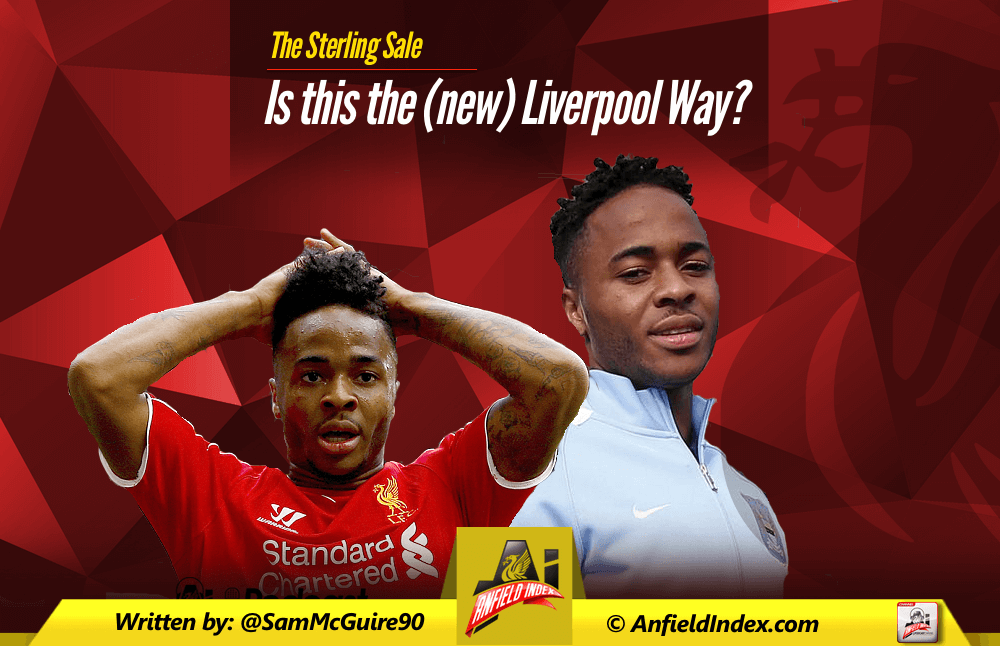 The Sterling sale, is this the (new) Liverpool way?
Raheem Sterling split the opinion of an already divided fan base. The divide started at the beginning of the 2014/2015 season. The belief we had in 2013/2014 was taken apart, piece by piece, as the stars of that team left, one by one, and the loss of identity happened at an alarming rate. Brendan Rodgers' tricky Reds seemed to go missing in the 2014/2015 season. Countless personnel changes in various formations and in the end Liverpool's identity was like a 5 year old had thrown some paint on a piece of paper.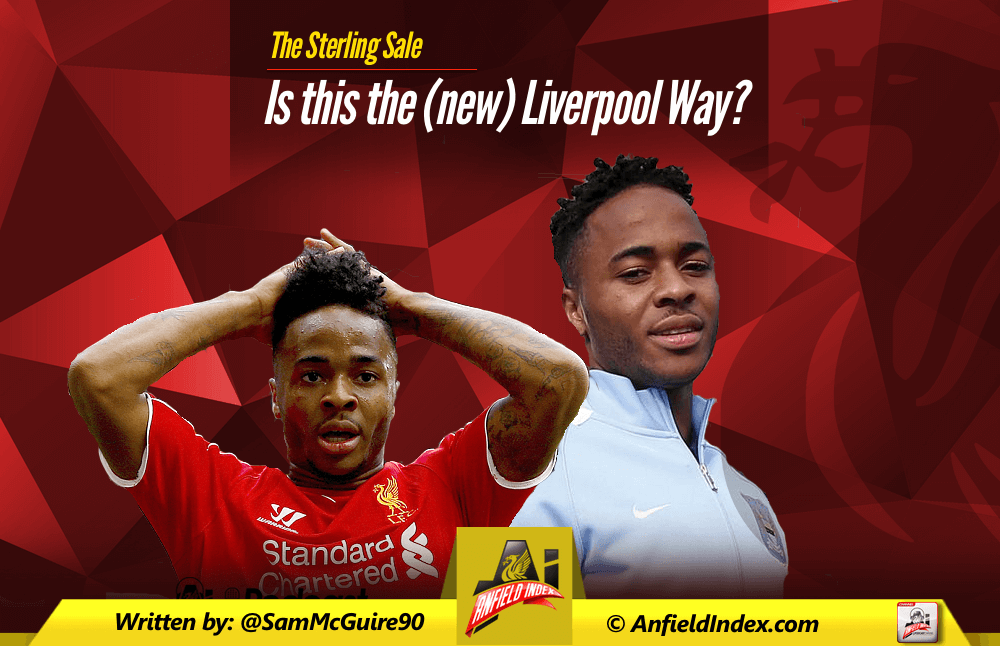 What did remain the same however was Liverpool, and more specifically Brendan Rodgers, seemed to get behind giving youth a chance. Many of the academy players had a chance in the first team during Rodgers' tenure much to the delight of our fans. In one particular game last season (2014/2015) Liverpool had a front 3 of Jordon Ibe, Jerome Sinclair and Raheem Sterling. All three graduates from the academy. All three with huge potential. Fast forward a few months and Raheem Sterling is no longer a Liverpool player and Jerome Sinclair looks set to leave unless a new contract can be agreed.
Losing Jerome Sinclair would further strengthen the argument I made in the 'Do Liverpool Utilise their Academy?' article which can be found here.
The Liverpool way?
Sadly this isn't something new. Players leave Liverpool, they have done for the best part of a quarter of a decade and they'll continue to do so for the near future unless Liverpool start to win things again. The sale of Raheem Sterling though represents an issue Liverpool fans should be wary of. A youngster, nowhere near his peak, actively seeking a move elsewhere due to the belief he's too big for the club. A 20 year old with less than 20 league goals for the club. In his two 'full' seasons at the club we finished as runners up in 2013/2014 and then reached two cup semi-finals the season after. He's played in the Europa League and the Champions League. It was all building up to him being integral to an exciting young Liverpool side because regardless of what other fans say, Liverpool do have one of the most young, exciting sides in the league. The likes of Philippe Coutinho, Roberto Firmino, Daniel Sturridge, Lazar Markovic, Divock Origi and even Jordan Henderson represent this.
People will say Liverpool don't have the appeal anymore and are a selling club but the signing of Roberto Firmino and even to some extent Lazar Markovic show Liverpool still have that something special to attract talented players.
Liverpool have lost key players. Steve McManaman, Michael Owen, Xabi Alonso, Javier Mascherano, Fernando Torres and Luis Suarez to name but a few. All of these had made an impact at Liverpool one way or another and moving on was kind of a natural process in order for them to progress their career. They wanted trophies and success. They may not have had the best of careers after leaving Liverpool but they all won trophies. Raheem Sterling could go on to win many trophies at Manchester City and his decision to leave would be vindicated but what precedent does this set for the youngsters at Liverpool?
People cite the failings of last season as to why he may want to leave. Let's not forget he was a part of the failings and the reason for this is because at his age it's unfair to place that much pressure onto him – fire us into the top 4. If he toiled with that pressure it's ramped up to another level now. He's going to be expected to play a part in a league push and a Champions League run. Do we give out youngsters a false sense of importance by thrusting them into the first team at young ages?
The new Liverpool way?
FSG and Brendan Rodgers are vocal in their views on building a team with young (native) British talent. They apparently favour buying cheaply, enhancing the player and then selling on for huge profit, so is Sterling the first of many to leave the club at such a young age with unfinished business at the club? That's how it feels to me.
Will this be the new Liverpool way? Blood the youngsters, give them responsibility in the team that's challenging for top 5 and then sell them on when a big offer comes in? This would make Liverpool a healthy profit but how does it leave the club in terms of winning trophies?  You could argue selling a player for £50million profit makes more business sense than winning the League Cup, it could do, but you can't overlook the importance of a winning experience, can you?
Will the appeal of Liverpool change from being able to win trophies and the history of the club to instead using the club as a stepping stone and using success stories such as Suarez, Torres and Sterling as a way to draw the talent in? I'm not so sure how many world class players will be impressed with a club having a successful youth set up, but then Liverpool have never been into signing world class players.
Will we see Jordon Ibe leaving the club for £30million in a couple of seasons? He'd have worked his way into the Liverpool side, have a heap of pressure placed upon his shoulders, have a few inconsistent months like all young players do, have the fans get on his back about the 'poor' form before potentially deciding to leave to go elsewhere for trophies?
Is that the new Liverpool way?
Is this the Liverpool merry-go-round?
We've got plenty of exciting youngsters in the likes of Harry Wilson and Ryan Kent. Will these guys be the ones mentioned if Jordon Ibe is sold much like how Jordon Ibe is being mentioned as a replacement for the newly departed Sterling?
Liverpool won't be able to stop this whilst they aren't competing on a regular basis and even then it may not be good enough. If you're forever building a side that'll peak in 3/4 years but then selling the players after 2 years and starting the process again it's going to be hard to sustain a challenge as it's never-ending but all the while you'll be starting the process again. I'm greedy. I want a healthy academy and a successful team that wins trophies.