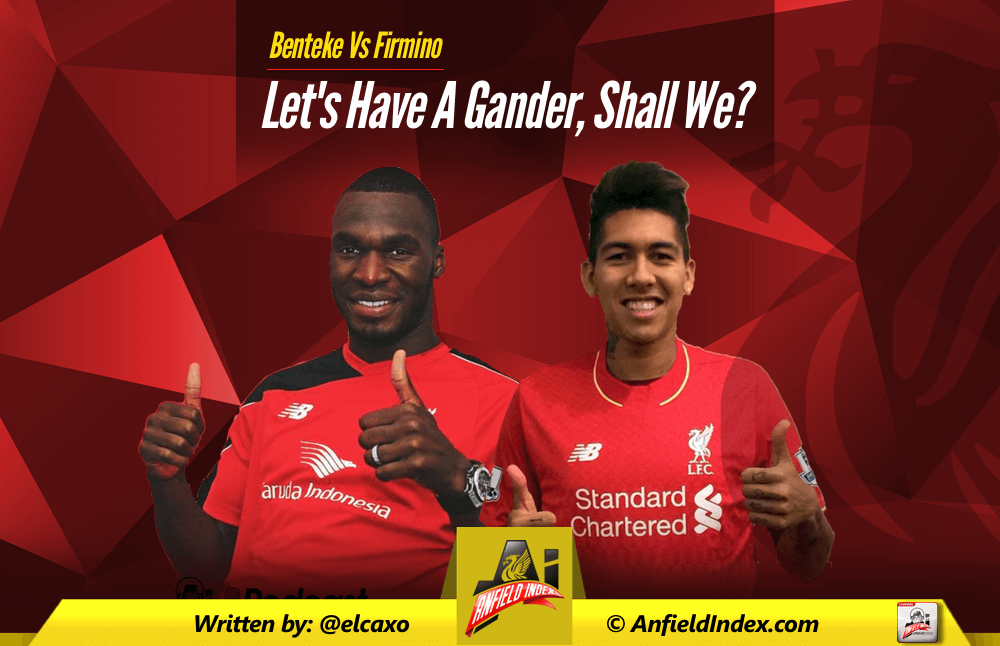 Benteke vs. Firmino - Let's have a gander, shall we?

In lieu of pissing off yet more Scousers I have decided to tone down the abuse and cast a more critical eye. Fuck knows how it's going to turn out.
One confirmed impressively early and the other at the centre of yet another drawn out, big money move; Roberto Firmino and Christian Benteke represent two sides to Liverpool Football Club right now. Both the style of these players must be considered and what that information lends to a judgement of Liverpool's transfer plans. As well as this it is interesting to see what the transfer 'sagas' of these two footballers illustrate in a larger sense.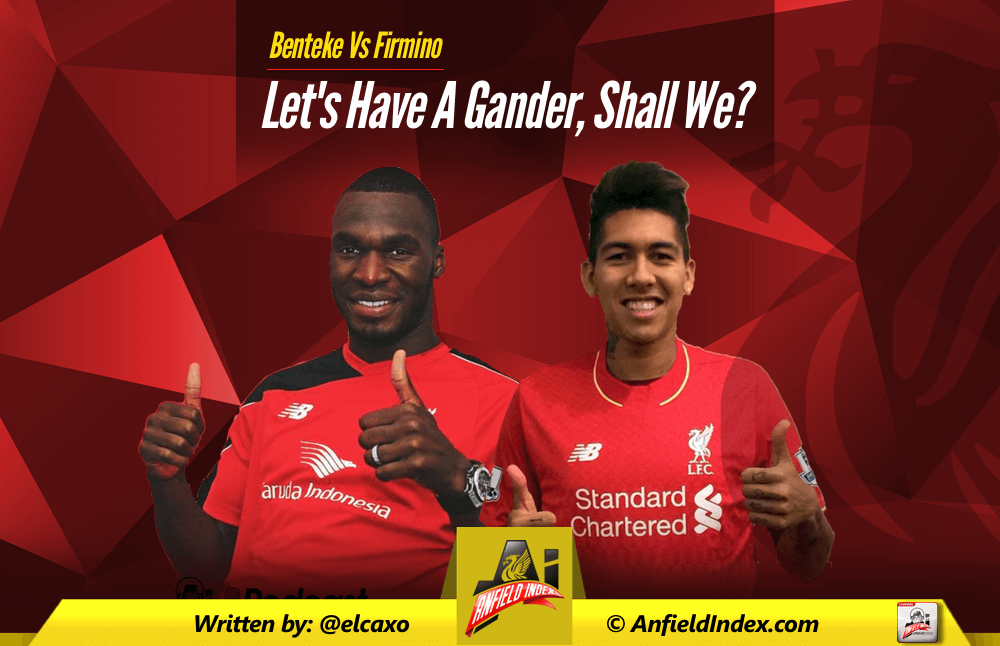 Perhaps the best question to answer first is the style element.  The use of 'style' being a blanket term for the assessment of the way they play both on and off the ball and what they can lend to the overarching aims of the team (that is another topic for a much longer article). I'm nowhere near the foremost expert on the Bundesliga, Hoffenheim or Roberto Firmino's time there so I've left it to the esteemed Ryan Babbel
"a tricky player. He can dribble, shoot, he has a great shot, he can play a lot of through balls and his assists are very good"
All sounds pretty gravy, yes?
Having watched Christian Benteke a number of times this season it's not really clicking together. Not to subtract from his certain amount of skill but Big Bad Ben seems a bit of a target man at heart. An attacking fulcrum but not quite in the Suarez mould that we should be looking for (before you mention it, no, I'm not saying directly replace Suarez). It's not too far away from the truth to describe Christian Benteke as a younger, more Belgian Rickie Lambert. Everyone knows how useful Rickie Lambert is. It would appear quite plainly and simply that spending around £30 Million on each of these players is a big middle finger at creating an attacking philosophy.
64.4% of all Benteke's goals for Aston Villa were either Free Kicks, Penalties or Headers – 45% were Penalties or Headers – Whoscored.com
Now clearly, statistics are statistics and must be taken with a pinch of salt especially when considering that these two players play different positions but roll with it, alright? This absolute lack of mobility and thrust from Benteke that can be implied from his take on percentage must be a concern. Why buy and use a player who simply do
esn't fit in with the rest of the attack? Consider that through our best football of the last few years the main strikers have been Suarez, Sturridge and Sterling; all players who can beat a man, inter-link and affect play both out wide and from deep. The Belgian doesn't fit the same criteria for these three players who have thrived so much. Clearly Aerial Duels can be put down to Villa's football as much as Benteke but still, it looks a bit funny on the table.
The next issue to take that involves both players is the atmosphere surrounding the signing. Roberto Firmino appeared on Twitter like a whisper on the wind, growing slowly into a cacophony of 140 character gossip. Then the din was all more or less silenced when the club got off its fucking arse, went to Chile midway through a major international tournament and just signed him. Alongside the early acquisitions of Ings, Milner and Bogdan it looked like Liverpool Football Club might finally have pulled their finger out and just thought yeah, let's sort our business early and well. Firmino is a relative coup considering how poorly we spent last summer.
This in pretty blunt contrast to the current Christian Benteke fiasco which, for a good time, seemed to have no end in sight. Having been linked with the player early in the window and then with the constant debate as to whether we will or should pay his extortionate buy out fee it's disheartening to see the comparison. If even half the gossip is to be believed the potential man hours that have been poured into signing someone that we bloody shouldn't be is a bit embarrassing.
Something that's cropped up on Twitter in various forms since the confirmation of Christian Benteke is that if you're going to spend £32.5 million on a player it shouldn't be surrounded by half the fan base saying 'I hope he does well'. Says it all really.
The duality of Roberto Firmino and Christian Benteke as players and as signings is quite apparent which lends to a number of theories surrounding the Liverpool transfer policy. The harsh reality might turn out to be that we're still just a bit shit at this buying and selling aspect of the beautiful game. The only potential light at the end of this long summer tunnel is clearly Marco Reus. (Talk about uniting a fucking fan base, get on it Mr Henry. Show some character.)