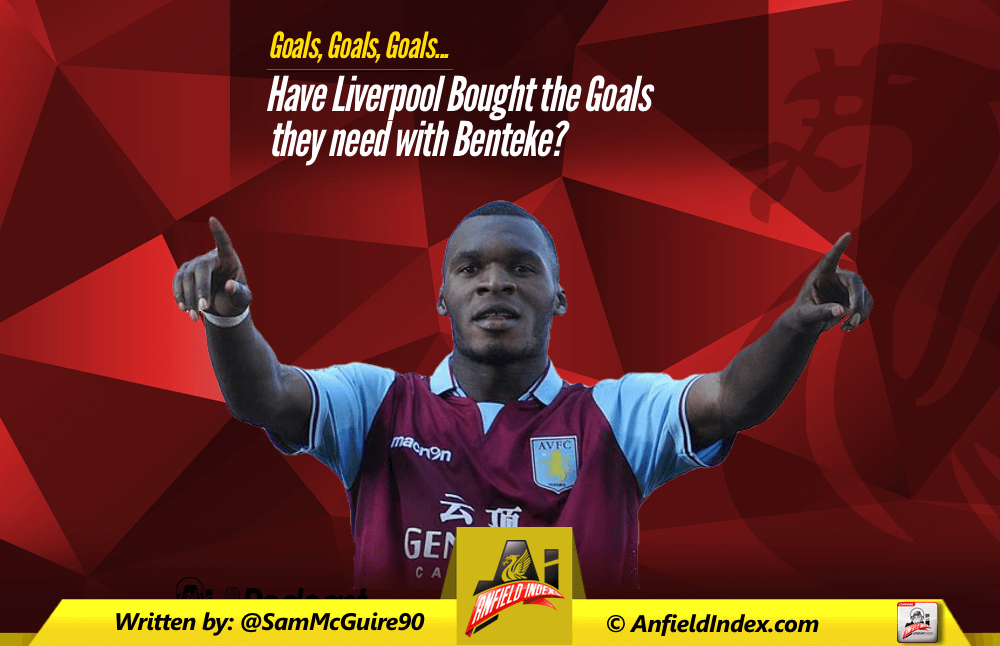 Have Liverpool Bought the Goals they need with Benteke?
News broke on Thursday afternoon that Liverpool were going to meet the release clause for Christian Benteke. The prayers of many had been answered. Liverpool are buying 'goals'. That basic narrative had been pushed for a while now.
"If Liverpool had a striker last season that scored we'd have finished top 4."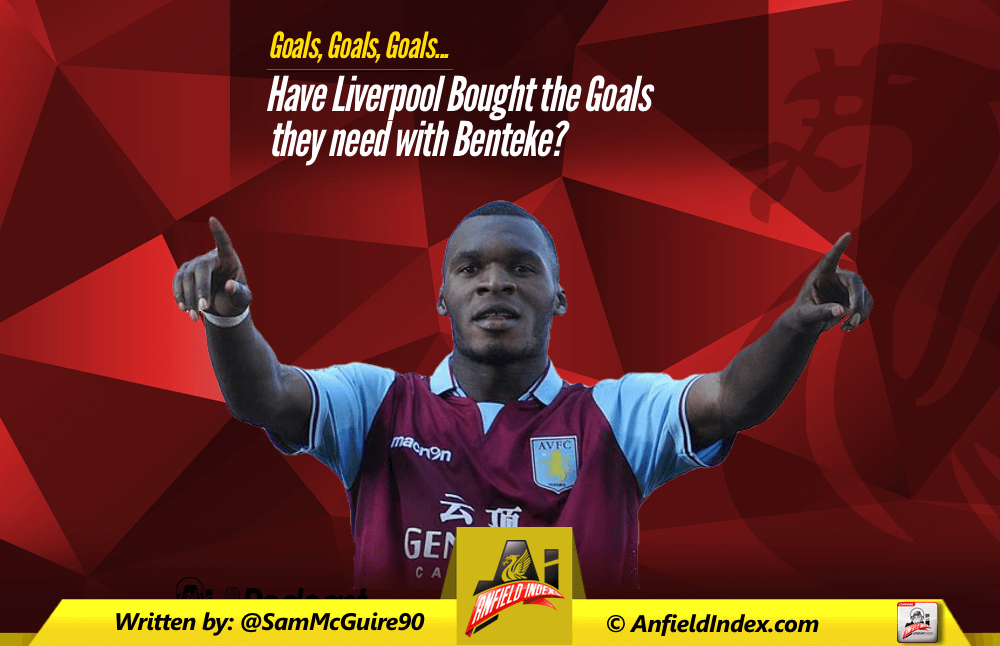 Football isn't that basic but on paper if Liverpool had a player that scored over 15 goals last season they probably would've scraped into the top 4 and the poor defence would've been overlooked yet again. However that's another argument, back to the point at hand. Have Liverpool bought goals?
Firstly let's look at who Liverpool look likely to lose this summer –
| | | | |
| --- | --- | --- | --- |
| Player | League Goals | All Goals | Appearances |
| Steven Gerrard | 9 | 13 | 37 |
| Raheem Sterling | 7 | 11 | 52 |
| Mario Balotelli | 1 | 4 | 28 |
| Rickie Lambert | 2 | 3 | 36 |
| Fabio Borini | 1 | 1 | 18 |
| Glen Johnson | 1 | 1 | 28 |
So these 6 players scored a total of 21 league goals of the 52 goals we in the league and 33 goals in all competitions in 2014/2015.
Now look at who Liverpool have signed/will sign –
| | | | |
| --- | --- | --- | --- |
| Player | League Goals | All Goals | Appearances |
| Danny Ings | 11 | 11 | 37 |
| Roberto Firmino | 7 | 10 | 36 |
| Nathaniel Clyne | 2 | 3 | 41 |
| Christian Benteke | 13 | 15 | 33 |
| Divock Origi | 8 | 9 | 44 |
| James Milner | 5 | 8 | 45 |
These 6 players scored a total of 46 league goals for their clubs and then 56 goals in all competitions.  A marked increase between those leaving Liverpool and those arriving which is a positive, right?
However you've got to add context to this. The appearances column is total appearances and doesn't take into account substitute appearances but it's safe to say Fabio Borini, Rickie Lambert and Mario Balotelli didn't play 90 minutes in 72 games, that's no excuse for the 8 goals they collectively scored though.
Compare this to the likes of Divock Origi, Danny Ings and Christian Benteke. These guys played week in and week out for their sides and were key aspects to their respected sides. Their goal hauls are superior to their Liverpool counterparts but it doesn't necessary mean they'll replicate it at Liverpool because it's more likely they won't due to the fact they won't get as many minutes, right?
Danny Ings won't be first or second choice striker when everyone is fully fit. If he managed to reach 5 goals I'd be impressed. According to a site Divock Origi scored 6 penalties last season so you'd assume he won't be the primary penalty taker at the club, nor will he be a starter so once again if he gets 5 goals I'd be happy with his contribution. James Milner scored 8 goals last season and played a variety of positions. Only one of his goals came from when he was a centre midfielder so is it right for Liverpool fans to expect those numbers again from him when he's already said he'd play more of a central midfielder role? I did an article not so long back about pure centre midfielders only achieving 6 open play goals and that's in a successful season.
At best I'd expect 14 goals from these 3 players which is quite the drop from the 28 goals they scored the previous year. Roberto Firmino is an unknown in terms of the Premier League so he could light it up and hit double figures or he could struggle in his debut season. That slowly knocks the goals scored from last season tally to around the 34 mark which is only 13 better than those leaving which isn't nearly enough for top 4. So Liverpool haven't bought *enough* goals.
It's looking like the pressure will be heaped onto Christian Benteke to be the guy to deliver the goals with Sturridge being out injured. Is it too much of an ask to have a guy that averages 14 per season during his time at Villa to come in and score 20, or as close to 20 as possible?
Liverpool on average under Rodgers concede 44 goals per season. To finish top  4 they're likely to need to score over 70 league goals if they maintain their average of goals conceded and hope one of the current top 4 have a dodgy season.
Do Liverpool have 70 plus goals in their current side?
You'd expect a collective 10 league goals from the defenders, that's the centre-backs and full-backs (could even be wing-backs). I personally expect Can, Allen, Milner and Henderson to score a minimum of 15 between them all. Is 25 goals from Markovic, Ibe, Lallana, Coutinho and Firmino too much of an ask because that's what I'd be aiming for. Then 25 (ish) from Benteke, Origi and Ings. The wildcard in all this is of course Daniel Sturridge but to rely on him would be naive after what happened last season. So that comes to around 75 goals scored. You've got to ask yourself, do you think those targets are realistic? If not you've got to worry that Liverpool may not have enough goals in their team still to challenge for top 4.
All  this of course is guess work as I have no idea how Liverpool will line up and how the signing of Benteke impacts on the style of play of the others in the team. He could create space which then leads to more goals for the midfielders or alternatively the midfielders play differently and Benteke scores more whilst they score less. Key point here is Liverpool as a team need to get as close to 70 goals as possible and signing Benteke could help the cause if Brendan Rodgers finds a system and a style of play to get the best out of the whole team.
Do you think these targets are realistic?