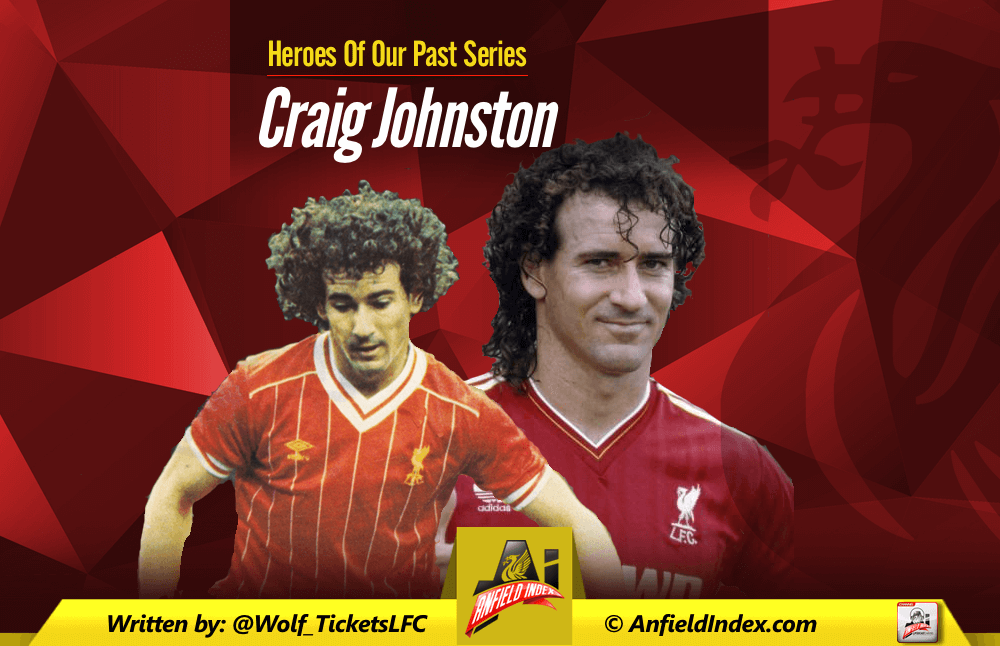 Craig Johnston - Heroes of Our Past
Before I begin I have to say that this Heroes of the Past article is going to be a bit different. I have a confession to make – I hardly saw Craig Johnston play (aside from videos years later), of course I saw his FA Cup goal and then played football afterwards but I was too young at that age to really appreciate football players' abilities and achievements.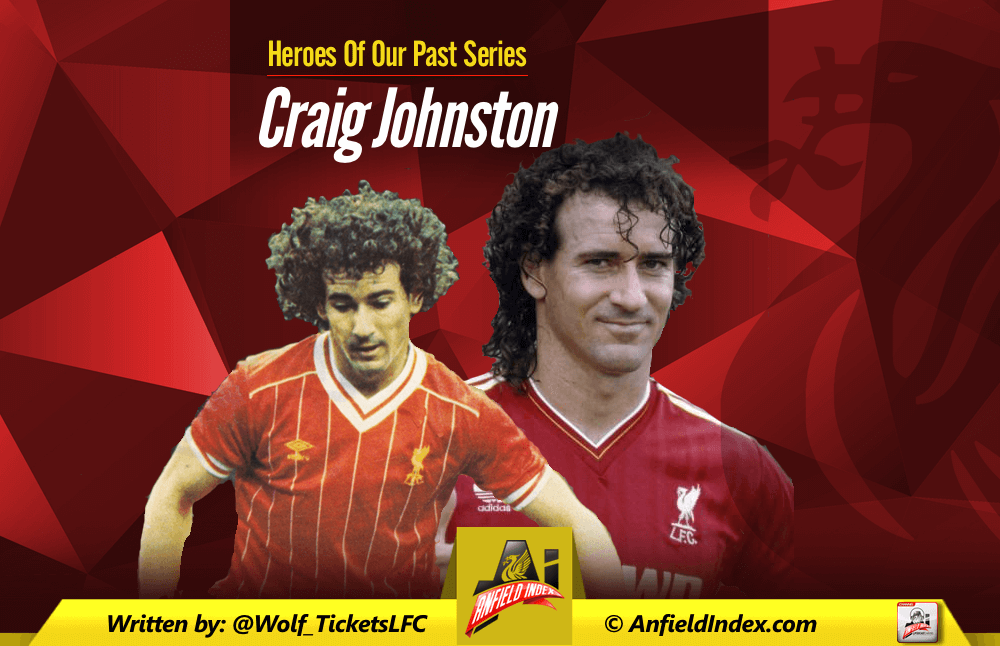 How if I haven't seen him play is he a hero of mine? Simple I can remember reading about Craig's life story many years ago and being absolutely blown away by it (I have since read, watched and listened to anything I can find about him). He is just such an inspirational and interesting character.

Craig Johnston is not your average football hero, not the kind like Barnes who was given all the physical and technical gifts, or Dalglish who was given a genius football brain and exquisite touch, but he is a guy who for the most part succeeded through a combination of fierce intelligence and an unbelievable will to succeed. That to me is more impressive and more interesting.
Before I go any further I have to be clear on this and say that no professional footballer gets to be a footballer without a lot of hard work and dedication – regardless of their gifts – and I respect them all for this. Generally though in my opinion most players who reach the top and become heroes tend to have fairly similar stories about how they came through and got where they are. I have read numerous autobiographies and I have to be honest for this reason I don't tend to enjoy them much until they reach the professional adult game stage. However, Craig Johnston is something different altogether as his life and success with Liverpool is like one of the amazing success examples you can read in a self-help book and wonder if it is true because it is so outlandish. He arguably climbed three mountains in his football career: one just to get into the professional game, two to get a move to the best football team in the world and three to get in the team.
You're probably wondering why I'm describing those things as mountains? Well the answer is that in relative terms Johnston had some massive disadvantages. He was from Australia – at a time when Australia was very low down the football pecking order – meaning he was learning to play in general with less talented kids than elsewhere, he started learning to play football relatively late – he didn't kick a ball until he was 12 when inspired by footage of the great Brazil 1970 side – and finally he wasn't that good (or at least wasn't that good initially) describing himself as "crap".
He surmounted these challenges by being extremely ambitious, brave and ultimately determined. At age 13 he showed his initiative by writing to a number of clubs and Middlesbrough were the only club to respond offering him a trial as long as he paid his own way over and his board. This was no small thing with long-haul flights being extremely expensive in those days. His parents were understandably wary about the prospect of him coming over – and of course the massive expense this would entail – but won over by his passion they agreed that if he came first in his class in Maths, Science and English they would then pay the air fare for him to come for a trial.
If you know anything about Craig Johnston then you know what's coming next. He studied like never before and achieved their targets with the result that his parents actually sold their house to fund his air fare to England.
He was thrown into a trialist match almost as soon as he arrived in England and soon enough his team were getting ripped apart with the result that at half time the manager of the senior side, the legendary Jack Charlton, came down to the dressing room and laid into the whole team but finished by focusing on Johnston telling him 'And as for you, you kangaroo, you can fuck off right now. You're the worst player I've seen in my life.' ". He then had to suffer the ignominy of having to leave at half time.
Johnston then had the unpalatable task of having to call home and let his family know how his trial had gone. He put aside his tears and devastation at this cruel rejection and not having the heart to tell his parents the truth – after they had sold their home to fund his trial – lied and said it had gone well.
Luckily a couple of the older professionals, Graeme Souness and Terry Cooper, took pity on him and said if he cleaned the boots and cars in the car park they would pay him so he could earn enough to stay in digs. Whenever Jack Charlton would come by he would have to hide.
With his dream apparently in tatters and no access to the training pitch did Johnston give up? No he utilised what he had: time, space (a car park), his creative and systematic intellect and his intense determination and set about revolutionising his game. He drew a chalk goal on the car park wall and put four crosses on the four corners and would spend hours kicking with his right and left foot until he had hit each cross 20 times with each foot. He would use the rubbish bins to hone his dribbling and would dribble in between them at pace with his left and right foot 20 times (on each foot) without hitting any of them with the ball and if he did hit one it didn't count and he would have to start again. He spent about 6 or 7 hours a day developing all of the different football techniques. His goal every single day was to become a better player at night than he was before. He knew deep down that Charlton was right in his initial assessment but he was determined to make sure that ultimately he would develop and become a good player.
Being that determined is impressive in and of itself but being that determined and showing that strength of character when you have just suffered a humiliating public rejection by a legend in your chosen field, when you are in a cold climate that you're not used to and thousands of miles away from the support of your family and your home is something else again.
Eventually a new manager came in and whilst initially even he didn't bring Johnston back into the fold until a virus laid half the squad low and they desperately needed someone to go in the squad to avoid the risk of forfeiting and someone suggested Johnston. As luck would have it someone got injured and Johnston came off the bench and put those many hours of skills development to great use by scoring a hat-trick (a chip, a volley and a shot). This resulted in him getting rewarded with an apprentice contract and ultimately a full time contract.
Now for your average footballer that would be where his career follows the normal footballer journey for good or bad with Johnston now spending his career at Middlesbrough, joining a club at a lower level or at best fully turning things around at Middlesbrough and perhaps getting a move to a club slightly higher up the food chain. Craig Johnston is not your average footballer though and he continued to use his perfect blend of intelligence and determination to further hone his game to the extent that he ultimately made a scarcely believable journey from Middlesbrough reject (and this is the key – they were right to reject him as he wasn't good enough initially) to signing for Liverpool FC in the years when they were the best team in the world (4 European Cups in 8 years evidences this point). At Liverpool he continued to develop and became an important element in that great team, fulfilling his dream of scoring in an FA Cup Final and winning numerous trophies. He described himself as becoming "the worst player in the world's best team". Whether he was the worst player in that team is debatable but even if his harsh assessment is true it takes a very special man to go from being the worst player in a poor Middlesbrough trialist team to being part of the best team in the world.
As if his football achievements weren't enough he also demonstrated the wide variety of his talents by becoming a successful photographer, writing and directing the video for The Anfield Rap, co-writing the New Order song World in Motion, creating a primetime game show and inventing the hotel mini bar. Oh I almost forgot he also created a little known football boot called the Predator!
Beyond this range of great achievements he was also a special character in other ways with him showing his love for his family by walking away, at his peak, from all of the football success that he had worked so hard to achieve to be there for his sister and the rest of his family when she became seriously ill. He further demonstrated that he was a rare breed of person a couple of years after he left Liverpool when, following the Hillsborough disaster, he returned to Liverpool and spent many hours talking to fans who were in comas as a result of the disaster. Craig Johnston clearly was and is a very special man and not just on the pitch. He may not be the most gifted player we ever had – although I have seen enough videos to know that he was a very good player – but for me he is the most inspirational player we have ever had and a true hero.