No this isn't the flowerpot men.
Let's not beat around the bush here, I've been fairly vocal on Twitter about Liverpool potentially signing Christian Benteke for £32.5million. Deep down I fully expected Aston Villa to cave in and accept a reduced offer and for Liverpool fans to celebrate that as a success.
However that wasn't to be and Big BAD Ben looks set to be the next signing.

Whilst I've already admitted I was against the idea now that he's all but a Liverpool player I'm not one of those to hope he fails so I can shove it down people's throats and write an article about how right I am. I mean come on, who does that…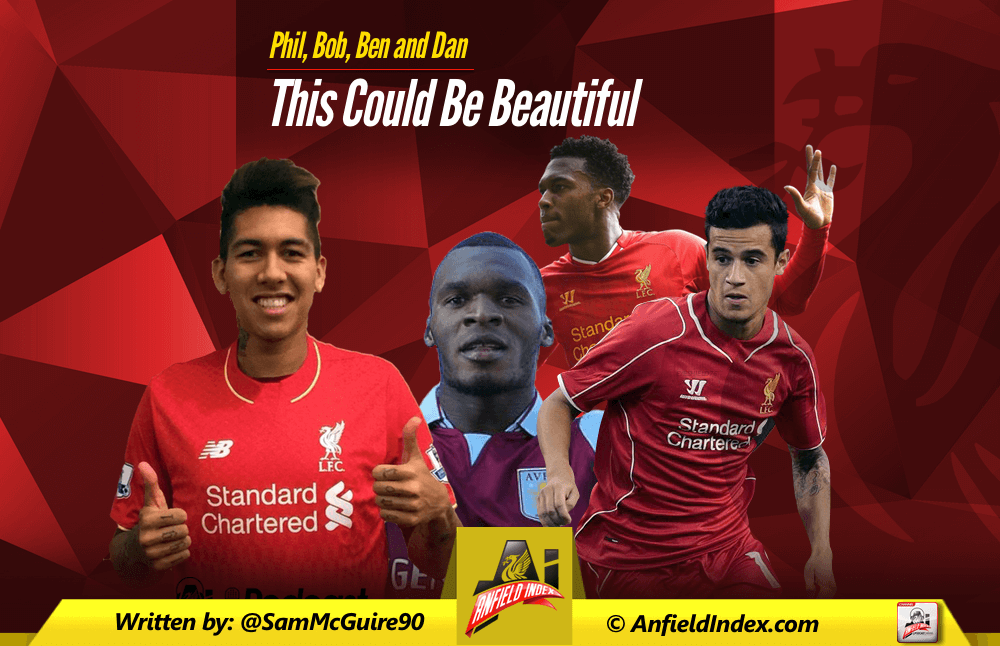 In this article I'm going to look at potential ways Liverpool could line up to get the best out of their squad as we ready ourselves for another assault on the top 4. Firstly though let's add some context before we begin. In the 3 seasons Rodgers has been at the helm Liverpool concede on average 43 goals, based on this you're looking at Liverpool needing 70 plus goals properly challenge the top 4. Traditionally Liverpool have a better second half to the season but we can't afford that this time around. With Daniel Sturridge being out till October the onus will primarily be on Christian Benteke to score the goals. As I've said numerous times I do believe Benteke will score if we play to his strengths but we can't ostracise the likes of Firmino and Coutinho when doing this. For Liverpool to succeed all three need to be involved.
Style
We all witnessed firsthand last season how a slow possession based almost sterile style didn't that really suit our team and not just because teams sat deep against us. To play this type of football you need players who can cut a team open with a pass and unfortunately for Liverpool they didn't have enough of these players.
You also need players in and around the area to support the striker. Last season Liverpool had many players who wanted to get the assist if that makes sense. They were all lined up outside the area wanting to get the pass but not having the ability to execute it. This meant we ended up with one man in the box with 4 defenders around him and about 4 players outside the area wanting to pass forward but without an option, which eventually led to them taking a shot from distance and ultimately wasting the ball. This point is backed up by this stat: in March, the total percentage of the shots for the entire season had Liverpool down as 62% from outside the area, the most in the league. You'd like to think with the team being a year older now they'd be less naive with their shooting and they'd hold onto the ball a little more.
Due to teams sitting back against us, and Liverpool boycotting their successful pressing tactic, we never really got to see Liverpool as a counter attacking side. This is the type of side Liverpool would excel as in my opinion. They've got the pace in the team to be ruthless on the counter attack from all angles. However to get this going they'd need teams to come at them and to bring back the press. This also doesn't match up with what Brendan Rodgers said earlier in the week. He mentioned Liverpool attacking in the first half and then sitting back a little more in the second half, a less steroid version of 2013/2014 you'd like to imagine.
After hearing what the manager had to say I had a little think about styles and tactics Liverpool could use. The one that many fans seem to fear is the much maligned 4231. On paper we don't have the players to play the traditional 4231. The traditional one contains a defensive midfielder beside a playmaker and then wingers either side of a number 10. We can play a tweaked version of it like we saw at times in 2013 when Suarez played as a left inside forward cutting in, sterling down the right stretching play and Sturridge as the central figure drifting with all interchanging. It'd be less fluid this time around but that's how I see Liverpool getting the best out of their players next season.  The main objective is to get players around Benteke but also keep Sturridge, Firmino and Coutinho as involved as possible.
You could call this a 433 or a 4231 it doesn't really matter what it says on paper it's how functional it is in reality. Yes that's Joe Gomez at left-back and no it's not a knee jerk reaction to him performing well in pre season. Next query will probably be about Sturridge? Like I said it's about the functionality in game so I'll explain with the next image.
This would be when Liverpool had the ball and were looking to attack.
You see the back 4 became a back three with Joe Gomez tucking in to become the left centre back and Skrtel becoming the right centre-back. That's the reasoning for the Gomez inclusion here at left-back. This wouldn't be ideal for Skrtel as he looked better at centre-back but with Henderson and Clyne on his side he has cover, you've also got to remember he's played right-back on occasion so being the right sided defender won't be *too* foreign to him.  The fact it's now a back three gives the midfield extra insurance if they were to attack they wouldn't be leaving the defence with just the two. It kind of nullifies the need for a defensive midfielder to an extent.
I've used Clyne as the attacking full-back in this image but you could flip this and have Clyne sit at RCB and Gomez push down the other side so long as Liverpool have the 3 men back. It's why Gomez was picked ahead of Moreno in this line up.  Clyne showed during his Southampton days he liked to get into the box of the opposition. Not only did he overlap he also 'underlapped' the wide player, something Zabaleta has made into a work of art.
You then see Sturridge would've drifted in and almost taken up the role of a second number 10. He's then able to push beside Benteke or drift wide if Clyne wants to come inside. Daniel Sturridge is lethal, I'm not marooning him out wide by any means, if anything it means he only up against one defender and he's bringing them onto their weaker side which is a bonus.
You then have our Brazilian boys. If Firmino drifts inside then Phil would drift outside but the key thing here is to have them as close to each other as possible, then there's more chance of something happening . If both cut inside then Milner can fill in out wide. I jokingly said on twitter that Benteke is the pole in swing ball and Bob and Phil are the players but in a way that's how we'd have to work it. We use Benteke as a fulcrum of our attack and the rest play around and support him.
They all need one another to succeed. Last season showed teams can mark Phil out of the game if he's having to do it single handedly. Teams showed they can defend against Sturridge in a one when isolated. We need to let Benteke reap the rewards of the sumptuous array of players supporting him and vice versa, with Bob, Phil and Danny all benefitting from the space a player like Benteke will create for you.
Couple all this with the fact Liverpool have depth and strength on their bench for the first time in a long time and it could be devastating. The likes of Dannyy Ings, Divock Origi, Lazar Markovic, Adam Lallana and Jordon Ibe all bring different strengths and compliment different parts of the team. We aren't one dimensional and we won't be predictable.
It's not foolproof but it's utilising the players we have and none of them have to suffer. They're all being used and supported in a way that draws the best out of them and let's be serious. If you're a bottom 10 side and you see that line up you're hardly going to feel confident, are you? It's got pace, power, technique, strength and importantly balance.
Phil, Bob, Ben and Dan. This could be beautiful.