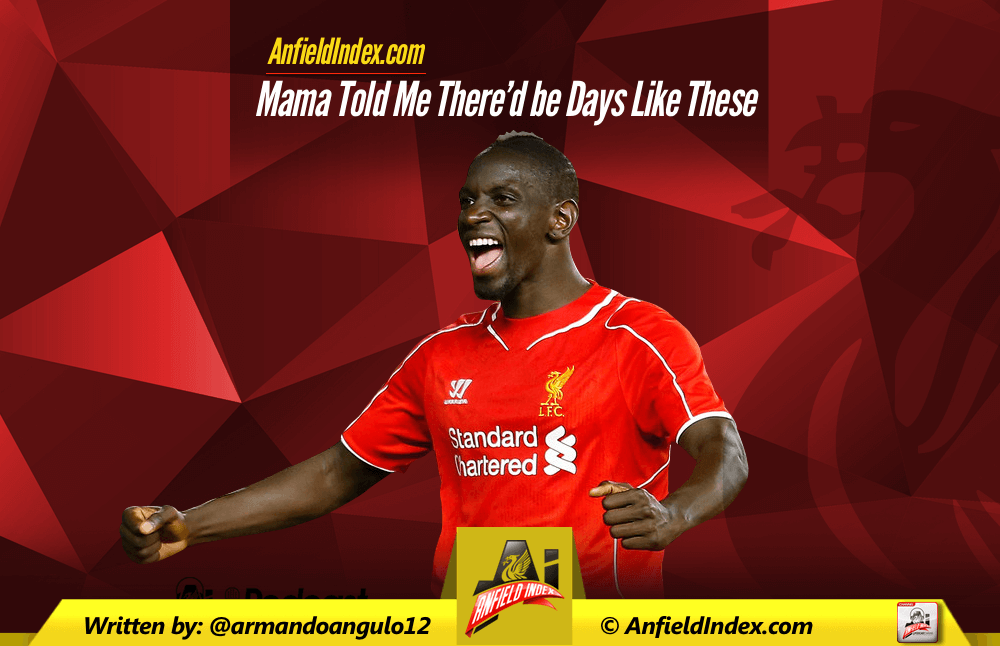 Mama Told Me There'd Be Days Like These
Analyzing Mamadou Sakho's Uphill Battle and His Ability to Persevere:
When Liverpool brought Mamadou Sakho to Anfield in the summer of 2013, there was a myriad of reasons to be excited.  The prospect of adding a player of such quality to a squad in search of its first Champions League birth since 2009, was a great signal of intent for a club in a state of flux. As the most expensive signing in Brendan Rodgers' second summer transfer window, Sakho was expected to bring his well renowned leadership abilities, nonstop work rate and positive attitude to a locker room in desperate need of stability.   Even more impressive than Mamadou's off the field qualities were his strengths on the pitch.  The Frenchman has long been praised for his physical style of play as well as his tactical intelligence and organisational skills.  These qualities had been the foundation of Sakho's game since his early days growing up in Paris.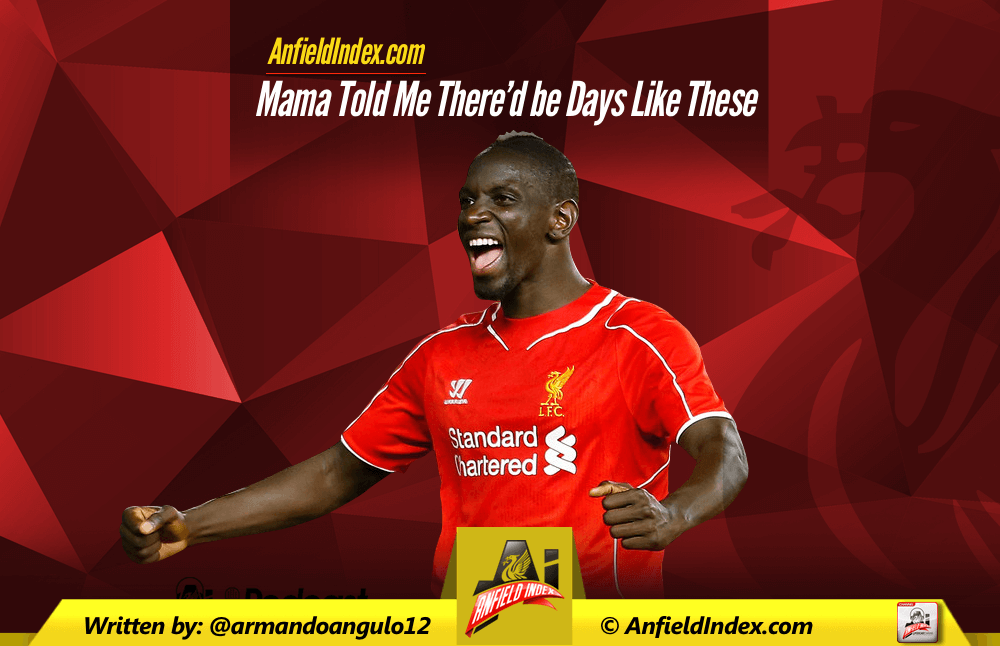 Mama was plucked from local club Paris FC by the giants of the city Paris Saint-Germain in 2002.  A move that would allow him to mature in a proper footballing academy.  Maturing as a person was something a young Sakho would have to do quite a bit of before emerging as a leader or an International footballer.  At the time, Mamadou was struggling to adapt at Camp des Loges, the clubs youth academy.  He had so many behavioural issue at one point that the club threatened to expel the young defender from the youth set-up.  Luckily for him, he was able to bridle his poor conduct before the threat of expulsion came to pass . Thanks in large part to his youth coach at the time, Mamadou was able to harness all of his energy and focus on his footballing career.  At the age of fourteen, tragedy hit the Sakho family as his father passed away abruptly — an event that sharpened his focus of being a success for the Parisian club even more.  He used his newfound motivation to quickly prove himself a rising star for PSG, often playing in teams a few years older than himself.  Just a few seasons on from almost being let go due to behavioural issues, Mama was making his senior debut at the age of seventeen.  From that moment on there would be no looking back for the promising central defender.

2007-2008 would be his first full season with the senior side, making his first start in September against Lorient in an early round Coupe de la Ligue fixture — a 3-0 victory in which he played an integral role.  Later that season Sakho would debut in Ligue 1 against Valeciennes, a late October match that ended a scoreless draw.  As if making a league debut at seventeen wasn't special enough, Sakho was handed the captains armband by then manager, Paul Le Guen — making Mamadou the youngest player ever to captain a Ligue 1 club. It was a controversial move that the manager hoped would spur on the side and improve the at times mundane performances. He would captain the side for the next two matches until her picked up an extensive injury that kept him out for the better part of two months.  Upon returning from injury, he was able to help his team win the Coupe de la Ligue title and clinch his first winner's medal as a professional footballer.
In the following few seasons Sakho would face even more injuries as well as a managerial change at the club.  Paul Le Guen would part ways with PSG and Antoine Kombouare would take over for Les Parisiens — a change that would prove monumental in Mamadou's career.  He sought out to impress his new boss in the time he was able to remain healthy and impress is he did.  Sakho's displays on and off the pitch made sure the Frenchman would be given a larger role in the team under Kombouare and with that more responsibility.  During the 2010-2011 campaign, the now twenty year old was given the vice-captaincy, wearing the armband for the European fixtures. The young man was now a mainstay in the PSG line-up and was thriving in his new role, winning the Young Player of the Year award from the national player's union. The 2010-2011 season was a real high for Sakho and the following year he would be handed the armband permanently for Les Parisians.  Just as it all seemed to be lining up perfectly for him, things again would begin to fall apart during the 2011-2012 campaign .  In only his second match as full fledged captain, Mama would suffer a hamstring injury that would keep him sidelined for eight weeks.  Shortly after his return there would be another impediment, Kombouare would step down in January of 2012.  The man that made Sakho his captain and leader would be replaced by former AC Milan man, Carlo Ancelotti.  By the end of the season not only was Sakho benched but he was also stripped of his captaincy — surely a very bitter pill to swallow.  As he fell out of favour with Ancelotti, things would also begin to turn sour on the international front.  Didier Deschamps at this time left Sakho out of his squad, stating that no player could expect to be called up for France without playing regular first team football.  All eyes pointed towards the exit door and with tensions mounting the stage was set for the Paris native to leave his boyhood club.
A £15m bid from Liverpool was accepted by the French giants in early September 2013. Sakho was on his way to Anfield hoping to make his mark on the storied English club.  He would have to step out of his comfort zone and get acclimated to a completely different team, coaching staff, language and country then he had ever known before.  The move seemed to invigorate his career as his new teammates and manager raved about how powerful and impressive he was in training.  He came into a new league and seemed to fit in seamlessly, injecting a much needed physicality into the Liverpool side. Mama brought a positive ambitious attitude which was in-line with the changes going on at the Merseyside club.  Now settling in with his new surroundings, there would be another bump in the road — yet another muscular strain.  It was beginning to become a theme for Sakho to be injured and it was becoming the one knock on a player who seemed to have a surplus of talent and quality at his disposal.  After returning two months later he would battle for playing time with longtime fan favourite, Daniel Agger.  While accumulating 18 appearances in his first season at Anfield, he was able to make a good impression maintaining  92% passing, scoring one goal, winning 60% of his duels and winning over 1.5 tackles per match. More important than the individual stats was the winning mentality he brought with him to Liverpool.  Helping motivate his teammates and propel his team to achieving their goal of Champions League football, falling just shy of LFC's first league title since 1990.
Now back healthy and in the Champions League, it was time to make the most of his opportunity and be a permanent fixture in the Liverpool side.  Though Daniel Agger was now gone, the Reds would sign another man to play the LCB role as Dejan Lovren was purchased from Southampton as competition for the Paris born player — which seemed to be Brendan Rodgers' handpicked replacement for the Frenchman.  Sahko got his chance in a 3-0 victory against Tottenham and looked to be the more solid of the two at LCBs.  Unfortunately the injury bug would show itself again and Sakho would struggle to make a consistent impact on the side.  Between thigh strains and hamstring pulls, he would end up missing a grand total of 30 out of LFC's 58 matches due to injury.  This was very evident in the teams performances as £20m signing Lovren, failed to play with the same composure and confidence while filling in for the injured Sakho. When healthy, however, the Frenchman continued to prove how fundamental he was to Liverpool's defensive stability and success.  Mamadou in fifteen league starts helped keep seven clean sheets and after Brendan Rodgers switched to a three man back line he was instrumental to the formations success.  His ability to cover for the bombing wing back — usually Alberto Moreno — was crucial to Liverpool keeping a balanced defensive set-up.  Sakho's ability on the ball, athleticism, and quickness to cover for the wing-back were all imperative to this new formation and to turning Liverpool's season around after a tough start.  Now going into his third year with the club and following the departure of Steven Gerrard, it seems the time is now for Mamadou to take up a larger leadership role in the squad and cement his place as the left sided center back week in and week out.  Something that if fully fit should be attainable for the ever-talented Frenchman.
Time has shown us that Mamdadou Sakho's strongest quality is that of perseverance.  He has demonstrated that no matter how many times he gets dealt a tough situation he habitually overcomes each obstacle.  It is a quality that reflects both on and off the pitch.  Whether on the field of play helping keep clean sheets and making crunching tackles or teaching French in the community while out with an injury, Mama consistently makes the most out of the situation at hand. Now fully settled in England and with his International career back on track he seems poised for a big season for the Reds. Sakho has shown his ability to overcome obstacles along the way and vanquish each challenge as they present themselves. The main thing for the Paris born player will be staying healthy, something he hasn't consistently been able to do during his time at Anfield.  I for one am confident that he can turn that around and remain healthy.  With the right preparation and proper rotation I can see him having an invaluable impact on Liverpool's upcoming season.  Remaining hopeful the injury problem can be put behind him and with the help of the training staff and physio team, he can prepare himself in a way to reduce the probability for future injury significantly. If so, he will assuredly prove himself worthy of the LCB position and quite possibly the vice-captaincy of our great club.  At merely twenty-five, it is a capacity that I am confident he can revel in for many years to come as he has in the past for his country and boyhood club.  As the most talented defender in the Liverpool squad he will be relied upon heavily to help lead the team as they attempt to bounce back from a dismal campaign.