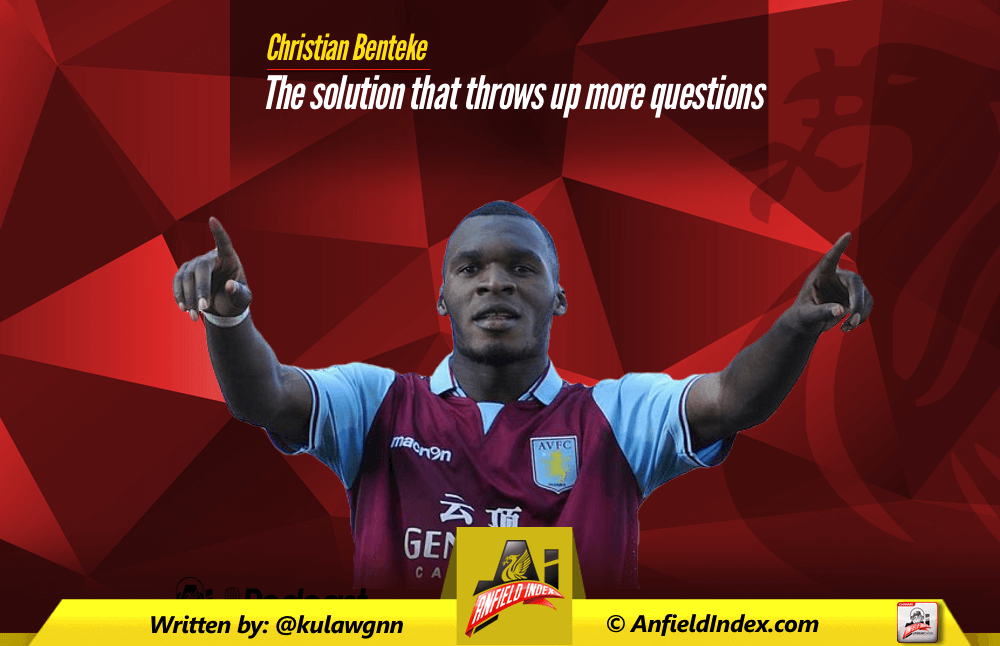 Benteke: the solution that throws up more questions
"Be careful what you wish for" so says an old saying. For long Liverpool fans have craved a big money or big name signing. They complained Liverpool could not win anything with kids and that the clubs transfer policy needed mixing up to stand any chance of challenging for silverware. So it seems the owners heard and sanctioned a move for a £32 million striker. The striker the club desperately lacked is coming in and the big money move is being made. But far from engendering excitement, the move for Christian Benteke has at best divided the fan base.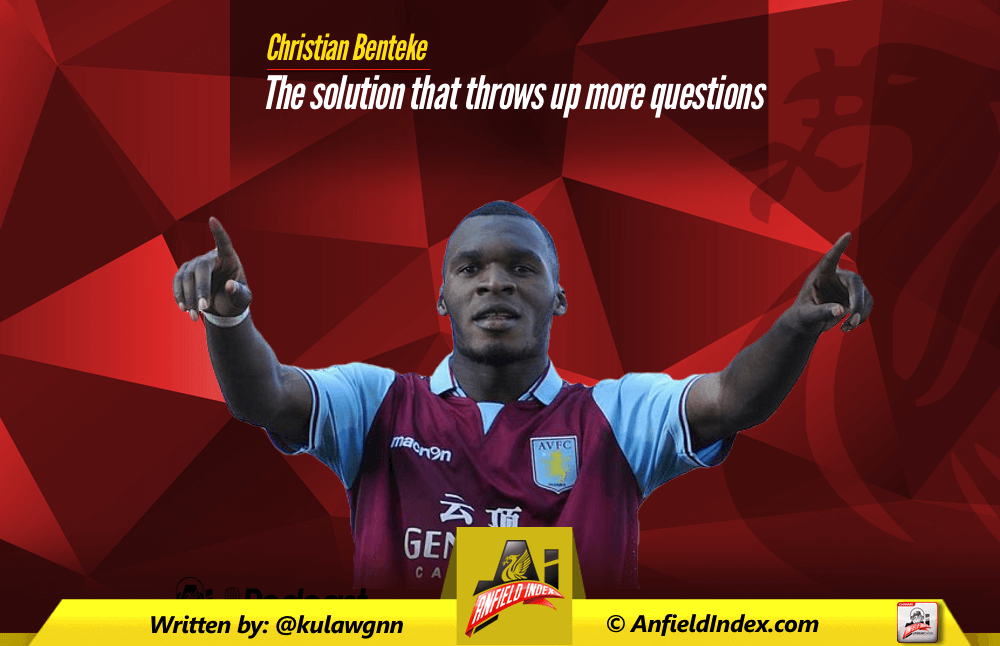 Those happy at his imminent signing are won over by 49 goals in 101-league matches. Those on the other side are worried the huge sum being forked out to bring him can get someone better and that he is not a fit for Liverpool stylistically. Benteke only ranks behind Suarez, Aguero and Van Persie in the number of goals scored in the EPL since he made his debut three seasons ago. A striker who scores a goal every other game should be coveted and one whose capture should be celebrated. However, whiles his goal scoring record is very decent his signing, it raises issues that can blunt the solution he is supposed to solve the club's goal scoring woes.

Transferring the goals from Villa Park to Anfield
49 goals in 101 is quite impressive even if it took more minutes (7327) to get to that tally than it took Aguero (6025) to reach 55 goals, Suarez (5919) to reach 53, Van Persie (6821) to reach 44 and Giroud (7275) to reach 41. If he is to get LFC that many in that number of games it will be a satisfactory return regardless of the huge investment in him. But transferring the goals is easier said than that. The argument is that surrounded by being surrounded by better players at Liverpool his goal return is only going to improve. The "physics" do not work like that. Villa's attacking machinery operates differently from LFC's. The speed, movement and dynamics are all different at Anfield compared with Villa Park. Darren Bent scored 31 in 68 games for Charlton before he moved to Spurs. But despite the Spurs team being better he only recorded 18 in 60 games. Mario Balotelli's last season at AC Milan recorded 14 goals in 30 league matches assisting 6 times, with three of his goals being penalties. Benteke's record from his last season at Aston Villa saw him score 13 in 29 games, assisting just twice with one goal coming from the spot. Mario scored just one headed goal against Benteke's 4. The two records are very similar. But Mario has not been successful transferring his goals from San Siro to Anfield . Or perhaps the journey from Milan to Merseyside was too long! On a serious note, transferring goals from one team to another is a very simplistic argument. Styles of play, attributes of key players in the different teams among other factors influence the "transferability" of the goals. Benteke has been surrounded by better players before. In the national team he plays with some of the top players in the world now. Hazard, De Bruyne, Witsel, Mertens are some of his teammates in the Belgian national team where he has recorded just 7 goals in 24 appearances. But it is how he operates in the midst of those "better players" that should be of concern.
"I changed my system afterwards, because Benteke was isolated. I then played with two strikers, but they need more crosses. We asked them to get to the front post, but they stand there like two poles. We still have work to do" This was Marc Wilmots, the Belgian national team coach lamenting the apparent lack of mobility and movement by Benteke and Lukaku in a match with Wales. The Belgians lost the match despite having "better" attacking players surrounding Benteke and Lukaku. So whiles the expectation is that better players will make the huge Belgian's goal return go up, it very possible as Wilmot pointed to that he can blunt the effectiveness of these better players. Origi may not be as prolific as Lukaku or Benteke but there is a good reason Belgium functions as a potent force when he rather than Benteke or Lukaku spearhead the Belgian attack.
The Effect on Coutinho, Firmino, Markovic, Ibe, Lallana and other LFC attacking players
It is taken for granted that Benteke will thrive off the huge pool of talented attacking players at Liverpool. Benteke we are told is a beast full of power, pace and aerial ability. He bullies defenders and can occupy defenders. As Belgian journalists Kristoph Terreur said on Talk Sport, "We were all surprised by his evolution but I think LFC may have to change their tactics. He lives on crosses. He doesn't perform in the Belgian side because they don't have wingbacks, everything goes down the centre like LFC last season. LFC played a lot down the center last season so they will have to adjust a bit". This is quite a revealing stuff. Terreur's views, if Benteke is to succeed at LFC, lots of players may have to change the way they play. The strength of this Liverpool side is the quality in the middle of the park with Coutinho, Firmino, Lallana, Henderson, Can and Milner. Their attributes include passing, dribbling and threading through balls for willing runners to get behind defenders to score. Milner apart, crossing is not a strong weapon in their armament of these attacking players. Even Ibe and Markovic who are wingers are not noted for crosses seeking out a big target man. When your team is endowed with nifty, creative, dribbling and passing gurus, you need more a pest rather than a beast to trouble defenders. Sturridge and Suarez thrived in 2013/14 partly because there was Coutinho from the deep who could see a pass and play them through to meet their runs. When he had to do same with a Lambert or Balotelli, players stylistically similar to Benteke than Suarez or Sturridge, his form suffered greatly. So when you are looking for a striker to get the best out of a Firmino or a Coutinho , one that thrives on a crosses, plays in front of defenders and does not prefer running behind defenders, should not feature highly on that list. It is much about Liverpool's attacking players getting the best out of Benteke as it is about the Belgian bringing the best in them. Firmino got his move because he flourished playing with Kevin Volland, a player diametrically opposite in style to Benteke. Coutinho's best days have been with a Suarez or a Sturridge in front of him. You pay £32 million to get a striker who gets you goals to win you trophies but when there is a possibility the style of that striker can blunt the effectiveness of some of your talented creators, then that is a huge problem. This is not me being pessimistic. I would love nothing more than Benteke being a hit at Anfield.
What happens to a fit Sturridge?
There is a lot of time left in pre-season for Rodgers to try out other formations. However, reports in the media are widespread about the Northern Irishman wanting to go back to his preferred 4-3-3 formation. He played that in the second half of the Thai friendly and throughout the match with Brisbane Roar. If that is the way he goes, a potential situation arises of having a £ 32 million striker or the prolific Sturridge on the bench, granted the latter is fit. Whichever way this is not ideal. You do not pay huge sums a player to sit on the bench. Neither does a fit Sturridge, deserves to be on the bench. So how do you deal with Benteke when Sturridge is fit? Playing a diamond in midfield to accommodate two strikers may be a solution. But given the reported desire of Rodgers to go to his preferred 4-3-3 this looks unlikely. Even if he did, do Benteke and Sturridge make for a good pair? SAS thrived because whiles both were clinical finishers, Suarez did the pressing. Sturridge is not great at pressing and lazy at it a lot of times but he offered lots of intelligent movements off the ball. Benteke is not noted for pressing or his movement. So how does he complement Sturridge in a two? As Rodgers said last season, if you cannot press, you won't be in the team.
Benteke is a good striker. In a period where there is a limited supply of top strikers in the EPL, Benteke's return is very decent. Given Rodgers is not prepared to look outside the Premier League for strikers, he is one of the best available despite the many good reasons to suggest he may not be a good fit for Liverpool. I guess Rodgers has it all figured out that's why he badly wants him. As a fan I only hope this works out better than some of the players that have been considered Rodgers' top targets in the past ie Lovren and Lallana.
Stats courtesy whoscored.com, Squawka and Soccerway