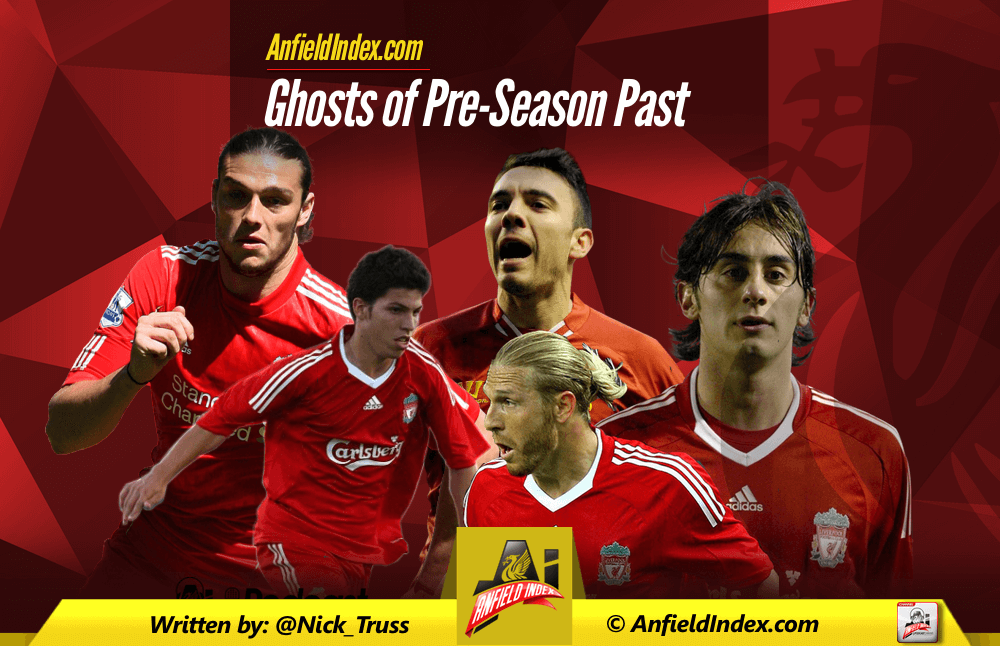 The Ghosts of Pre-Season Past
Pre-season is upon us with all the thrill, excitement and hope that comes with it… Okay, maybe not thrill and excitement but there's hope, there's always hope right? That's what kills us, every year, every pre-season a player rises from the shadows stringing together a series of quality performances only for that glimmer of hope to be dashed by November. This article will look at 5 players who have excited us in the past but failed to keep their form in the league.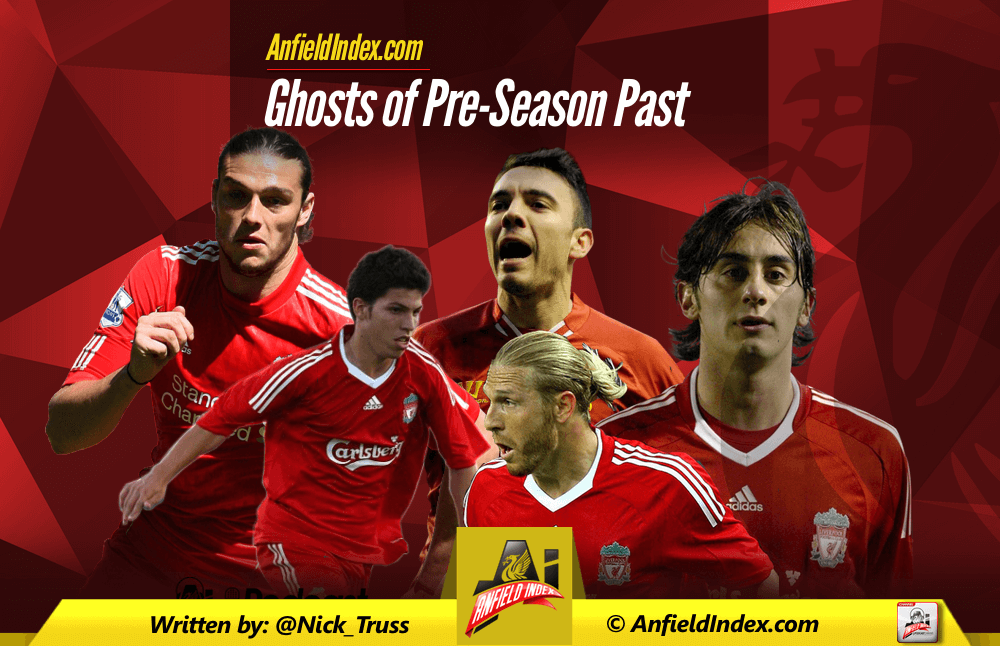 1) Dani Pacheco
Signed in 2007 from Barcelona Dani Pacheco was touted as one of the stars of the future. With Rafael Benitez at the helm there was already an established Spanish contingent in the squad so the addition of a youth prospect was one that excited many Liverpool fans. Pacheco was named in several pre-season squads during his time at Liverpool but failed to make the progression to the first team. Benitez left the club in the summer of 2010 which could have been seen as the end of Pacheco's Liverpool career, however Roy Hodgson gave the Spaniard the number 12 shirt vacated by Fabio Aurelio (who was re-signed after his contract finished earlier that summer taking the number 6 shirt). This gave fans some optimism that he could make a name for himself (some fans even rushed out to get his name on the new shirt…. Cough cough…). Unfortunately it wasn't meant to be and after a couple of loan spells Pacheco left the club in 2013 after only making 5 first team appearances for the Reds. He is now plying his trade at Real Betis who have just been promoted back to La Liga after winning the Spanish 2nd division.
2) Andy Carroll
The next man on this list is Liverpool most expensive signing, yes, the one and only Andy Carroll. His time at Liverpool was largely unsuccessful, despite coming into some decent form towards the end of his spell at the club (during his customary 3 months of form before an international tournament). The big Geordie gave us a something to talk about at the start of the 11/12 season scoring 3 goals in 6 games, this 1 in 2 ratio was not carried into the season and despite scoring in Liverpool's last friendly against Leverkusen in Brendan Rodgers first season as manager he was loaned out to West Ham and would never been seen in the red of Liverpool again.
3) Iago Aspas
There's a bit of a trend here, pre-season is normally a time to be excited by goal scorers, well that's the case in competitive football as well, goals are good aren't they? That's why it's rare you see a defender winning the Ballon d'Or (other player awards are available).  The truth is people pay for goals, goals excite us, and goals are why we watch football.  (This isn't the case for everyone) but I'd say 99% of football fans wouldn't watch if every game ended 0-0. Anyway back onto Iago Aspas, an almost perfect example of a pre-season wonder. The Spanish forward scored 4 goals after arriving for Celta Vigo in 2013, regrettably we all know how it panned out, that corner vs Crystal Palace summing up a dreadful time on Merseyside for Iago Aspas.
4) Andriy Voronin
Signed on a free in 2007 Voronin became Liverpool's new number 10. After scoring 10 goals for Bayern Leverkusen the season previous there was more of the hopeful optimism about this signing rather that excitement. His long blonde locks failed to win over the Anfield crowd alone and his performances on the pitch weren't great either, nonetheless pre-season was his domain. Scoring early on in his Liverpool career in a friendly against Werder Bremen Voronin went on to score 6 goals in his 3 pre seasons at Liverpool the same amount of goals he managed in the league during the same period.
5) Alberto Aquilani
Breaking the above trend by adding a midfielder to the equation and onto a player who is arguably the most frustrating Liverpool transfer of recent times, Alberto Aquilani signed for Liverpool in 2009 for £17 Million following the departure of Xabi Alonso and a failed attempt to attract Gareth Barry to the club. Alonso left Aquilani some rather large boots to fill, boots which were never given the full opportunity to perform for several reasons from injury to being played out of position. However in the 4 years he was employed by the club, he would return for pre-season to give us a brief glance into what he could produce with a football. 3 managers saw him play and after two loan spells back in Italy with Juventus and Milan, Aquilani made a permanent move back to his homeland signing for Fiorentina in 2012 making only 28 appearances for Liverpool in all competitions, 26 of those being in his debut season. It remains a mystery as to what the Italian midfielder could have offered having been given the opportunity to bed in at the club, but it is a mystery probably best left unsolved as Aquilani managed to somewhat salvage his career, representing his country in the 2013 Confederations Cup in which he scored a penalty to secure 3rd place, and the 2014 FIFA World Cup where despite defeating England (not difficult) Italy failed to make it past the group stage.
Liverpool are half way through their pre-season tour of Asia and Australia, and for those who have watched it, there has been many promising performances from the likes of Adam Lallana and Joe Gomez. The key questions here is whether these performances against weaker opposition can be translated into some league (or Europa League) form and push Liverpool to that all important Champions League place.