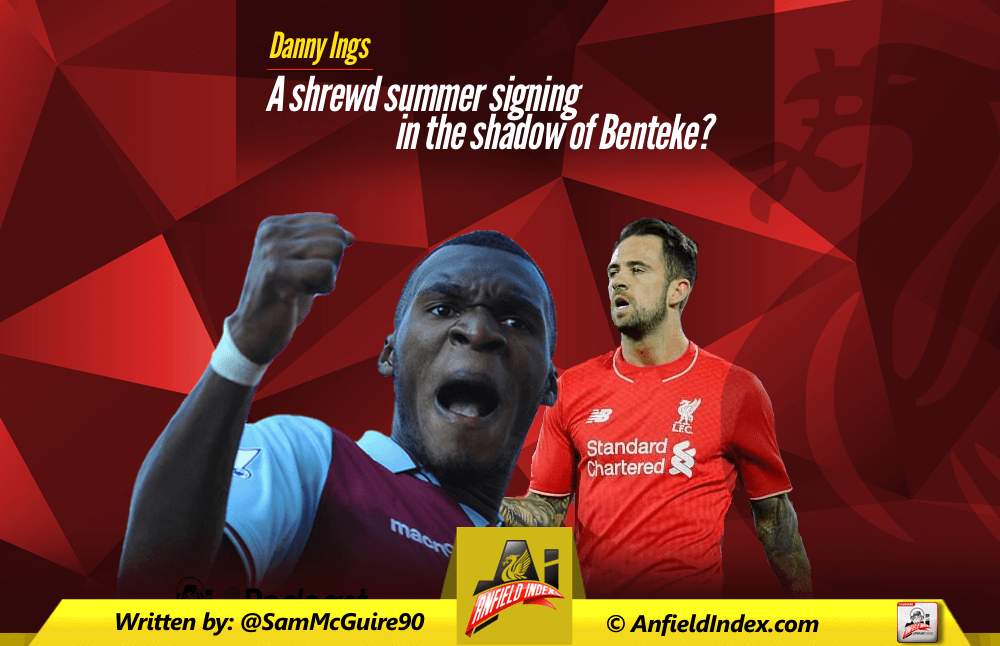 Danny Ings - A shrewd summer signing in the shadow of Benteke?
On January 30th I wrote an article on the site titled "Danny Ings isn't that offensive". It was the day after the rumours began about the 22 year old joining Liverpool this summer and Twitter was having its daily meltdown.
Fast forward 6 months and Danny Ings is a Liverpool player, has already opened his Liverpool account having scored against Adelaide and the Liverpool fanbase are having a mini meltdown about another striker that's expected to arrive in the next few days, the £32.5million man Christian Benteke.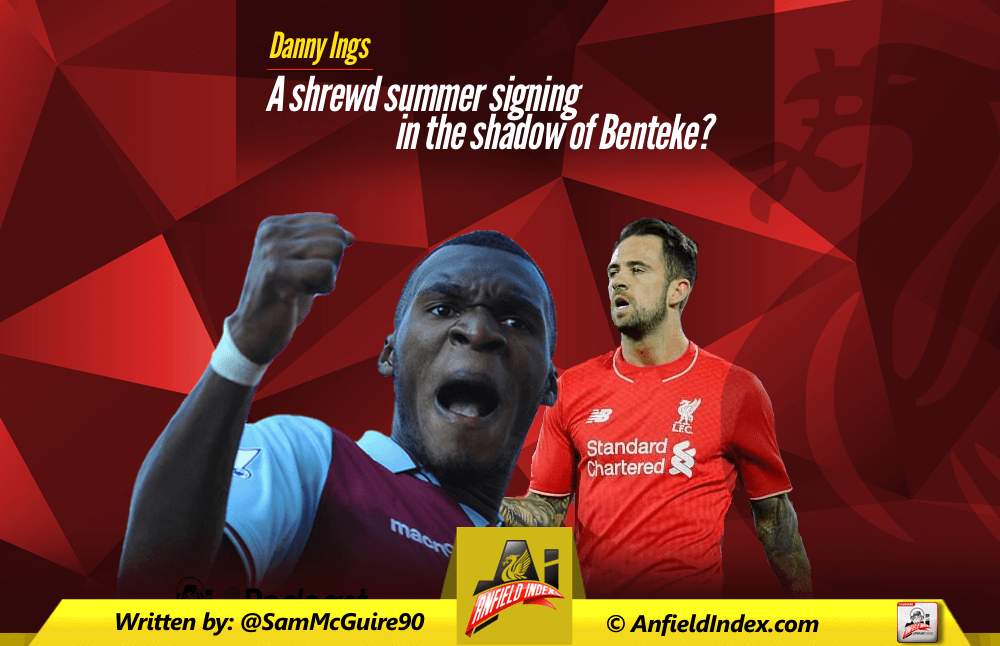 I've made my peace with the Belgian signing. The price tag will no doubt add pressure onto him and it's interesting to see how he copes when managing the expectation of a club like Liverpool coupled with that price tag. At the same time however the signing of Benteke could be beneficial to Danny Ings.
How I hear you ask? Danny Ings has the opportunity to acclimatise to a new club without being thrust into the first team due to the signing of Benteke. The shadow of Benteke can be cast over him and not in a negative sense. He's not the big money striker. The pressure isn't on him to score the goals to fire us into top 4, he's here to subsidise the starting attackers. Which for the first time in a while Liverpool are flush with. You'd imagine Danny Ings will be 3rd/4th choice striker which means he's unlikely to start *that* many games as a starting striker. This won't be a problem though, because Ings played as a left 'winger' in some games and then as a number 10 in other games. He's not a one trick pony.
He's the type of striker Liverpool needed and at a fraction of the cost you'd expect to pay.
This is what makes him a shrewd signing for Liverpool. It's my opinion that he ticks all the boxes for a forward player in terms of what Liverpool need and he's the type of striker the fans have been screaming out for, just without the name. Obviously we'd all like a more talented and reputable name but take a closer look at Danny Ings. Andrew Beesley wrote an article on Ings in February which you can find here. In this article he writes  –
"One of Ings' main strengths appears to be that he is very good at dribbling past opponents in dangerous areas. I don't have too much data to compare with unfortunately, but he has gone past a defender in the box every 169 minutes in the league this season, when Daniel Sturridge did that every 205 minutes in 2013/14. Ings also wins the ball high up the pitch on a regular basis too, which is a big part of Brendan Rodgers' philosophy. The Burnley striker has recovered the ball every 106 minutes in the final third this season".
He's like a lite-version of Carlos Tevez.
These two stats tell me Danny Ings, if given the chance, will go past players in the area which by laws of probability means he'll win Penaltypool a few penalties. Secondly, he's an aggresive presser of the ball and will compliment the rest of the squad well when they hunt the ball down in packs. This is backed up furthermore by his tackles won per game in 2014/2015 being at 1.2 tackles per game. To add some context to this Luis Suarez only won 0.8 tackles per 90 during 2013/2014 and Jordan Henderson only won 1.69 last season. So as you can see by those stats Danny Ings is an aggressive presser of the ball and wins the ball back, you'd imagine many of these tackles would be in the final third which automatically puts Liverpool on the front foot.
Another stat to look at would be chances created, remember Danny Ings played a few positions for Burnley last season but when compared to the likes of Saido Berahino and Harry Kane, both of whom play for better sides and were his rivals in the England u21 side, it's our man Ings who comes out on top with over 1 chance created per game.  I also looked at pass percentage completed. Ings' is 72% (Benteke's is 66%) whereas Harry Kane is 75% and Berahino is 81%, he's not excelling here but he's not embarrassing himself.  You'd like to think in a Liverpool side which such fluidity and creativity he'd get a little longer on the ball and have more options to pass to so his pass % may improve to fit in with out squad.
You've also got to take into account the fact Danny Ings scored 11 goals playing in various positions for a relegated side in his debut season in the Premier League.  Christian Benteke only scored 13 league goals last season. In my article in January, I wrote about Premier League regulars Peter Crouch and Jermaine Defoe and how hitting double figures in the Premier League isn't that easy. The former has only done it on 3 occasions whereas Defoe 6 times in his entire career, both usually played for a better side than Burnley too.
It's all these things that make me think he could be a dark horse this season. He'll surprise a few people who didn't watch him at Burnley. He showed in the pre-season friendly he has good movement and an eye for goal. He takes his shots early which is always a positive when looking at strikers in the Premier League. He's done a job on the right of a front three and he showed last season he could do a job on the left. When in a wide role he'd offer his full-back protection which may be needed if the full-backs are advanced. Ings puts himself about when he's got the ball and when he hasn't. As I've already mentioned he knows how to score and Liverpool lacked that from their back up players last season. He's already showed he can compliment Divock Origi so by default means he could partner Danny Sturridge. He played beside 'targetmen' at Burnley in Sam Vokes and Ashley Barnes so he'd likely to be able to do the same with Benteke. If Liverpool are having to work hard against a team and they need to press from the front you know he can do a job across the frontline.
It's been said for many years that Liverpool haven't replaced Maxi Rodriguez, Craig Bellamy and Dirk Kuyt. I'm not saying Danny Ings will be as good as any of those cult heroes but he's certainly got that about him, the whole work rate, goals and effective for the team. With Jordan Rhodes and Ross McCormack going for £8million and £11million respectively, getting Danny Ings in for what's rumoured to be £6million could turn out to be a shrewd signing and a potential bargain when people look back at it in years to come.