James Milner's move to Liverpool was a poorly kept secret.
It was more of a matter of when and not if he'd sign for Liverpool. His signing once again split an already fractured fan base. Yes, he arrived on a free transfer but wages and signing on fee were rumoured to be a fairly handy bit of money and this didn't sit well with some fans who felt this could've been used elsewhere. However, if you put that to one side for a moment and look at the player Liverpool signed it could be argued it was a coup for the club.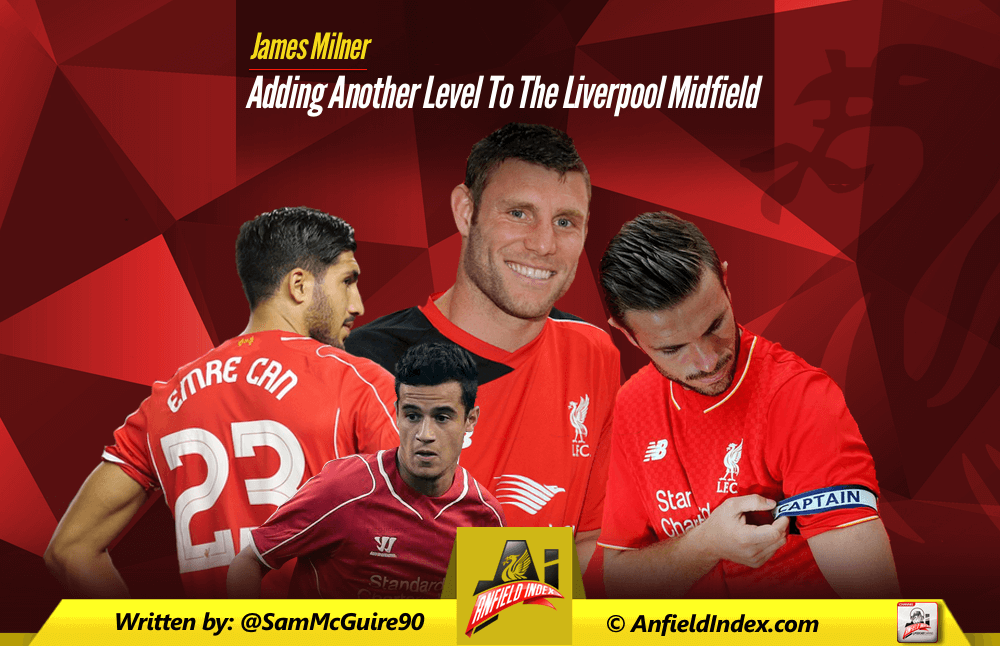 He's not the normal FSG signing.  Famed, and often criticised for signing youth and potential, this was on the opposite end of the spectrum. They were switched on enough to know losing Steven Gerrard was going to have a big impact on the side and leave them looking even more inexperienced both on and off the pitch. The signing of Milner adds experience in terms of playing age, playing in big games and a winning mentality. James Milner didn't start every game for Man City but he's still been involved, and played a big part in a side that's won the league twice and finished runners up twice in the last 4 years. Adding that sort of experience isn't something to be laughed at. He shouldn't be considered beneath us because he's not a *star* signing we all wanted.  I really feel having Milner beside him will help Henderson in his new role as captain. Having a league winning midfielder and someone who has 50+ England caps can only be a good thing, surely?
James Milner doesn't just bring experience. He's also the Jordan Henderson doppelganger in terms of pressing and work rate. We all remember how Jordan Henderson got a lot of acclaim in 2013/2014 for how effective he was in our set up? Well imagine that x 2. Brendan Rodgers has already alluded to playing a high press at the opening of the game and James Milner could be just as integral as Jordan Henderson in this tactic. It would be a marked improvement on what Steven Gerrard offered in terms of pressing. Liverpool would have a fully functional midfield.
Goals
The goals brigade will like James Milner.
On top of experience and suiting the Liverpool style, James Milner brings something the Liverpool midfield otherwise lacked. Goals. James Milner throughout his career is a 1 goal every 10 game player in terms of stats, or roughly 4 per season on average. This may not sound an awful lot but as I've spoken about before a natural centre midfielder to score 6 open play goals is above average for goal scoring numbers.
If you look at the other Liverpool midfielders they have Jordan Henderson who over the last season has averages 6 per season (very impressive output), Joe Allen who averages 1 per season, Lucas Leiva who averages less than 0.5 goals per season and Emre Can who in his 40 league games in centre midfield has averaged an impressive 5 goals, but only has 1 for Liverpool. It's looking a little bare, isn't it?
I know Milner's total of 4 may not seem important but you've got to remember for the majority of his Man City career he was played out wide with the primary objective of creating. This differs to his expected role with the Reds as he'll be playing in a centre midfield role and he'll be afforded the luxury of pushing on and joining attacks like he did against Adelaide. If he gets into the box as he did in that game you'd assume he'd match or surpass his 4 goal average and that can only be positive for Liverpool in their quest for top 4.
As I've mentioned many times before, with Liverpool conceding on average 44 per season they need to score 70 plus so adding goals, even if it's 1 or 2, will be vital if they're to get near the required number. In an ideal world you want 15 goals from your centre midfielders and James Milner will play a huge part in that number. If, and it's a big if, Liverpool are a cohesive unit and their high intensity press works as planned in the opening half of games you'd like to think Jordan Henderson and James Milner could get 15 league goals between them. Jordan Henderson is progressing but here's a gentle reminder, James Milner is a better finisher than our newly announced captain. We all thought it'd be Jordan Henderson being unleashed this season without Steven Gerrard beside him but what if it's actually Jordan and James both being unleashed? It's something to think about, especially when you consider Christian Benteke is going to be creating space and gaps in defences with his sheer presence. The onus will be on our midfield duo to push on, support and exploit the space.
All these positives and that's before you even take into account the versatility he brings to the squad. He is able to play right-back, right midfield, right wing, centre midfield, left wing and even as a false 9 having done so for Manchester City. You'd like to imagine he could do a job as a defensive number 10 with the sole purpose of winning the ball in a dangerous position. He fits in with an already versatile squad which will no doubt be utilised by Brendan Rodgers as he inevitably tweaks the formation at various stages throughout the season.
The kind of form he's shown in pre season is nothing but a positive. You don't read into pre season games much but my positivity comes from how well he's bedded in with the team and seems to have a rapport already with Jordan Henderson.
I wrote about Danny Ings being a shrewd signing and the same could be said for James Milner.