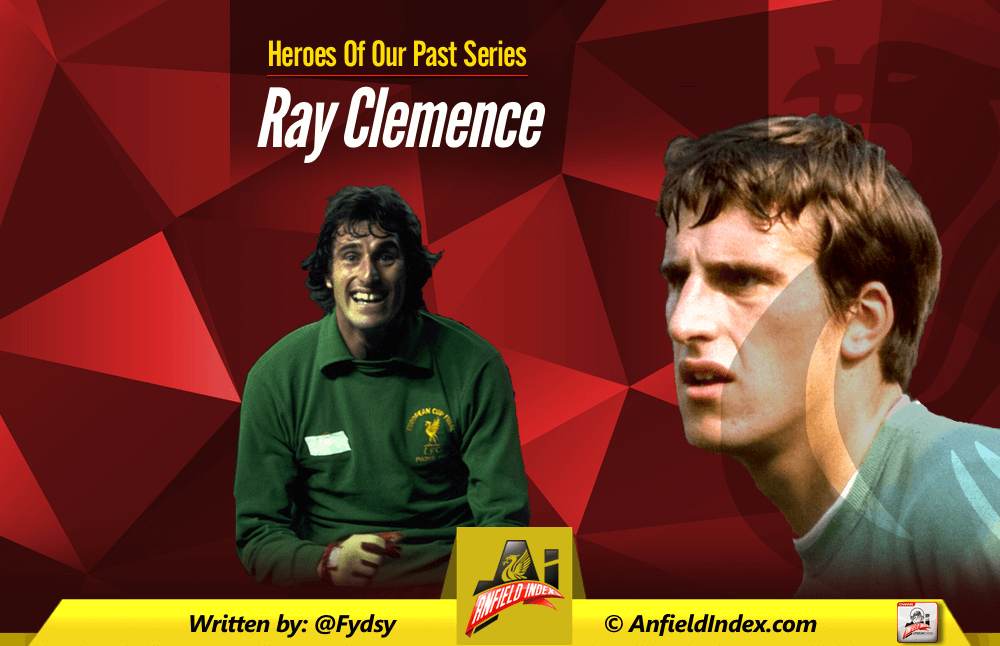 Ray Clemence | Heroes of Our Past
Let's start by being a little contentious for the younger generation who never saw the man play, or – at best – have seen little bits of his performances on YouTube and official LFC merchandise: Raymond Neal Clemence was the best goalkeeper I ever saw, in any team, ever – better than Banks, Shilton, Zoff, Meier, Yashin, Buffon, Cech, Neuer – the lot.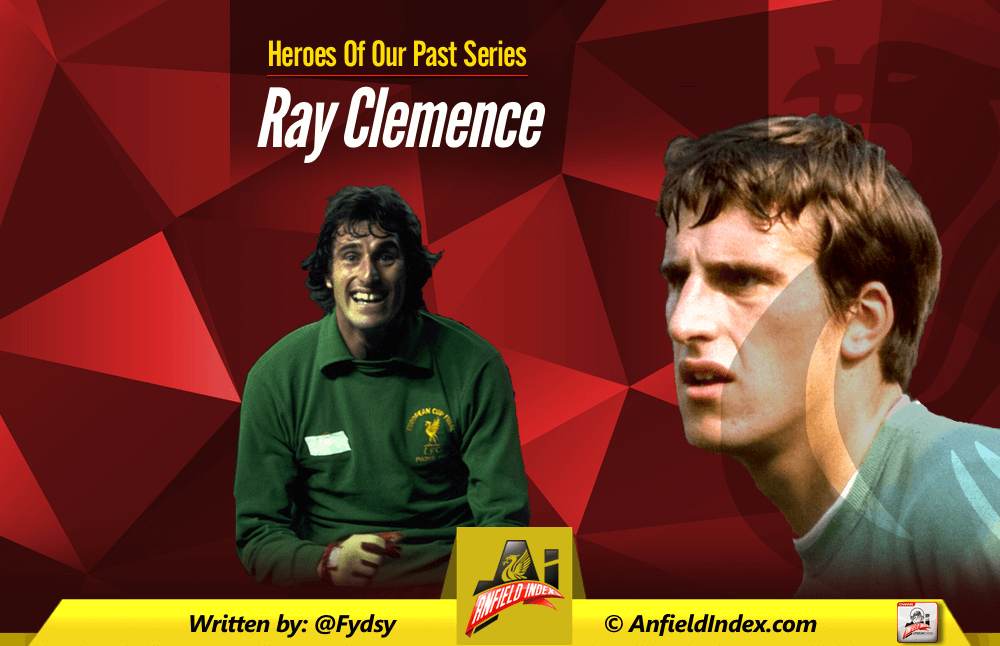 Clem was exactly six feet tall – not huge for a keeper, with an odd smile, thin and lithe, yet deceptively strong. He was also possibly the most athletic keeper around, never shied away from a crunching impact and yet rarely got injured, he also rarely punched the ball preferring to catch it whenever possible, having amazingly fast and accurate distribution despite at the start of his LFC career being a weak kicker by his own admission – this he often compensated for by having a huge and accurate throw.

He played 470 times for Liverpool between 1970 and 1981 – almost an ever present, always consistent in the high quality of his performances. Few keepers I've ever seen were caught out of position less often than Clem – in fact, I can't think of one; it must have happened when he played for us, but I can never actually remember him getting lobbed in 11 years. Although it did happen once or twice for England or Spurs, but then his repartee and command with his defence was never as good in those teams. Whereas other keepers may indulge in a bit of banter with the fans behind his goal, Clem was always prowling – fully focussed.
Clem, who signed for Liverpool from the then old third division club, Scunthorpe United in 1967 for the grand sum of £18,000 – less than the price of a new Vauxhall Astra today – we would revisit them to sign Kevin Keegan three years later for the princely sum of £35,000 – what would today's younger LFC fans make of that? Why weren't we signing 'big names'? Didn't Shankly have any ambition? Clem went into the reserve Central League team where Joe Fagan and Ronnie Moran kicked him into shape, awaiting the day he would eventually replace Kop favourite, the 'Flying Pig', Tommy Lawrence. It would be three long years before Lawrence would get an injury, Clem would get his chance and Lawrence would never again hold the number 1 jersey status.
Ray Clemence was a shouter – if Liverpool were attacking the Kop on one of those drizzly, cold, damp and steamy nights in the 1970s when 50k+ had squeezed into the ground and the Kop was in full voice – should the opposition acquire the ball and attempt an attack, from my standpoint on the Kop, in the left hand corner looking onto the pitch, I could hear him screaming at his defenders – including Tommy Smith – to take up the position – sometimes he would shout out numbers like a quarterback – I always suspected this was something done in training as a shorthand to get defenders in place against a particular type of attack.
He got banged about a lot in those days, forwards like Joe Jordan, Malcolm MacDonald and Wyn Davies went in heavy and took no prisoners – and he dealt it out too – flattening  Manchester United's Stuart Pearson into the muddy goal area at the Kop end one time, so it looked like a tank had run over him. A groggy Pearson had the good grace to shake his hand warmly at the end of the game, despite United being on the end of another Anfield stuffing. At the start of his career, Clem wore a cap a lot, emphasising his long nose and jutting jaw, and he usually played without gloves of any kind – but these were the days when only Sepp Meier at Bayern had discovered those huge goalkeeping gloves we now all take for granted – on the rare occasion when Clem did wear gloves back then, he had a pair of slim-fitting green ones that matched his shirt, or black ones if the shirt was on occasion yellow. According to long suffering understudy, Steve Ogrizovic, they were either just plain two-ply cotton or a type of chamois leather, both with a single button at the wrist like driving gloves for those of a certain age. Nonetheless, the ball rarely slipped from his grasp.
If the opposition attained a breakaway, Clem would come racing off his line in a 'libero' way, but always better judged than others who tried this – and for a keeper, he was quick, his anticipation superb. He rarely gave a penalty away, though sometimes his defenders might – even then he saved a fair few when they did. The 1978–79 League winning season saw Clem set a record that was never beaten under the old two points for a win system when he conceded only 16 goals in the then 42 league matches, of which only 4 were at Anfield. Although Cech at Chelsea only conceded 15 in one of their winning seasons, this was under the Premier League 38 league games in a season system – so Clemence's record over 42 league games still stands – and he never wore a silly hat.
The only thing I found to decry about Ray Clemence was his dull musical taste (he loved the Carpenters) and his casual dress sense, which was even worse than mine, and I don't have any. Off the pitch, Clem and his wife lived a quiet life (often playing golf –which he was terrible at), his son Neal, would also eventually become a footballer and played for Spurs and Birmingham among others. You could often see the Clemence family out shopping in Liverpool, maybe sitting in a café on Bold St, not flashy, no bodyguards, no media. Mostly they went about their business, but if anyone stopped them and asked Ray for an autograph, he would smilingly oblige and even chat for a minute or two.
Clem was capped 61 times for England at a time when he was in direct competition with Peter Shilton and Joe Corrigan in particular. Many – myself included, thought that the excellent but often mistake-laden Shilton was favoured far too heavily. But then, if you think England are poor now, back then they were frankly little better.
In the end, after winning 3 European cups, 2 UEFA Cups, an FA Cup, a League Cup, 5 league titles, 5 Charity Shields and a Super Cup, at the age of 33, Clem left for Pastures new at of all places, Spurs. Lots of rumours circulated as to the how or why, as conspiracies when a top player leaves are bound to do, but neither the fans nor Bob Paisley would hear a word against him. As when Keegan left, the prognostications by some fans and certainly rent-a-quote pundits were dire. Keegan of course was replaced by a certain Kenny Dalglish, who didn't do too badly at all. Clem's replacement was an unknown from Vancouver Whitecaps, who had to have a season on loan at Crewe while work permit issues were sorted – but in the end, Bruce Grobelaar didn't do too badly either.
In later life after his playing career ended, Ray tried his hand at management with Barnet (his old LFC colleague Doug Livermore at his side) but management didn't really work out for him. He was later to become England goalkeeping coach and in 2004 while still in post, was diagnosed with Prostate cancer which – thankfully – was successfully treated. In the Official LFC fan poll, 100 Players Who Shook The Kop, Clem was voted in at no. 11 – the highest placed keeper and so beating Grobelaar, Reina, Dudek and the legendary Elisha Scott.
In summation, unlike a forward, a dynamic midfielder of even a stalwart defender, goalkeepers rarely get the fame and credit they deserve and – also unlike the above – if you never saw them play it is extraordinarily difficult to describe on a page just how good they really were – and Raymond Neal Clemence, now a spritely sixty-six years of age, for me – was the best there ever was.