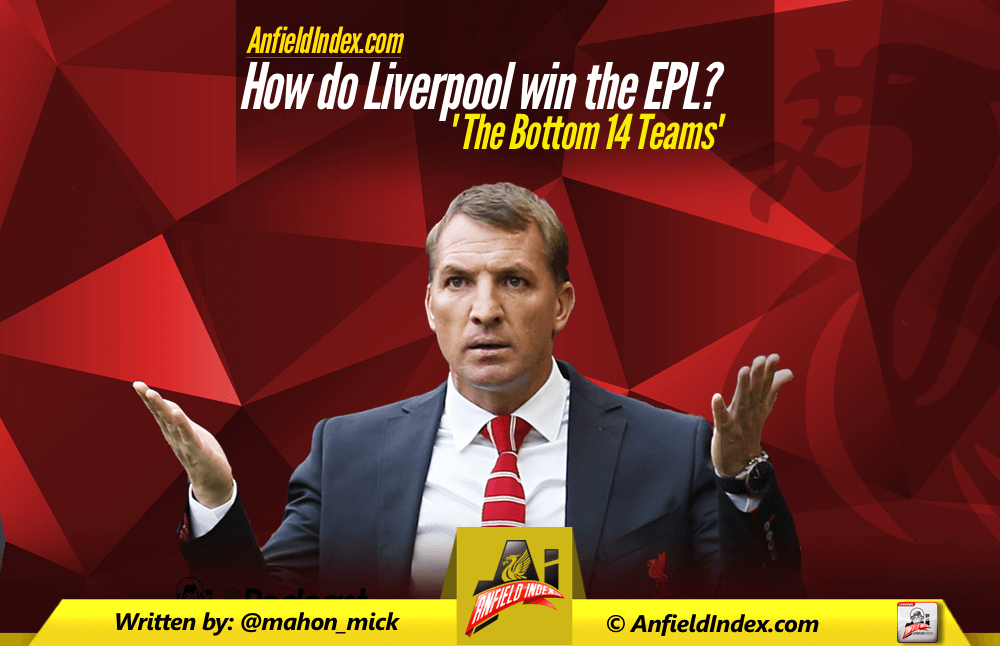 How do Liverpool win the Premier League? 'The Bottom 14 Teams'

How do Liverpool win the league?  A little too ambitious? Perhaps. But I feel it is better to aim for the stars.  If you drop short then you are guaranteed Top 4 and that coveted Champions' League spot.  Aim for Top 4 and miss and well…….. We all know what happens next.  Let us be honest, to win the league now would mean that everything would need to click and fall into place.  Or does it?  What can we do to position ourselves for a title shot?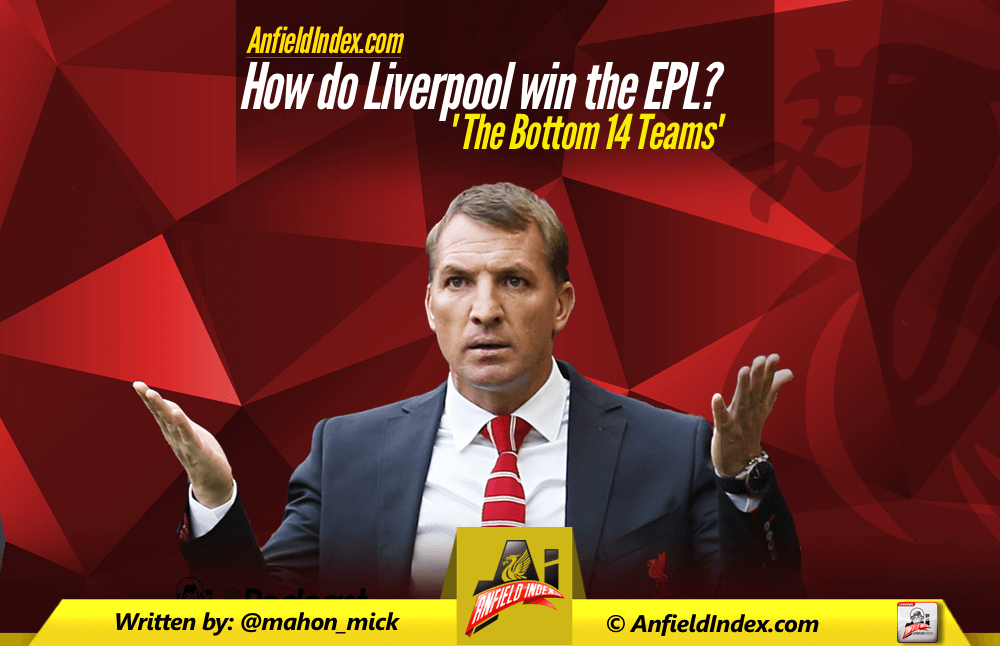 We can look and learn at how other teams have achieved it. This article examines the exceptional performance of one of Liverpool's fiercest rivals and highlights what can be achieved by focusing on the bottom 14 teams.
Using Manchester United and one of the greatest managers of all time, Sir Alex Ferguson as the example, we can see how we can increase our performance capability.  Man United during the glory years of Ferguson had a very good record against the bottom teams.  In the 2008/2009 season they took this to a new level.  This how the league table finished when LFC came so close.  To jog your memory it was the year LFC beat United 4-1 in Old Trafford.
 Premiership Table 2008/2009
The key to United's success during this period was their home & away record against the bottom 14 teams.  When they came up against the other Top 6 teams in the league in Liverpool, Chelsea, Arsenal, Everton & Villa their record was poor.  For the purposes of this article we will divide Man United's form into two groups: 'T0p 6 Teams' & 'Bottom 14 Teams'. The results make for some interesting reading.
Top 6 Teams
Starting with the Top 6 teams, I feel it is often a myth in football that a game against a Top 6 team 'is a 6 pointer'.  As you can see from the table below United's results against the Top 6 was quite poor.  In fact, these results if anything flatter them when you examine them a little more closely.  Their first win against a Top 6 team was five months into the season and it came against Chelsea in January.  Their next win in the same month came against Everton via a Rooney penalty at Old Trafford.  In April they had a thrilling match vs. Aston Villa.  This is the moment I felt they would win the league.  They won 3-2.  But United were 2-1 down with 10 mins to go.  In typical Fergie fashion they threw the kitchen sink at Villa in the last 10 mins. Ronaldo scored in the 8oth minute and Macheda scored the winner in injury time.  With less than a minute left in Fergie time, this might have been seen as a little fortunate.
The table also gives an average points per game vs the Top 6.  It is an uninspiring 1.3 points per game.  To give it context, look at this form over a season and this would amount to 49 points.  The average points to avoid relegation in the last 5 seasons was 38 points.  Of course MUFC would never be in serious threat of relegation.  However, it does give some perspective to the results against the better teams in the league.  If these results were carried forward for the whole of the season they would finish mid-table somewhere between 8th-10th in the company of teams like West Brom, West Ham, Newcastle & Stoke.
Bottom 14 Teams
As ordinary as the results against the Top 6 teams were, the results against the bottom teams were phenomenal.  I'm not sure that any team in the Premiership will ever beat it.  United's only loss came at the hands of Fulham at Craven Cottage where they were ill disciplined.  United were reduced to 9 men where Scholes & Rooney were sent off.  Scholes handled the ball on the line in 17th minute and was sent off. Danny Murphy dispatched the penalty and it was an uphill struggle after this with only 10 men on the pitch then Rooney was sent off with only a few minutes to go to further add to United's difficulties.
Making this run even more remarkable was the fact they drew their first game of the season against Newcastle.  This means they went almost the whole of the season with one loss & one draw against teams that were considered substandard opposition.  The results show they grabbed an astounding 77 points from a possible 84 points available.  To give this a recent comparable, United finished 4th last season and they finished with 70 points.  Achieving 77 points every season would nearly always guarantee to you a spot in the Top 4.  In the past 6 years the only time you would not guarantee yourself a Top 4 spot with 77 points, was in 2013/2014 where Arsenal achieved 79 points in finishing 4th.
Remember United achieved this amazing feature in just 28 games.  They averaged 2.75 points per game.  If we take this form over a whole season it would amount to 105 points.   The average points total to win the Premiership in recent times is 86 points. The biggest points total ever achieved was Chelsea in 2004/2005 where they achieved 95 points.
Conclusion
A few general observations should be noted for this season.  While the 2008/2009 season by United was a pretty exceptional performance, it does show what can be achieved. United had a great season where they played a huge amount of games including the Club World Cup. Ronaldo had just come off winning World Player of the Year in 2008 and was in outstanding form. They got to the Champions League Final, where they were beaten by one of the greatest teams of all time in Barcelona.
However, Brendan Rodgers can take a lot from these results.  United did what they had to against the teams they were supposed to beat.  Their home form was excellent and Old Trafford was a fortress.  Their only loss against mediocre Premiership opposition came via a rather freakish result where two of their most important players were sent off.  Arsenal are another example of a team that get results against the subpar opposition.  When is the last time they did not qualify for the Champions League?  Can't remember?  Me either.
Will Liverpool win the league this season?  Probably not.  On the other hand I believe that this article shows a very simple formula to giving LFC (or any other club) a good chance.  Beat the teams you are supposed to beat, at home & away.  No excuses.  Not even Stoke away.  If you do this with a high success rate then who knows what is possible?