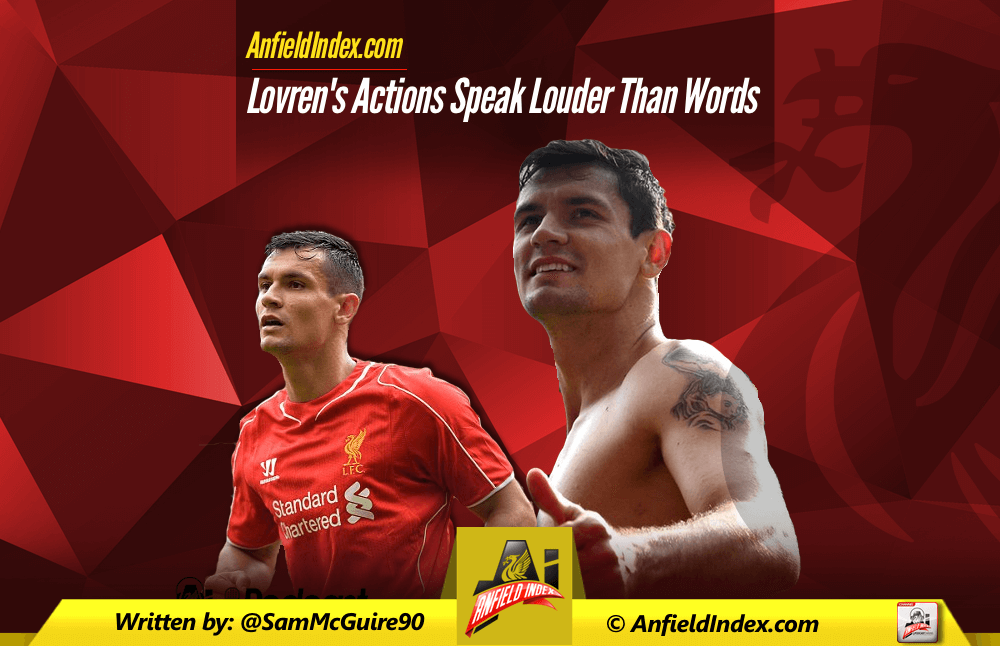 Lovren's Actions Speak Louder Than Words

Dejan Lovren is mentally weak.
I don't like making assumptions or accusations like this, especially when they're towards people I don't personally know, but this is just something you can't ignore. All players want to be loved but Dejan Lovren seems like the sort that needs positive reinforcement to function. Less than one week after saying he doesn't want to be the made the scapegoat again this season he's making Patrick Ronaldinho look like Sergio Aguero. Poor defensive positioning against a Malaysian side a mere 3 weeks before the Premier League kicks off is hardly a positive.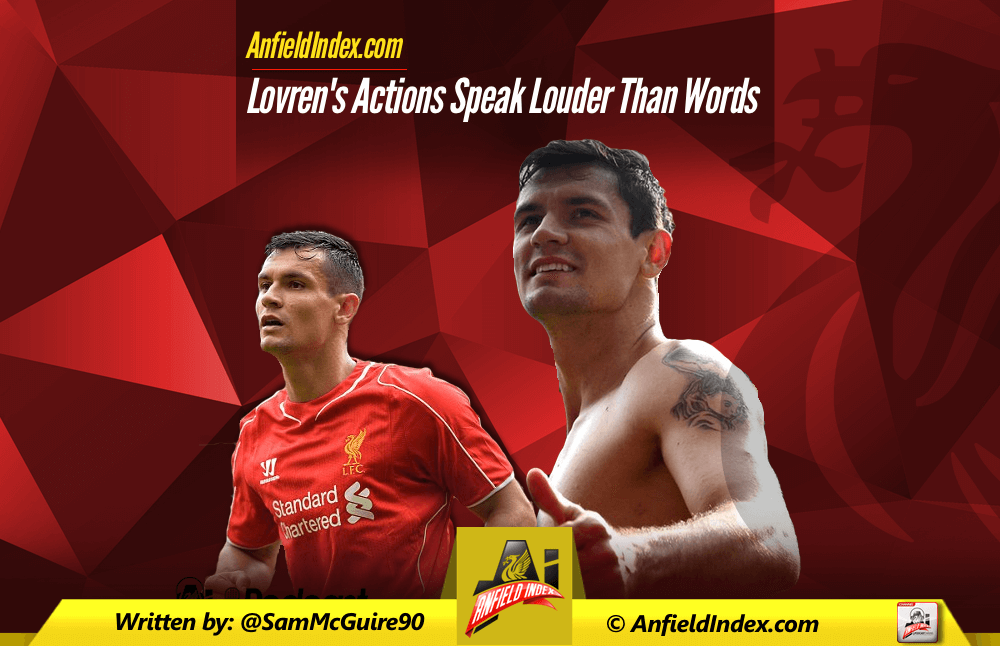 The Croatian international arrived in the summer of 2014 following a 'successful' season at Southampton. He pushed the move to Liverpool saying his head was already at Liverpool when he heard of our interest, and could he be blamed? A chance at playing in the Champions League again only a season after a number of clubs passed up on him for a fee south of £10million. His time at Lyon a forgettable one. The pressure of a big club seemed to unsettle him and his countless mistakes were put under the microscope much to his horror.
"[The French] journalists were killing me, asking why the club payed millions for a player who didn't have enough experience." Experience counts for very little. If you're good enough then you're old enough and the journalists knew this.
In a game against Lille he was sent off after picking up a silly second booking after hacking down Nolan Roux, from behind, as he was running away from goal. It left Lyon with the task of having to see out 25 minutes of the game with 10 men and missing a centre-back having already used their 3 substitutes. His response was as follows –
"I agree with the second yellow card, but not the first," Lovren said. "I'm not in the best form of my life and I'm very disappointed at being suspended."
Hardly an apology, is it? Questioning the first yellow is futile, he'd already been booked and should have enough in game awareness not to get himself sent off. He fails to accept responsibility for the red card, and in France this was a regular occurrence.
He toils under the pressures of a big club whilst shouting about why it's not his fault and revels in the applause when at a smaller club.
After moving to Southampton and seeing an upturn in form he was sure to get a dig in at those in France –
"I was the same player in France and I think now I'm showing the quality to everybody and proving, even to myself, that I was not so bad in France," Lovren said, per Paul Doyle at The Observer (h/t The Guardian). "It is just that in England the referees are different [and more lenient]."
What's alarming here is he doesn't say he's changed his ways, he just says the referees are 'softer' in England. He carries on with the whole 'French referees have a vendetta against me' even when he had moved on. It's almost as though he has an inferiority complex. Surely if you're a clever player and you think a referee may have your card marked you don't give them chance to book you?
Maybe it's true, maybe Dejan did perform better at Southampton but why is that? Could it because of the expectations of the club? I mean no disrespect to Southampton but they weren't challenging for top 4, they weren't in Europe and they have no history of success. Could he be the sort of player to suit that type of club?  The opposite to the likes of Lyon and Liverpool. As soon as he's under the pressure of playing for a big club we start to the weakness in his mentality. Could it alternatively be because at Southampton he had two monster midfielders shielding him? Morgan Schniederlin and Victor Wanyama are two of the best in the Premier League at what they do. They made the likes of Jose Fonte look like a rock. Dejan made mistakes at Southampton but they were masked by the midfield duo. This leads me onto yet another time Dejan tried to pass the blame.
This was never confirmed but in December the Mirror reported that Dejan Lovren was 'privately insistent that he is not receiving enough protection from the Liverpool midfield.'
Now don't get me wrong here Dejan, the Liverpool midfield offered very little protection, that's true. However it was the same the season prior, and the year before that. So what exactly did you expect when you signed? Had you not watched Liverpool play? He was signed and labelled as this defensive leader who would sort our defensive issues out and there was even a mention of him being future Liverpool captain in his first interview. Like I said, I agree we offered no protection to the defence but even so, many of his mistakes stemmed from poor decision making and horrific positioning. Nothing to do with the midfield, just basic defensive traits. He didn't take on the responsibility, he decided to blame the midfield. He just reminds me of someone that has an answer for everything and it's usually "yeah, but I pissed on the toilet seat because you never put it up".
Then came his recent revelation. In an interview with the Liverpool Echo during the pre-season tour he came out with this "But it is not Dejan Lovren-Liverpool, you know? I cannot defend all alone. It is 11 players. When we are good, everyone is good.
"I cannot defend all alone", it'd be nice if you could even defend at times, you know? We've persisted with Martin Skrtel for all this time literally all you had to do was be better than him. The same way it's a dead cert Nathaniel Clyne will be a success purely for not being Glen Johnson. It's very much a team game but you can't blame Danny Sturridge for you trying to play Cristiano Ronaldo offside when he was in his own half, can you? Yes he literally did that, there's a video of that here.
Also translates as 'Look at me, tell me how good I am, look at meeee'. You imagine him sat looking at his phone all smug when he's reading all the replies to this.
You're at Liverpool FC, you're expected to perform and not be fussed over when you don't make a mistake. It's kind of your job. Dejan Lovren is very much a needy player. He needs approval and to feel loved. I've just got a puppy, when she was being house trained you're encouraged to go over the top with your positive reinforcement. Dejan Lovren seems to want to carry this on through his footballing career. He uses social media and encourages interaction when it's going well but is using Twitter to engage with fans the best idea?
Upon leaving Lyon he also sent a tweet after the club had lost a game saying something along the lines of "I'd like to see the supporters blame that one on me." He's a very insecure player from his days at Lyon, which probably left him mentally scarred but he's using this as a reason and excuse for why people have this perception of him. It's a ready made excuse for him that he scrambles towards at any given opportunity.
He wants all the praise and none of the criticism and it's this attitude which could prevent him from becoming a decent centre-back at a club challenging near the top. He's got all the physical attributes needed but the mentality is all wrong. He has a big season at the club and these excuses can't be his go-to option anymore. Actions speak louder than words.