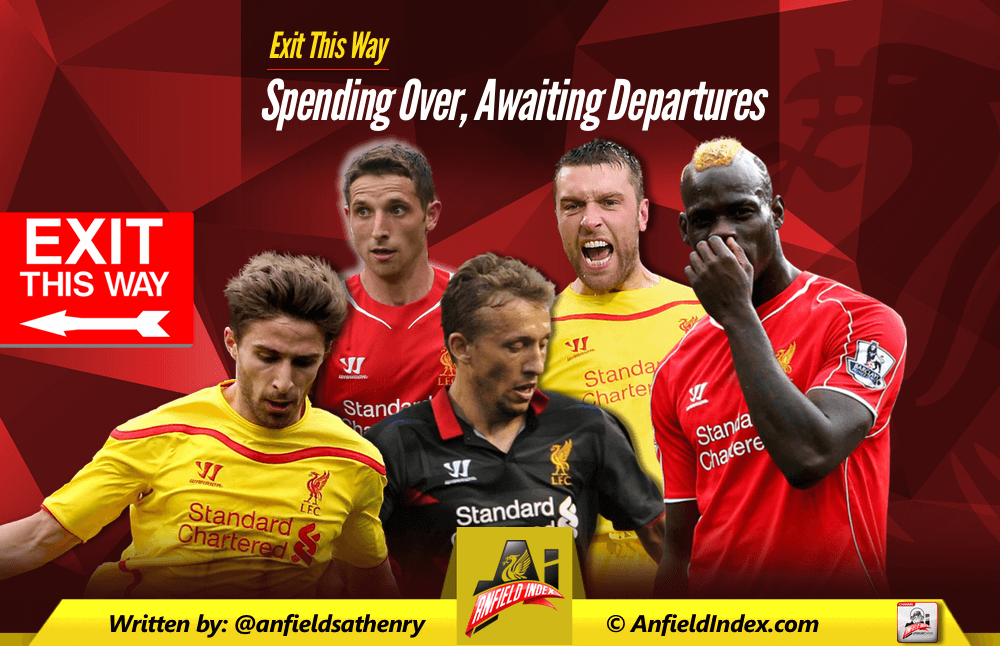 Exit This Way: Spending Over, Awaiting Departures

Christian Benteke's arrival brings total newcomers to seven and expenditure to £69.8 million. It makes for a crowded dressing room, but with August almost upon us and spending completed, Liverpool desperately need a clean-out.
They're often messy. Just as contracts give clubs great platforms when selling, players can equally sit back and run down lucrative contracts on the bench.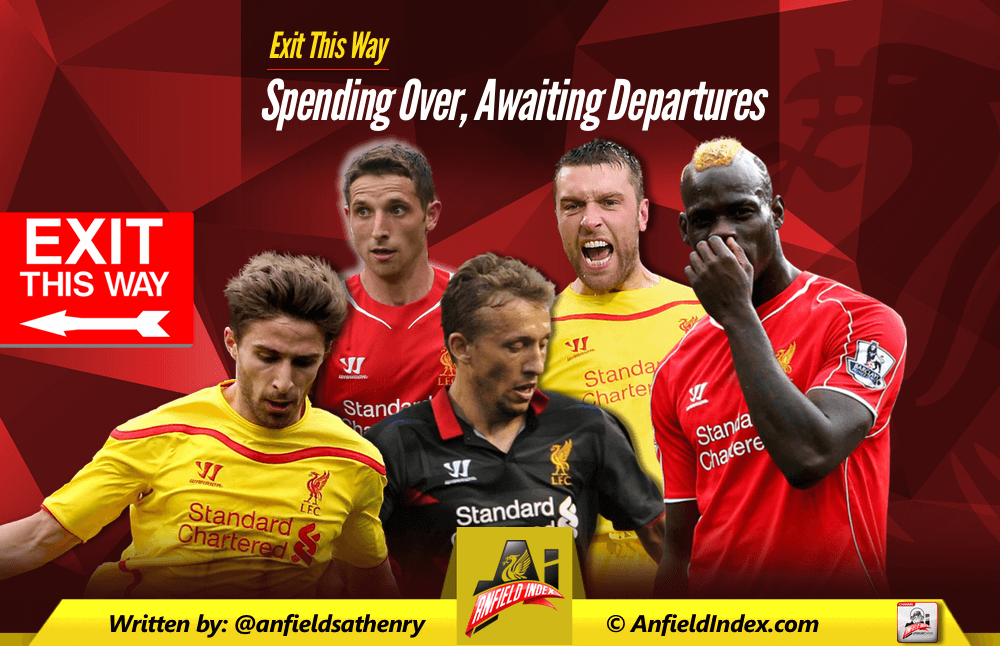 Some deluded, (cough Fabio Borini), others intelligently greedy (cough Glen Johnson) or some just serially absent (no cough needed), whatever the reason, Liverpool have some serious squad clingers. With Johnson, Raheem Sterling, Brad Jones, Sebastian Coates, Iago Aspas and Luis Alberto already out the door the wage bill has opened up considerably, but expect even more departures.
But who deserves to go, how many more are due for the door and who could Liverpool do well to keep?
Mario Balotelli
No-one seems to be interested in Balotelli remaining at Anfield. His arrival last summer raised eyebrows and it has become glaringly obvious Brendan Rodgers was not integral in his signing. Hell, Rodgers didn't even seem informed of his new striker until he turned up at Melwood for his medical.
A full season in and eyebrows have remained elevated. Balotelli hardly made the match day squad, let alone add to his one league goal. Liverpool aren't going to recoup anywhere near the £16 million they paid, and his presence, although comical, is nothing but an expensive distraction.
Question is who will take him and will he actually want to go? He isn't going to get any more chances at a big club and certainly no contract better than his current.
Verdict: SELL Willingness to sell: 10/10 Likeliness to go: 6/10.
Fabio Borini
Another Italian who has outstayed his welcome at Liverpool, Borini has continued to frustrate his manager during the last three windows. Rejecting a move to Sunderland and QPR in recent times, the 2010 acquisition has only his stubbornness to thank for still being a Red. He hasn't grasped any of his countless chances and can't even deliver the bare minimum.
His agent might refer to him as a 'caged lion' but he is more like a puppy who likes to bark a lot. Perhaps after spending another season unwanted, Borini might have finally got the message Rodgers has been oh so subtly delivering. Surely if he wants to become a half decent striker, he has to know he must go? Right?
Verdict: SELL Willingness to sell: 10/10 Likeliness to go: 7/10.
Lucas Leiva
It seems as though every transfer season ushers in Lucas' demise as a Liverpool player. The midfielder is never safe from speculation and is constantly linked with a move abroad. This time round, Seria A is the vogue destination. Reports that Inter Milan are eager to obtain his signature have persisted in the past month, but it remains unclear why Liverpool would sell him.
There is no player like him in the squad, except perhaps Emre Can. However, where Lucas is adept at guarding his back four, Can loves a wandering. Liverpool are clearly more solid with him in the side, but his downfall has continued to be his fitness. Unable to get through a full season and spending over half on the bench last term, suggestions continue that maybe Rodgers is ready to cut his losses.
Verdict: KEEP Willingness to sell: 5/10 Likeliness to go: 3/10.
Rickie Lambert
His dream return to Merseyside has been a bit of a dud for the life-long Liverpool fan. Strikers are a plenty in the squad, but none have been up to scratch and Lambert has sadly fallen into the category. It is believed that West Brom are in pole position to pounce and he may well find joy with Tony Pulis as a more valued member of a team.
He isn't getting any younger at 33 and has always been known as a hard worker. Unlikely he will be content to sit another season on his bum, even if it is an Anfield seat.
Verdict: SELL Willingness to sell: 10/10 Likeliness to go: 10/10
Joe Allen
Rodgers was so excited when he signed Allen in one of his first decrees as Liverpool manager, but he hasn't really returned the enthusiasm with performances. Allen often finds his Liverpool career stall as injury or performances interrupt flashes of potential. Far from nailing down a regular place in midfield, Allen usually occupies a resurgent role from the bench.
Still though, his quiet style hasn't been able to lift itself to Liverpool's quick intense play. Arguably he has had to change his game, but he has lost some of his early impotence. It remains unclear which Allen will turn up this season, but he hasn't done enough to seal his fate just yet.
Unlikely he will depart due to Rodgers' unwavering support, but he will have a huge amount of work to show Liverpool fans exactly what Rodgers sees in him.
Verdict: KEEP Willingness to sell: 3/10. Likeliness to go: 0/10.
Jose Enrique
It is unclear what exactly Enrique does. His Twitter account is diligently kept up to date, but it isn't with any football related content. He played just four times last season due to injury and two seasons ago looked a leprechaun in red when he did play.
Whether he stays or goes it'll take him more than a year to regain any of his previous defensive swag and with Joe Gomez, Alberto Moreno and Andre Wisdom all on the scene it would be improbable he would force his way back into the eleven anyway. Only issue: has Rodgers given up on him and who would take such an injury plagued defender?
Verdict: SELL Willingness to sell: 8/10. Likeliness to sell: 5/10.
Possible but unlikely
Andre Wisdom and Joao Carlos Teixeira are two players who haven't yet been given a real opportunity. They clearly have bundles of potential and might still forge a future at Liverpool.
Possible but unwise
Kolo Toure and Tiago Ilori are two defenders on opposite ends of the career ladder, but face the same possible ousting. Toure should be kept for his experience alone especially with Steven Gerrard's departure, while Ilori has shown enough on loan and at this year's under-21 tournament that he can be a top defender.
Whatever the fate of these players, it is sure to continue to be an interesting summer on Anfield.
Check out a 2015/16 Season and Betting Preview from BookieSmash.com!