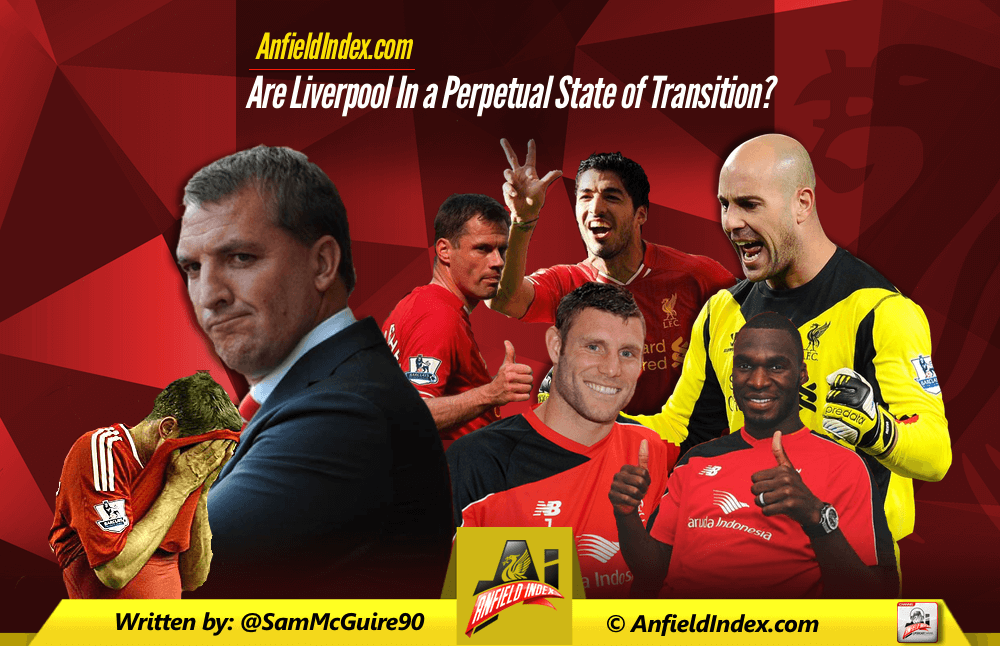 Are Liverpool in a Perpetual State of Transition?
Evolution is inevitable. In football and in everyday life you change to adapt. So what's the difference between transition as a club and evolving? Why are some teams praised for adapting whilst others use being in transition as an excuse?
Since Brendan Rodgers took the helm of Liverpool FC it feels like 'Liverpool are in transition' is one of the most overused sentences for fans and pundits alike. Many pin this on Brendan Rodgers, others like to associate the blame to FSG when playing the hot potato blame game.
Is anyone at fault though? Is it just an excuse or is there some substance to the whole transitional argument?  I look at the various seasons under Brendan Rodgers.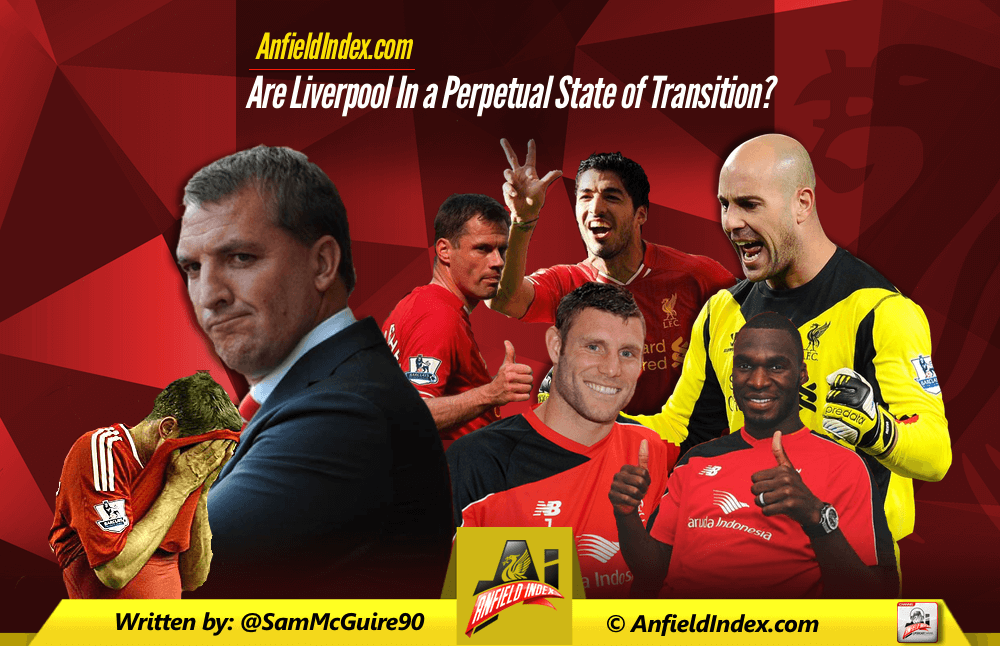 The possession phase
If you look at year one of Brendan Rodgers at Liverpool then obviously he's had to clear house and remove the deadwood. All managers go through this phase. He took over a side that had finished 8th and scored total of 47 league goals. Changes were necessary.  This arrived in a turnover of players and a completely different playing style.
Incoming players –
Fabio Borini, Joe Allen, Oussama Assaidi and Nuri Sahin arrived in the summer with both Philippe Coutinho and Daniel Sturridge joining the club in January.
Outgoing players –
Fabio Aurelio, Dirk Kuyt, Maxi Rodriguez, Alberto Aquilani, Craig Bellamy, Charlie Adam and Joe Cole left permanently with Jay Spearing and Andy Carroll leaing on loan.
So as you can see Liverpool lost a lot of experience in those outgoing players. The likes of Aurelio, Kuyt, Rodriguez and Bellamy were all big losses for the inexperienced Liverpool manager. The incoming players didn't balance out that loss so it was a fairly 'naive' squad adapting to a completely new style of play. The whole death by football idea was a little foreign to certain key players and the likes of Joe Allen, who could play that style, had to adjust to playing for a big club like Liverpool.
Balls out phase
The second season under Brendan Rodgers saw the Reds bring in 8 players. Luis Alberto, Iago Aspas, Simon Mignolet, Kolo Toure, Tiago Ilori, Mamadou Sakho, Aly Cissokho and Victor Moses all arrived. 9 (nine) players left Liverpool permanently; Jamie Carragher, Danny Wilson, Peter Gulacsi, Andy Carroll, Jonjo Shelvey, Jay Spearing, Stewart Downing, Dani Pacheco and Adam Morgan. Liverpool also loaned out 16 players.
Once again there was a high turnover in playing staff so a bedding in period is necessary. Luis Suarez tried to leave the club and then was suspended for the opening few months of the season. Upon his return it was clear to see you couldn't play a death by football style with the likes of Luis Suarez and Daniel Sturridge in your time. You needed to get the ball to them as quickly as possible so Liverpool adapted to this and it devastated the league.
However once again you'll see from those signed they were fairly inexperienced, so instant success was always going to be a big ask.
Forgettable phase
The third season under Rodgers. Liverpool signed 8 players and another 1 on an initial loan. Again a lot of incoming players meant there was going to be some sort of bedding in period. The reasoning behind this amount of signings was primarily for two reasons, apparently. Firstly, the club had Champions League football so an increase in games meant more players were needed for rotation purposes. Secondly, and more importantly, Liverpool lost the mercurial talent that is Luis Suarez. The big talking point last summer was how Liverpool needed to replace his goals (in my opinion we should've addresses the defence and his goals wouldn't have been missed as much).
So Liverpool began the season with the additions of Rickie Lambert, Adam Lallana, Mario Balotelli, Lazar Markovic, Dejan Lovren, Alberto Moreno, Javi Manquillo, Emre Can and Divock Origi.
The club didn't just lose the aforementioned Luis Suarez, they also lost Daniel Agger, Suso, Jack Robinson, Pepe Reina, Martin Kelly and Oussama Assaidi.
We may not have lost as many players as seasons gone by but you can't overlook how detrimental it was to the squad losing the personalities of Luis Suarez, Daniel Agger and Pepe Reina permanently  in one window.
With Liverpool losing Suarez and then Sturridge to injury they couldn't use the style that brought them great success the season prior so yet again another change of style happened, and continued to do so throughout the season. Brendan Rodgers found it difficult to settle on a style that got the best out of his squad.
The phase ahead
This brings us to the summer at hand. Liverpool have already bought in Christian Benteke, Roberto Firmino, Adam Bogdan, Joe Gomez, Nathaniel Clyne, James Milner and Danny Ings and we aren't even in August yet.
The squad no longer has Steven Gerrard, Raheem Sterling, Glen Johnson and Brad Jones. It also looks likely that Fabio Borini, Mario Balotelli and Rickie Lambert will leave meaning once again Liverpool have seen a 15 player switch of playing staff. Combine this with Liverpool replacing two of the backroom staff and a potential shift in style once again and you could be excused for labelling this as a transitional season, once again. For the second successive season Liverpool have lost an integral part of their attack for a huge sum of money and it's important they utilise the players they've signed effectively.
This is maybe why Liverpool start so slow under Brendan Rodgers? A high turnover of players means there is a bedding in period, a style change means the existing players have to adapt  to a new system whilst simultaneously getting used to 7/8 new players per season. You can't pin this all on Brendan Rodgers either, Liverpool just aren't in that kind if position we yearn to be in, just yet.
Under Brendan Rodgers Liverpool have signed 30 players and sold 28 already and it's likely another 3/4 could leave. That's a huge turnover of players.
Liverpool will be in transition until these summer transfer windows stop seeing a 15/16 player swing. If you're releasing 7/8 academy players and bring in 2 or 3 new first team signings you're then evolving and building on what you already have. This should be the aim for Liverpool if they're to progress.