It's clearly a good thing, who are we kidding?
Rumours broke in the media that Liverpool were looking to sell the naming rights for the new stand that's under construction. You'd assume this would be a positive and fans would react accordingly so but apparently it's "small time", "plastic" and "beneath a club with such history". No, really, people actually said those things. Just search Twitter. I even seen someone say we should keep 96 seats empty in memory of Hillsborough. The sentiment is a nice idea.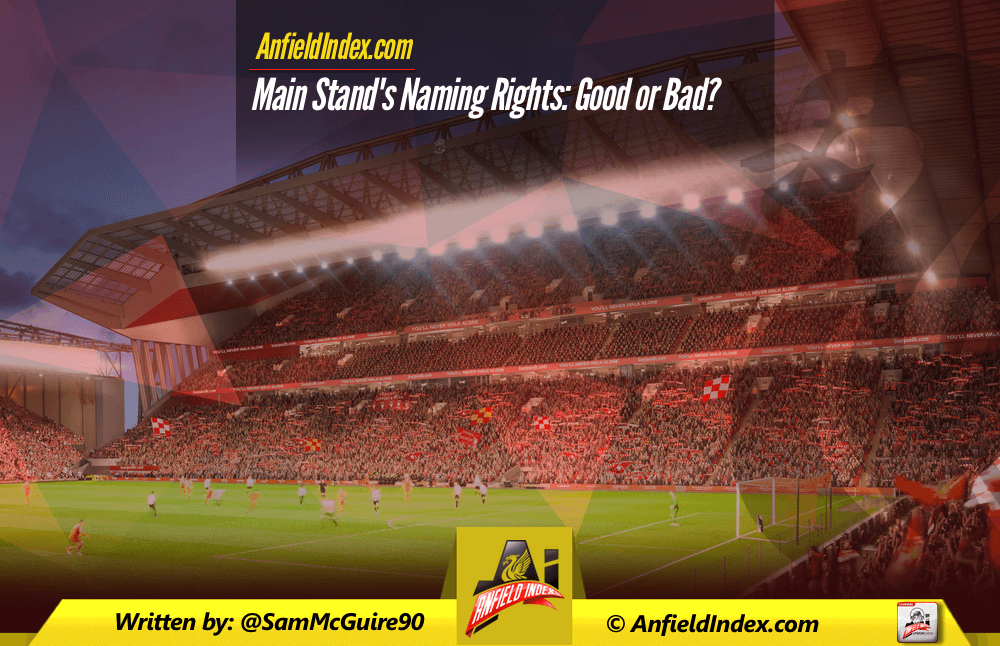 Is a fear of change really holding these people back? Is it pride? Is it that it'd mean the gap between Liverpool and their rivals in terms of sponsorship would decrease so these fans would have one less excuse when listing reasons as to why Liverpool can't compete?
I, for one, can't understand how selling the naming rights to one stand would be a negative. A single stand. It's not like they're renaming the stadium, FSG have made it clear they don't want to rename Anfield, for now. It's like somebody offering you ludicrous amounts of money to put their company name on the bumper of your car.
"No thanks, my car has history and I laughed at , no, I ridiculed other people who had company names on their cars. I said they were ruining football with money and called them plastics whilst I moaned about them having more money than I had which lead to them improving their car. They may have more money than me but I had the moral high ground so, you know, I win."
That's the logic, right?
Why are people taking an issue with the club selling the naming rights to a piece of metal? They'll literally stick their logo on the stand. When this happens all the tv stations will call it by its new name whilst the fans will continue calling it the main stand, or the mavericks may even call it the big stand. Look at St James' Park, it's officially called the Sports Direct Arena yet you rarely hear it being called that.
Is this just a new topic for the fans to fume over? Liverpool need to do anything and take any and every opportunity that is presented to them in their quest for top 4. This isn't a foreign prospect to Liverpool either. They were the first 'big' club in England to have shirt sponsors way back in 1979. At the time many fans weren't happy with it saying it was ruining the famous red shirt. Others though managed to see the business sense in the move.
So how'd you go from such a position of power to where we are now? Considering we were the first to do this we were seemingly one of the last ones amongst the bug clubs to fully utilise sponsorship deals and the Liverpool brand. United is a huge brand and makes millions from sponsorships. City, Arsenal and Chelsea have joined United whilst Liverpool are working double time to make up the ground lost in the last 25 years.
I honestly can't think of one valid or sensible reason why naming a single stand taints the clubs history? Will the 5 European Cups we've won mean less if the stand is named 'The Heinz Baked Beans' Stand? Will the 18 league titles suddenly be worthless if we have 'The Warner Bros' Stand within Anfield?
It's peculiar if you think about it, those who are against the renaming of a stand are those who want a rich owner to buy us and spend loads of money to get us back to winning trophies which is coincidentally the opposite of the Liverpool way. We don't buy readymade stars, as cliche as it sounds we create them. You have to wonder though why people are so against the stand idea but so open to rich owners buying us and investing loads of money into us? You know like the Man City owners, yeah? Who then changed the name from 'The City of Manchester Stadium' to 'The Etihad'. Rich owners don't just give you money for nothing.
Selling the naming rights to the new stand is a step in the right direction. It doesn't ruin our history. It doesn't mean we're selling out. It means we're taking advantage of being in a strong position something Liverpool should have done years ago. It's time Liverpool fans start to embrace change instead of fearing it.