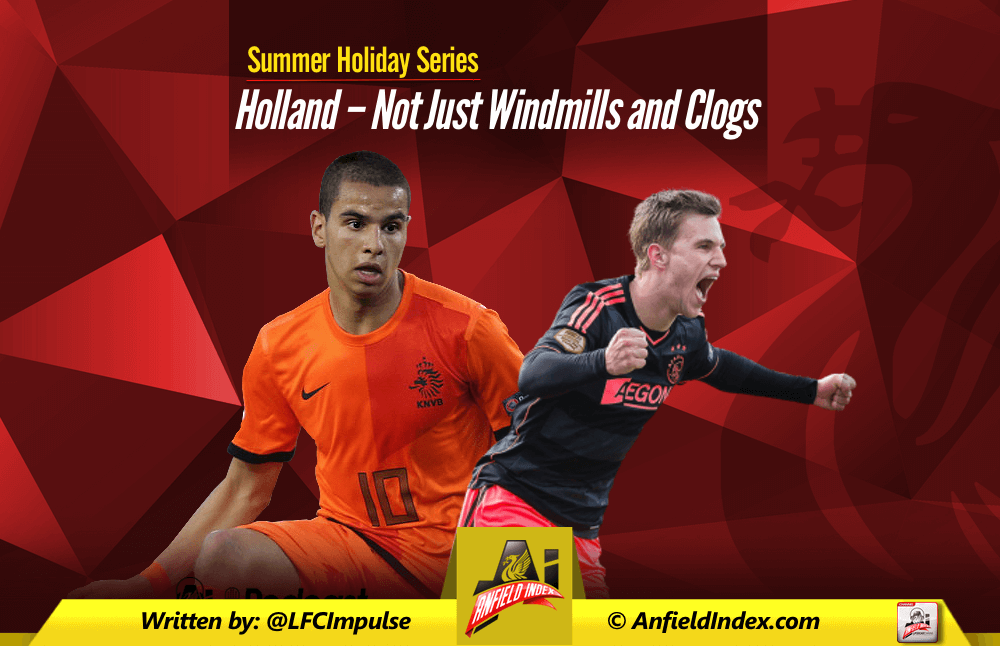 Liverpool Summer Holiday: Holland – Not Just Windmills and Clogs

First, check out the other Liverpool FC Summer Holiday pieces – in Brazil (by James Nalton) and in Italy (by Srikanth Bala).
---
Close friends and people who generally read my tweets know that I'm an avid fan of the Eredivisie and the Netherlands national team. It may not be the most competitive league out there, but it is certainly one of the places where young players develop some of the most crucial aspects of their game.
Continuing on with the Summer Holiday series, here are two players from the Eredivisie that could be potentially useful for the Reds be it now, or in the (near) future.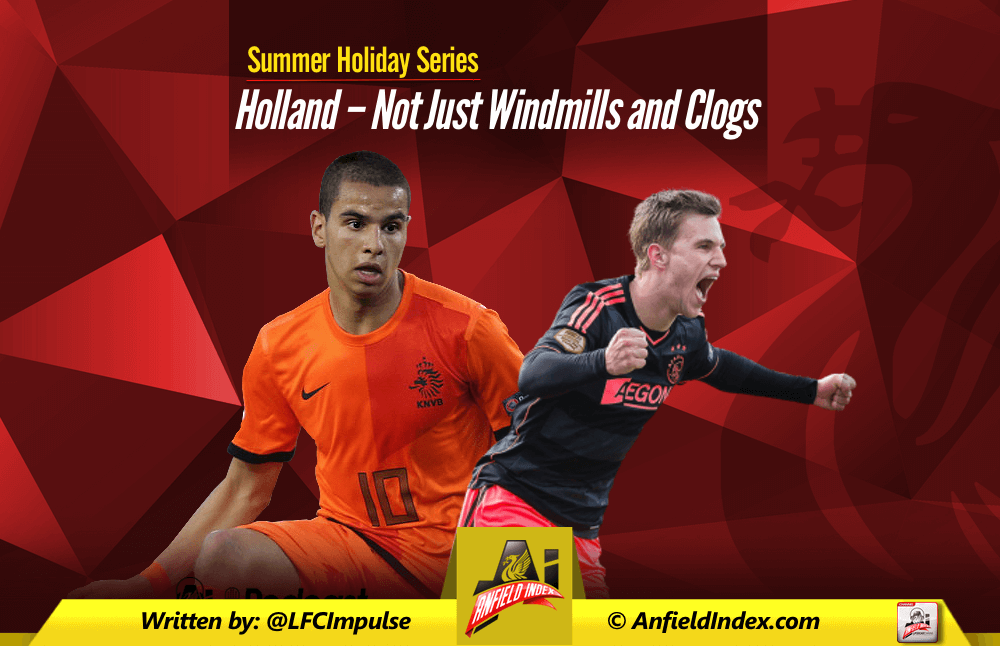 The Valiant Joël Veltman

When it comes to Dutch defenders at Ajax, the go-to player is definitely their former player and current youth coach Jaap Stam – the ferocious defender who left such a huge mark on Sir Alex Ferguson. Then you have the likes of Jan Vertonghen, Thomas Vermaelen, and Toby Alderweireld who have all left the Eredivisie for greener pastures in the Premier League and La Liga.
Unlike all of the aforementioned centre-backs, Joël Veltman has simply been hiding in the shadows, waiting for his chance to step out and shine. Despite breaking into the Oranje at a tender age of 20, the 23-year-old still has not attracted as much attention as his predecessors. Even today, Niklas Moisander attracted more interest before his move to Sampdoria.
For a player who has not pulled widespread attention towards himself, Joël Veltman doesn't seem like someone to shout about, but is that truly the case?
Where Has He Played?
Joël Veltman is your modern-day centre-back who is equally comfortable playing on either side of the defensive core, though he primarily plays as the right-sided centre-back. For Ajax, he's the go-to right centre-back to partner club captain Niklas Moisander, who played on the left side.
For the Netherlands national team's 2014 World Cup campaign, the trio of Bruno Martins Indi and Stefan de Vrij flanking Ron Vlaar proved to be too good to dismantle (despite Martins Indi having a pretty disappointing tournament, but that's another story). As such, Veltman has only played a total of 14 minutes in the entire competition.
On the whole, Joël Veltman hasn't had the chance to make either spot at centre-back a place to call home, but whenever he's been given minutes at either side of the position, he's looked like he belongs there.
What's His Playing Style?
"Think Daniel Agger, not Jamie Carragher."
I think that's the best way for Liverpool fans to understand the type of player Joël Veltman is. He's not your Great Wall of China that blocks shots heading towards the goal mouth; neither is he your destructive centre-back who utilizes brute force and strength. It's 'brains over brawn' for the 23-year-old, for sure.
The first thing to note about Joël Veltman is that whilst having the ball at his feet, he looks more like a midfielder than a defender. He's very comfortable at carrying the ball for long distances up the pitch, even beating a man or two if need be. This is where the Daniel Agger comparisons come into play – getting the ball deep in defence, making two or three soft, casual touches while moving up a few yards to test the waters, and then making the purposeful runs vertically up the pitch.
Next up is how he uses the ball at the very end of his long dribbles. What's even better than his level of comfort and competence on the ball is his passing ability. Whether it's a simple lay-off to a midfielder who'd moved higher up the pitch as Veltman advances into the opponents half, a pass to either flank, or even a well-threaded through-ball – Joël Veltman can do it all.
Defensively-speaking, Veltman is competent in intercepting play. He reads opposing dribblers pretty well, and has the intelligence to tuck himself in-between the opposing player and the ball. He doesn't lack pace, and this further accentuates his ability to slip in-between, shield the ball from the opposition, and act accordingly.
There is no one better to compare Joël Veltman to than his Oranje team-mate, Stefan de Vrij – a centre-back who possesses many similar traits.
While it is undoubted that de Vrij is the superior defender – one who has a lot more regular game time at Feyenoord, the Netherlands national team, and more recently at Lazio – Joël Veltman seems to be able to match de Vrij in certain areas.
Only making 1 error that led to goals in the past 2 seasons is pretty impressive for a defender who has relatively few minutes to his name. This is only 2 more than Stefan over the same period of time. The growth seen in Veltman by way of being able to play is also evident, making only 2 defensive errors in the 2014/15 season as compared to 5 in the preceding season.
In terms of chances created, Veltman has created a total of 14 chances in the last 2 seasons, being only 4 short of De Vrij's total. The difference between De Vrij and Veltman in this sense is due to Stefan de Vrij having the traits to play like a deep-lying playmaker despite being a defender; playing the long-balls from deep or even the through-passes from much deeper areas. This is in contrast to Veltman who mainly creates chances by making passes after making runs into final-third areas, which is definitely a different ball-game.
For even more comparisons between Joël Veltman and Stefan de Vrij, as well as the difference seen in Joël Veltman between the 2013/14 season and the 2014/15 season, the table below should be a small indicator of what it's like. However, keep in mind that the Ajax's title-winning side in 2013/14 is a much better team than the 2014/15 side which finished second in the Eredivisie.
The Attacking Adam Maher
'The New Steven Gerrard' – where have we seen this before? That's right, everyone throws that phrase whenever a highly-rated youngster, preferably an Englishman, comes into the footballing fray. From Jay Spearing to Jonjo Shelvey, to Ross Barkley and even Jordan Henderson. While one or two names may actually come close, none have ever truly shown any real ability to equal that of Gerrard's, let alone surpass him. However, there are still players who could emulate at least part of Gerrard's game without drifting away from playing the game their own way.
If you're looking for a player who attracted a lot of attention at first who then fell off temporarily, but is now slowly on the rise again, it's Adam Maher for sure. The young, 21-year-old Dutchman who made his name at AZ Alkmaar is definitely in the discussion when it comes to high-potential prospects in European football.
After a very successful 10-year spell at AZ, he rejected Eredivisie title-holders and three-peat-seeking Ajax for PSV Eindhoven, in a move that shocked many suitors. Unfortunately, the sceptics were right because Maher's first year at PSV was subpar – he looked like a shadow of the player we saw back at AZ. Subsequently he had a much-improved second season, and became a staple in the PSV side.
Where Has He Played?
With PSV having some of the better deep-midfielders in the Eredivisie, manager Phillip Cocu opted to play a pretty conventional 4-3-3 side, with either Andrés Guardado, Jorrit Hendrix, or Oscar Hiljemark playing as the defensive-midfielder. Adam Maher played as the attack-minded centre-midfielder (think Phillipe Coutinho in a diamond midfield for Liverpool) while Georginio Wijnaldum was the metronome who uses his wide array of skills and abilities to fill gaps going in either direction of the pitch (think Jordan Henderson in that same diamond).
Going beyond the norm would be occasions where Adam Maher played as the '10' (e.g. against FC Utrecht where PSV won 5-1) with Guardado and Hendrix playing in a double-pivot behind him.
What's His Playing Style?
Maher is an attacking-midfielder, almost in the Rafael van der Vaart mould, minus the crackerjack of a left-foot. His biggest and best trait is his confidence in anything he does on the ball – he dribbles while thinking he's a Brazilian street-footballer, for one. Excellent ball control coupled with the ability to read his defenders' stance and anticipate their defensive reaction is a threat that he can present. Put confidence, ball control, trickery, and flair together and you'll be left with a somewhat-flashy, but effective ball-carrier in final-third areas.
Then we move on to his through-passes after he beats his defender, whereby beating a man creates space for himself, forcing others to attempt to close him down, only to make the through-ball to his team-mate running at goal. This is nothing surprising from Maher – it's what he does best. Otherwise, he can always attempt to score himself, utilizing his great finishing technique.
Let's take a small trip down memory lane, back to 2007 and 2008. Steven Gerrard played in front of a Xabi Alonso and Javier Mascherano double-pivot, just behind a very mobile, a very potent Fernando Torres. The runs Gerrard made down the channels after defenders gravitate towards Torres, the long shots from distance, the through-balls being threaded in between the back-line – don't salivate too much now.
Adam Maher has displayed traits and tendencies which showed hints of the Gerrard we know and love; it's like flipping through a Gerrard scrapbook at times, and for us Liverpool fans, that's often all we want.
Bonus Shouts (Because I'm generous like that)
Over the course of the summer of 2015, a pack of Eredivisie players have left the league in search of better ones to further develop their abilities and advance their careers. The likes of Ricardo Kishna (to Lazio), Georginio Wijnaldum (to Newcastle), and my absolute favourite, Jordy Clasie (to Southampton), are examples of such players.
However, with the Eredivisie having an abundance of talented players, there is still plenty of talent left in the league. Jens Toornstra was considered the best attacking-midfielder in the Eredivisie, which earned him a move to Feyenoord from Utrecht. A duo to watch would definitely be Toornstra's Feyenoord team-mates, Sven van Beek and Terence Kongolo, who form the centre-back partnership at the club. The former has been heavily compared to Stefan de Vrij, whom he took the mantle from, while the latter is a leaner version of Bruno Martins Indi.
While I could speak about Andrés Guardado who has been doing excellently for the Mexican national team, his midfield teammate, Jorrit Hendrix deserves a shout. Being used as a centre-back at times, due to the defensive abilities he has developed over the years, has definitely helped him to excel in a defensive-midfield role.
Hakim Ziyech is also a midfielder, but one that is more known for his passing range, execution, and his nature to not shy away from a shot at goal. Utrecht's young star, Yassin Ayoub, can also be mentioned in the same breath, no doubt, as well as his team-mate, Sébastien Haller – a well-rounded striker who scored 11 goals in 17 games since arriving in December 2014, making him Utrecht's Player of the Year for 2015.
Jaïro Riedewald is one of the Ajax sensations, having made 19 appearances in his first "real" season at the club at the tender age of 18. On the opposite side of full-back, Santiago Arias has been one of, if not the best right-back in the Eredivisie. Jeffrey Gouweleeuw is definitely a great alternative to Joel Veltman, with the man from AZ Alkmaar being another excellent centre-back who is very intelligent in making interceptions or putting in tackles.
In terms of 'keepers, Jasper Cillessen is still up for grabs as Manchester United opted to go for free-agent, Sergio Romero. The Dutch number 1 is arguably Ajax's best player over the last 2 seasons, but for valid reasons for sure. His counterpart, Jeroen Zoet of PSV Eindhoven is also one that I've been watching for years now and will definitely be picked up by a bigger team in a bigger league soon.
Others: Jürgen Locadia (PSV), Valeri Kazaishvili (Vitesse), Jeff Hardeveld (Utrecht), Jesús Corona and Kamohelo Mokotjo (Twente), Sam Larsson (Heerenveen), Riechedly Bazoer (Ajax).
---
Big shout to my friend, Peter McVitie (@PeterMcVitie) who helped me out a bunch with this article.