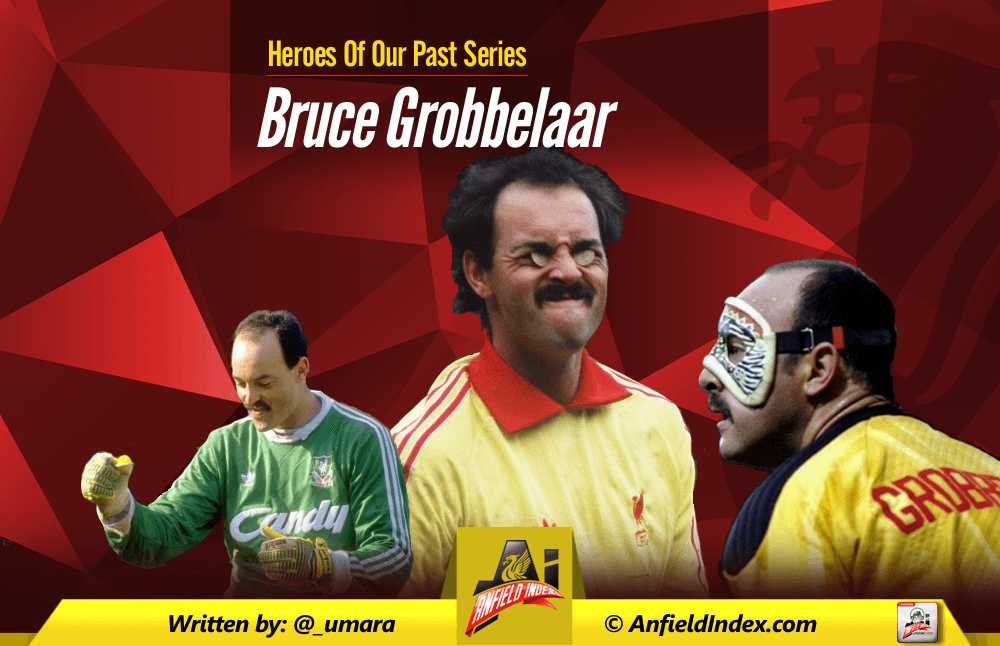 Heroes Of The Past - Bruce Grobbelaar
Character. A word that the majority of Liverpool fans are sick of right now. Probably because a certain someone has singlehandedly managed to suck all the joy out of it. However, the definition of the word that I am referring to is "the quality of being individual in an interesting or unusual way". When I come across the word character, I think of flamboyance, eccentricity and spontaneity. I think of people who stand out among the crowd and who aren't afraid to say or do as they please. Those whose antics make everyone stop, look up and take notice. And in the long and illustrious history of Liverpool Football Club, the image of one man encapsulates all of the above traits.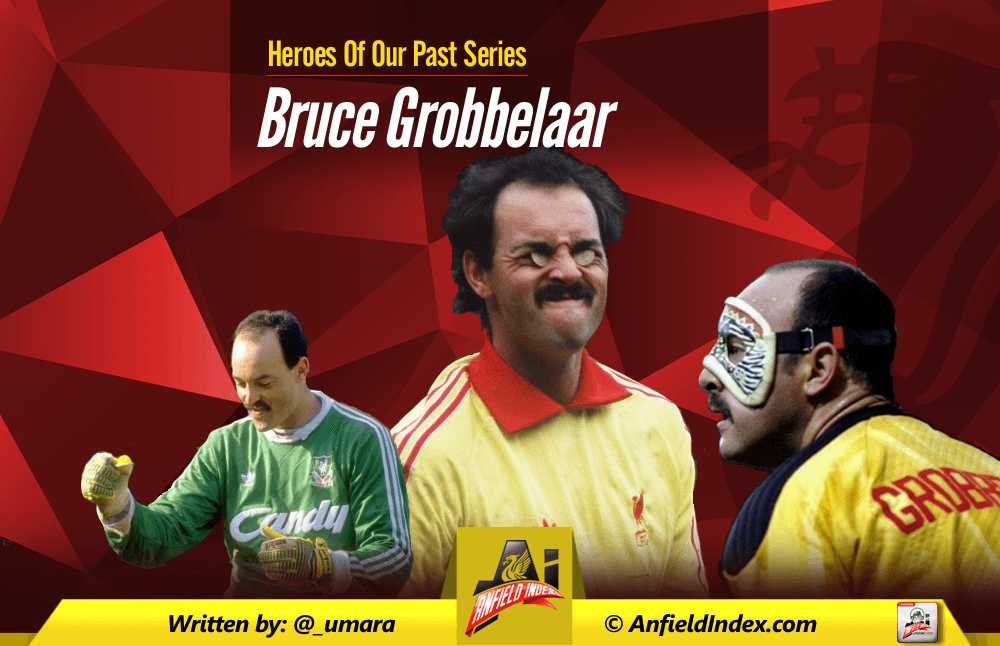 EARLY LIVERPOOL CAREER
Bruce Grobbelaar joined Liverpool in the spring of 1981 when Bob Paisley snapped up the Zimbabwean for £250,000 as a back up for Ray Clemence. When the latter unexpectedly moved to Tottenham that summer, Grobbelaar was suddenly thrust in the limelight as the Reds number one goalkeeping choice making his debut on 28th August 1981. The first half of the season proved a difficult initiation for him. Succeeding the legend of Clemence was always going to be a tough task and his unorthodox style took some getting used to. Hanging from the crossbar and impromptu handstands were not what the fans were expecting from the man in between the sticks. Nevertheless, his performances improved in the latter half of that season and his unconventional style became part of his charm. Liverpool fans had embraced the clown.

1984 EUROPEAN CUP FINAL
During a thirteen year career at Anfield, Bruce was probably most famous for one match. My very earliest memories of are of him in the European Cup Final of 1984 against Roma. The match was played in Roma's own back yard and after a 1-1 draw couldn't separate the finalists, a penalty shoot out ensued. Armed with one bit of advice by manager Joe Fagan that, in hindsight, was the best advice he ever got, Grobbelaar took his place in the goal to face the Italian penalty takers and tried his best to "put them off". A mixture of wry smiles, cheeky facial expressions andmore memorably his 60's inspired dance moves and the now legendary "spaghetti legs" routine, managed to distract Bruno Conti and Francesco Graziani just enough for them to put their spot kicks over the bar and hand Liverpool their fourth European Cup. No one can deny that Bruce's role in that win was instrumental and even impacted events 21 years later in Istanbul, when Jerzy Dudek took inspiration from the antics in Rome bringing the European Cup back to Anfield forever.
1986 FA CUP FINAL
Grobbelaar's journey continued with success after success with the dominant Liverpool of the 80's. Four league titles took the Reds up to the FA Cup Final of 1986. Against the old enemy, Everton, Liverpool found themselves trailing and in shock at half time. The Blues were on top throughout most of the match and the strains were beginning to tell when Grobbelaar and full back Jim Beglin had a very physical confrontation after a lack of communication in the penalty box. Some may have seen that as a tad unprofessional but what it screamed of was passion and the goalkeeper could not be faulted on that front. What we all witnessed next was arguably one of the greatest saves seen in an FA Cup Final. Ian Rush had drawn the Reds level against the run of play and bought them back into contention. An uncharacteristic error from captain and centre back, Alan Hansen, saw Everton striker Graeme Sharp direct a header toward Liverpool's goal with Grobbelaar stranded on the edge of his penalty box. But Bruce's athleticism and speed, despite running backwards, somehow saw him tip the ball over the crossbar and save his team from going behind again. It proved to be a turning point in the game as Liverpool used it as a catalyst to push forward and win the game 3-1. Again, Grobbelaar played a massively critical role in helping his team win another major cup with that save which proved to be as vital as a goal.
HEYSEL AND HILLSBOROUGH
Unfortunately, Grobbelaar's time at Liverpool saw two football related disasters that were to stay etched in the memory of all connected with the club and something that he witnessed first hand. A year after the triumph in Rome, Liverpool found themselves back in the final of the European Cup against another Italian side in Juventus. This time, however, the scene was set at the Heysel stadium in Brussels. Rioting triggered by a section of the crowd resulted in the collapse of a wall and the subsequent deaths of 39 Juventus fans. Grobbelaar remembers the terrible scenes and claims involvement by the National Front and maintains that Liverpool fans were wrongly accused of involvement in the disaster which saw all English clubs banned from European competition for five years. Further tragedy was to befall the club just four years later when 96 Liverpool fans were crushed to death at Hillsborough just before an FA Cup semi final; an incident that Grobbelaar was to witness in close proximity as he was keeping the goal in front of the Leppings Lane end where the calamity unfolded. He has spoken of his helplessness at seeing the fans in trouble as he waited for the authorities to act. He joined fellow teammates in attending the majority of the victims funerals.
BYE BYE BRUCE
Subsequent to the Hillsborough disaster, Grobbelaar collected one more league title and two more FA Cups which included the 1989 cup that became a fitting yet heartbreaking dedication to the 96. The 1992 FA Cup became the last trophy that he would win with Liverpool and also happened to coincide with Liverpool's purchase of a new goalkeeper in David James that summer. The two battled for the number one shirt over Bruce's last two years at the club and, after a brief loan at Stoke City too, it culminated in February 1994 with him limping out of the season with injury. It was the last time he ever played for Liverpool Football Club.
LIVERPOOL LEGEND
Over a glittering, thirteen year career with Liverpool, Bruce Grobbelaar won a superb fourteen major trophies including six leagues, three FA Cups, three League Cups, a European Cup and Super Cup. But despite these amazing achievements, he will be remembered for so much more than being a trophy winner. I am sure that not all the players who won those trophies along with him will be remembered with as much fondness and love. They are all special in their own right but Grobbelaar had the knack of imprinting himself in people's memories. Few players can boast that talent. And I don't mean that he stood out in just the goalkeeping hall of fame, he distinguished himself as a footballer in the broadest sense of the word. Undoubtedly, he had the talent but so did many others. Bruce found a place in our hearts with his unique style, energy and passion. His mischievous nature and playful frivolity set him apart from his peers and make him an unforgettable character. There's that word again; character. But here's the difference; Bruce Grobbelaar wasn't a brilliant footballer with character rather he was a brilliant footballer because of it. His natural artistry was infinitely complemented by his personality and that is why he has written his name in Liverpool's long folklore.