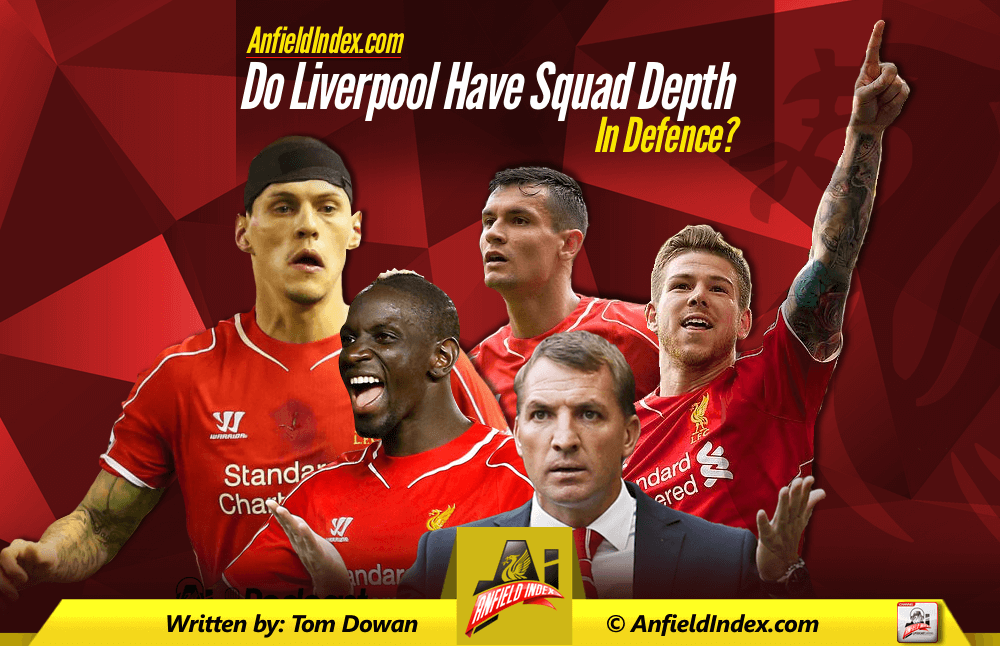 Do Liverpool Have Squad Depth in Defence?
Much has been made this summer about Liverpool buying in bulk again. Many fans believe we now have the numbers to compete in the many competitions we'll be involved in this coming season. The question is not 'if' Liverpool have the numbers but whether they've got the requisite quality? After all, numbers don't always indicate quality, do they?
With that in mind myself and two others, Tom Dowan and John O'Sullivan, have decided to take a look at the squad depth. Your first course will be provided to you by Tom as he takes a look at the Goalkeeper and defence department. Next up with the main course would be me inevitably and I'll be taking a look at the midfield and finally John will be taking a closer look at the attacking options at our disposal.
The only depth here is just how deeply disturbing all this is….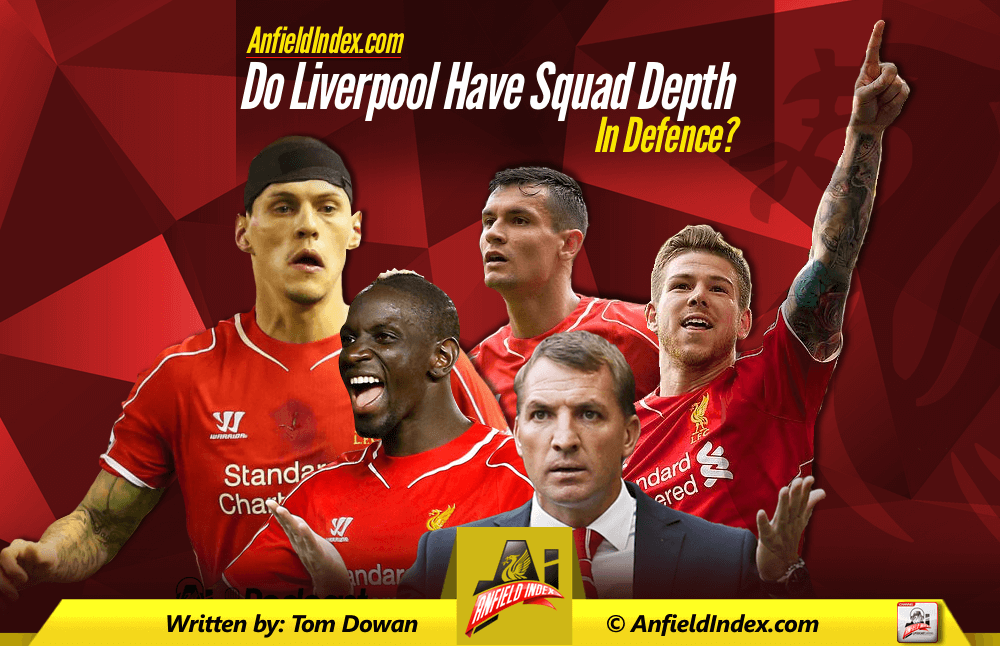 Goalkeeper & Defence
It's hard not to get Bogdaned down in negativity ahead of the new season, many things seem much of a muchness – the same regime (albeit with a few tweaks) is in place at the club and that is likely to mean the same frailties within the team are seen; that is Liverpool's defensive solidity. There are slight differences heading into this term however, one being the depth of defensive talent Liverpool have at their disposal. This window has seen the arrival of Nathaniel Clyne, Joe Gomez and new second choice keeper, Adam Bogdan. All of which (potentially) signify upgrades to the LFC squad, from Glen Johnson to Nathaniel Clyne, Andre Wisdom to Joe Gomez & Brad Jones to Adam Bogdan – Brendan Rodgers may well have tuned up his squad to some degree, but is this degree a bachelor with honours or not?
A fairly noticeable dip in form and self belief saw Simon Mignolet dropped to the bench for Brad Jones last season, few of us will forget the latter's penalty kick approach to guessing the shot and failing the save against Manchester United last term. Many cried for an upgrade on the first choice keeper, let alone the second choice at the time; but a defiant Belgian picked himself up, dusted himself down and returned with arguably the best form we have seen from him at Anfield thus far. Mignolet's place in the team is a matter of long-term contention due to a variety of reasons, reasons to be discussed at another time, however the Belgian has earned himself another term as Liverpool's first choice; second choice was (is) still an issue. Enter, Adam Bogdan. After a blistering performance against the Reds, the ex Bolton man earned himself a shot in the Premier League, one that would come with LFC. As Brad Jones departed on a free, Adam Bogdan arrived for the same fee and represented what the club must feel is an astute pick up – an astute pick up that is, in truth, fairly underwhelming. Mignolet clearly needs someone to be seriously snapping at his heels, it is unlikely Bogdan will provide this – with rumours of Mat Ryan being looked at and a whole league of talented young 'keepers in Germany, a Bolton graduate seems to border on neglectful from the Anfield club. It is only fair to allow any new signing time, Bogdan will be afforded just that, as all Reds hold on to the hope that the plucky performance vs Liverpool last season is an indicator of the Hungarian's true ability. Brad Jones has unarguably been upgraded upon, and therefore on paper the Liverpool squad has too, whether that upgrade is what the club really needs seems unlikely – just don't wobble again Simon, please.
So, the goalkeeper situation has certainly changed, whether that change is an evolution yet remains to be seen – what about the defence?
Well, there have certainly been upgrades, and that's where we will start. A promising preseason from the latest player arriving from Southampton will begin banishing the demons of GlenJo that hover above the soul of most Liverpool fans. Nathaniel Clyne is everything Rodgers loves in a full-back and everything expected of the modern game; he is pacey and agile, defensively diligent and has an eye on the Christian Benteke shaped target in the box. A definite ray of light for the Brendan Rodgers back line we will see next season, Clyne (24) is more than capable of being the long term solution to a long term problem, a full-back who tracks his man… Hallelujah!
There are perhaps concerns about depth at right-back, Nathaniel Clyne is an upgrade, but with Manquillo not tickling Rodgers' fancy, Flannagan scuppered until Christmas and Wisdom heading out on loan – who covers Clyne if circumstance dictates? Joe Gomez of course, that was a rather silly question! Gomez has had an encouraging preseason, so much so that he has earned himself a place in next year's squad – this was confirmed by the boss himself. Gomez has spent his time at the club so far deputising to Alberto Moreno at left-back and has done so very successfully; in his time at Charlton he was primarily a right-back and, certainly has the attributes to perform there if called upon. With a cool headed new recruit and a hungry young star in the wings, the right side of the full-backs look to run strongly, quickly & most importantly deeply!
Things look more shaky down the left hand side of the defence, however. Alberto Moreno looks likely to retain the first choice left-back spot after an uncertain first season with the Reds, perhaps returning to full-back from wing-back will also see the return of the man who terrorised Tottenham and lit up Sevilla. Potential is there, depth however, is not. Jose Enrique is an ever-present lingerer but is not of the quality nor physical reliability to be deemed a 'serious' member of the squad if he does not move on before the window 'slams shut'. It is a big ask to expect Gomez to cover left-, right- and potentially centre-back and detrimental to a youngster's development to use him as a jack of all, and thus, left-back is looking pretty scarce. Links to Lucas Digne of PSG continue to bubble away under the surface, hopefully this means that come next season there will be a line forming behind Moreno – this time not just of opposition players whom he has skinned.
If the full-backs are up and down, the depth at the centre of the back line is a veritable rollercoaster. Mamadou Sakho has the potential to be the true leader of the defence LFC require, however, he may not even start. Dejan Lovren may well be given the opportunity for an unlikely renaissance at the club after starting the majority of preseason alongside main-stay Martin Skrtel – the likelihood that Lovren takes his second chance is slim; last season has left scars on the players, the fan base & opposition shin pads. There is depth at left sided centre back, however should Sakho not maintain a starting position, that depth becomes deeply disturbing.
The right is also far from correct, or right, if you will… I understand if you won't. Martin Skrtel is a definite starter next season, he is one of few senior players left in the squad and may well even become vice-captain of this newish looking Liverpool team – contentious it may be, but Skrtel will be in the eleven come Stoke and many other fixtures after. He is supported by the ever loved Kolo Toure – another of LFC's senior men and then things begin to look slim. Joe Gomez sees himself as a centre-back and will therefore be chomping at the bit to have a go in his favoured role, but it is early days for the England under-21 and to expect him to perform at the level required so early in his Premier League career is likely to bring frustration. Another member of the supporting cast at right-sided centre back is the pacey Tiago Ilori. If Ilori keeps himself off the treatment table, he has potential to be a top-level centre-back but currently potential is as far as those lengthy legs stretch.
The theme at centre-back is a theme that runs through the entire Liverpool defensive unit. Bodies in all positions? Undoubtedly. The requisite quality to evolve together? That remains to be seen.
When graduation day comes, let's all hope we are celebrating a first class defensive alumni.