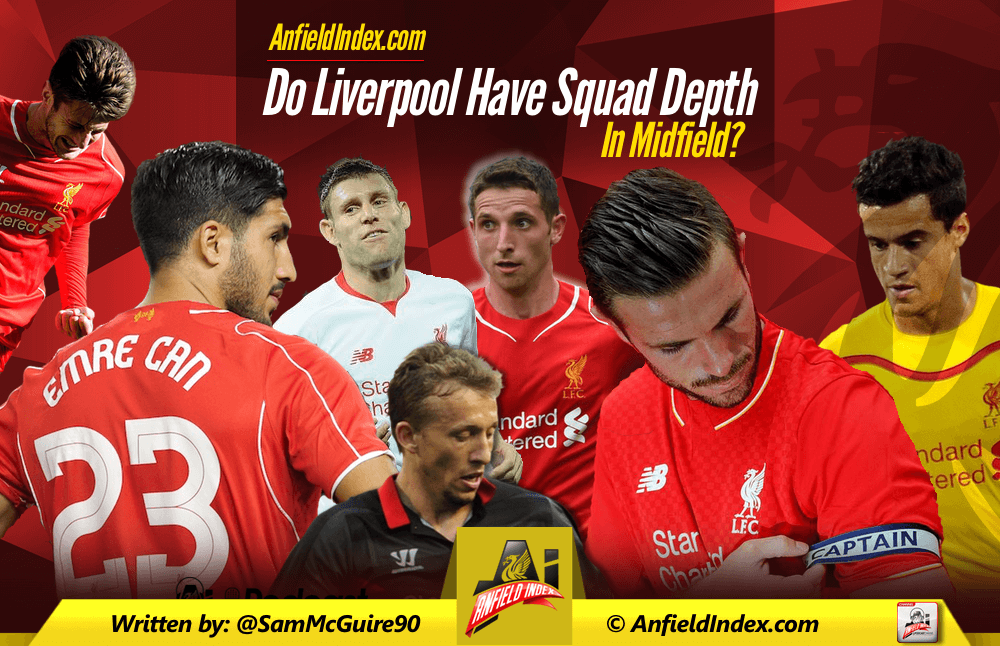 Do Liverpool Have Squad Depth in Midfield?

Much has been made this summer about Liverpool buying in bulk again. Many fans believe we now have the numbers to compete in the many competitions we'll be involved in this coming season. The question is however not 'if' Liverpool have the numbers but whether they've got the requisite quality? After all, numbers don't always indicate quality, do they?
With that in mind myself and two others, Tom Dowan and John O'Sullivan, have decided to take a look at the squad depth. Your first course will be provided to you by Tom as he takes a look at the goalkeeper and defence department. Next up with the main course would be me inevitably and I'll be taking a look at the midfield and finally John will be taking a closer look at the attacking options at our disposal.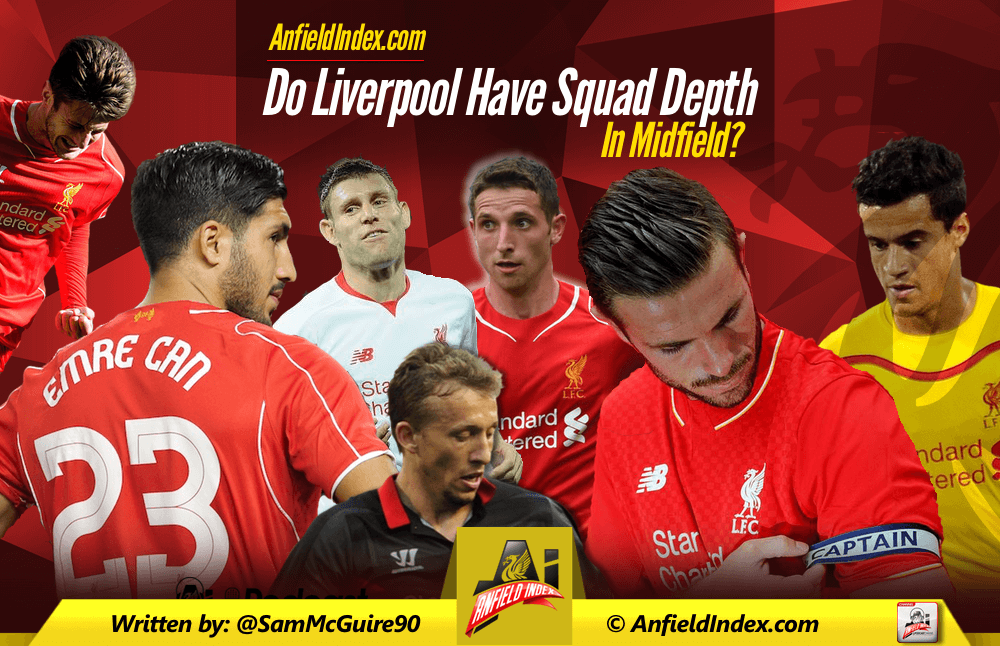 Midfield
If you imagine the team as a see saw the midfield would be the controlled support. It's the area that ensures the balance of a team. With a strong midfield both your defence and your attack prosper. What people often overlook though is the fact you need balance within the midfield unit itself. Do Liverpool have that?
Let's start by looking at the holding midfield role. You'll notice I've given up calling it the defensive midfield role because we've literally got one defensive midfielder on our books and despite the possibility of many playing there they'd all have different instructions. So for Liverpool the options in that position are Emre Can, Lucas Leiva and Joe Allen.  Three different types of players yet all will no doubt play in that position for Liverpool at some point in the upcoming season.
With Emre Can you've got the sheer power and efficiency you've come to expect from the new breed of German players. He's confident and neat with the ball and a bulldozer when he gets going. He'd be very much a deep lying playmaker if played in that role next season which could be a positive with the likes of James Milner and Jordan Henderson ahead of him. This guy has fitness issues supposedly too.
Lucas Leiva's made more comebacks than the Undertaker and he's probably as agile as the Deadman. He's the only defensive midfielder at the club, really. He did well for a period last season but yet again he had a date with the treatment table that just couldn't be ignored. Can you rely on him? No. Can he play in a midfield 2 effectively? Not so much.
Joe Allen and Lucas Leiva have taken out a timeshare deal with the treatment table. He's not a defensive midfielder. He's the type of guy that plays effectively beside a defensive midfielder. In the previous two seasons he's been the go to buy to plug any gap when an injury has occurred and it's hardly fair on the player. He hasn't got an identity. Can he be relied upon? No, not because he doesn't have the quality but because of the injuries.
If Liverpool do play a midfield three with one sitting can any of the three mentioned above be relied upon? Are they of the quality needed? Can Liverpool afford to juggle three different types of players in one position that should be set? Would it not make sense to sell one and buy a more reliable player that's similar to one of the two remaining players?
James Milner and Jordan Henderson are like experiments. James Milner was made, they made a few tweaks to the formula and then Jordan Henderson was produced as the 2.0 version. Liverpool had one hand on the title in 2013/14 and Brendan Rodgers alluded to the fact the Henderson suspension cost us massively. He couldn't be replaced. Now he can. Henderson can be rested in games now and Liverpool don't lose that energy and tenacity in midfield. They can play alongside each other but can also play instead of one another.
Where do we put Philippe Coutinho? I'd argue he's a centre midfielder and should be played there but he's not a bad option to play in an advanced position. If he plays in the midfield three then the deepest midfielder couldn't be a deep lying playmaker, we'd have to use a proper defensive midfielder which happens to be Lucas Leiva. However if you play him in an advanced position you can afford to play a deep lying playmaker and Liverpool will play a passing variant of their game. It's not a bad headache to have.
The attacking midfield roles
Liverpool have a lot of players here. Roberto Firmino, Jordon Ibe, Lazar Markovic and Adam Lallana. On paper this looks like a strong area for the team but once again if you take a closer look it's questionable. They're all different types of players so they'd  impact the team in different ways. We don't seem to have 'samey' players. Roberto Firmino has quick feet, he's very direct and he likes to roam. He can play in a passing side and in a counter attacking side. This is different to Adam Lallana who has decent feet but is a lot slower on the ball. He's not as direct as Firmino but he will probably be in and around the area more times than Firmino. Now both of these are different to Lazar Markovic. The Serbian likes to play from the left and cut inside, he's direct and can beat a man with both pace and skill. On top of this he's extremely creative with his passing range. Then you have Jordon Ibe who isn't really tested centrally but he excelled on the right last season. He has power, pace and skill which makes him a nightmare for defenders to control.
The variety of players is a strength but, and this is a big but, do Liverpool have depth? If Liverpool hit form with Jordon Ibe playing on the right of a three behind the striker and then suddenly gets injured do we have anyone who can come in and play like him? LIkewise if Lucas is playing as the deepest midfielder and picks up his inevitable injury do we have anyone who can come in and pick up the mantle or will it lead to a tweak in style? Cast your eyes to Chelsea, if Nemanja Matic gets injured they have John Obi Mikel. He's not as good but he's of a similar ilk. That's just one example as proper squad depth as opposed to just having squad numbers.