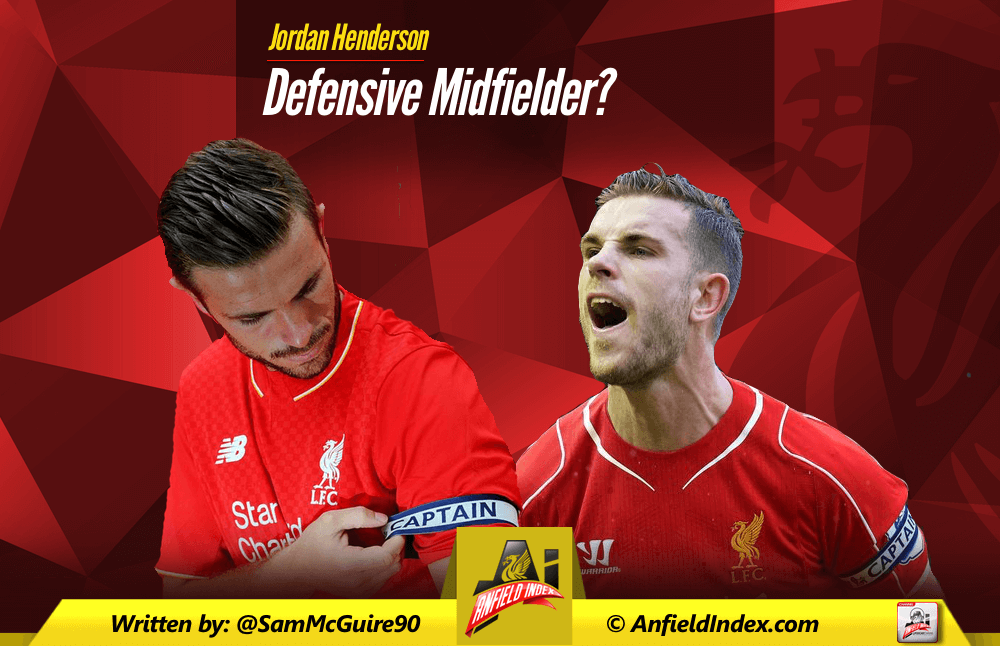 Jordan Henderson - Defensive Midfielder?
With the season just around the corner many fans have started naming their 'Dream XI' for the season ahead. Sometimes you'll see these though and think yeah that'd be boss on Football Manager or Fifa. This is real life though and you have to consider the tactics and the shape. In the last week or so I've started to see people mentioning Henderson as our defensive midfielder. At first I thought they wanted to deploy Henderson as a deep lying playmaker but I was wrong, they actually wanted to use him as a defensive midfielder.
In the modern game there are many variants and tweaks on the position. You can get a Lee Cattermole type defensive midfielder. You know the sort, kicks the lumps out of people, limited footballing ability and their main aim isn't to break up play it's to break the players. These are the stereotypical defensive midfielders for people when they look at that position but football has evolved and there are many types of defensive midfielders nowadays. I'll briefly describe the roles but for a more in depth look at these listen to the AnfieldIndex Global podcast about the defensive midfield role.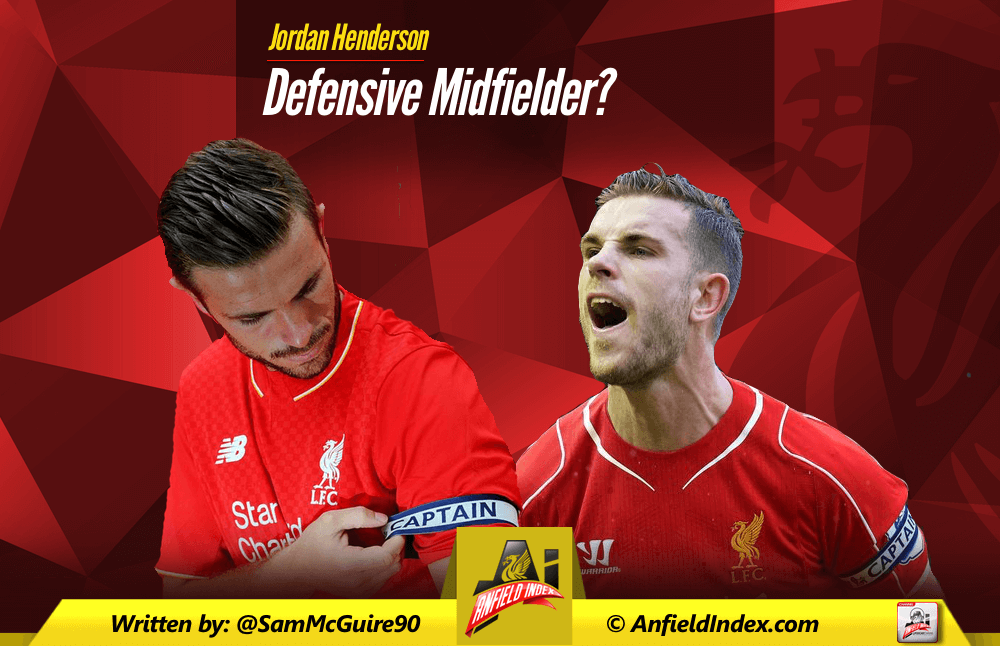 Ball winning midfielder
This is probably the more stereotypical defensive midfielder than people envisage when talking about this position. Their primary role is to do what the name states. Win the ball off the opposition before they get at your defence. This doesn't mean you run around chasing the opponents like Mascherano used to do. It could be you're positionally switched on and you cover the spaces and angles therefore winning the ball with interceptions or by pushing the opponents into spaces you want them in. If you were to associate it with a player it'd be Morgan Schniederlin.
Ball playing defensive midfielder
Defensive duties here are at a minimum but there are a new breed of defensive midfielders that merge this position and the one previously mentioned. The likes of Lucas Romero for example. He has the passing range of a deep lying play maker but the defensive midfielder abilities of Javier Mascherano. They all seem to have a snarl about them.
Defensive midfielder
This is probably a little harder to explain. It's a player with limited responsibilities other than to shield the defence. He won't roam from position like a ball winning midfielder and often sits in front of the centre backs or occasionally drops in between them to give them added numbers in that area. This is more of a Victor Wanyama/Maxime Gonalons type midfielder if you were to associate it with a player.
With this in mind I decided to take a look at Jordan Henderson as a potential defensive midfielder. What category would he fall into? At a push you'd say a he'd be a mix of ball playing defensive midfielder and a ball winning one. However with the latter comparison it's worth noting Morgan Schniederlin had a proper defensive midfielder beside him which enabled him to chase the ball, Henderson wouldn't have this in his role if he were to be played as the sole defensive midfielder.
I won't compare the two as it'd be unfair but looking briefly at tackles won per 90 Henderson averages 1.70 which is low when you compare it to Schniederlin (3.25), Victor Wanyama (2.97) and Nemanja Matic (2.91). It's a big increase in tackles you're having to win per 90 to be hitting the numbers of the good defensive midfielders. Has our captain got that ability in him? More importantly do Liverpool have the time to persist with a player polishing his skills in a new position when the position in question is a key one? Could a rookie defensive midfielder be worse than not using one at all? If you're pushing for top 4 you can't really afford to have someone 'doing a job' in a specialist position, can you?
Not only would have a short term negative impact on the side but it'd also takeaway the strengths of a player who is nowhere near his peak. I've said it for many years but if Liverpool had a defensive midfielder we could see Jordan Henderson hitting double figures and that's invaluable from a midfielder. He's more like Frank Lampard with his runs from deep. His output in terms of goals and assists over the last few seasons has been superb and do Liverpool have the players to replace that from midfield if he's played deeper? It's very doubtful. Not only that but it also takes away from his famed high pressing, something he became associated with during our title push.
You'd be taking away two of his biggest strengths as a player.
He has the traits of Steven Gerrard in that role. He switches off, poor defensive positioning, rushes when under pressure, not the best when facing his own goal and he can be rash in the tackle. All that coupled with Lucas' incessant need to chase the ball which then leaves the defence exposed. We've all seen Jordan Henderson, he's like a coiled spring. Do you think he has the discipline to sit and watch the game be played out in front of him at this stage of his career? Would it not be like leashing a dog and then playing catch in front of him?
Why risk the growth of Jordan Henderson, the goalscoring midfielder, when it'd be easier to just buy a defensive midfielder?