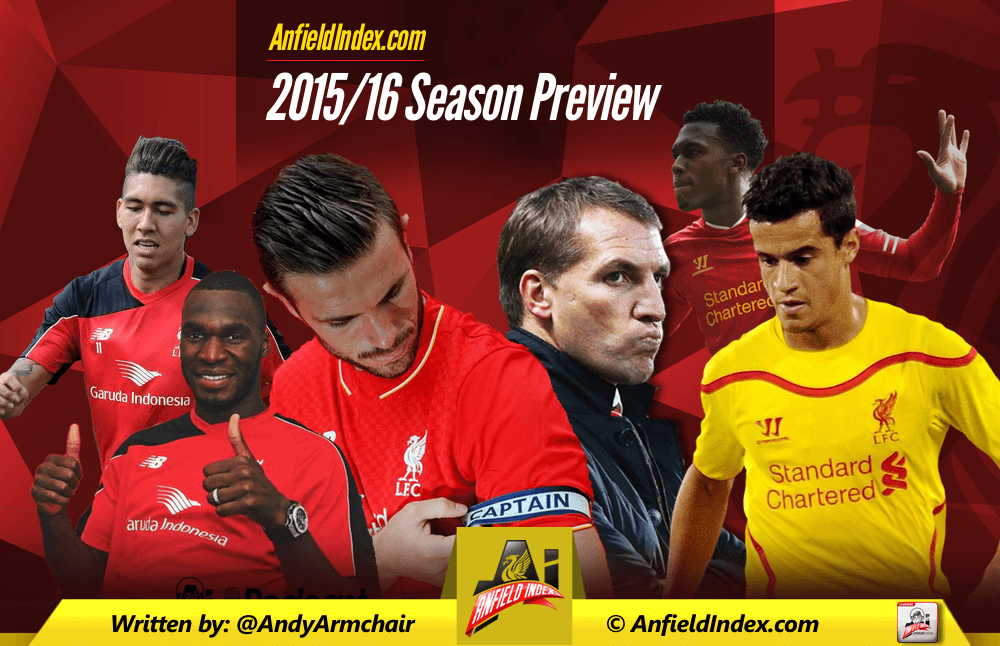 Season Preview: Liverpool 2015/16

The summer break often has mystical powers when it comes to football fans. Any disappointments from the previous season become fading memories and the positives can be somewhat embellished; a few new signings and the magical optimism returns. The excitement builds as your team travels to the four corners of the world to play either a Premier League team for a strange looking trophy, an all-star pub team or one of the European giants for some other kind of tournament. Don't get me wrong, I'm not knocking the world tours as football is a global sport and it means fans in different part of the world get an opportunity to see their favourite team play, even if it's purely a revenue raiser for clubs, but that's for another day. Anyway, during all this pre-season goings on, too often hope, optimism and expectation become detached from reality of just what lies ahead.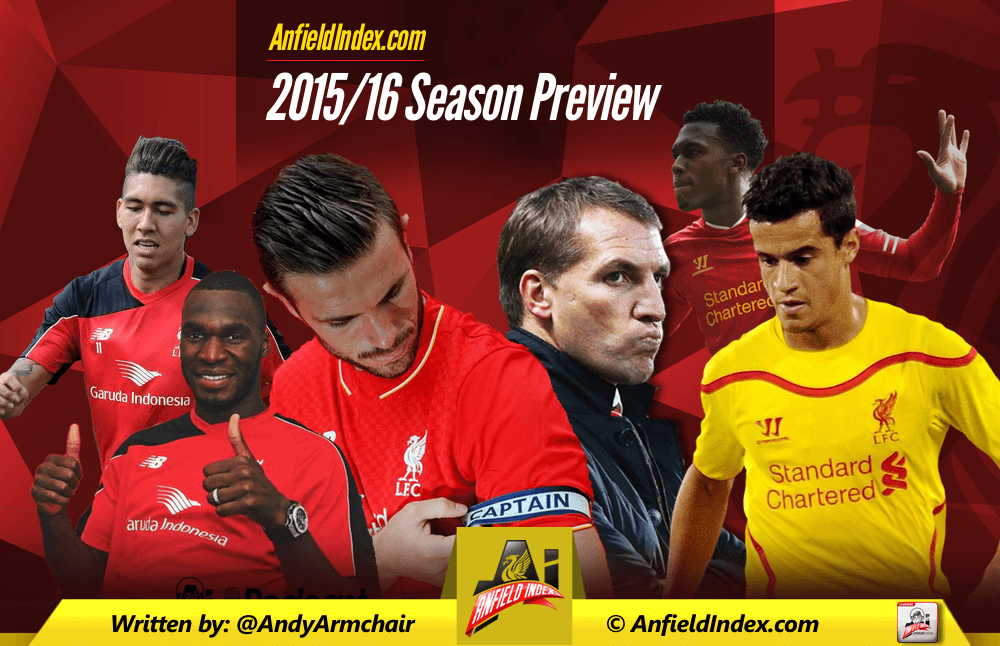 Make no mistake, we're in for a really tough start to what could be an uncomfortable campaign for those with expectations of Liverpool finishing in the top 4. After somehow hanging on to his job, Brendan Rodgers must've thought the Premier League were trolling him when the opening day fixtures were announced; a return to the scene of the most embarrassing performance in living memory. It will be a test to see if there are any psychological scars and if we've learned lessons from the final day 6-1 massacre. A fortnight later, it's away to a strong Arsenal, with trips to Man United, Everton, Spurs, Chelsea and Man City all to come in the opening 13 Premier League fixtures. There's also home games to Southampton, Crystal Palace and bogey team Aston Villa in that run. I believe it's fair to say that the opening third of the season could define our campaign. Make no mistake, Brendan Rodgers is a man under intense pressure and scrutiny. There's very little margin for error and if he was a cat, he'd have used up 8 of his lives; he has no more excuses and simply has to deliver this season. So, whilst many fans are freshly invigorated for the new season, the wounds of last season are sores that will quickly be re-opened should we have a bad start. That's not to say I think he will be sacked if we lose 2 or 3 of our opening 5 fixtures, but if we are well adrift in November and lost half of those opening 13 games, the pressure could be insurmountable. Not only did the owners decide against sacking him after a calamitous season, they also backed him heavily in the transfer market; so whilst they're unlikely to get trigger happy too early if things don't go to plan, that grace won't last for long. Simply put, this is a make or break season in Brendan Rodgers' career as manager of Liverpool Football Club.
So much has been said and written about Liverpool's 2 major signings of the summer: Roberto Firmino and Christian Benteke, that I don't want to cover old ground here. What I will say is that Benteke's Premier League goal record suggests that he can help take the burden off Daniel Sturridge and allow him the time get properly fit. My concern is that the big price tag is often a difficult thing for players to handle, as their performances are often judged in relation to their cost. Also, his success at Aston Villa came in a counter attacking team, so whether he can adapt to a different style and strike up an understanding with the creative talents of Firmino and Coutinho will be a test for him. Firmino is a signing that excited many and rightly so, he has the potential to become a star and having seen him play in the Bundesliga, I feel confident he can adapt to British football. He has many positive attributes and is a player that I feel is on the cusp of mainstream recognition of his talents. They should help to address the lack of goals that hampered us in tight games last season, but the issue of a leaky defence is still a question that appears unanswered. Nathaniel Clyne is a definite improvement at right-back and should represent great value at a potential £12.5m, but our unwillingness or inability to upgrade on Martin Skrtel and our baffling blindness to the importance of a quality defensive midfielder could come back to haunt us.
Adam Bogdan may be seen as decent and experienced as a back-up goalkeeper, but he's not going to provide any competition to Simon Mignolet, which means we can't afford him to have a run of form as dreadful as the first half of last season. Joe Gomez looks very promising and versatile, but we need more orthodox cover at left-back to support Alberto Moreno. James Milner is a good addition to the squad, even if his contract is frightening, but hopefully he will bring enough energy, experience, desire and professionalism that helps mentor and improve some of the younger players and he proves his worth. Him starting in a central midfield 2 with Jordan Henderson concerns me. Both will work incredibly hard and are under rated in their movement, passing and creativity, but neither are defensively minded and we risk leaving our backline exposed if we go into the season with that formation. Despite what some may think, CDM is a specialist position and there's a reason why most top, successful sides have one. With Danny Ings and the return of Origi from loan, we have good options up front. Ings has shown he can score goals in the Premier League and has good pace, movement and seemingly, an excellent attitude. Origi has pace, power and the ability to go past an opponent; he may be raw, but he looks like he could cause defenders a few problems and could be a useful option from the bench.
If we are to break into the top 4, we are going to need Coutinho to continue the progress he made last year and Sturridge to be fit and available for a good portion of the season. Like the manager, it could be a make or break year for Adam Lallana and Dejan Lovren; both were signed for big fees from Southampton last summer and both have under achieved. Lovren has particularly struggled and it's very hard to see him turning it around, but with Europa League to contend with and Sakho's injury record, he will be called upon. He has to be the rock he was hailed as and not crumble into dust if he is to have a future. Lallana is a good player with an over inflated price tag hanging heavy around his neck; often guilty of slowing the play down and taking too many touches, he has to add more end product to his technical ability. Lazar Markovic and Jordan Ibe are quicker and more direct, Lallana needs to prove he deserves to be ahead of them in the pecking order. If we are to have a good season, all the squad needs to be functioning, because with the extra Europa League games, effective rotation will be important. We've made a lot of signings again this summer, which might sound good for better squad depth, but it again presents the issue of fluidity, understanding and settling that number of players in. If we can negotiate the opening few months relatively unscathed and rotate the squad well, perhaps we could kick on and have a good second half of the season. Unfortunately though, I don't think we've improved enough and the teams currently in the top 4 are looking stronger, so I think a 5th place finish is on the cards.