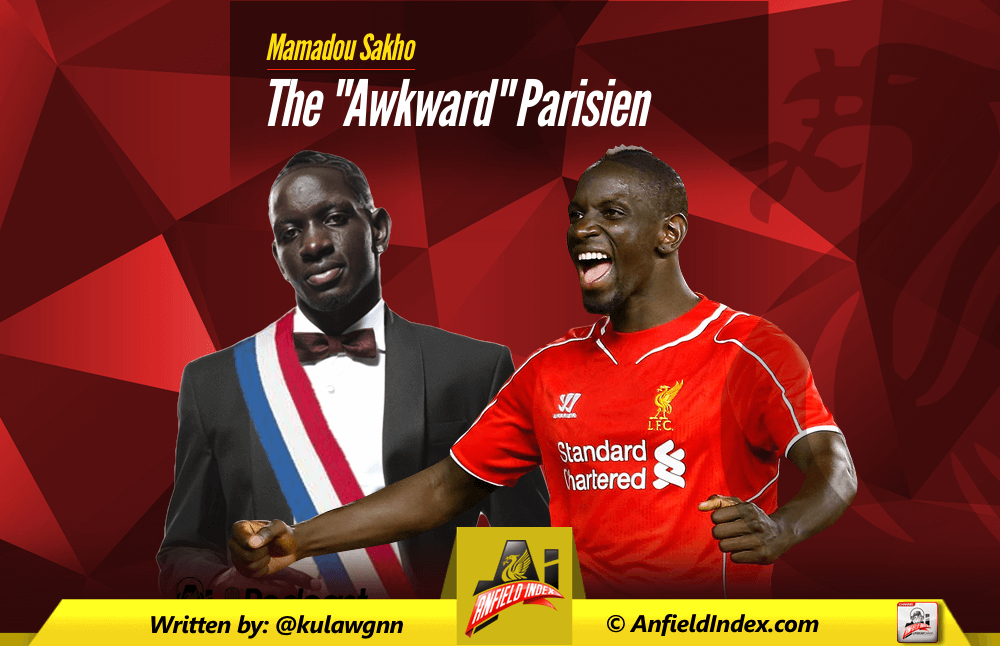 The 'Awkward" Parisien | Mamadou Sakho
When Yannick Bolasie was roasting Dejan Lovren on Gerrard's last Anfield appearance memories of the six consecutive away clean sheets that ended in April had long faded. The not so assured defending of the early season had returned. Coinciding with that period was the loss of Mamadou Sakho to injury. The Parisien who had been instrumental to that record-breaking accomplishment remains a figure who polarizes opinions.
In December, 2014 during LFC's league match with Burnley, James Pearce, Liverpool Echo's LFC reporter tweeted: Sakho is an absolute accident waiting to happen with the way he goes to ground so often in the box. That comment resonated with a lot of misinformed and misguided opinions about the former PSG captain. I was watching Liverpool play Swansea in the EPL when the co-commentator, Danny Mills repetitively called the Sakho, awkward and someone not comfortable on the ball. The Swansea supporters targeted him with boos anytime he got on the ball. They were acting on information seeped into them by pundits like Mills who have consistently called the Frenchman's talent into question. The behaviour the fans showed was a classical example of effect of pundits' misinformation on fans.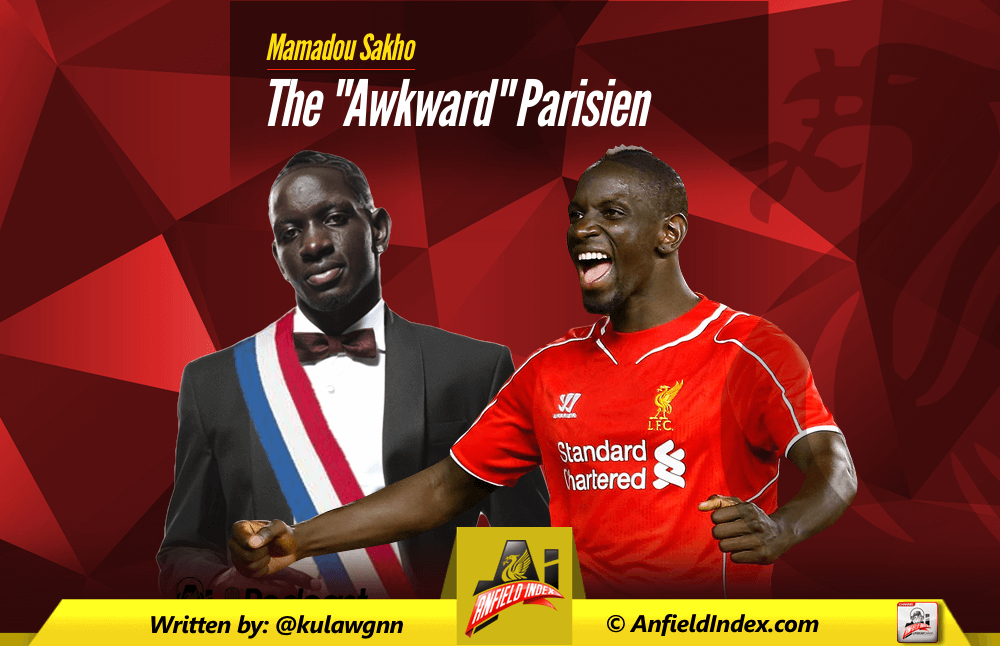 Two years into his stay at Anfield, it should be clear what the accident waiting to happen actually is-Sakho's absence from the team; not his ability. For the ordinary eyes, some roles and players in football are hardly noticeable. A midfield "destroyer" may never win as much appreciation as the striker who bangs in the goals. Neither would a versatile player who is shifted round various roles to make a team's tactics tick receive the same appreciation as the playmaker making the goals and dribbling the park. But for the initiated eyes and the educated minds of the game these "unheralded" players have great regard. A centre-back who is good with the ball at his feet and has all the other requisite skills should not be one that even the ordinary eyes fail to acknowledge.
It is therefore an issue of wonder that a large chunk of the educated minds of the game do not rate Liverpool's Mamadou Sakho. James Pearce's tweet was met with strong response (unfortunately a number of vile ones too) by a lot of Liverpool fans who hold the French national's ability in premium regard. A similar strong response has met reports that error-prone Dejan Lovren may be Brendan Rodgers' preferred option for the left centre back role.
To delve into the Frenchman's abilities, I compare him with five other centre-backs in the league: the top two centre backs in the league according to whoscored.com (West Ham's James Tomkins and United's Phil Jones), the best centre backs as voted by the PFA (John Terry and Gary Cahill) and Martin Skrtel, Brendan Rodgers' "first choice" centre-back.
The perceived awkwardness perhaps stems from what pundits and some fans see as his discomfort with the ball at his feet. His 90% pass success rate is higher than those of all the centre backs he's been compared with. Pass success rate can be a bit of a pointless metric as a risk-free back pass to a goal-keeper counts as much as an incisive pass to set up a goal. So to put it in perspective I consider the forward/backward passes per game. This could provide an inkling of the nature of the passes the player plays. A forward pass all things being equal starts an attacking play or continues progressive play. Backward passes mostly are the risk-free back passes to the goalkeeper or a fellow defender. Sakho makes on the average 40 forward passes per game as against 15 backward passes. This is only bettered by Skrtel who makes 40 forward passes and 10 backward passes per game. For the number of forward passes he makes per game, a pass success rate of 90% is impressive. His pass success rate means that 36 out of his 40 forward passes per game find their target. You would have thought somebody deemed awkward would rather choose a lot more safe backward passes and have lower pass success rates than what is recorded against his name.
Sakho wins more tackles per game (1.31) than Skrtel (1), Terry (1) and Cahill (0.64). Jones and Tomkins beat him on this score recording 1.81 and 1.48 respectively. Terry (0.53), Skrtel (0.72) and Cahill (0.82) lose fewer tackles per game than Sakho (1.20). He however fares better than both Jones (1.86) and Tomkins (1.48). He falls behind all but Jones and Terry in terms of aerial duels won, even though his figure of 2.81 is not significantly inferior to Cahill (3.22) and Skrtel(3.27). Tomkins record 4.5.
Clearly, there are indicators he beat his peers to and others he just falls behind. But it is clear his stats that even for the metric he is behind, his stats are not significantly lower than those of his peers especially the very best as voted by the PFA.
Awkwardness should lead to more errors leading to fouls and cards. Bar Terry (0.33) he commits the fewest fouls per game ie 0.53. Aside Skrtel (1.69) and Jones (3.24), Sakho makes more interceptions per game (1.67) than the Terry, Cahill and Tomkins. Again he competes favourably in terms of clearances per game recording 5.8 against Terry (5.92) and Cahill (0.59).
Stats however do not tell it. But if a list of Sakho's faults is drawn up awkwardness and being poor on the ball should rank far lower on that list. He does things in the game that fall outside the remit of available stats especially for a defender. The turn to displace Falcao at Anfield was hardly awkward. At Anfield against Swansea, in all his "awkwardness" he started the move for the first goal with a brilliant pass to Moreno. In that same match, he turned down the chance to play a simple pass to Moreno instead chose to pass across a busy centre circle to set off Lallana on attack. This is what Sakho does. Stats may show Skrtel and Sakho being at par on a number of indicators. However stats only tell part of the story. Game reading abilities, composure, positioning are not done justice by available stats. I remember him shout at Skrtel at Anfield against Crystal Palace to move up after detecting the movement of Dwight Gayle during a free kick. But Slovakian failed to heed, playing Gayle onside to score a goal.
In that Swansea match alluded to in the opening paragraphs, Sakho remained composed throughout the match and ended the game as one of Liverpool's better performing players. Contrast that with Dejan Lovren's performance at Southampton. He was subjected to boos throughout the match. For someone who lacks composure even at Anfield it was not strange to find him all over the place in a hostile environment .In terms of positioning, composure, ability on the ball and defensive abilities, Sakho is clearly the better among the three. It is no coincidence that you can draw up a tall list of opponents who have roasted both Lovren and Skrtel on regular basis but struggle to find any opponent who has dominated Sakho.You would think if Liverpool are to excel this season making Sakho a mainstay of the team is critical. One can only hope Rodgers thinks the same.
Stats by whoscored.com and Squawka.com