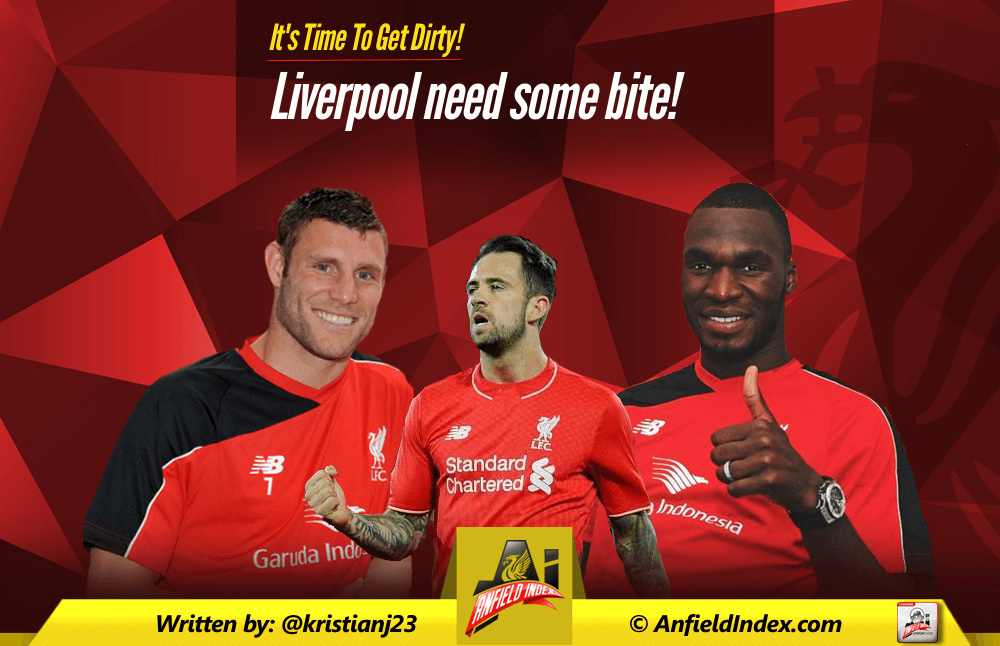 It's time to get dirty - Liverpool need some bite!

Cast your mind back to the last time Liverpool played at Stoke. Yes, that game. 'The 6-1', as it's become known.
The humbling at the Britannia provided no finer example of the need for a streak of nastiness under Brendan Rodgers. A team being humiliated in this fashion by supposedly inferior opposition should have been frustrated. They should have been angry. Beyond angry.
But as Stoke plundered goals one, two, three, four and five past a hapless Liverpool defence in just 25 first-half minutes, the Reds failed to commit a single foul. A statistic every bit as shambolic as the one in the goals conceded column.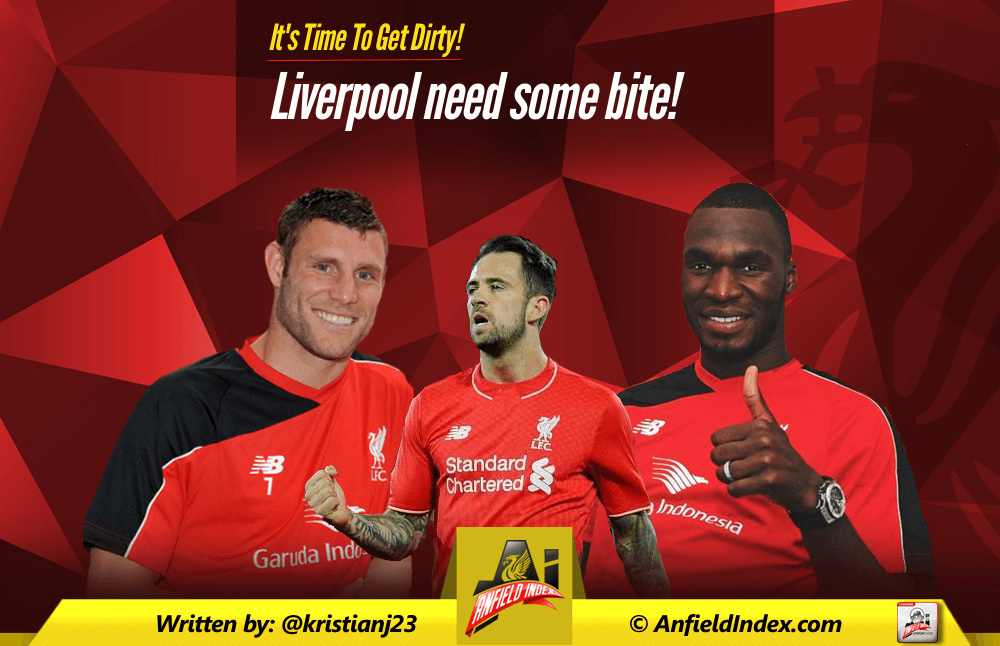 Surely someone – anyone – could have given Emre Can a hand and had a nibble at Marko Arnautovic's ankles. Take a booking. Lay down a marker. Help out a young teammate.
The Stoke game wasn't a one-off though. Two weeks previously, we had travelled to Chelsea – a team full of snides, but also a team full of winners. In the first minute, Raheem Sterling was left writhing in agony by a brutal Cesc Fabregas challenge. We won a free kick. Fabregas was booked. Nothing more.
Imagine if the boot had, quite literally, been on the other foot. A swarm of blue shirts would have rightly demanded a red card, but there was little more than a timid plea from the 11 Liverpool players on the pitch.
This kind of mentality was endemic in a wretched 2014-15 campaign. There was the odd exception when Liverpool showed their tenacity last season – Jordan Henderson's icy glare at Diego Costa in the League Cup semi-final the finest example – but on the whole Brendan's boys were 'too nice'.
However, the summer recruits point to a more resilient mentality among the current squad.
Danny Ings won't give defenders a moment's rest with his hassling, while Roberto Firmino is another addition with a never-say-die attitude.
Nonetheless, the two signings who will have the biggest impact in regards to adding a gnarly edge are James Milner and Christian Benteke.
Milner's a horrible player. And I mean that in the kindest sense. He certainly falls into the category of the player I would rather have on my side than be my opponent. It's not just his endless pressing that makes him a nightmare, but he can also be dirty and cynical. A little trip here. A shirt tug there. The midfield won't be overrun to the same extent with the 29-year-old in the side.
In Benteke, Liverpool once more have a striker who can look after himself and his teammates. He will bully 6'4″ defenders on a weekly basis. When the Reds need the ball to stick upfront after a period of sustained pressure, defenders will bounce off the Belgian as he waits for support.
We're going to see a nastier, more battle-hardened Liverpool this season and the first signs will come at the Britannia. Just watch as Benteke leaves Ryan Shawcross and Phil Bardsley as whimpering wrecks on the turf.
As Brendan would say, we're now a team with bags more character. It's time to exorcise those demons.