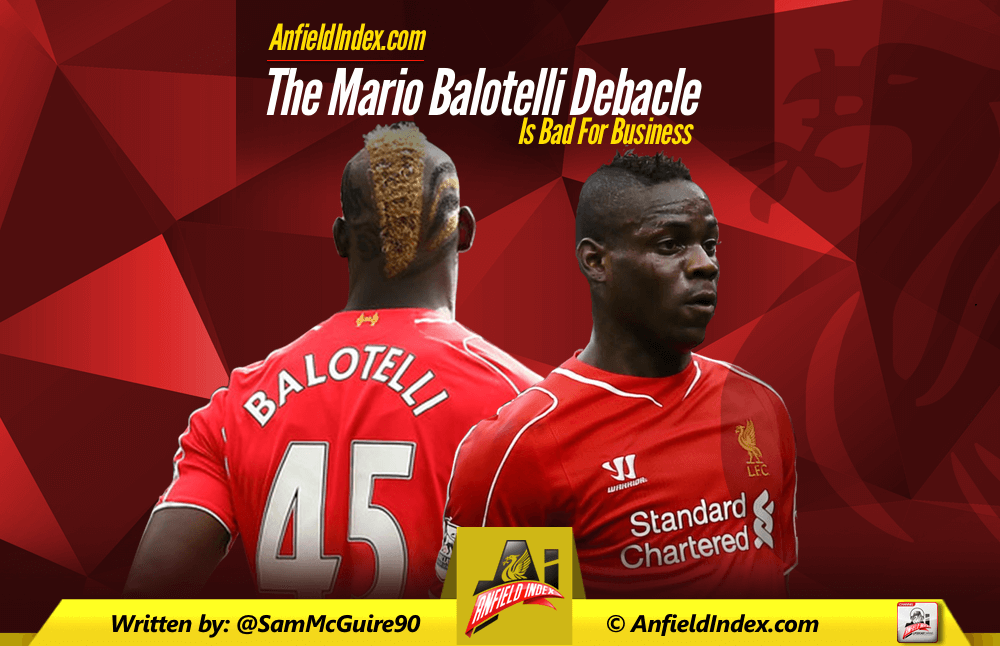 The Mario Balotelli debacle is bad for business
One week before the Premier League season kicks off and James Pearce's Blood Red article made its appearance on the Liverpool echo website. It was supposed to be about Rickie Lambert leaving but that wouldn't have caused controversy so for an added bonus he decided to have a pop at Mario Balotelli. He quickly swept under the rug the fact the Italian had scored more goals in less outings than the diehard Liverpool fan with the Liverbird tattoo.
"A minority of fans believe that Balotelli has been harshly treated by Rodgers and that he deserves the opportunity to prove he can adapt to the Reds' style. They are deluded."
*Waves*
I'm one of the deluded ones.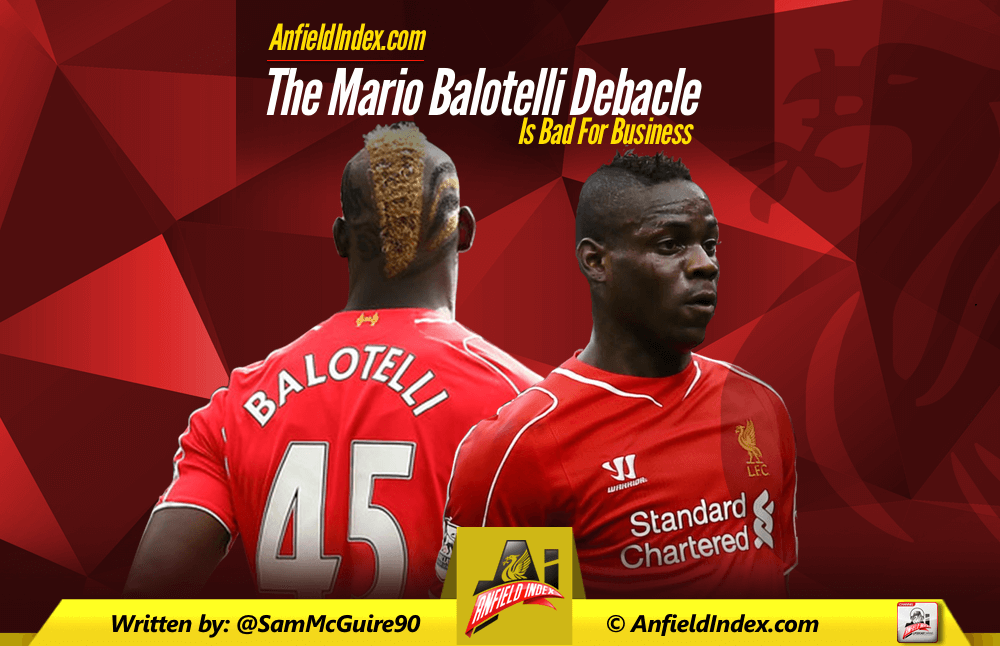 Adapt or Perish
I'm sure you've all heard of that saying, right? This isn't a defence of Mario Balotelli, but James feels the need to mention to the "Reds' style" not suiting Mario Balotelli, but did our 'style' of last season suit any of our strikers? Did Daniel Sturridge, in the few games he managed to start, look comfortable as a lone striker? Did we offer him enough support? Absolutely not. When your 4 strikers collectively score 13 goals in all competitions is that not more a system failure? I'm by no means defending Balotelli as I mentioned earlier, I turned away in disgust countless times when he fired a shot over from 40 yards. If he's your main striker due to injuries do you not try at the bare minimum to get the best out of him by offering him support? Just spit balling ideas here.
Back to the original point of this article though. How the club has treated the Mario Balotelli debacle is bad for business and I'd find it hard to accept opinions that suggest otherwise.
Upon in his arrival Brendan Rodgers made it known Balotelli needed to work hard in training and adapt to the style. As many have stated numerous times during the past 12 months, what was the style last season? Mario Balotelli was given an ultimatum from day one really; perish or perish.
"If you can't press you can't be part of the team. It doesn't matter who the player is."
– Brendan Rodgers.
A quote levelled at Mario Balotelli despite the fact the team didn't really press for a sustained period last season and we played Steven Gerrard in an attacking role on a few occasions which means there was absolutely no press from him.
James Pearce mentioned Balotelli not pulling his weight in training and not knuckling down. Other media outlets state he's lazy despite stats suggesting otherwise.
Then you had Steven Gerrard berate him after the Besiktas penalty incident on live TV when he was a pundit.
Then the club made it clear by leaving Balotelli training with Fabio Borini and Jose Enrique that he didn't have a future at the club.
Combining all that and we're going to be lucky to have any reasonable offers for Balotelli this summer, yet we're actively looking to sell him.
This would be like having a flashy car for sale. In the description of the car you list the fact it doesn't run well in cold weather. It's unreliable and temperamental. It may look good on the outside but inside it's a state. Someone bought it you as a gift hoping you'd use it properly but you wanted to use it as a racing car so it just didn't suit your needs. So everything in the advert points to you not wanting the car so you know for a fact any interested party will go in low.
Could Rodgers not have been a little smarter? Said something like Balotelli wasn't used last season because he was bought to play alongside Sturridge and injuries prevented it?
FSG are businessmen and this looks weak. They've got an asset they paid £16million for on £90k per week that they're going to be lucky to get £8million for 12 months later and he's not even 25.
This isn't a one off though. We've also got Fabio Borini on our books still. One of the first signings made by Brendan Rodgers when he arrived at the club for £11million and placed on what's rumoured to be £70k per week wages. He's not long turned 24, has Premier League experience which is supposedly vital these days when looking at a signing and apparently Lazio are willing to offer a mere £3million for him. This was a striker who we could've sold for £14million last summer. People will say it's Borini's fault for rejecting a move away but you have to ask why we put a 21 year old on £70k per week when he originally signed? You could also look at Liverpool having 4 strikers last season in Sturridge, Lambert, Balotelli and Borini. Had Liverpool used the diamond then they'd have needed 4 strikers. There is some credence to Borini thinking he'd get game time.
Why didn't Brendan Rodgers use Borini more often? You have a player worth £14million to two clubs. You lose your number one striker to injury and the system that brought you so much joy the year before needs movement to prosper. Fabio Borini was the only striker on our books with movement. Using him during our poor run of form wouldn't have been the worst idea and it would have at least kept his value respectable. Now he's barely played for a season and he's only got 12 months left on his deal.
It's bad for business spending £27million on two strikers and potentially seeing a return of £10million on them both when they're both still young. Liverpool aren't in a position to be wasting £17million. For a business that's keen on the moneyball premise this has to be considered a disaster.