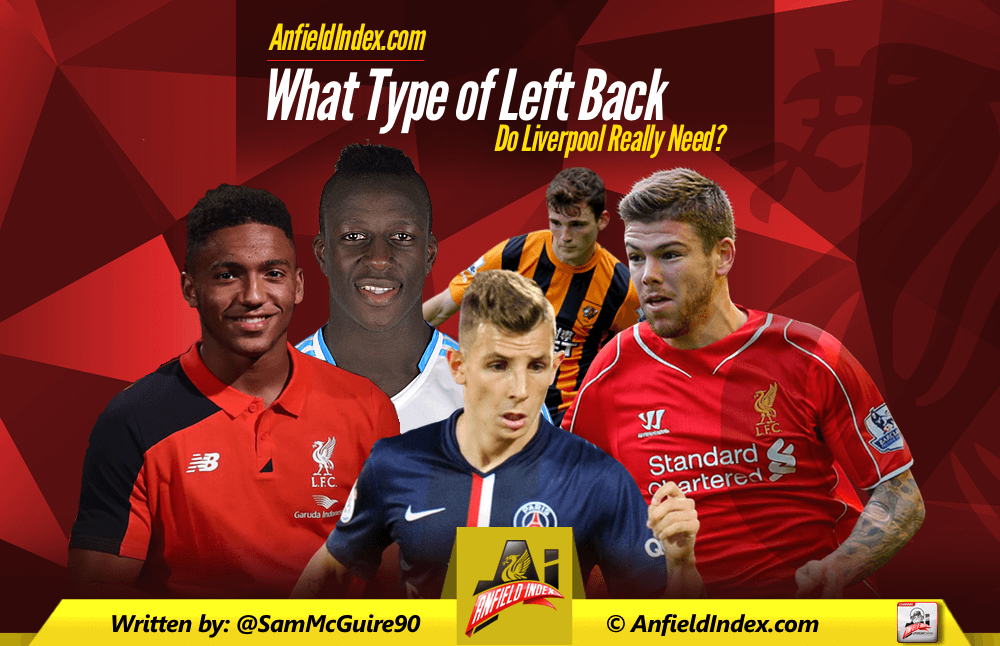 What type of left back do Liverpool really need?
It's an unwritten rule that managers tend to like two players for every position within their squad. The Liverpool squad as a whole hasn't looked this healthy for years but we seem to be lacking a second left back. The links to Lucas Digne may have stemmed from this. It's easy journalism. Liverpool need a left back + Lucas Digne wants to leave PSG for first team football = Liverpool want Digne.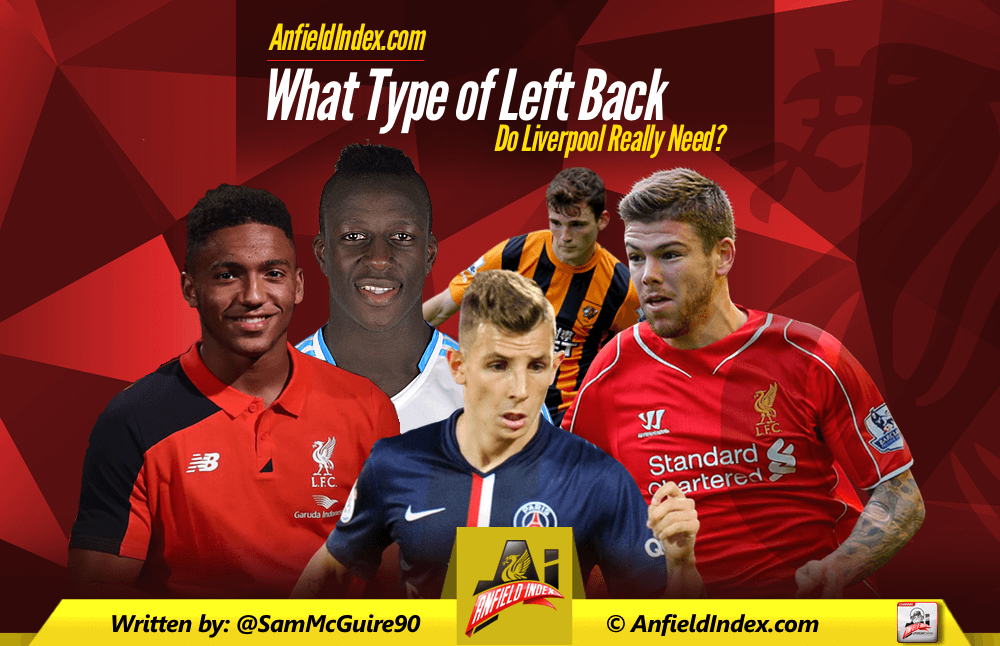 Did a deal for Digne ever seem to make sense? He wants to leave PSG for first team football and he wouldn't be guaranteed that at Liverpool. Then you've got to question if Liverpool are in a position where they can have a £13million left back on the bench? It's Euro 2016 at the end of the upcoming season and both Digne and Moreno will be trying to get into their national sides for that tournament. You may not rate Moreno but he may have settled this season (2nd season syndrome and all that) and be a little more defensively stable.

What I did like about the Lucas Digne link was the fact he's a defensively minded fullback. I constantly bang on about needing balance in the squad and that extends to needing balance in the fullback areas. It's very rare you play two attacking fullbacks without a defensive midfielder and that's what Liverpool may be doing this season if Nathanial Clyne and Alberto Moreno start.
Nathanial Clyne has similarities to Pablo Zabaleta in the way he consistently made that inside run during his Southampton days that Zabaleta is famed for. He's good at it and turning him into a defensive fullback would be a waste.
The image above is if Liverpool play a 4231 formation and their fullbacks are pushing up to offer the width. Coutinho will inevitably cut infield and Moreno would offer the overlap, in theory. The Zabaleta move I mentioned above is shown by the arrow with Clyne. He'd make a run inbetween the left back and the left centre back. The left midfielder for the opposition should track Clyne but that doesn't always work and this kind of move from your fullback causes havoc. The Clyne goal against Liverpool last season was similar to this and it's a tactic Liverpool should use with Benteke now being our number 9.
However you'll see in the image how stretched the team looks. This is just on paper obviously but with such attacking fullbacks you're looking a little stretched defensively as both centre backs have to cover the wide areas too and if your centre mids push on to assist the attack it's very unbalanced, isn't it?
With this in mind I looked for 'cheap' (in today's market) left backs that could do a job as a back up to Moreno but they'd also offer an alternative option to the Spaniard.
Andrew Robertson – Yes, the Hull City fullback. Steve Bruce mentioned in June it'd cost £30million to sign him but he's using Luke Shaw moving to United as a way to measure his potential price. I honestly think if we offered £6-8million and a few youngsters on loan then it'd be enough to seal a deal. Robertson is only 21 and whenever I seen him play for Hull he looked to be a decent outlet for the team at left back and left wing back, this versatility would come in useful if he were to join. He's defensively sound and weighs in with 2.1 tackles per 90, 1.8 interceptions per 90, 1 key pass per 90, he also has an admirable 80% pass success rate and he had 2 assists last season.
Benjamin Mendy – The Marseille full back. Used in a mad Marcelo Bielsa high press experiment it detracted away from his strengths. The guy is impressive as a traditional left back. Primary objective is to defend but he can also offer support in an attacking sense. He averages a 79% pass success rate in a good passing side. He won 1.9 headed duels last year at full back and would be a great asset in the Premier  League. He averaged 2.5 tackles per game coupled with 1.9 interceptions in a high pressing side, something that may come in handy in a Liverpool side. One of his strengths is crossing and that's because he doesn't just punt the ball into the box, he's used to work with a traditional number 9 as he was playing with the big man Andre Pierre Gignac last season. Marseille are in a bad state currently and if an attractive offer came In (less than £10million) for him I'm sure they'd sell.
These are two fullbacks I'd look at if I were Liverpool and I was looking for a fullback to balance out the defence.
That said, If Liverpool did want an offensive left back though I'd spend my money on Jetro Willems. A21 year old left back at PSV who formed a formidable left hand side with Memphis Depay. Willems' strength is in the offensive part of the game, where he has contributed with 13  assists the past season and averaged 2.5 key passes per game.
Most of his assist comes from his best ability, which is crossing. His ability to swing in a cross with great power and precision has brought PSV a lot of goals via headers off of Luuk De Jong. The PSV striker has benefited from the sublime foot of Willems 7 times this season which is the most assists from one player to another in the league. His crossing is on point which would be a huge benefit to a certain Christian Benteke. They aren't just hopeful punts into the area either.  It's not often a left back gets a highlights video but if you're intrigued by him check out this video by Scout Nation here.
Who would you want at left back? Any of the above mentioned?