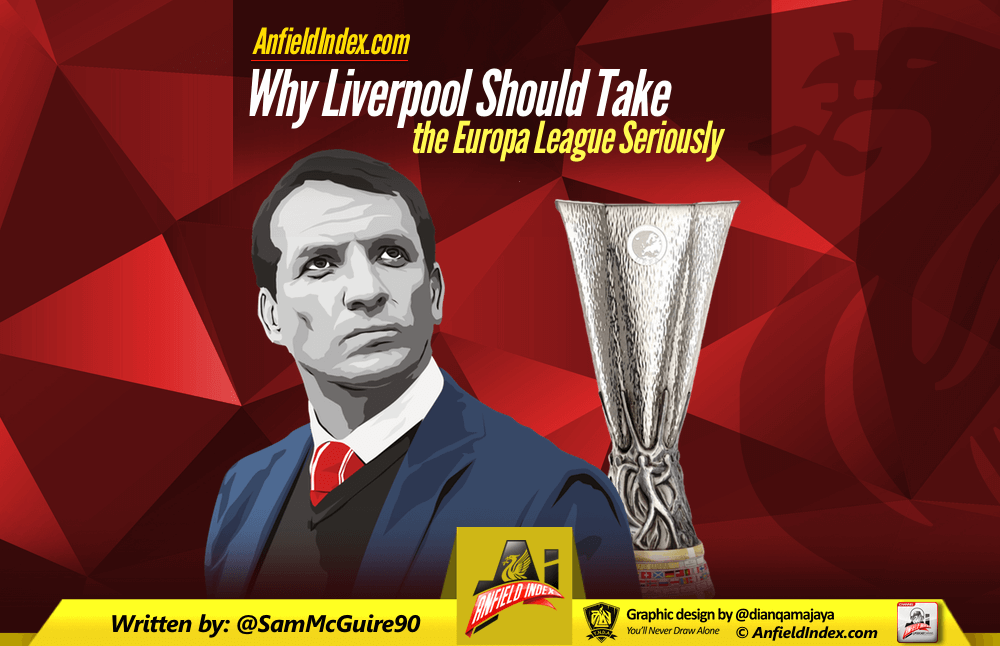 Why Liverpool Should Take the Europa League Seriously
The Europa League. It's a competition that splits opinion. Nothing new amongst the Liverpool fan base but belittling a European competition is a new one to me.
Many fans this season want Liverpool to concentrate on the Premier League and try to finish in the top 4. It's admirable, but is it realistic? Will Liverpool break last season's top 4? It's a big ask in my opinion especially when the lesser of the top 4 sides, Man United, have strengthened already this window and don't look like they're anywhere near finished. Man City have addressed an issue with the signing of Raheem Sterling, Nicolas Otamendi and look set to  sign Kevin De Bruyne. Arsenal have a secure goalkeeper in Petr Cech and Chelsea are Chelsea. Jose will get them firing once again.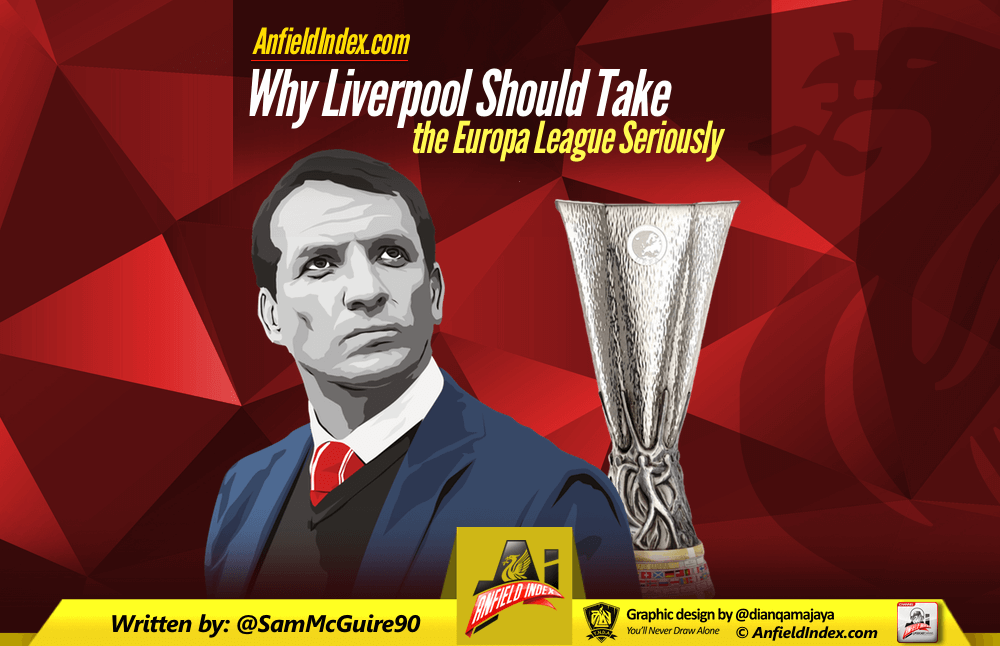 So it comes down to whether you think Liverpool have a better chance of finishing top 4 than they do of winning the Europa League? The stat guys have made it known in many ways that Liverpool are expected to finish 5th and it'd take a collapse of one of the top 4 and an above average season from Liverpool for the Reds to finish top 4, so why waste the opportunity in Europe? If you manage your squad and the games properly then there is no reason you can't do win the Europe League and finish on par in the league.
Since the name change and format change to Europa League.
| | | | |
| --- | --- | --- | --- |
| Club Name | Season | League Position | League wins |
| Sevilla | 2014/15 | 5th | 23 |
| Sevilla | 2013/14 | 5th | 18 |
| Chelsea | 2012/13 | 3rd | 22 |
| Atletico | 2011/12 | 5th | 15 |
So the table above shows the Europa League winners, their finishing league position for that season and the amount of league wins they had that season.
The image above is a screenshot of the Sevilla squad during their 2014/15 season. Their manager was, and still is, Unai Emery. Are there any world class stars here? Carlos Bacca is a good striker, Ever Banega a clever play maker but would half of these players get into the Liverpool side?
The screenshot above shows the squad list for the Sevilla 2013/14 season. Their manager was, and still is, Unai Emery. Again, how many get into the Liverpool side?
Once again, the screenshot for the squad list for Chelsea in 2012/13. Their manager at the time was a certain Rafa Benitez. Obviously this side had world class talents such as Petr Cech and Juan Mata. Fernando Torres scored over 20 that season and it was Eden Hazard's debut season but there wasn't an abundance of stars here.
The squad list above is that of Atletico Madrid in 2011/12. Their manager at the time was, and still is, Diego Simeone. Simeone had only taken over half way through the season as up until then it was an underwhelming season for Atleti. Literally no real stand out players here other than Falcao. You'd be hard pressed to find many people who knew half of this squad if they weren't La Liga followers.
With these squads in mind I'll show the Liverpool squad for the coming season.
On paper, is Liverpool's squad any worse than any of the squads shown above? If I'm being honest I'd fancy our strongest starting XI against any of the other sides. What then comes into play is the managers of these sides. All Europa League winning managers are master tacticians and know how not to lose, and that's key in knock out football. They make the most of their entire squad. So are fans dismissing the Europa League as a viable competition we can win because they feel Rodgers doesn't have it in him after his poor showings in Europe? They want to back Rodgers so immediately dismiss the Europa league, is that it? I think we're good enough to challenge on both fronts and I do think Rodgers has the tactical nous to defeat these sides if he fully commits.
If you look at the bigger picture Brendan Rodgers is coming into his 4th season at Liverpool. The club under his tenure  have signed 30 players. We should have a squad he's happy with and a squad capable of representing Liverpool in Europe.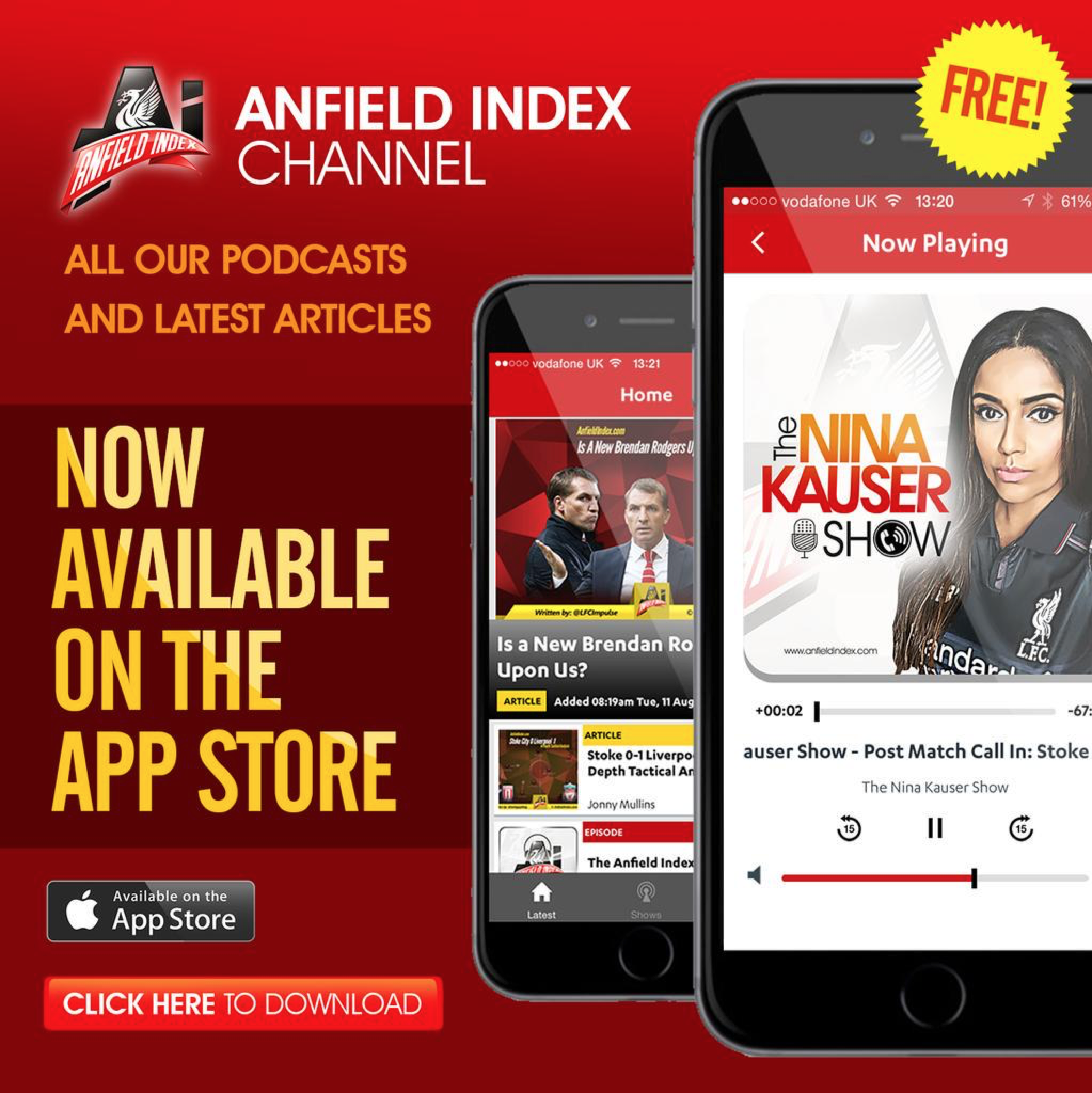 This seasons Europa League has been kind to Liverpool. Our group contains FC Sion, Bordeaux and Rubin Kazan, not exactly European big hitters. After 5 of the group stage games we're at home and in the one other game we're against Everton. Liverpool should look to make Anfield a fortress once again so in theory we should be looking at 15 points from these games after the Europa League games. We should be able to rotate and field strong teams in both these European games and these specific Premier League games. No excuses not to. This gives all of the Liverpool squad some invaluable European experience, something the squad currently lack in my opinion.
Not only is it an opportunity for the team and the manager to gain European experience it's also a chance for Liverpool to qualify for the Champions League. Isn't that what we all want? Champions League football. The Champions League money. The Champions League on our C.V to attract better players. To hear that shit Champions League Theme at Anfield in the midweek. What's the worst that could happen in actually giving the Europa League a good go?