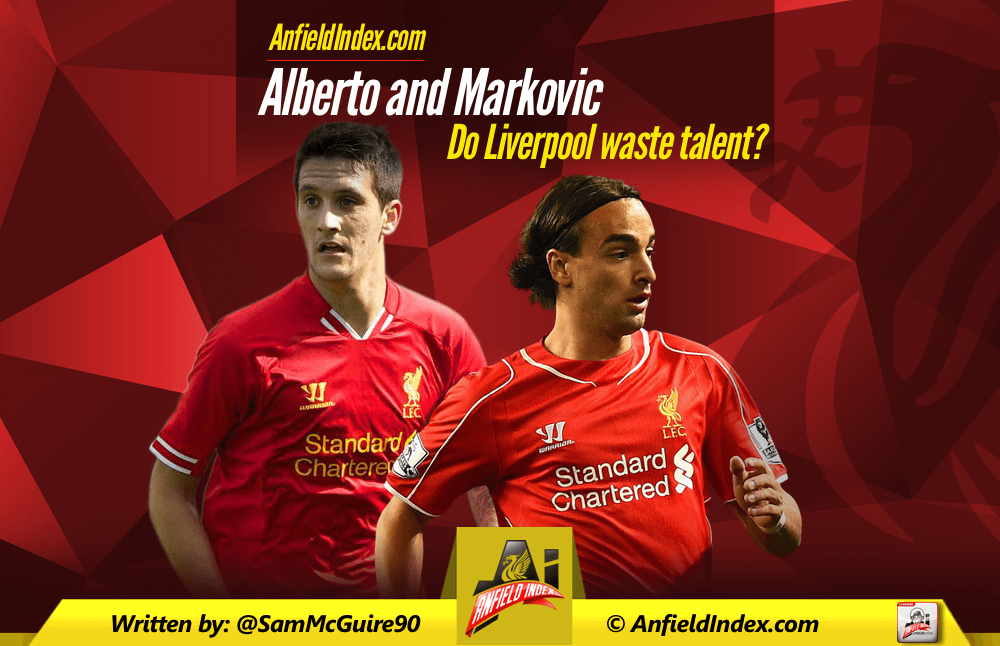 Alberto and Markovic, do Liverpool waste talent?

Why have a Ferrari, a Porsche and a Lamborghini if you're just going to lock them away, rarely use them yet continuously talk about having them.
"Yeah, look at the videos of how quick they can go. Imagine how good it'll be when I finally use them, right?!"
Is this scenario not what happens when Liverpool sign these 'wonderkids'? We sign a player that's hyped by the masses yet genuinely seen by very few. Games like Fifa and Football Manager make it easy for people to make a judgement on a player now, even Sky Sports news have started using Football Manager stats when judging a player.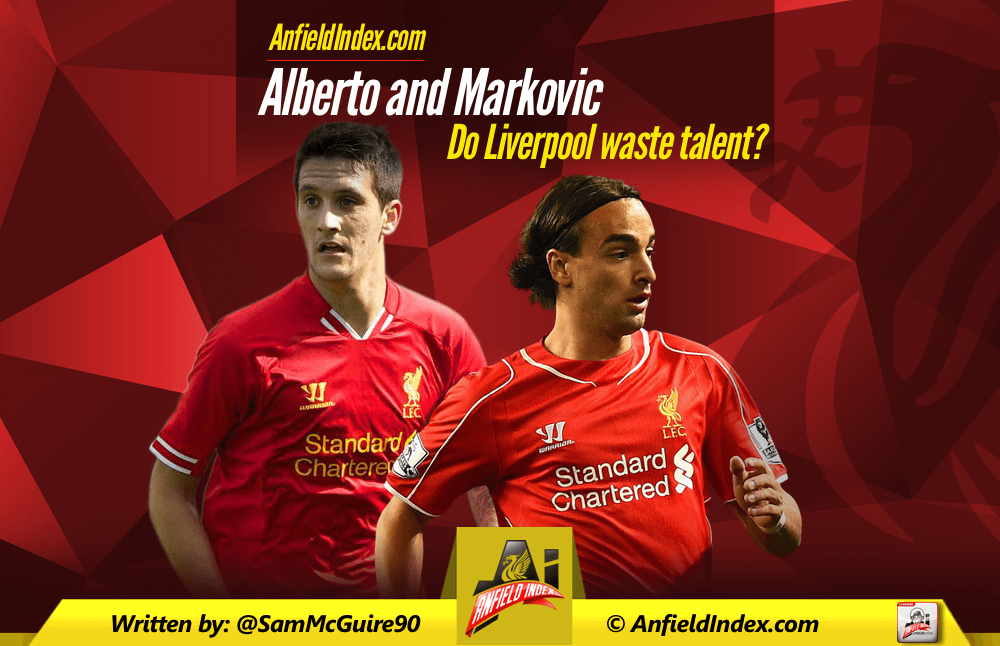 The mistake in the modern area is people considering a young footballer with plenty of potential as a marquee signing due to how they've seen them turn out on games they play. These wonderkids aren't a quick fix. You have to manage their game time but you also have to ensure you give them game time.
Does hype bury the youngsters?
Look at the players Liverpool have signed over the past few seasons. We had Luis Alberto who arrived from Sevilla having been on loan with Barcelona B team. He came here with a reputation and many thought he could influence the team like Philippe Coutinho did. Why? Well because many watched YouTube highlights of him and had seen he'd played for Barcelona B. The majority of people seemed to expect an instant success similar to our number 10.
"He's not match fit. The physicality of the Premier League is too much for him. He's lazy."
All insults levelled towards the Spaniard. The initial buzz around him seemed to die down quicker than a battery in a gameboy when Pokemon was popular. Absence didn't make the heart grow fonder, it had a negative impact on how fans viewed him. The less game time he managed to get the worse of a player he supposedly was. People see the highlight clips of these players and have high expectations. This then leads to anticipation from the fans and these expectations aren't realistic anymore. Alberto then plays one game and doesn't live up to these quixotic expectations and his reputation takes more of a hit. He made 38 appearances for Barcelona B, enough time to play yourself into form and build relationships. For Liverpool he made 9 appearances and yet he's judged on those games.
The following summer we signed Lazar Markovic. This is the type of signing that excited me. I'd seen him at Benfica and how at the age of 19 he was playing with a confidence that allowed flash of sheer unadulterated flair that helped illustrate what he had in his locker and what he could become at some point in his career.
The hype was there from the off despite many not having seen him play in a full game.
"Chelsea had first refusal so he must be good" was an argument some used.
This optimism soon changed to "He's not physical enough and doesn't look sharp enough." You can say it you know, he lacked match fitness and how'd you get match fitness?
He was seen as a winger by the people not too familiar with him due to the fact he was built like a traditional winger, far from it though. He impressed in the cameo against Man City on his debut as a left sided winger/forward and then we never got to see him again in that position. He made 11 starts last season in the Premier League, of which 7 of these came as a wing back. Now I know I've said these wonderkids need to play games but it helps if they play in positions they're best at. See Raheem Sterling in 2013/14 as an example of this. The Serb made 2 starts in the attacking midfield position and he scored 1 goal in those 2 games, that was against Spurs.
He showed glimpses, in my opinion, of needing to be unleashed  in an attacking role with Liverpool desperately looking for a spark last season. However the glimpses he showed were quickly forgotten when he miss hit a pass to Sterling against Arsenal and then the Jordon Ibe performances pretty much buried Lazar with the majority of fans I've seen on twitter. He may have only played 20 more times for Benfica than he did for Liverpool last but a lot of his appearances for the Portuguese champions were as a starter.
With these two examples in mind I find it peculiar that Liverpool are linked with Adama Traore. No doubt he's a talented youngster. No doubt about it he'd be a great addition to the squad. No doubt he'd need playing time to fulfil his potential. Can Liverpool offer that guarantee with the likes of Jordon Ibe, Lazar Markovic, Adam Lallana, Philippe Coutinho, Roberto Firmino and Divock Origi all vying for a starting position. Obviously it depends on how Liverpool decide to play but the likes of Ibe, Origi, Markovic and Traore will all need playing time, can we give them that? After all, Adama Traore is 19 but for the last two seasons he's made more than 25 appearances.
Look at the likes of Raheem Sterling, Cristiano Ronaldo, Eden Hazard, Lionel Messi, Memphis Depay, even Philippe Coutinho when he signed for Liverpool and Gareth Bale when he was given a run in the first team at Spurs. They had the talent, they were given game time and they were managed properly and look at them all now. Sterling just made Liverpool over £40million. Cristiano Ronaldo had a tough time when he signed for United from Sporting but United continued to play him. Eden Hazard bossed it at Lille from a very young age. Lionel Messi was managed properly at Barcelona and got plenty of game time despite the injuries. Memphis Depay is 21 but has played 30 or more in the past 3 seasons, that much first team football has helped him grow as a player massively.
You can train with better players but the litmus test is playing first team football.
I know football is all about success NOW and patience isn't really in its vocabulary but you need to have patience with these young players whilst they're playing first team football. They won't put in man of the match performances constantly but the exposure to first team football is invaluable and it could be huge for the clubs in the long term. It doesn't look likelly that Liverpool sign Adama Traore now but if a player of his ilk does sign then they can't do what they did to Luis Alberto and Lazar Markovic but at the same time they can't hinder the progress of Jordon Ibe and co.