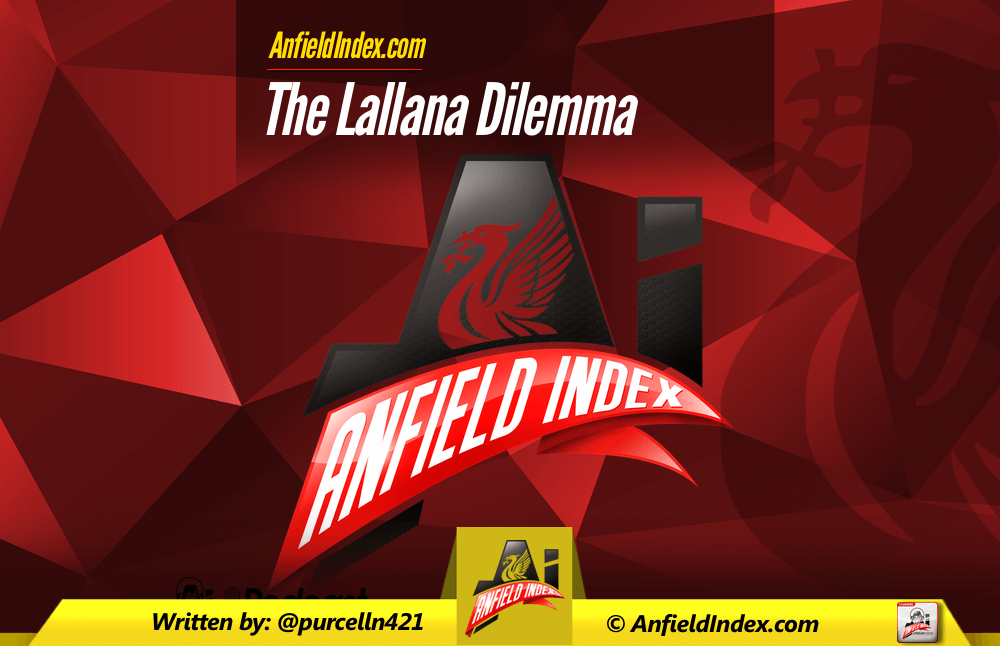 The Lallana Dilemma
Just about a year ago, Liverpool FC agreed yet another deal with Southampton for their captain Adam Lallana. Most Liverpool fans agreed that he was a good signing. Definitely not the world-class, big name category of player we had been craving since the departure of Luis Suarez, but it seemed he would be a player that would fit into our style and complement the team in a positive way. The transfer fee of a reported £23 million seemed excessive, but given the normal premium on English players and the fee received from Barcelona for Suarez, it was an affordable fee. Many fans on social media were screaming for players from the continent of a similar value (one of which was Roberto Firmino), but whether we actually wanted them or they would not come is unclear. However, Brendan Rodgers seemed to have got his man. The majority of Liverpool fans would have seen Lallana play on Match of the Day in games either against us or for England, and the reaction seemed mixed as to how things would turn out.
Just over twelve months on, how have things turned out? Rather poorly in my view. In fairness, pre season last year was not easy for Lallana. Injury struck which meant he was unable to play a full pre season and did not hit the ground running. But then who did last season? As we all know, it was a hugely disappointing campaign, and this was reflected in Lallana's return of just six goals from forty one appearances. His performances, bar a couple of decent games including against Swansea at Anfield, were well below par given the size of the fee and the confidence shown in him by Rodgers. On numerous occasions he was picked ahead of others and was seen as one of Brendan's favourites. Similar to the situation with Sakho and Lovren, the manager persisted with Lallana when he should not have played at all. But that was last season. What needs to happen now? In my view, Lallana should not be in our first eleven. Depending on the tactics, a 4-4-2 diamond with Benteke and Sturridge/Firmino up front, Coutinho in the number 10 role and a midfield of Henderson/Milner/Can is generally regarded as our best eleven, leaving Lallana on the bench at best. Given that he cost £23m however, one would expect him to make more of an impact than just sit on the bench. Brendan was indulged (wrongly in my view) last summer and allowed to choose who he wanted to buy. Reports have suggested that we were after Roberto Firmino last summer; why did we not get him then? Now that the club has finally signed the Brazilian, Lallana's transfer seems rather a waste. As with Dejan Lovren, neither should be first choice.
So where are we now?
The biggest issue I have with Lallana is that he does not influence the game enough. A comment made on a podcast summed up Lallana perfectly for me. It was said that "he decorates the game he doesn't run it". For £23m he should be winning games alone. He is pretty on the ball, demonstrating his Cryuff turns and flicks but completely slows the game down with several unnecessary touches leaving our pacey players breaking towards the opposition goal. I cannot remember how many times I saw him impeding Coutinho on the pitch and subsequently halting progress in the final third last season. My other issue is that he is occupying a place on the bench/in the squad that should be awarded to one of our fantastic, younger players. Lazar Markovic, Jordon Ibe, Joao Carlos Texeira and Ryan Kent should be given his spot, allowed to develop and gain vital experience. They have a much higher ceiling of potential than Lallana has at 27 and, in my view, he is blocking their progress. Are we seriously suggesting he should start ahead of Coutinho or Firmino? Not in a million years but that is not up to us. Brendan will have his say and probably cram players into a 4-2-3-1 (that never worked last year) leaving a three of Lallana, Coutinho and Firmino behind Benteke. Sounds good on paper but, in my opinion, totally disjointed. Markovic showed more last season (being played out of position) than Lallana did yet he seems to be isolated. We all know that Brendan has his favourites but he cannot afford to mess about any more. His job is on the line and a poor start will put enormous pressure on his position. Given the fixtures that LFC have away from home, things will become apparent very soon.
So Brendan, please stop with the favouritism and the messing.