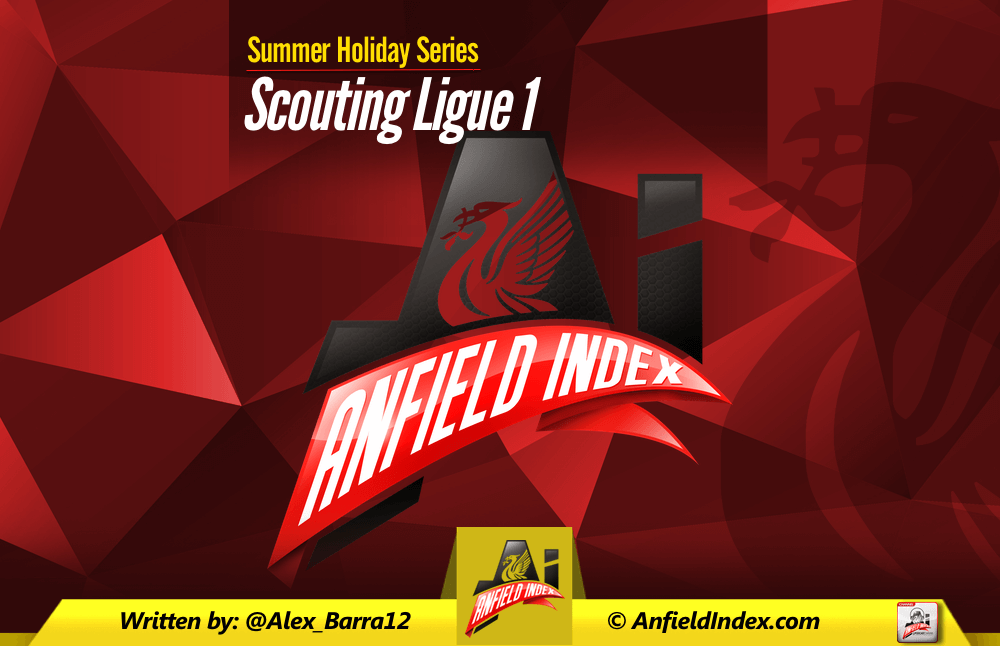 Liverpool FC Summer Holiday Series - Scouting Ligue 1
As it is the summer time the writers at Anfield Index are starting a new Summer Holiday series! Today we delve into a scouting report of France's Ligue 1!
This scouting report will analyse and identify certain players in Ligue 1 who the writer has deemed worthy of being in Liverpool's first team or projected setup, and who they believe would be a worthwhile signing for Liverpool. The players fit in with Liverpool's ethos, FSG's transfer policy and Liverpool's tactical needs, whilst maintaining something of a realistic outlook; (i.e. Edison Cavani and Zlatan Ibrahimovic are not on this list, for obvious and expensive reasons).
Morgan Sanson: Montpellier, Centre Midfielder
20 year-old French midfielder Morgan Sanson is not the definition of a deep-lying play maker; his size and presence on the ball is seemingly better suited to a more advanced role in the front three yet his work in the middle of the park for a terrific Montpellier side in the 2014/15 season, following his rise to the Montpellier first team in the season prior, has been simply outstanding. Sanson looks to be another product of Montpellier's recent rise in Ligue 1 following promotion to Ligue 1 in the 2008/9 season. Sanson was instrumental in Montpellier's seventh placed finish; their highest since winning the league in 2011/12. He was deployed all over the pitch by manager Rolland Courbis and excelled in nearly every position.

Most midfielders are hampered by differing roles but consistency is something to be strived for and is a key facet of any midfielder. Nevertheless, Sanson has managed to be consistent even when his starting position on the pitch has been far from it, learning to identify the spaces which he would usually be passing to in a deeper role. Played in that deep-lying play maker role, Sanson has been given freedom to deliver pinpoint cross field balls worthy of any highlight reel and dictate play out from the back; usually instigating and linking counter-attacks. In a more advanced central role, he has been given more freedom to move forward to flaunt the exquisite finish he possesses, as well as given more room to execute his high risk/high reward passing and his excellent tackling to set his team off on fast breaks. More than that however, Sanson is equally adept off the ball as he is on it. He is fourth in Ligue 1 for dribbles per game with an incredible 2.5 per game, whilst he also boasts a superb 3.2 tackles per game.
https://www.youtube.com/watch?v=hb_lup7yKDU
Meanwhile Sanson's output of 6 goals and 3 assists in 30 games is certainly a helpful addition in any team, seeing as central midfielders very rarely get more than 10 goals in a league season. Although his assist-work leaves something to be desired. More importantly, however, is his ability to make late runs into the box even as a deep-lying play maker; much akin to Frank Lampard's guile in the box. He has a handy finish on him too; with 53% shot accuracy compared to Jordan Henderson's 41% and equivalent to Remy Cabella's 53% in the 2013/14 season, when Cabella was arguably Montpellier's most instrumental player.
It is the season spent alongside Cabella that illustrates Sanson's role and evolution as a midfielder. While Cabella attacked, Sanson tracked back to clean up the danger and more often than not provided the key pass to Cabella to instigate quick movements, playing alongside Benjamin Stambouli as the two deepest midfielders. This past season he has retained his tremendous vision and defensive work, whilst in a similar vein enriching his attacking talents. Sanson could act as the deep lying play maker of Liverpool's midfield, setting the supreme talent of Phil Coutinho and Roberto Firmino off on the front foot and provoking the blistering counter-attacks akin to those seen in the 2013/14 season, when Liverpool's front line would bombard opposition defences in a blaze of quick movement and sharp passing. Sanson offers all the key factors to ensure the midfield is both tough enough to not be overrun and fluid enough to create some tremendous movement for those ahead, and would be a terrific addition alongside Jordan Henderson and Emre Can.
Nabil Fekir: Lyon, Attacking Midfielder
"He is my Messi" were the words uttered by a buoyant Lyon Chairman; Jean-Michel Aulas in February, when Lyon were at the helm of a riveting Ligue 1 season. Managing to hold their place at the top of the league table until effectively the last month of the season (until PSG began to storm ahead) Fournier's tantalising side maintained their ascendance through the exhilarating performances of key players. Obviously Alexandre Lacazette is the player that has been on the minds of countless Liverpool FC supporters; but perhaps Lyon's little maestro, who often pulled Lacazette's strings, is a more realistic target.
Despite Lacazette's immense scoring record, watching Nabil Fekir dance his way past four defenders with a magical touch before chipping the goalkeeper with that phenomenal left foot would often remind you of a similar talisman currently plying his trade for Barcelona. "I have the same eyes for Fekir as the president of Barcelona has for a small Argentine who relies heavily on his left foot as well" Aulas went on to say. Watching Fekir, who scored 13 goals and assisted 9 times in 34 appearances for Lyon, either in his preferred role as an integral part of a mobile and shifting front three or a more traditional slanting wide-man, his dribbling sees him skip past players as if they were not but a whisper of wind trying to bowl him over, while his explosive movement puts him in the focal point of Lyon's fast breaks.
Where Lacazette has pure goalscoring prowess, Fekir prefers to pull the strings and time his assaults. Capable of adjusting his starting position wider (usually on the right flank, where he's able to cut inside), or alongside his partner in crime in a more versatile partnership, trends are easy to identify whenever the ball enters the Lyon forward line. He is immaculate with the ball at his feet and his footballing intelligence is sublime too; making movements to complement Lacazette and often moving into the open space the former creates. His strength on the ball, for someone who would not be able to shove opponents out of the way like he does, shows his immense tenacity.
https://www.youtube.com/watch?v=RWjN-PmBCPM
Though his touch may not be the most refined yet, nor his ability to dictate a game demanding a slower build up, his lethality on the fast-break is immense; one which would suit Liverpool to a tee if they are to regain their counter-attacking vigour. Certainly multi-functional, his position often depends on the positions of his cohorts and the ability to mould into a front line makes him an incredible danger to opponents; embodying unpredictability. His left foot provided multiple "highlight reel" worthy goals last season, whether it's a cheeky chip or a thumping long-range barrel. He had a pass success percentage of 83.7%, beating not only new signing Roberto Firmino's 72.7%, but also Phil Coutinho's 80.3%, and smashed Kevin de Bruyne's 74.5%. At 2.6 shots per game, he also mirrors the aforementioned Liverpool duo (who both averaged 2.9 shots per game) and his Wolfsburg counterpart in de Bruyne, who averaged 2.8. He enjoys dribbling too; 2.8 dribbles per game to be precise, though it's outmatched by Firmino's phenomenal 4.2 dribbles per game; it does get close to Coutinho's 3.1 and de Bruyne's 2.9. He's also fouled two times more than any of his competitors in the category; 3.3 times per game in fact pointing to his elusive nature on the ball, while the Liverpool duo, who are regarded as slippery players themselves, are fouled less than 1.5 times per game.
Now sit back and imagine a front three of Phil Coutinho, Roberto Firmino and Nabil Fekir terrorising Premier League defences. With a capable defensive midfielder behind them, it would be something incredible to watch.
Anthony Martial: Monaco, Striker
When the talk of Lyon's star front man Alexandre Lacazette departing the club began to gain traction towards the latter stages of the Ligue 1 season, so too did the talk of his replacement begin to gather momentum. Ligue 1 certainly does not possess a scarcity of strikers and names such as Michy Batshuayi, Claudio Beauvue, and Lyon's own Clinton N'Jie were touted. But one caught the attention of fans and pundits alike most of all not least because his career began with Lyon at the tender age of 14 years old. He netted 32 goals in 21 matches at youth level competing with the likes of Yassine Benzia and Alexandre Lacazette for that coveted place in Lyon's first team. He succeeded the likes of Bafetimbi Gomis and Lisandro Lopez in the first team setup, and his return to Lyon would complete his redemption; Anthony Martial. Sold due to Lyon's financial crisis in the summer of 2013 to a freshly-promoted (and now oil-rich thanks to new owner Dmitriy Ryblovev) Monaco side, Martial's departure was something of a shock considering he seemed the brightest of Lyon's young talents. Raw and unproven as he was, his natural ability as a pure finisher was something talked about throughout France's youth set up though now he had joined the the fellow young talents of Yannick Ferreira-Carrasco and Layvin Kurzawa in Monaco's rise. Much akin to his young teammates, the arrival of young Portuguese manager Leonardo Jardim introduced a change of philosophy from Claudio Ranieri's relatively successful yet unproductive tenure; the introduction of a firm youth policy with intention to sell for profit.
Sound familiar?
It should, because Monaco's season was driven not by the ageing talent of Dimitar Berbatov, but by the mercurial young force of Anthony Martial, complemented by the phenomenal young talent of Yannick Ferreira-Carrasco and Bernardo Silva, who shone in Jardim's side. Freed from his role of bit-part player, the young striker who was still only 20 years of age – incredibly young for a striker – blossomed into a fantastic player to watch. Though his touch is still not quite as refined as it could be and his penchant for finding a key pass can be lacking, Martial's ability as a pure finisher – and in this case, it's nothing of a generalisation, he is a pure finisher – is something to behold. Whether it be poaching at the back post or thumping in a low strike across the keeper after a fast-break,  Martial's blend of physicality and movement reaped a phenomenal tally of 8 goals in 9 games when he finally got his break in Jardim's side. Playing in his favoured position at the tip of the spear and surrounded by other exciting talent, the real Anthony Martial stepped out of the shadows. His transformation from an impact sub who showed promising signs to a superb young striker strutting his stuff was complete.
https://www.youtube.com/watch?v=Rups8obfpKI
His penchant for drifting wide and creating space for his fellow attackers stems from his deployment as a wide player earlier in his career; his multi-functionality something akin to Liverpool's own Daniel Sturridge, and that's not the only similarity. Though Martial is more powerful on the ball, they both possess the same explosive burst of speed and elaborate finish to punish defenders. He's been given leeway to link up with his wingers a lot more; something which Dimitar Berbatov was often criticised for, and his decision-making is another important facet in his play. Though sometimes lacking execution, Martial always tries to find the right avenue, usually with some degree of success. Combining a phenomenal finish (browsing his goals at Monaco will display his vast array of weapons) with the strength and pace to create chances for himself, his career path looks extremely promising.
Adding the refinement to his game that comes with experience will turn Martial into something of a phenomenal striker; should his career trajectory go along the right path. If Liverpool could seize on it; with the departures of Mario Balotelli and Fabio Borini imminent, and should Christian Benteke not work out; a young, dynamic wealth of options including Sturridge, Martial, Origi and Ings; all developing into sensational strikers in their own right, would be something to be behold.