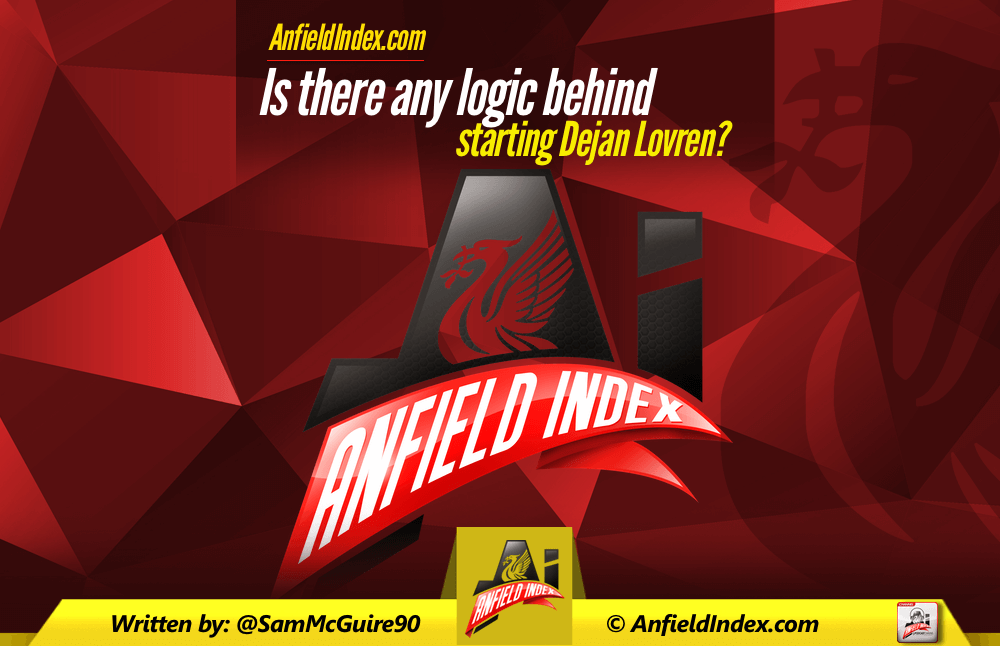 Is there any logic behind starting Dejan Lovren?

The Premier League season is upon us. Many claim it to be better than Christmas Day. The build up to kick off, the anticipation of seeing your team actually start, picking up a win and getting the season off to a good start.The game is being televised which means that if you're going to bet on it, you should take a look at the Paddy Power betting offer detailed in this post.
However sometimes, like a spoilt child at Christmas, you end up being a little disappointed. You asked for FIFA and instead got Pro Evolution Soccer. This puts you in a rotten mood and the short term view of that Christmas is that it was a negative. What if it wasn't though? Long term you may find you enjoy the game you ended up with better than you had hoped for. Could Dejan Lovren be our Pro Evolution Soccer?
I am not sure how many of you reading this follow me on Twitter but I am not really a Dejan Lovren fan. I used to watch a lot of Lyon when he was there and he never struck me as a top, top defender. He had the physique just lacked the 'footballing brain'. So I'm not one of the Lovren loyalists. Like the rest of you I was a little taken aback last weekend when James Pearce wrote about Dejan and Joe Gomez jumping ahead of Mamadou Sakho and Alberto Moreno in the pecking order. After some time to chew up the thought, I have seen the logic in Lovren potentially starting ahead of Sakho this weekend.
I am fiercely loyal to our Parisian centre-back. Not because it's anti Rodgers to support Sakho but because I cannot actually believe we have a centre-back as good as him on our books. Not only does he have the potential to be one of the best centre backs in the league, I also like the fact that he gets the club. His work in the community does not go unnoticed and he seems to be a big personality with his teammates and the kind of defender you want as a starter. I was even one of the people saying Sakho should be given a key role within the squad starting with the vice captaincy.
When he  recently uploaded a photo of his family's hands in a united fist I was reminded how much I am a part of #TeamSakho. As with Lovren, I had seen Sakho during his PSG days. He is immensely talented on the ball and although he can look a little unnatural with it at his feet at times, I would trust him to kick a golf ball off of my forehead and not injure me. On the other hand, if I were to place a ball on my forehead with Lovren kicking, he would end up taking a swipe at my testicles through no fault  of his own.
However this is not a trust exercise. Centre-backs need to be reliable. They need to form an understanding with not only their goalkeeper but with the rest of the defence and the midfield. They need to be familiar with each other, play with one brain and be well drilled like Atletico Madrid under Simeone, most sides under Jose Mourinho and the legendary Arsenal back line. With that in mind you have to look at Sakho and ask yourself, can he be considered reliable? Not in terms of playing style, but in terms of playing time. During his two seasons at Liverpool he has missed 46% of the matches through injury. This may not be through severe injury, but games missed because of niggling small ones do add up. So here you have the defensive version of Daniel Sturridge. They should be key to the side but injuries diminish their role in the squad and in the eyes of some supporters too. If you were to name your strongest Liverpool XI both would be included, but Brendan Rodgers is not afforded the luxury of choosing his best XI at all times.
Mamadou Sakho may be 'fit' now but he's missed most of pre season with the first team. Liverpool have a new left-back in Joe Gomez as well as a new centre midfielder in James Milner. Dejan Lovren has been given the majority of the pre season matches to familiarise himself with these new additions with Sakho rumoured to be carrying a knock. I have no doubt in my mind that Sakho will get into the team and will help Joe Gomez like he helped Alberto Moreno. His passing means that James Milner and Jordan Henderson would not have to drop deep to receive the ball so he would possibly help the pressing game. But right now that is all theoretical.
After the capitulation at Stoke last season, it is little wonder that Rodgers may be against tinkering with a back line. It did not look impenetrable in pre season but there is more of an understanding there, or at least you would expect there to be, right?
Alternatively, could this be Brendan's way of telling Dejan Lovren that this is his last chance? The Croat complained he did not get enough protection from the midfield last season but with Milner, Henderson and Coutinho pressing and a natural centre back in Joe Gomez protecting him from the left it is like saying 'show me you can defend, save your Liverpool career'. If he fails to deliver then Liverpool are stocked with potential centre backs who will improve with game time. Yes, they would make mistakes but more than Lovren does? His inclusion could benefit the likes of Joe Gomez and Tiago Ilori long term.
People have argued that a starting back four of Nathanial Clyne, Martin Skrtel, Dejan Lovren and Joe Gomez is not one that will see out a season, so the 'Dejan Lovren starts for continuity' argument is flawed. I do not suspect Joe Gomez will last a season at left back either. His form will dip like every other youngsters will, but I  do not believe Brendan Rodgers is planning for the season. He is planning in blocks as Simon Brundish theorised on an Anfield Index podcast not so long ago. Liverpool have had a major reshuffle this summer in terms of playing and coaching staff. It appears they are implementing a different style and you need a constant in order to maintain this. We have had a constant starting XI so that side is ready for the first eight games. Is this the logic in naming Lovren as a starter?
It goes against all the logic in my head, but could Dejan Lovren starting the season help Liverpool in the long term? A familiar, fit back line. It gives Sakho time to get up to speed fitness wise. Not only that but he is also able to work with Moreno in training so if the time comes Liverpool can simply swap the left hand side of their defence as a unit. Finally, if Lovren has another car crash few games it means he will be out of the team quicker this time around.