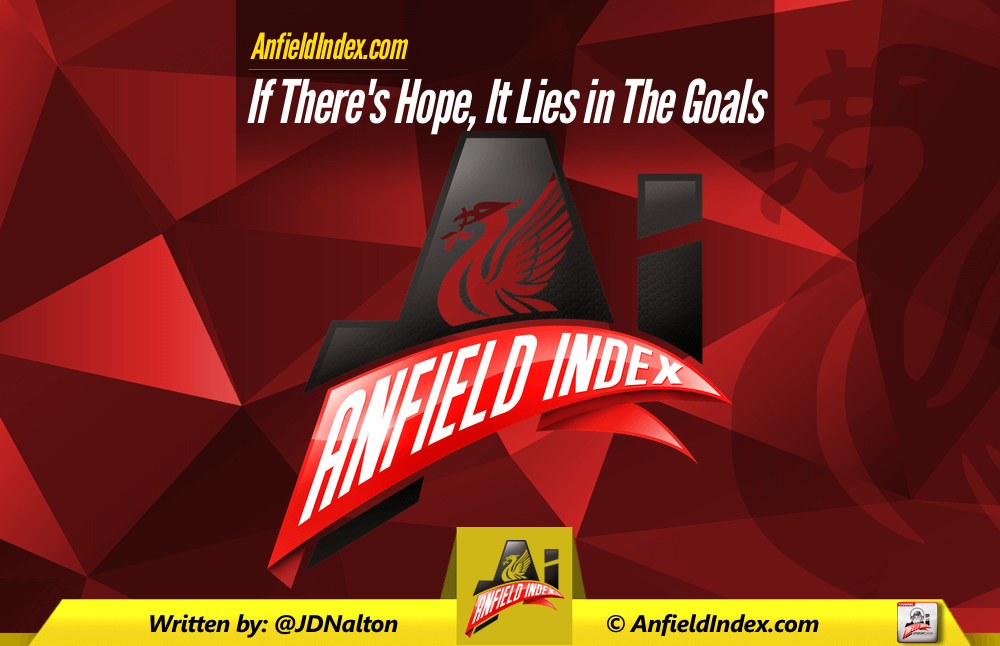 If There's Hope, It Lies in The Goals
From 101 to 52. The drop in the amount of goals scored by Liverpool from the 2013/14 season to the 2014/15 season was stark, and was a result of their meek, submissive, and wholly unconvincing performances during the last campaign.
One of the consistent themes throughout the aforementioned seasons was poor defending, both individually and as a unit. The Reds' goal difference at the end of the 2014/15 season was a mere +4, as the error strewn defence which had scuppered a title tilt the year before, was combined with some fruitless attacking.
When a football team's main issues are poor defending and ineffective attacking, it indicates that there is a lot of work to be done on the training field and in the transfer market. There are ways in which Liverpool could use both methods improve their defense.

It's almost become trite to suggest that the team should employ a quality defensive midfielder to play in front of the back four, but it's something the team desperately need if they're to plug a few holes, and something they've not had since the departure of Javier Mascherano back in 2010.
Emre Can played much of last season as a libero on the right of a back three. Moving him to a more central position this season would allow him to play the role of midfielder, whilst also dropping between the two centre-backs when needed.
Another way would be to improve the quality of the personnel playing in the defensive positions. Even the best defenders can struggle in a frantic attacking system such as the one used by Liverpool in 2013/14, as demonstrated recently by Vincent Kompany at Manchester City. But exposing a top class central defender, such as Kompany, is less of a risk than exposing an average one.
In Mamadou Sakho, Liverpool have one top class defender, but even he can be hit-and-miss when placed in a side which has no real defensive nous. If a player of a similar standard was brought in alongside him, and the goalkeeper behind them shouted clear, relevant instructions, then the trio might start to operate as a unit.
Given that any of this is unlikely to happen, if there's hope, it MUST lie in the goals. Only there in the swarming pressing, penetrative passes, and Suarez-esque penalty box dribbling, could the force to mount a title challenge ever be generated.
The league cannot be overthrown from the back. Liverpool's rich enemies are too stocked full of attacking talent for that, and the defensive troubles mentioned earlier won't allow it.
A title challenge means a look into the opposing goalkeepers eyes, a tensing of muscles, and at the most, an occasional rabona. But the goals, if they could somehow become conscious of their own strength, would have no need to be fancy, or tense.
They need only to rise up and hit the back of the net, like Coutinho shaking off an opposition defender, or Lallana's fourteenth consecutive Cruyff turn. If they chose they could blow the league to pieces tomorrow, and it must have already occurred to them to do it. And yet…
They remembered how once they had been stampeding towards goal in a crowded Anfield, as hundreds of the gathered voices had suddenly burst out from The Kop. A great joyful cry of hope and expectation, a deep loud "ooooooh" that reverberated around the old ground.
The back of the net bulged. The goals are breaking loose at last!*
Theoretical Firmino possesses dribbling skill, creativity, as well as a goal-scoring ability of his own. Theoretical Benteke is a much needed presence in the box, a distraction and a goalscorer, scoring against Swindon in pre-season with the ease of a £30m man playing against some third tier side.
Pass it to Jordon Ibe, or pass it to Philippe Coutinho and they'll make things happen, whilst behind them Jordan Henderson and James Milner carry enough water to keep the whole of Merseyside hydrated for weeks.
Use the considerably talented group of young players and misfits to win the Europa League. Reminding Lazar Markovic, Divock Origi, and Tiago Ilori that they're actually good at football, whilst bringing Liverpool's midfield future, Jordan Rossiter, Joao Teixeira, and Pedro Chirivella into the fray in the process.
Here's hoping.
---
*Extract paraphrases Nineteen Eighty-Four, Orwell, G. (1949). Reprint, London: Penguin, 1989