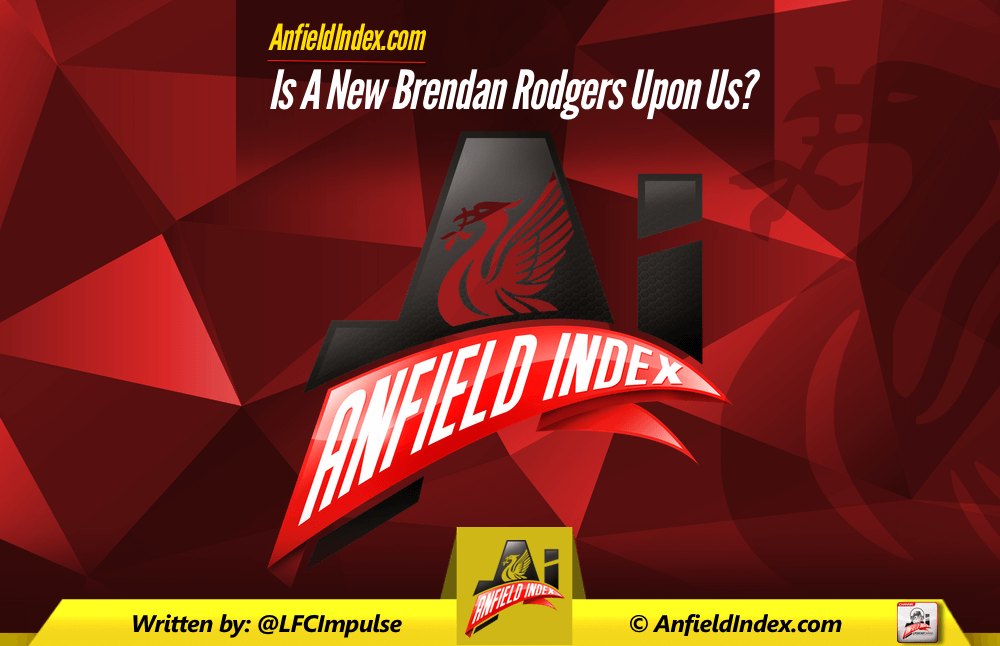 Is a New Brendan Rodgers Upon Us?

We've seen the two extreme ends of the "Brendan Rodgers Spectrum" over the course of his tenure in the Red part of Merseyside. It's not quite a 'Dr. Jekyll and Mr. Hyde' story, but the change in personality is far from fiction.
The Personable
Upon his arrival, Brendan seems to be a people's person. He was a breath of fresh air from Benitez who had his fair share of media spats. He was a manager of a different ilk compared to Kenny Dalglish who could do no wrong, or Roy Hodgson who on the other hand, would do everything wrong.
He was humbled to be the man at the managerial helm of a dynasty of a club such as Liverpool FC, albeit a little nervous, cautious, conservative and ultimately, uncertain. The newly-discovered ambiguity presents itself in so many ways – the expectations, the transition, the implementation of his philosophy, the fans' reception, the constantly-increasing barometer – the list goes on endlessly.
However, this was a man that supporters and fans could get behind. They want Brendan to succeed so that LFC will succeed; that's a win-win. The challenge of embracing this new change and to adapt to this new manager and whatever style of football he brings along with him was one that everyone wanted.
The personable Brendan was one who seemed to be more focused on implementing his philosophy, ensuring that it runs through the veins of the club. "The Liverpool Way" of football was due a long-awaited return, but everyone knew it was inevitable. 'This' Brendan was not one who self-massages his ego, not one who looked for name-building for his own sake, and it was never "about him".
"It's a job where I need to align the playing identity and style and success with the supporters, because the supporters at Liverpool are renowned."
The Snarky
Following an admittedly-successful 2013/14 season with Liverpool FC, the transformation from Brendan Rodgers to a Mr. Hyde-like version of him began to take place. The ego multiplied in size, almost overshadowing the man himself. It seemed like 2nd place in the league was the full moon to Brendan's werewolf alter-ego. His personal life aside, this was a brand new Brendan that we saw in the recent 2014/15 season. Now there are many who absolutely adored his cheeky, snarky side that sparked from overconfidence, but equally as many were present in the other corner too.
Just take a quick look at the first ever interview he did in that season speaking about Southampton and how their "objectives have changed", subtly putting them down and even tossing in a hint of self-praise in terms of being a manager who can convince players to stay (unlike that of Southampton's).
"When I was at Swansea, there were other clubs that had been longer in the Premier League who wanted to take one or two of our players. I was able to convince one or two of our players to stay. And as a manager you know that… The guys [from Southampton] have come here because of the status of Liverpool and Champions League football. "
Everyone likes a confident manager, though. Mourinho is absolutely loved by fans wherever he goes simply because he puts a funny twist to his style of arrogance and ego (and not to mention the titles he's won too – that always helps). Brendan seemed to have tried to follow in his former mentor's footsteps too, but not just in terms of mind games against other clubs. The widespread consensus of Liverpool needing a defensive coach after some shock-horror defending definitely comes with its own merits, but Brendan was having none of it.
"There is no chance of us bringing in a defensive coach. We have conceded a large number of soft goals, there's no argument about that, but I think it is just a lack of coaching time that is hurting us."
It's funny because everyone bar Brendan saw the irony in his speech. Lacking coaching time means that there is a lack of coaches, in a sense. Hiding behind excuses was nothing out of the ordinary from a snarky Brendan. What many wanted to hear was a simple "I messed up", but what they got was just blame-shifting speeches in a variety of ways. However, Rodgers was never shy when it was time to face the spotlight after a win. Despite seeing one of the worst defensive displays from the Reds against Southampton in a 2-0 win in 2015, Brendan still had the tenacity to take a stab at comments about the aforementioned need for a defensive coach.
"It's the new defensive coach that we got in that everybody thought we needed. That's what has done the trick."
The snarky, cocky, arrogant, egoistic attitude continued on for months, even after the end of the 13-game unbeaten streak with back-to-back losses to Manchester United and Arsenal in the league, as well as being knocked out in all cup competitions for that season. Confidence (or too much of it) can only carry a man's ego for so long, though.
The (Slightly) Defeated
A grueling 6-1 loss to Stoke City in the final game of the disappointing 2014/15 season was Brendan's wake-up call. It was like the potion wearing off or the sunlight hitting his skin that turned Rodgers back to his old self. The post-match presser was a bitter pill to swallow indeed. Just watch the lack of eye contact for most of the time, the mellow tone of his voice, and just the sense of defeat in his eyes whenever he did look up.
"If the owners… want me to go, I go."
That's a wildly different Brendan for sure; not one that we've seen in a while, and not one that we would see in quite a while too. The squad went on a team holiday following the end of the season, presumably with drinks, sights, food, and relaxation thrown their way. However, as the "Kolo" song was chanted in great spirits, there lies a very quiet Brendan sheltering himself from the media and the press. Backroom changes happened, new faces were presented, but yet, still no Brendan in sight.
Personally, no one should ever feel defeated to the point of demotivation or depression. It was clear that Brendan needed time away from the footballing scene in order to rediscover himself, at least until he knows what the future holds for him and his future at the club. The calls for Klopp and Ancelotti rang, but no response meant that Brendan was indeed given what I'll assume will be his final chance.
Now thanks to Gags and AnfieldIndex, I've got to see the man himself in the post-match conference after the game against the Malaysian Selection in Stadium Nasional Bukit Jalil. Yet again, he looked worried and nervous facing the press after an unconvincing 1-1 draw. Brendan's response to his time off after the curtains closed on the disappointing 2014/15 season is hardly one that anyone would want someone else to feel. He spoke about just needing to "take a break" from everything football to recuperate himself, perhaps on a more mental and personal level than anything else.
This was a man who looked like he was just rising from the ashes once again, having been burnt by what followed a stressful year.
Looking Forward
With a now broken-down Brendan Rodgers, the question that beckons is an intriguing one indeed – which Brendan is built up once again from the emotional pieces, which Brendan rises up from the metaphorical ashes?
He may move back to either end of the spectrum as mentioned earlier, but regardless, I see no reason as to why he should stay in his current state of defeat – Liverpool FC never got turned off due to defeat, but rather, takes pride in having such a huge obstacle ahead of them, looking at it with respect but never in fear. Revenge in the form of a 1-0 win against the Potters despite an arguable performance from the Reds was just the response Brendan needed out of his side, and the post-match interview saw a very humbled and down-to-earth version of him once again. No self-praise, no egotism, no "I told you so" comments – it was all about the team and the club once again.
What was perfect though, was that he mentions how the squad still has plenty of room for improvement looking forward, and that is exactly what we want to hear; never settle for less. Ultimately, though, players and coaches can only perform as great as the main man allows and encourages them to. Ultimately, it all falls on Brendan Rodgers, but if Brendan can keep his Mr. Hyde tucked away, Liverpool may see success once again in the seasons to come, and hopefully, without having to bank on character to achieve so.
"I thought in terms of our character and resilience in the game we showed outstanding qualities when needed. There weren't many chances but the one clear one that came to us we put it away. We deserved three points for the character we showed."
– Brendan Rodgers, post-Burnley, December 2014.