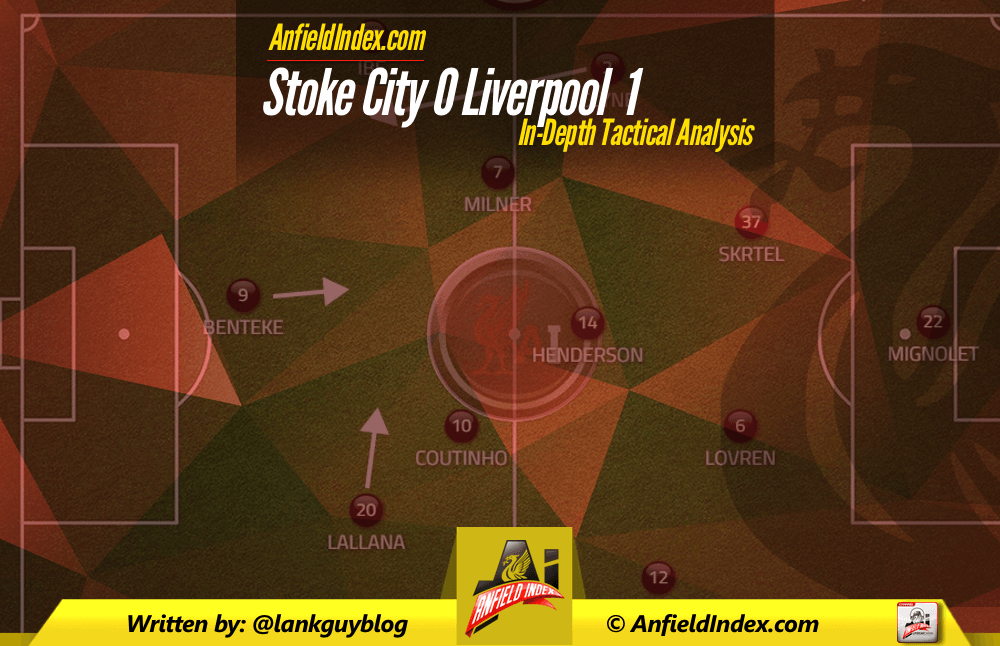 Stoke 0-1 Liverpool: In-Depth Tactical Analysis
The first game of the season is always difficult to analyse. Some players are not quite match sharp yet. New signings often aren't fully gelled in yet. New tactical concepts and adjustments haven't yet been fully processed and the overall cohesion and game play is often a little off. As such, the first game of the season should generally be critiqued with caution. This performance was a perfect example of that and fans and pundits alike will have to be careful not to take too much from the game.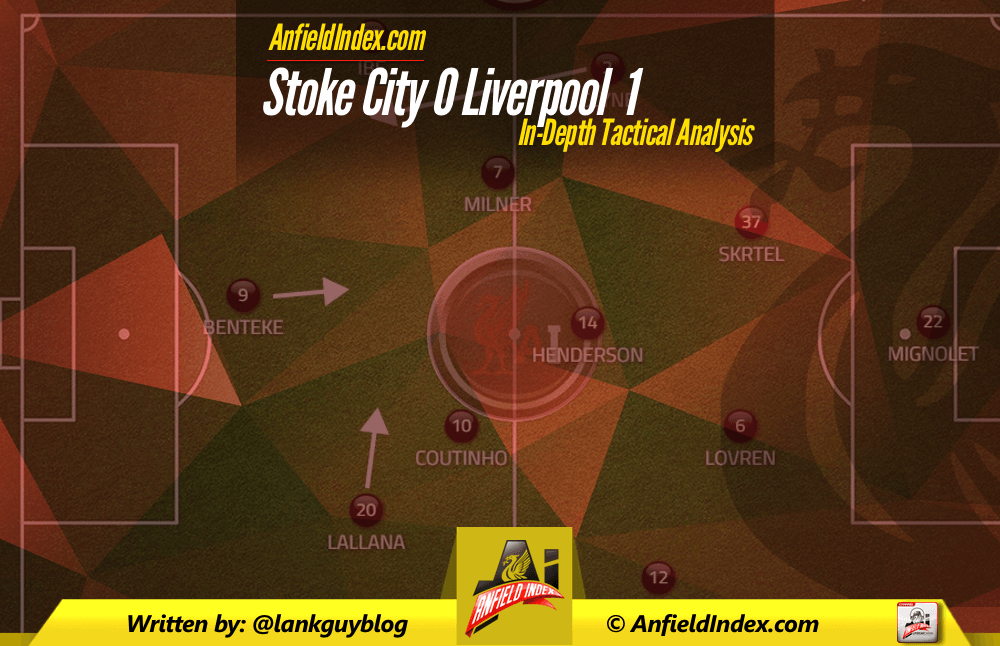 Lineup
Brendan Rodgers didn't spring any surprises in his selection, picking the same team he had against Helsinki, bar Benteke in place of Ings. What was more interesting was precisely how the team would setup, formation wise.
For most of pre-season, Liverpool have played a 4-3-3 – Ibe on the right, Lallana on the left, Henderson and Milner alongside each other in midfield, with one player holding behind. In the first half against Helsinki though, Liverpool had played a 4-2-3-1, with Milner and Henderson holding and Coutinho playing as the no.10, though dropping off to get on the ball.
Rodgers decided to go with the 4-3-3, though there were variations defensively, where Liverpool tended to fall back into a 4-2-3-1/4-4-1-1 when defending as a block. Ibe and Lallana played in the same positions they had occupied for the majority of pre-season. Milner and Coutinho played as a '2' in central midfield, though with Milner a little deeper. Henderson played as the pivot behind them, as he had in the second half against Helsinki, though Milner sat beside him when Liverpool dropped off into shape.
Match analysis
It was a weird game in many respects. Neither team was particularly unsteady or vulnerable yet nor did either team control the match. It was, in a way, a game without an owner.
Defensively, Liverpool had few problems. Gomez had an impressive debut against Jonathan Walters even if he got beaten a couple of times. Lovren had possibly his strongest game since joining Liverpool and generally, Stoke created very little.
What is more interesting to analyse was how Liverpool played when they had the ball. With Stoke's general lack of threat, Liverpool had the opportunity to impose themselves in possession.
What was soon apparent was just how much Liverpool's play was going to be aimed towards the right. Ibe positioned himself wide of the Stoke block on the right hand side, looking for space to receive the ball and take the full-back on 1v1. Clyne supported him from deep, though because of Ibe's wide positioning, rarely got round on the overlap. On the other side, Lallana did precisely the opposite to Ibe, pinching in very central from his position on the left. At the same time, Joe Gomez very rarely moved high up the pitch, perhaps wary of the threat possessed by Walters but also because of perhaps feeling uncomfortable on his left foot; each time he received the ball, he shifted  onto his right foot, often shutting off the option of playing down the left.
What this meant was that Liverpool were not really spacing the pitch particularly effectively. Their attacking play came almost exclusively down the right and through the middle. This was even taking into account that their best ball player in Coutinho was positioned at LCM. In fact, this added to the right-centric approach – Coutinho tends to operate best on the inside left position because he prefers switching onto his right foot and tends to ignore overlapping runs on the left. This was a problem at times last season when he would often ignore Moreno in space high up on the left flank. In this match however he rarely even had the option on the left.
This meant Liverpool either needed to create consistent penetration on the right hand side or needed to use the right effectively to create gaps in the Stoke defence and then penetrate elsewhere. Neither of these things happened. Ibe wasn't creating danger on the right – he was often crowded out and even when he wasn't, he rarely beat the full-back 1v1. Coutinho, who often had space at LCM when Stoke were pushed across to defend their left side, was very rusty, often holding onto the ball for too long and allowing himself to be crowded out or trying too hard to force the issue.
Those were the two players most likely to create penetration for Liverpool and they were both off form and seemingly unable to create danger.
Benteke
Possibly the most interesting question before the game was how Benteke was going to fit in. He'd featured in one game for Liverpool in pre-season, playing alongside none of the players he was going to be starting with here. How would he fit in? Would Liverpool adapt to him? If so, how? Or would he have to adapt to Liverpool? How strong would his combination play be? How well would he create space?
Clearly there were going to be teething problems. Liverpool haven't really played with a target man under Rodgers. With Suarez and Sturridge, the attack was based around their mobility. Last season, Liverpool tried a number of options up front, only Lambert being similar in style to Benteke (though certainly more limited). Even a player like Balotelli, though similar in build, is much more of a link player than Benteke is. Having only trained with the team for less than two weeks, it was going to take a little time.
Whether it was planned or not, Liverpool ended up playing too direct for Benteke. It wasn't that Liverpool were getting lots of crosses into the box – they weren't getting high enough on either flank to do that, certainly on the left, and this was perhaps part of the problem. Nor was every third pass a long ball into his head. Liverpool did try and move the ball around. When it came down to it though, what ended up happening was that either the ball ended up being forced into him in the air when he was generally isolated of support, leading to a turnover of possession, or he dropped off 10 yards to receive it and played it back to where it had come from. Too much was being asked of him – either he had to take down and hold up a ball without much support, or he was being asked to create penetration by linking play between the lines, which isn't one of his clear strengths.
Henderson, Milner and Lallana
One of the most interesting moves by Rodgers was starting Henderson as the single pivot behind Milner and Coutinho. What his reasoning behind this was is unclear. Perhaps he wanted to give more space for him on the ball. Perhaps he wanted his energy defensively. Stoke weren't really looking to threaten between the lines and so his positioning wasn't really exposed here, meaning he could support the back line more if they needed it. If Afellay was threatening Clyne, Henderson could come across and support. If Gomez was having trouble with Walters, he could cover across to there. If one of the centre-backs needed him to stay close to Diouf in front, then he could do that.
However his new position restricted many of his good attributes. He couldn't close down and force mistakes in his usual way (and the transition could have been a key route in for Liverpool considering they were struggling to create chances). He couldn't make runs forward into space. He couldn't speed up play with quick combinations around the final third. With Coutinho not at his best, Liverpool needed more tempo and energy in Stoke's half of the pitch and Henderson couldn't provide that because he was playing at the base of the midfield.
Liverpool also lacked a player who could orchestrate the game from midfield. Because Liverpool were so heavily leant towards the right, Milner saw a lot of the ball. This is especially apparent when you compare his passing stats with Coutinho's – the latter attempted 45 passes, of which 32 were successful. The former attempted 63 passes, of which 54 were successful. This despite them playing in basically the same position, with Milner perhaps a touch deeper. Indeed the two most common passing combinations in the whole match were Milner to Clyne and Clyne to Milner.
At Manchester City, Milner played a largely supportive role. He worked hard, made third man runs from the flank, created space with his diagonal movement, combined well (especially with Silva), created chances through his crossing ability. Yet he was never really the main man in possession. This is partly why he's made the move to Liverpool – he wants to play in the middle of the field, more involved in the build up, in constructing moves and acting as a key figure for Liverpool's possession game.
While he played a good game from RCM, retaining possession, combining well, switching play to the left well two or three times, making runs forward,  Liverpool still lacked someone who could control the game from deep midfield and knit their play together. The main player who could provide this was Coutinho and he was off his game and was losing possession too much.
Lallana's role was perhaps the strangest. As mentioned already, he tucked in very narrow on the left, looking to support the central play. He did a number of things well – he tracked back well, working hard defensively, he made runs occupying the defence when Benteke came short to challenge in the air, he switched positions with Coutinho to give the latter more space. Yet he had very little impact on the game. Perhaps this could be extenuated by the fact that Liverpool's play was so heavily focused down the right. But then again, this also gave him more space when play was switched and Liverpool really needed to take advantage of this because of the lack of penetration elsewhere. Lallana unfortunately ended up being basically redundant when Liverpool had the ball and offered very little in terms of creating chances.
Second half change
Liverpool made two substitutions in the second half. Can came on for Lallana 63 minutes in, Firmino came on for Ibe 78 minutes in.
It was the first change that had the biggest impact. Liverpool started to look more threatening. Coutinho moved to the left, though kept roughly the same central-left position that he had before when Liverpool were in possession. Henderson moved forward to play as the LCM, being replaced at the pivot by Can.
It didn't make a huge difference – Liverpool didn't suddenly start dominating the game as a result of it. What did happen though was that more danger started to be created. Henderson started to dictate more, spraying passes to Ibe on the right from deep and making penetrative forward runs, facilitated by Can holding at the base of midfield behind. Coutinho was more involved cutting in from the left than Lallana had been. Milner got forward more on the right, linking with Ibe and Henderson. Clyne got round on the overlap. Liverpool had three or four moments where they threatened to score a goal.
What was noticeable was that the team were still looking to play Benteke in with direct passes from the centre of the pitch. Almost every time, this ended in a loss of possession. This isn't to pin the blame on Benteke – he was often isolated of support here. Yet it was notable that Liverpool's best play didn't involve him. When Liverpool focused on combination play in midfield, moving the ball around well, associating play, with vertical runs into the space from Milner and Henderson, they looked good. When they looked to play in Benteke with a direct pass from midfield, possession was lost. Again this is not to criticise Benteke on his first game – this is to show that the team were (understandably) not yet in tune and were trying too hard to get Benteke involved by playing too many direct passes, which damaged the attack. This should and will improve in the coming weeks.
Conclusion
Ultimately the game was won by a piece of brilliance that we've come to expect from Coutinho. The team looked disjointed for the most part, not yet in tune with Benteke, and played without a great deal of control or penetration. They didn't space the pitch well, leaning too heavily to the right and a number of key players were rusty and off form.
It is only the first game of the season however and there will be an improvement in overall game play in the coming weeks. Liverpool got the result and can now push forward with optimism. One win out of one.